Our iKamper Skycamp Review will demonstrate why it is the best option for an enjoyable camping experience.
An increasing number of individuals are interested in traveling and leading nomadic lifestyles, both of which have contributed to a surge in the sales of rooftop tents. Many individuals now count this as their preferred method of camping. We've been keeping an eye on a select few businesses, and iKamper's recent success in the North American market has caught our attention.
Around the time of its RTT debut, iKamper's original Skycamp four-person model had already collected an astounding $2.3 million, making it the most successful project of its sort in Kickstarter history. Awe-inspiring, right? Let's take a deep look and discover what this hard-shell tent is all about. We believe that the choice between the iKamper, Tegui, and 23 Zero roof-top tents sold in the United States currently boils down to these three brands.
What iKamper is and how it works
Taking a page out of Apple's playbook, the South Korean company proved quite astute. This product was made for people who want to take their families camping on road trips but can't because they don't have a good tent or because existing RTTs aren't practical.
Price-wise, the iKamper is more than a tent, but it's far less than a decent travel trailer. In addition, it requires a lot less upkeep. With a rooftop camper, you can forget about flat tires and broken bearings.
With consideration for both vehicle load restrictions and the desire of families or groups of friends to enjoy a camping road trip, iKamper created the easy-pop Skycamp's tent for four people that doesn't add much more weight than a two-person tent.
Our Top 5 iKamper Skycamp
Let's examine everything separately:
Comfort and Sleep Quality
1. Space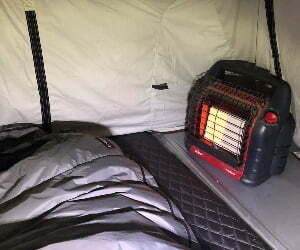 To start, let me just say, "Wow, this tent is spacious. I opted for the iKamper Skycamp Mini, which measures 83" x 51" when fully opened. It comfortably fits two people, and maybe even three if you're willing to get cozy or have a child joining you.
For reference, I'm 5'6 and my tent mate is 5'4; we're not exactly NBA players. Even so, we had ample foot space, and I'm confident it could accommodate someone up to 6'6 without a problem.
The larger iKamper Skycamp boasts even more room, measuring 83" x 77" and easily accommodating up to 4 people. Unfortunately, it was too big for my Tacoma, so I went with the Mini. But, it's worth noting that both tents are made from the same high-quality materials, so my review applies to both models.
2. Comfort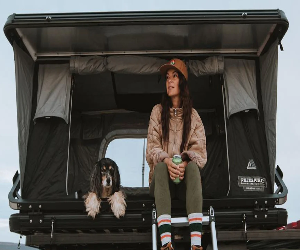 Yes, I can assist with that.
Let's face it, you don't exactly anticipate a 5-star hotel experience when you're camping in a tent. 
The thick, plush king-size mattress is 1.6 inches thick, comfortable, and readily cleanable (just in case someone spills anything on it). This indicates that it is not actually required to sleep on it with a sleeping bag and pad. The Skycamp feels more like a real bed with the max cushion, making it ideal for anybody who has trouble sleeping in a ground tent.
The angled, solid hardshell wall of the RTT gives it a feeling of safety against the elements. In fact, iKamper has been proven to resist gusts of up to 40 mph. Also, you'll have plenty of headroom to engage in enjoyable pastimes like card or board games.
Even when the tent is closed, there is enough space inside for a somewhat thicker cushion or an uninflated mattress. Overall, I'm pleased with the degree of comfort the iKamper offers.
3. The Mattress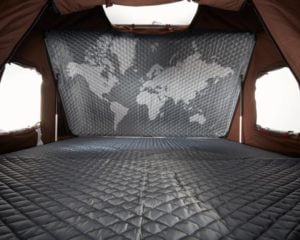 The 1.6-inch polyfoam mattress that comes with the iKamper felt wonderful after moving from an air mattress on the ground. There is just the right amount of padding to make sleeping or simply lounging in the small Skycamp comfortable. Having said that, once we added our additional sleeping pads for cold weather to the arrangement, when we did remove them and slept only on the mattress, it was a night and day change and felt really solid, not at the same degree of comfort as before. It's still a vast improvement over the ground and old-fashioned air mattresses, though.
In light of the fact that iKamper now provides the RTT Comfort sleep system, a self-inflating mattress made expressly to match the footprint of the Skycamp and bring an additional 4″ of comfort and heat retention, we are considering adding it to our set-up.
4. Sleep Quality
Sleep quality is important while going on road trips and camping excursions, especially when it's required following a long drive, a challenging walk, or in order to prepare for a long day ahead. Regardless of our plans, waking with the sun was a traditional aspect of tent camping. The canvas tent of the iKamper is of such high quality that, when fully zipped, it blocks out the majority of light, allowing us to sleep inside whenever necessary. Due to the quality of sleep we can get and the fact that we don't take daylight saving or a time difference into mind, we even slept in too late on one camping trip.
Although it did need two people, mounting the tent on my Front Runner rack system was rather simple. The tent weighs just X pounds. Yet, lifting something by oneself is uncomfortable.
I just needed a socket and the iKamper mounting bracket 2.0 to attach it. That probably took 15 minutes to complete. It may also be mounted to a roof rack. As it has two alternative mounting brackets depending on your needs, it actually fits my roof racks.
This is also a fantastic theft deterrent because it is a bit difficult for one person to lift it, and you need a tool to attach the mounting brackets. But iKamper makes bracket locks that almost guarantee you won't be robbed, even if you live or travel in dangerous places.
Temperature and Weather Resistance
We've used it for a year and been on 15 camping excursions in a wide range of weather, and we're delighted to say that it hasn't failed us yet. We've tented in temperatures as low as 30 degrees and as high as 90 degrees Fahrenheit, always with the rainfly up.
1. Camping in the Heat
Even on the hottest days of camping, we were able to sleep comfortably with the mesh window screens on the two side canopy windows, the entrance, and the skylight all open. We also brought along an electric fan for occasional use inside the tent. In light of this, we plan to purchase one or two portable camping fans (instead of our Ryobi Hybrid fan) to bring with us during the warmer months.
2. Camping in the Cold
We've never found the tent to be too chilly, even on the coldest nights, even with all the windows and door canvas zipped down for extra insulation. But, we did use cold-weather sleeping pads and sleeping bag liners, which were quite helpful at night, and on chilly mornings, we'd remark that the tent's inside was surprisingly pleasant. In colder weather, the only continuous chill I get is from a little draft below the window, along the edge of the canvas fabric; however, I can easily block this breeze by laying a sweatshirt along the edge. Condensation did form below the sleeping pad and on the inside of the rainfly due to the heat, but we were able to towel dry everything before folding it up, and then we opened the tent back up at home to let it air dry further as a precaution.
For further insulation from the cold, iKamper offers a double-layered RTT insulation that may be attached to the tent's inside. We don't think this is necessary for the places we've been camping so far, but if we ever tent in temperatures below 30 degrees at night, I'd be curious to give it a try.
3. Wind Resistance
Some of the evenings have been breezy, with the wind speed averaging about 25 miles per hour and reaching gusts of up to 55 miles per hour in Joshua Tree National Park. To be quite honest, we did spend almost an hour nervously peering at the shell from within and without the tent after we had maneuvered the vehicle such that the wind was striking the back corner of the hard shell. The tent's rainfly and canvas made a lot of noise, but the tent's shell held strong, so we were well shielded from the wind and the dust it brought with it.
4. Waterproof
In terms of weather, we have tented through both moderate rain and heavy downpours accompanied by lightning during the height of the monsoon season. The tent did an excellent job protecting us from the rain, but the near proximity of the lightning made us feel uneasy. The rainfly successfully protected the tent's canvas and inside from precipitation, thus we experienced no condensation problems. A few spots of canvas did get wet from the rain, but there was no leaking or dripping, and the canvas dried fast once the sun came out.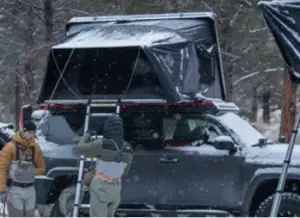 One of the most durable and dependable RTTs available is the Skycamp 3.0. Having a double-layered fiber-reinforced plastic (FRP) exterior with 1″ air insulation allows this tent to be used throughout the year. The floor panels are insulated and composed of high-performance honeycomb aluminum, which can support up to 1.8 tons of weight.
Remember that this rooftop tent features a black-out, breathable, 300-gsm polycotton canvas. The polyester 75D ripstop rainfly with an eco-friendly water-repellent (DWR) coating provides an additional layer of waterproofing and protection.
You'll have everything you need to set up camp and have a good night's rest, rain or shine. While it's really cold and snowing outside, you'll be warm and dry thanks to the canvas and shell's superior insulation and construction. The waterproof components will come in handy if it rains, and the open design will allow for plenty of fresh air and sunshine during spring and summer. Camping is an option throughout the year.
iKamper Skycamp Review FAQs
Q. What is iKamper Skycamp, exactly?
A rooftop tent called the iKamper Skycamp is made for outdoor enthusiasts who wish to camp in luxury and convenience. The tent offers a roomy and sturdy sleeping space that can fit up to four people and is simple to construct on top of most cars.
Q. How is the iKamper Skycamp operated?
A hardshell rooftop tent called the iKamper Skycamp is mounted on top of the roof rack of your car. Just open the latches on the hardshell cover to erect the tent, then use the telescopic ladder that comes with it to ascend to the platform. The tent's aluminum structure is fully put up; all that's left to do is spread out the canvas and arrange the beds.
Q. What are the iKamper Skycamp's measurements?
There are two sizes available for the iKamper Skycamp: Skycamp 2.0 and Skycamp Mini. The Skycamp 2.0 is 83 inches tall when open and 85 inches long, 55 inches wide, and 48 inches high when closed. When closed, the Skycamp Mini is 60 inches long, 47 inches broad, and 11 inches tall; when expanded, it stands 37 inches tall.
Q. How many people can fit in the iKamper Skycamp?
There is room for up to four person in the iKamper Skycamp. The Skycamp 2.0 can support up to 900 pounds of weight, while the Skycamp Mini can support up to 400 pounds of weight.
Q. What materials are used in the iKamper Skycamp?
The shell of the iKamper Skycamp is made of strong, long-lasting, lightweight, and aerodynamic ABS plastic that is reinforced with fiberglass. The tent is made of a poly-cotton blend that is breathable and helps you control the temperature and reduce moisture inside.
Q. Is installing the iKamper Skycamp simple?
Indeed, installing the iKamper Skycamp is simple. Everything you need to put the tent on your car's roof rack, including mounting hardware and an installation guide, is included with the tent. The tent can be put up and taken down quickly after it is fitted.
iKamper Skycamp Review Final Thoughts
The iKamper hardshell tent is a high-quality item that, despite its high price, mostly accomplishes its stated goals. The large layout and easy assembly complement the sleek, lightweight aerodynamics. So, the RTT from Skycamp is a great upgrade over traditional roof tents and a worthwhile purchase for parties of four or more people.
Assuming you put the ikamper into good use, it might be a wise financial move on your part.
Related post