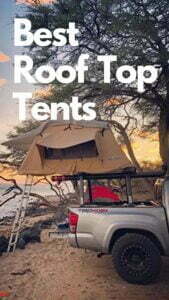 A roof top tent is one of the most versatile camping shelters that you can buy. They are easy to set up and take down, and they keep you safe and dry off the ground. Roof top tents also offer great ventilation in hot weather, and can be used in all seasons.
There are many different types of roof top tents on the market, from small and lightweight options that are perfect for solo campers, to large family-sized tents that can sleep up to six people. No matter what your needs, there is a roof top tent that will fit your requirements.
If you are new to the world of roof top tents, this guide will help you understand the different types of tents available, and what to look for when making your purchase.
A rooftop tent is a type of camping tent that is typically placed on the roof rack of a vehicle. Roof top tents offer a variety of advantages over traditional tents, including increased storage space, protection from the elements, and easier set-up.
Roof top tents are an excellent choice for campers who want to enjoy all the benefits of camping without having to worry about the hassles of traditional tents. Here are some of the main advantages of roof top tents :
One of the biggest advantages of roof top tents is that they free up a lot of space inside your vehicle. With a traditional tent, you have to pack everything inside the tent itself, which can quickly become cramped and uncomfortable. With a roof top tent, you can store all your gear inside your vehicle, leaving plenty of room for other things like food and clothing.
Protection from the Elements: 
Another benefit of roof top tents is that they offer protection from the sun, wind, and rain. Traditional tents can be very hot and stuffy in warm weather, and they offer little protection from severe weather conditions. Roof top tents provide shade in hot weather and shelter in case of bad weather, making them much more comfortable for camping trips.
One final advantage of roof top tents is that they are much easier to set up than traditional tents. With an roof top tent, you simply open it up and climb inside — there's no need to worry about setting up poles or stakes. This can be a huge time-saver when you're trying to get your campsite set up quickly. 
How to choose a rooftop tent?
While there aren't many significant differences between selecting a rooftop tent and selecting a traditional camping tent, there are certain crucial considerations that are unique to this type of tent. Since you'll be mounting it on a vehicle and sleeping many stories in the air, you need take extra precautions to ensure that the product you choose is suitable for your vehicle and can withstand the weight of you and your belongings.
Size and Weight: 
When describing the capacity of a tent, most manufacturers will refer to the number of people who can lie down within and "sleep comfortably" at the same time. In terms of tent size, "comfortably" is, however, subjective. Consider upgrading to a 3-person rooftop tent rather than a 2-person one if you plan on traveling with a friend. Consider the "static weight" of the tent, which is the maximum number of people it can accommodate when it is in its camping configuration.
Tent durability and warmth:
Tent canopies are made of 400-600 denier (D) ripstop nylon, which is heavy and durable. More is heavier. Both Roofnest tents on our list are made with polyurethane-coated polyester and cotton mix fabric. Polyurethane makes material durable and water-resistant.
Roof top tents have a season rating, like any outdoor gear (spring, summer, autumn, winter). Four-season tents are warmer and can survive sleet or hail.
Pitching time: 
Two rooftop tent setups exist. Before you travel, mount the tent on your car or truck's roof rack. You'll leave the tent in your car for most of the journey. When you need a shelter, you must pitch or "convert" your tent from its flat travel mode.
Even the lightest rooftop tents weigh over 100 pounds, requiring two people to install. Many tents require first-time assembly.
The time it takes to convert your tent varies, but they all require less time than a typical tent. Depending on the design, you may need to bend a frame, although many take only a few minutes.
Consider your budget when choosing a rooftop tent. The cheaper tents may not offer all the features you want, but the more expensive ones may be out of your price range. Try to strike a balance between cost and quality when making your decision.
How to set up a rooftop tent?
If you are one of those people who love to camp but hate setting up tents, then a rooftop tent might be a great option for you. Roof top tents are easy to set up and don't take long at all. In fact, most roof top tents can be set up in less than five minutes! Here is a quick guide on how to set up a roof top tent:
Choose a level spot to park your vehicle and make sure that the area is clear of any sharp objects or debris that could puncture the roof of your tent.

Position the ladder in an area that will give you easy access to the roof of your vehicle.

Remove the rain fly and any other protective covers from your roof top tent.

Begin unfolding the tent body and extending the ladder until it reaches the roof of your vehicle.

Once the ladder is in place, use it to climb onto the roof of your vehicle and begin attaching the tent body to the brackets or rails on your vehicle's roof.

Once the tent body is securely in place, reposition the ladder and use it to climb back down to the ground.

Next, extend the telescoping poles that are included with most roof top tents and insert them into the sleeve pockets on each side of the tent body.

Secure the telescoping poles in place by tightening the thumb screws or security clamps that are included with most models.

Finally, attach the rain fly or mosquito netting to the frame of your roof top tent using the ties or clips that are included with most models
What are the best roof top tents?
Here at Roof Top Tents, there is no such thing as the best roof top tent. Every vehicle, every family, and every adventure is different. That's why we offer a variety of tents to fit every need.
We've got lightweight tents for those who want to save on space and weight; four-season tents for those who want to brave the elements, and even electric tents for those who want a little luxury on their next camping trip. No matter what your needs are, we've got a tent that will fit the bill.
So, what are you waiting for? Browse our selection of tents and find the perfect one for your next adventure!
Roof top tents: Comparison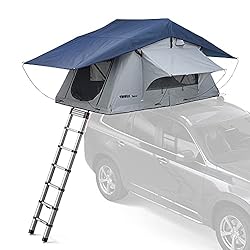 No matter your vehicle or destination, the Thule Tepui Kukenam 3 is a fantastic roof. Two adults can travel in comfort inside, or three if luggage is left outside. In comparison to hard-shell tents, it takes relatively little time to pitch this one. In less than ten minutes, you can have the tent set up and ready for use by simply unfolding the hinged platform.
600D ripstop sidewalls with glued seams and a 420D rainfly make it extremely durable. Not to mention, it will not fade or mold when exposed to the sun. I have spent several days and nights in Kukenam sheltering from the type of ferocious storms that leave you wondering why you ever considered sleeping "out in the bush." It is one of the few Thule Tepui tents that allows you to buy replacement canopies at lesser weights, making it a good option for summer camping vacations when you want greater ventilation. Even if it's storming outside, the Kukenam 3 will keep you warm and safe.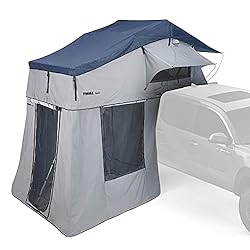 The Thule Tepui Autana 3 is one of the greatest soft-shell tents for use as a bedroom because of its plush foam mattress, spacious interior, and two enormous sky windows. The canopy over the doorway shields the ladder from rain and provides some seclusion from curious onlookers. If you take off the rain cover and open the two enormous sky windows, you can sleep under the stars without leaving your tent.
The Autana 3 has an annex that extends out from the tent's floor and hangs off the side of the vehicle, providing a separate space that may be used for changing, stowing equipment, or simply lounging. The back of your car may be accessed from within the annex via two doors, and the remaining walls include windows. Be sure to leave sufficient space for it outside the tent, as it won't fit inside.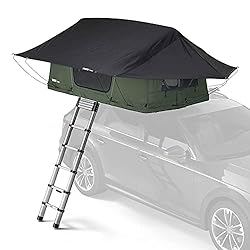 The Thule Tepui Foothill's low profile is intended to disassemble into a more rectangular form. Its small size means you can fit more of your roof-rack-ready goods, like a kayak, on your vehicle.
With its A-frame design, the Foothill's open top panels provide breathtaking panoramas. Because of the way they open, just the one central support will be in the way of your vision. To create a great panoramic view to take in the landscape as you settle in for the night, open the entrance and three walls.
The Foothill's compact packing size means it requires more time than other tents to set up for sleeping. That's not ideal, but it's a tiny price to pay given the space and potential for breathtaking panoramas.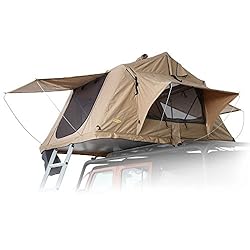 The Overlander tent exemplifies why Smittybilt has earned a reputation for producing high-quality goods with minimal frills. The polyurethane canopy is constructed from 600D nylon, so it can withstand even the heaviest rain, and the 17-inch-wide ladder is among the largest available on rooftop tents.
The Overlander requires more time and effort to install than our other recommendations. A ratchet set would be helpful for the installation, and the ladder's lack of height adjustability has forced several buyers to make custom holes to accommodate their vehicles. However, once you get everything set up, dismantling everything is a breeze.
Even still, at the price, the Overlander is hard to beat. It's one of the few choices available, and it's less than $1,500, so it's definitely something to think about.
5. Yakima SkyRise Rooftop Tent
Overlanding? Pack the Yakima SkyRise 2 Rooftop Tent, a lightweight, affordable, three-season tent. Designed to withstand the elements, it is constructed from 210T nylon that is both waterproof and breathable and supported by lightweight aluminum poles. The tent has several double-layer windows that may be opened on warm evenings or zipped shut for weather protection. A mesh covering on the windows lets in air but keeps out mosquitoes, so you can enjoy the night sky without interruption. This type includes a weatherproof rainfly that also functions as a sky canopy.
The Yakima rooftop tent is similar to others in that it fastens to a roof rack, but it has an added layer of security in the form of SKS Lock Cores. When you're in the middle of nowhere, monkeys won't be able to steal from you. The Yakima SkyRise 2-Person Rooftop Tent is the easiest tent of its kind to erect. Simply unfurl using the ladder (which conveniently collapses), and you'll have a completely functional outdoor bedroom.
6. Tuff Stuff Delta Overland Rooftop Tent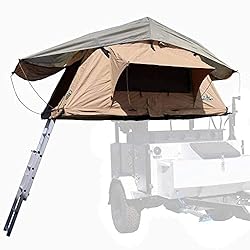 Tuff Stuff's Delta Overland Rooftop Tent is another reasonably priced and flexible option. If the crossbars on your SUV, van, jeep, travel trailer, or pickup truck are wide enough (up to 38 inches), this hitch will work with your vehicle. The tent can be used in both rainy and warm weather, thanks to its lightweight aluminum poles and waterproof fabric. The Delta Overland Rooftop Tent is equipped with mesh mosquito netting and upper air vents for ventilation. The 420D oxford cloth rainfly not only keeps out the elements, but it also blocks the sun and helps you sleep in on your weekend camping excursion.
Roof top tents: Final Thoughts
The best rooftop tents are convenient accommodations for a night under the stars when camping from a car. The time and effort spent looking for a level spot to put up a tent are both drastically reduced. The built-in mattress also makes sure you'll have a better night's rest than you would on the floor. Of course, it's not cheap, but it's well worth it for the proper sort of camper.
Read our review on the cheapest rooftop tents that will enhance your adventure.
Q: Can you put a rooftop tent on any car?
Both, actually. A roof tent may be installed on top of any vehicle with a sturdy roof rack. While many automobiles can accommodate a tent, not all tents can. Make sure the packed tent doesn't stick out the front or hang over the sides of the car by measuring the top of your vehicle if you aren't using an SUV or truck.
Q: Why are rooftop tents so expensive?
There's a lot more to a rooftop tent than your standard tent. Rooftop tents are designed to make sleeping on top of your automobile more like sleeping in a hotel than in a traditional tent. A lot of people find they are more at ease there because of the reinforced walls and the skylights. Rooftop tents have the functionality of a temporary room and are more expensive because of this.
If you're looking for a regular camping tent but can't quite afford the cost of a rooftop tent right now, check out our recommendations in the "What to consider" section.
Q: Do roof racks and rooftop tents affect gas mileage?
Your gas mileage will decrease because of the wind resistance and additional weight of a rooftop tent. Take into account the tent's packed weight and height to lessen the impact on your car's fuel