You've certainly thought about getting a roof top tent if you're an experienced overlander or just prefer to camp in luxury. Rooftop tents have the obvious benefit of keeping you off the ground and away from bugs, but they aren't necessarily the most comfortable option. Well, this article looks at how to make a rooftop tent more comfortable.
How can one ensure a cozy night's sleep in a rooftop tent? A Roof Top Tent may be made more hospitable by taking a few simple measures. The comfort of your roof top tent may be increased by increasing padding, utilizing a heater or fan to alter the temperature, and including some basic creature amenities.
True, tents that may be set up on the roof are rather pleasant. Several significant features distinguish these tents from conventional ground tents and contribute to their increased coziness:
Padded Floor – Rooftop tents often include a cushioned floor that can be accessed by unfolding the tent's floor. In contrast, the flooring of ground tents are typically little more than a sheet of canvas laid atop the hard earth.
Weather Protection – While a roof top tent's design may make it more exposed to wind than a ground tent, at least you won't be pressed up against the icy asphalt. You won't have to worry about getting wet in your sleeping arrangement due to floods or runoff.
Peace of Mind  – You may rest well in your tent, knowing that a bear won't be sneaking up on you in the middle of the night.
The ladder is the main disadvantage of roof top tents. Not only does this make getting in and out of the tent difficult for people with mobility issues, but may also be an inconvenience if you need to use the restroom or leave the tent for any reason other than that
13 Ways To Make A Roof Top Tent More Comfortable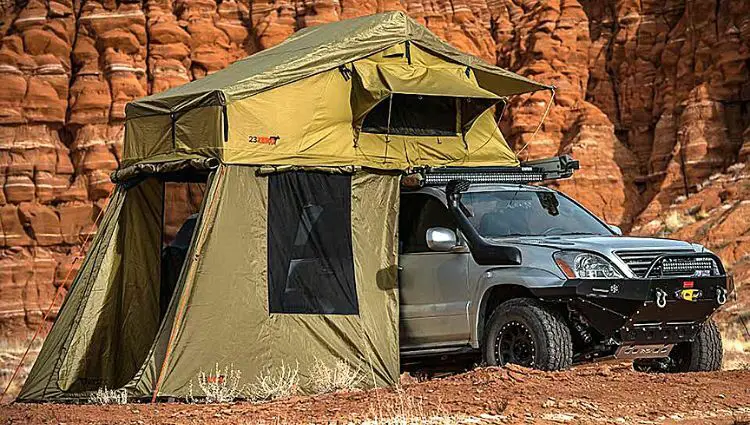 1. Get The Vehicle Level
This must be done before the tent can be erected. Even the tiniest slopes can have a major impact on your roof top tent, even if they aren't obvious from the driver's seat. Check out our article on how to level a roof top tent for all the information you'll need to keep your tent perfectly horizontal.
If you want a good night's sleep while driving, make sure your car is completely level.
Sliding during sleep – While this may not be a problem if you sleep alone, having a sleeping companion who continues rolling on top of you throughout the night can certainly disrupt your sleep.
Blood rushes – If your head is lower than your feet as you sleep, the blood will flow to your head.
Clumpage – When pitching a roof tent on a slope, the user is less likely to make full use of the tent's area since their bedding materials tend to collect at the tent's lowest point.
Harder to enter and exit – Rooftop tents are already more difficult to access and depart, and an elevation or dip at the tent's entry can make it significantly more difficult and even deadly.
A flat area where you can park your car is ideal for a roof top tent, as is a surface that is hard and constant and won't deteriorate in bad weather.
The navigation systems of today's automobiles typically include inclinometers that display the angle at which the vehicle is resting on the ground. A ball or water bottle can be used to determine the vehicle's roll tendency if you have an older model.
Putting your car on a flat surface may seem like an unnecessary precaution, but it will greatly necessary to make a rooftop tent more comfortable.
2. Add More Padding To The Base
Padding on the floor is a big advantage of a tent with a roof. This cushion is better than sleeping on the hard ground, but it's not quite as plush as a real mattress.
The standard padding for the tent floor of a roof top tent is roughly two inches thick. No matter how much cushioning there is, you still could feel the bars of your car's roof rack when you toss and turn.
Add another cushion to the tent floor on top of this layer of foam for further comfort. Tents on top of vehicles make it tough to fit bulky items like air mattresses and comforters inside, but there are plenty of inflatable alternatives that can be inflated once you're inside.
In a positive turn of events, these lodgings need not be luxurious in any way. Adding even a minimal amount of padding to your roof top tent can significantly improve its use and comfort. Check the Double Sleeping Pad Ultralight Portable Camping Mattress below that can help to make a rooftop tent more comfortable.
3. Use A Pad Sleeve For Insulation
If you decide to use an additional pad on the tent floor, wrap it in a fitted pad sleeve to provide an extra layer from the elements. This sleeve looks like a combination of a fitted sheet and a sleeping bag for blow-up mattresses.
If you're going with just the embedded stock padding, be sure to line it with a similarly styled liner. You don't want to sleep directly against the tent's padding. Not only does a liner provide insulation from the cold, but it adds a little additional softness as well. 
4. Add A Condensation Mat
Condensation is the one factor that might destroy the relaxing atmosphere of your rooftop tent. A condensation mat should be added to your sleeping setup after an insulating pad sleeve or liner has been used. It's not pleasant to wake up and find that your entire tent has been soaked by the night's rain.
Condensation on your roof top tent is not only an eyesore, but also poses a threat to the tent's structural stability. Mold, rot, and decay caused by moisture can speed up the breakdown of your tent.
Tents with condensation mats inside are drier and more comfortable to sleep in because the mats collect condensation during the night. This not only helps you sleep better by removing any moisture from your tent, but it also helps you avoid getting wet in the first place.
In addition to using a condensation mat, you should always leave one tent window ajar. Condensation is avoided even when it's freezing outdoors because of the constant supply of fresh air. To improve the condition and to make a rooftop tent more comfortable, Thule Tepui anti-contensation mat would be very useful.
5. Invest In Cooling Sheets
Superior bed linens make for a more restful night's sleep. In addition to its luxurious softness, bamboo sheets are also very breathable and resistant to perspiration. This is crucial, as perspiration may rapidly lower body temperature, especially if a breeze blows into your tent.
As an added bonus, cooling sheets may help prevent moisture accumulation and keep your sleeping space smelling fresh and make a rooftop tent more comfortable.
6. Use A Camping Blanket Instead Of A Sleeping Bag
While sleeping bags are a must-have for each camping trip, consider this: do you ever use one at home? Most likely not.
While sleeping bags are a great choice for keeping you warm and dry in less than ideal conditions, they are also rather confining and not a good choose for when the weather is fine.
Consider recreating a homelike sleeping environment in your rooftop tent for maximum comfort.
An airy camping blanket is like a down comforter but is designed for use in the great outdoors. Common fillings include down feathers or a synthetic fiber designed for low temperatures. It'll keep you toasty on your camping trip like nothing else, and it'll feel just like your own bed at home.
In most cases, a down camping blanket will have some sort of simple packing system. If you're tight on storage space, you might benefit from using a compression bag. The gear below can come very handy to make a rooftop tent more comfortable.
7. Bring Quality Pillows
Some overlanders choose to take inflatable pillows on camping excursions to reduce the amount of gear they have to bring. Though this is helpful, it also isn't particularly pleasant to spend time in.
Comfortable sleep requires high-quality pillows. Badly designed pillows don't conform to your head and neck and may even flatten out over the night. This might cause you to have a restless night's sleep, and it can also give you a headache or neck discomfort.
As before, if you're struggling with storage, you may toss your pillows into the vacuum bags along with your duvet.
Check out the Outdoor Pillow for Camping and Hiking by TETON Sports. This me can make  sleep at rooftop tent more comfortable.
8. Add Lighting Inside The Roof Top Tent
You will likely find other uses for your roof top tent besides sleeping. After the sun goes down, you'll need a source of illumination if you plan on socializing. It's not going to work to hold up a flashlight for hours on end.
It's possible to quickly install lighting in your roof top tent, making it seem more like home. Which option is best for you depends on factors such as the sort of roof top tent you have and the availability of electrical outlets:
Lamps and lanterns – Lighting using lamps and lanterns is the simplest solution, as it can be used with any style of roof top tent and doesn't require access to electrical outlets. Lamps and lanterns will illuminate your tent, but they will take up valuable "floor" area and may not provide an even glow across the room.
Hanging lights – Lights that may be hung from the top depend on the sort of roof top tent you have. This would result in more uniform illumination, but you should check if the tent's ceiling can handle the added weight.
Light strips – The best approach to illuminate your tent is using light strips, provided you have a way to charge them. Put up a tent at night by affixing LED strips to the poles.
You may get a wide variety of innovative camping lights for use with batteries or other power sources online or at outdoor stores. There are a variety of tent lights available to meet your needs. I stay with a plain hanging led lamp.
9. Understand Vehicle Orientation
When setting up a roof top tent, the first step is to make sure your vehicle is on flat ground. It's also crucial to make sure your tent is set up correctly so you can have a relaxing camping experience. Please think about the following:
Which direction does it face? You probably don't want a clear view of the east from your tent if you're the snooze-obsessed sort. You will, without fail, be awakened each morning by the rising light.
Are there trees? Depending on your needs and the weather you're camping in, shade might be a blessing or a curse. A tent in the shade will naturally be considerably cooler than one in the sun. Follow the proper parking procedures. Tent-ruining branches or melting snow might also fall from a tree if you park under it.
What are the surrounding areas like? I was wondering what the neighborhood was like. A rooftop tent is just one component of your total camping setup. Make sure it's set up so that it's easy to cook, relax, and entertain while you're away.
10. Use A Hot Water Bottle And Insulated Throw Blanket In Cold Weather
When it's really chilly outside, it's nice to have some extra insulation from hot water bottles and a thick throw blanket to snuggle up to.
These additions not only provide for a cozier night under the blankets, but also ensure that the warmth stays evenly distributed. If you're on a tight budget but still want to be comfortable at night, this is a fantastic choice to make a rooftop tent more comfortable..
11. Set Up The Annex And Awning
An annex is an optional extra that can be purchased with some roof top tents. It serves to enclose the ladder and shield the area around it. This makes camping feel more like a relaxing vacation at home.
If your tent doesn't come with an attached porch, you may install an awning to create a shaded space near the tent to relax in the afternoon.
On chilly evenings, an annex might serve as a convenient location for a gas heater.
12. Use A Portable Fan
Everyone here can relate to that feeling. Camping in the heat and being unable to get any rest because your tent won't cool down enough.
Even if you crack the tent flaps on a hot summer night, the airflow may not be sufficient to keep you comfortable. The convenience of a portable fan is invaluable on steamy summer evenings  and makes life at rooftop tent more comfortable.
13. Use A Shoe Bag
Using a ladder is necessary to access a roof top tent, which is one of the most annoying features. Getting in your tent will require more work, and you'll have to keep your shoes on the whole time.
When entering a classic ground tent, one need just remove his or her footwear and deposit it in a designated area outside the tent's entrance. Because of the inability to remove footwear before entering the tent, the ground inside a roofed tent can quickly become a muddy mess.
To prevent tracking dirt into your tent, have a shoe bag on hand once you've set up camp. A night spent with filthy floors beneath your feet is not a pleasant one.
Rooftop Tents: Softshell vs. Hardshell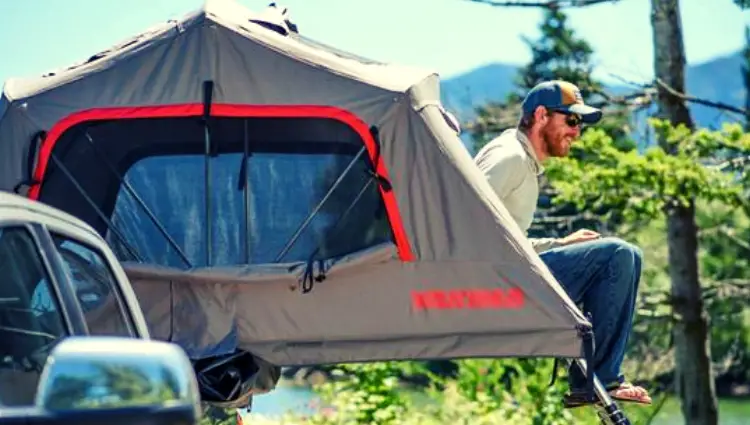 Softshell Tents
The softshell kind of rooftop tents is the most common choice for first-time buyers. Folding out past the top of your car, these shelters are protected from the elements by a tough and waterproof soft cover. The platform serves as a home for the tent's body, which is erected with the use of inner hinges and poles. 
The primary benefit is the lower price, with two-person softshells often costing between $1,000 and $2,000 and a comparable two-person hardshell tent costing well over $3,000. Larger in size, more flexible in design, and able to house annex tents and canopies with ease, softshell tents are another option.
When compared to hardshell versions, however, the drawbacks become apparent. The soft covers are especially vulnerable to the effects of moisture (read: mold) during storage. Because they lack the structural integrity of a hard cover, softshell tents are also often louder in the wind when opened and when being stored. Finally, just like a ground tent, setting up and breaking down a softshell will take a considerable amount of time.
Hardshell Tents
Hardshell tents, in contrast to its soft-sided counterparts, include a fiberglass, plastic, or aluminum shell that encloses the actual tent canopy. The vast majority of them have a hinged opening (called a clamshell) or a pop-up mechanism on all four corners (like a box). Most hardshells have a footprint no larger than the vehicle's roof, but some may be folded out to provide more space on the ground and accommodate accessories like an awning.
Many hardshell tents have smaller floor designs and are more heavier and more costly than softshells. However, many people see the value in them because of their increased durability, portability, and security. In addition to being more aerodynamic and waterproof (so mildew is less of an issue) and protective during transit, hardshell tents also shield against low-hanging branches and flying debris. 
Because of their shell-like shape, many of them have enough room inside for things like a sleeping bag, and some can even fit a bike, skis, kayak, surfboard, or solar panel on top. When open, they offer superior protection from the wind, more headroom, and a softer mattress than others. Moreover, one of the most appealing features of hardshell tents is how quickly and easily they can be set up, usually in under a minute. This is a huge benefit for campers who break camp and shift locations every day.
The standard issue comfort of a roof top tent is high. There are a number of options available to you to ensure that your next vacation is as relaxing as possible.
You should pack at least a comfortable camping blanket if you plan on overlanding during the winter. On a hot summer night, it's best to bring along some cooling blankets and a fan to make a rooftop tent more comfortable at all times. 
You could get a huge performance boost from doing things like buying more cushioning and making sure your car is perfectly level. Remember these while you get ready for your next trip.