If you're a camper looking for the best rooftop tent that can handle year-round adventures in any climate, then you've probably heard of the Thule Tepui Autana 3. Known for its rugged construction and high-quality materials, this tent is designed to withstand the elements of any season. In this Thule Tepui Autana 3 review, we'll evaluate its key features, pros, and cons to help you determine if it's the right fit for your camping needs.
The Thule Tepui Explorer Autana 3 is a softshell, fold-out style roof top tent that comes with an extended canopy entrance and a removable annex, providing extra storage space. The main tent is designed to sleep up to three people, with a roomy interior and a high-density, 2.5-inch foam mattress for added comfort.
The tent fabric is constructed from coated 600 denier and a 260g poly-cotton blend, making it capable of withstanding the harshest weather conditions. The 600D ripstop fabric canopy is UV and mold-resistant, which ensures durability and longevity. The tent also features mesh panels for ventilation and a weatherproof rainfly for additional weather protection.
The Autana 3 comes with a high-quality aluminum ladder that's designed to withstand heavy use. Additionally, the removable annex provides extra room and privacy.
Pros and Cons of the Thule Tepui Autana 3
Pros:
High-Quality Construction: The tent is made from high-quality, 600D ripstop fabric and a 260g poly-cotton blend, designed to withstand the elements of any season.
Comfortable: The roomy interior and 2.5-inch foam mattress ensure comfort inside the tent, regardless of what Mother Nature throws at you.
Removable Annex: The annex is a great feature, providing additional storage space and privacy.
Weather Protection: The UV and mold-resistant canopy, together with the weatherproof rainfly, offer excellent protection against different weather conditions.
Ventilation: The tent features mesh panels that allow for good ventilation without letting in bugs.
Cons:
Weight Capacity: The tent is a bit on the heavy side, so you need to ensure that your roof rack can handle the weight.
Setup Time: Although the tent is designed for ease of use, setting it up can take a bit of time, especially for beginners.
Additional Cost: The high-quality materials and features come at a cost, making this tent a bit pricier than other models.
The Thule Tepui Autana 3 is an excellent choice for those who value durability, comfort, and weatherproofing in a rooftop tent. Despite its higher price point and weight, its high-quality materials and design make it a worthwhile investment for serious campers.
Whether you're planning to take on the elements of harsh winter or enjoy a breezy summer night, the Thule Tepui Explorer Autana 3 has got you covered. It's made to withstand whatever weather conditions you'll face, ensuring that you don't have to worry about a good night's sleep on your camping trips.
Our Results from Analyses and Tests
The Autana 3 is the undisputed champion of folding roof tents. While it performs similarly to the other softshell tents we evaluated across the board, it excels in the areas we found to be most significant.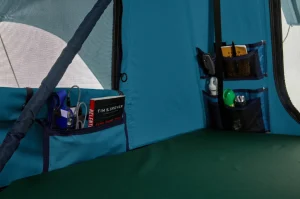 The Autana 3 excelled in this test. Nice foam mattress makes you feel like you woke up in your bedroom. The highest internal height in the Autana is 52 inches, providing plenty of room to rest. The canopy opens nearly completely to the sky with two huge windows with zipper and roll-up mosquito screens after the rainfly is removed. With all the windows open, it seems like sleeping under the stars. Privacy and peace of mind are also comforting. The entry awning blocks campers and keeps your ladder dry in storms.
The Autana 3 has an annex. When your tent is camping, the annex hangs from the floor. This adds a whole room to the tent for changing clothes, storing gear, or hanging out. We found it excellent for pets and might use it as an overflow room for more people. A main door, two side windows with mosquito screens, and a rear door allow you to drive from inside the tent. Most softshell models in our assessment offer annexes as an add-on, but they are smaller than the Autana 3 since they lack the extended entrance awning. In the other annex type, the ladder is outdoors and uncovered, so you must leave the annex to reach the tent's sleeping quarters.
The Autana 3's side window awnings are part of the main canopy, not the rainfly, so they cannot be removed or folded up. Some tents provide unobstructed side window views without the rainfly, so if 360-degree views are important, try the Yakima Skyrise Medium.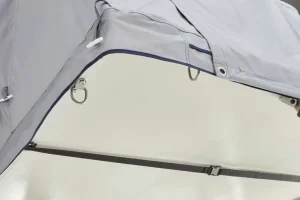 Durability is critical depending on your application. After 25 conversions from camping to travel mode and several nights in it, the Autana 3 revealed no wear and tear. As expected from a 600D ripstop canopy, tears and creases are unlikely. Thus, without the rainfly, this material will keep you dry in a mild storm. Despite being telescoping, the ladder is strong. Telescoping ladders have the most height possibilities, so you may adapt them for uneven ground. Thus, you avoid stressing the ladder or tent floor by making it excessively steep or too flat.
Durability frequently adds weight, as with the Autana. Durability may be less important to some. If you only use your tent occasionally and are kind to your gear, a lighter canopy tent may be best. Thicker textiles are more durable but less breathable, therefore a canopy with more durability may be less breathable.
Every softshell tent we reviewed takes about the same time to camp. The Autana 3's ladder awning takes an extra minute, unlike the other versions in our test. Anchor the awning to the ground with ropes and posts (or heavy objects) in high winds.
Thule Tepui wins while returning to travel mode. To close their telescoping ladder, buttons on the bottom of each rung self-release. Putting the ladder away merely requires two buttons, making getting back on the road easy. This may seem tiny, but our testers found it a big boost. 
Assembly and Installation Ease
The Autana takes time to attach tent mounting tracks at the bottom. We found this method much easier with two individuals, so grab a companion before starting. With the accompanying wrenches, the Autana is straightforward to mount and remove from a car.
Autana 3 isn't the lightest rooftop tent we tested at 130 pounds. A lightweight tent may be beneficial if you frequently remove it from your vehicle. Consider that the annex cannot fit inside the tent. It weighs 20 pounds and needs room in your car.
One of the easiest soft-cover models is the Autana 3. Two velcro straps around D-rings open and close in seconds. A sturdy zipper simply unzips along three sides of the cover after the straps are removed. The D-ring side of the Tepui straps double as straps to roll up the cover when not in use while keeping it attached so you can access your vehicle or truck bed while camping.
The zipper on the main clasp makes reattaching the cover faster and easier than velcro. It's also quick to sling the straps over the tent and fasten them to the D-rings without climbing on your car. Lots of conveniences.
This rooftop tent is ideal for a couple or family of three who will use it often. The Autana 3 is roomy, private, and comfy. Durability and weather protection make it one of the most adaptable solutions. It's expensive, and many may not think the extra features and performance are worth it. If you don't need the entry awning and don't expect bad weather, go cheaper.
Due to its durability, comfort, privacy, versatility, and execution, the Thule Tepui Explorer Autana 3 easily wins our praise. This magnificent rooftop tent protects you in a crowded campground, the middle of nowhere, a low-elevation dry desert, or a high alpine meadow getting dumped on.
Thule Tepui Autana 3 Review: FAQs
1. What is the Thule Tepui Autana 3 tent?
The Thule Tepui Autana 3 tent is a high-quality, rooftop tent designed for year-round adventures in any climate. It features a removable annex and a spacious main tent for comfortable camping experiences.
2. What are the key features of the Thule Tepui Autana 3?
The Thule Tepui Autana 3 tent is constructed from coated 600D ripstop fabric, making it rugged and durable. It has a weight capacity of up to 600 lbs and offers ample storage space inside the tent. The canopy fabric is made from a breathable polyester cotton blend, providing excellent ventilation.
3. Is the Thule Tepui Autana 3 tent weatherproof?
Yes, the Thule Tepui Autana 3 tent is designed to withstand the elements of any season. The tent fabric is made from 600D ripstop fabric, which is highly durable and weatherproof. Additionally, the tent comes with a rainfly for added weather protection.
4. How easy is it to set up and use the Thule Tepui Autana 3 tent?
The Thule Tepui Autana 3 tent is relatively easy to set up and use. It has a fold-out design and can be installed on a roof rack. The ladder is also included and provides easy access to the tent. The zipper closures ensure secure and hassle-free usage.
5. Does the Thule Tepui Autana 3 tent provide good ventilation?
Yes, the Thule Tepui Autana 3 tent offers excellent ventilation. It features mesh panels and a breathable canopy fabric that allows for airflow and keeps the interior fresh and comfortable.
6. How durable is the Thule Tepui Autana 3 tent?
The Thule Tepui Autana 3 tent is constructed from coated 600 denier ripstop fabric and a 260g poly-cotton blend. This combination of materials ensures its durability and ability to withstand various weather conditions and outdoor elements.
7. Does the Thule Tepui Autana 3 tent come with an annex?
No, the Thule Tepui Autana 3 tent does not come with an annex. Here are some key details about the tent:
It is a 3-person tunnel tent that weighs 5.4 lbs.
The roof, floors and walls are constructed out of waterproof acrylic fabric.
It has a tub floor design for extra protection from moisture and bugs.
Comes with color coded poles and clip pole sleeves for quick and easy setup.
Has mesh doors, windows and roof for good ventilation.
Interior dimensions are 81 x 59 inches with a maximum head height of 42 inches.
Sleeping capacity is listed as 1-3 people depending on size of occupants.