Looking for the perfect camping solution? Look no further than the iKamper Skycamp 3.0 rooftop tent, boasting a spacious interior and premium polyfoam mattress.
If you're an avid camper, you know that your camping gear can make or break your trip. A good quality tent is one of the most important pieces of equipment to invest in, especially if you're looking for a comfortable and hassle-free camping experience. Enter the iKamper Skycamp 3.0 rooftop tent – the perfect solution for anyone looking to elevate their camping game in 2023. With its spacious design and premium features, the Skycamp 3.0 offers the ultimate camping experience that will take your outdoor adventures to new heights.
In this post, we'll take a look at the iKamper 3.0 and see what makes it special, how it compares to the previous generation, and whether or not it's worth spending over $4K on when there are so many other tents that serve the same purpose.
Ikamper Skycamp 3.0 - 4 Person - Hard Shell Roof Top Tent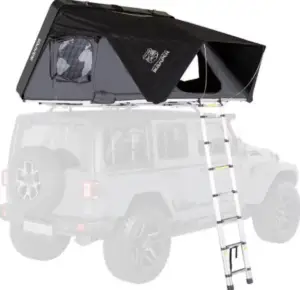 If you're in the market for a rooftop tent, look no further than the iKamper Skycamp 3.0. Those who wish to take their camping experiences to the next level will find that its roomy interior, comfy sleeping space, and plethora of conveniences make it a top pick. To help you determine if the Skycamp 3.0 is the ideal tent for your next camping trip, we'll take a closer look at it and analyze its features, benefits, and downsides in this review. Read on to learn all you need to know about the iKamper Skycamp 3.0, regardless of whether you're a seasoned camper or just getting started in the great outdoors.
Skycamp 3.0 comes in two flavors, the regular and the tiny. Despite their similarities, there are a few key distinctions between the two.
The number of available beds is a key distinction between the two types. In contrast to the Skycamp 3.0 Mini, which can only accommodate two people, the Skycamp 3.0 can accommodate four. Their name should have given it away for you. If you want a visual representation of the size differential, the figures up above should help.
The iKamper Skycamp 3.0, in comparison to the smaller Skycamp 3.0 Mini, the iKamper Skycamp 3.0 is clearly larger. In comparison to Mini's 29.9 square feet of floor space, 3.0's floor space is around 44.3 square feet in size.
Due to its tiny size and low weight, Skycamp 3.0 Mini may be mounted on a wide variety of vehicles, from compact cars to pickup trucks (You will, of course, need to right roof rack system). Mini also doesn't require much room on your rack, leaving you with more room for recovery gear like shovels and boards.
Meanwhile, the Skycamp 3.0 (4-person variant) is only compatible with SUVs, long cars, and truck bed racks. Because of its size, it can't be used with compact cars. In contrast to Mini, iKamper Skycamp 3.0 completely occupies your rack, making it impossible to install any further accessories.
These two variants also vary from one another in terms of mattress thickness. The mattress on the Skycamp 3.0 is 2.5 inches thick, whereas the mattress on the Mini is just 2.25 inches thick. Each model's mattress is made from the same indistinguishable material.
Which version should you buy? To be honest, it is questionable unless we know what those needs are. The iKamper Skycamp 3.0 Mini is the best option if you're searching for a small and lightweight tent, while the iKamper Skycamp 4 Person is the best option if you're in need of a lot of space.
| Specs                       | Skycamp 3.0                  | Skycamp 3.0 Mini           | Skycamp 2.0                |
| --- | --- | --- | --- |
| Sleeping Capacity | 4 People | 2 People | 2 people |
| Weight | 165 lbs | 125 lbs | 120 lbs |
| Floor (LxW) | 83" x 77" (44.3 sq ft) | 83" x 62" (29.9 sq ft) | 83" x 77" (43.2 sq ft) |
| Price | $4199 | $3699 | $2,999 |
| Main Tent Materials | PU-coated 150D polyester | 300gsm poly-cotton canvas | 300gsm poly-cotton canvas |
| Rainfly Materials | polyester 75d ripstop rainfly w | polyester 75d ripstop rainfly w | polyester 75d ripstop rainfly w |
| Floor Materials | Aluminum floor | Aluminum floor | Aluminum floor |
| Extras | 3.0's mattress | Memory foam mattress | Memory foam mattress |
One of the key draws of hard shell rooftop tents is their simplicity, and both iKamper Skycamp 3.0 models maintain this trait. They open and close in about a minute or less, and the operation is seamless. To learn more about the setup procedure, please watch the video below.
For all hard shell rooftop tents, the setup procedure is essentially the same. Yet, compared to its predecessor, iKamper Skycamp is a bit easier to set up thanks to a little feature. Its hard-shell roof-top tent is safe thanks to its redesigned locking latches, which also don't restrict camper access.
Frequently, you would have to open the clasp by squeezing your finger between the rack system and the tent (quite uncomfortable). Nevertheless, the lock clasp has been relocated to the top of the new iKamper, making it much simpler to open.
There are several options to put the iKamper Skycamp on your car when it comes to installation. Nevertheless, using a pair of aftermarket crossbars like the Thule Wingbar Evo or Rhino-Rack Vortex is the least expensive choice.
The Skycamp rooftop tent may be mounted on a vehicle-specific roof rack if you don't want to use crossbars. These are often more expensive than crossbars, but when your rooftop tent is not in use, you may put a lot of goods on them.
If you own a truck, you can attach the iKamper Skycamp 3.0 using bed racks as well. Definitely the most expensive choice, but it has advantages. There won't be any wind noise or drag because the tent won't be on your roof.
With your order, iKamper delivers you for free all the mounting hardware required to put Skycamp 3.0 on your rack system. You should be aware that you cannot place these tents on your car by yourself due to their weight. At the very least, a few of your pals will need to assist you.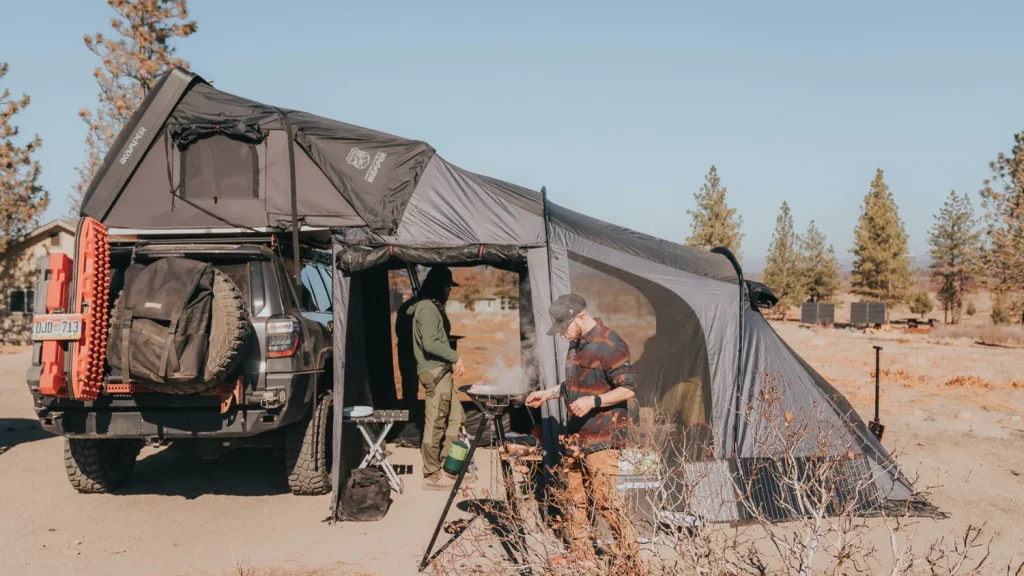 Previous iKamper Skycamp models were panned in part because their hard shell was too flimsy and poorly made. The iKamper team solved this problem by adding several layers of strong materials to the outside of Skycamp 3.0.
Both black and rocky black versions of the shell, which is composed of fiber-reinforced plastic and has an air gap of 1 inch, are offered. The defining feature of the rocky black (also known as matte black) variety is its ability to shield your shell from UV radiation and mask scratches, neither of which are present in the black version.
The iKamper Skycamp 3.0 has a 75D ripstop rainfly with an eco-friendly water-repellent coating and a body fabric composed of breathable, black-out, 300gsm polycotton canvas. That is to say, the iKamper 3.0 versions are all-weather ready and will keep you dry and comfortable even in extreme weather (even the zippers are waterproof to avoid water leaks!!).
The iKamper Skycamp 3.0 has a rail on the bottom where you can attach things like shoe organizers and hand lamps for use in the tent. The panel has two watertight holes where you can connect wires and cables so you can put in fans, light strips, and other electronics.
The mattress on an iKamper Skycamp is terrible; anyone who has slept there can attest to it. Very little padding was there, making them an extremely uncomfortable choice. Most guests needed to use an additional sleeping bag or blanket to feel at ease on the mattress.
One of the most noticeable changes in iKamper Skycamp 3.0 is the mattress. Compared to earlier models, this one is roughly an inch thicker and boasts a 9-zone insulated foam construction at around 2.5 inches. It's difficult to create a universally comfy mattress. Although it may be quite comfortable for the vast majority of sleepers, that may not be the case for you. If that's the case, you may always bring your own mattress or sleeping bags to sleep more soundly.
As you pack up your iKamper Skycamp 3.0 tent, you can stow away your sleeping bags, pillows, sleeping pads, and other sleeping essentials inside. In earlier editions, this was notably absent, yet it is really useful. You won't have to haul your pillows and sleeping bags up and down the tent each time you set it up or take it down.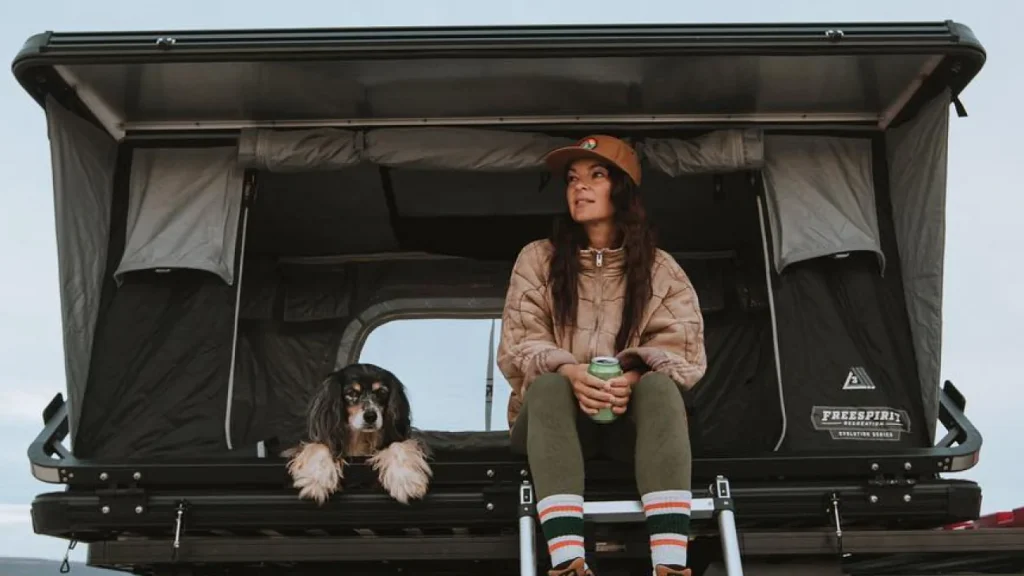 RTTs frequently suffer from condensation when severe weather strikes (previous Skycamp versions also had this issue). Condensation under the mattress is a common problem that prevents people from getting a good night's sleep. You might not think condensation is a huge concern, but if your rooftop tent isn't made to manage it, it could swiftly spoil your entire trip.
There is an insulating layer beneath the mattress on the iKamper Skycamp 3.0, which not only keeps you warm but also decreases condensation in wet weather. Also, condensation is reduced thanks to the fact that the body fabric of Skycamp 3.0 is created from breathable materials.
Mesh panels cover all of Skycamp's windows, so no bugs will be able to sneak in and ruin your night's rest. Your phone, wallet, keys, etc., may be safely stowed away in the two side window storage compartments. When you open all the windows, you get a great bird's-eye view of your campground, but it would be even cooler if the side windows were a little wider (not a deal breaker). There's even a skylight window installed in the ceiling to make even your nighttime adventures more exciting.
In sum, the new iKamper Skycamp 3.0 is an excellent choice for a comfortable night's rest. This tent will keep you dry, warm, and cozy no matter what the weather is like when you're out camping.
ikamper Skycamp 3.0 Buyer's Guide
Thus far, we've established that Ikamper Skycamp 3.0 is a costly commitment over time. Have a look at these considerations before making a purchase.
1. Compatibility with Vehicles
In spite of ikamper's universal mounting technique, which makes it suitable for most vehicles, we recommend checking with your car's maker first. Learn if the rooftop tent will fit on your car's roof rack by reading this.
You may also verify that the ikamper 3.0 tent's weight is OK by consulting the car's original equipment manufacturer.
2. Model Ikamper 3.0
Both the Skycamp 3.0 tiny and the full-sized Skycamp 3.0 are available for the Ikamper 3.0 model. While there are numerous similarities between these models, there are also some key distinctions.
For instance, a Skycamp 3.0 tiny can only sleep two people, but a standard Skycamp 3.0 tent can house four. Depending on the size and demands of your family, you may choose the finest Ikamper 3.0 model to purchase.
3. Your Budget
Are you ready to spend a lot on a rooftop tent, and if so, how much?
Skycamp 3.0 costs $4199, while the smaller Skycamp 3.0 Mini may be purchased for $3699. Budget for your Ikamper 3.0 based on how often you camp, the size of your family, and your financial capabilities.
Q. Should I invest in iKamper? 
The ikamper skycamp 3.0 really justifies its price tag. The ikamper models are usually more expensive than you'd like to spend, but they provide you the flexibility to jet out at the last minute. Regular campers may enjoy the same level of convenience and style with these products.
The Ikamper 3.0 is a great addition to your tent life because it is built of very durable, scratch-resistant covering and can fit up to four people inside.
Q. Is the iKamper warm?
As they are installed high off the ground, ikamper roof top tents offer significant thermal advantages. The outer layer is constructed from thick canvas to increase their ability to retain heat.
Moreover, a tent for added insulation is available as a companion accessory for your Ikamper roof top tent. An insulation tent can be used to increase the RTT's thermal efficiency and protect its occupants from the harsh elements, especially during the winter.
But, if you plan on camping in chilly weather, make sure to carry a sleeping bag with the appropriate rating to keep you warm and snug.
Q. Is there room for bedding in the iKamper?
Because of its foldable extension panel, the ikamper may be used as a spacious and portable root top tent. With of the tent's enhanced aerodynamic hard shell wax, you may keep your sleeping bag and other necessities inside. The time you save not having to make your bed might be better spent relaxing in it.
Q. How can I prevent condensation while using the iKamper?
Putting an anti-condensation mat under the family's mattress is one of the most efficient techniques to prevent condensation from forming inside the roof top tent. The result is improved ventilation. It also stops damp air from gathering there.
An Ikamper skycamp 3.0 is recommended since the mattress has a moisture-resistant insulating pad.
Q. In the heat of summer, how can I cool my rooftop tent?
Rising summer temperatures might make it uncomfortable to spend extended periods in your roof-top tent. The hard shell roof top tent might become rather hot, so you might want to think about putting in an air conditioning system.
In its place, you may set up a small evaporative cooler with its own fan. The drawback of using an evaporative cooler fan is that it needs to be constantly refilled with water in order to release cold air.
Q. How fast can you drive with a roof top tent?
While traveling at peak speed with a tent on your roof rack is not dangerous, it is recommended that you maintain your speed below 65 mph. This is due to the fact that transporting a tent makes your car heavier.
iKamper Skycamp 3.0 Final Thoughts
You have it now! The updated Ikamper Skycamp 3.0 series is a great hard-shell roof-top tent alternative because of its great features.
Although it might be pricey, Ikamper 3.0 ensures the highest level of comfort, security, and ease. The Ikamper Skycamp 3.0 mini and Ikamper Skycamp 3.0 are the two different types of the Ikamper 3.0, which is very simple to set up and has good insulation and ventilation.
Prepare yourself for fantastic road trips and camping excursions with the new Ikamper 3.0 series!
Related post