Let's diveve into a detailed review of the Thule rooftop tent, exploring its features, quality, and performance. Uncover why this tent is a top choice for outdoor enthusiasts seeking a comfortable and convenient camping solution.
Camping enthusiasts have always sought ways to enhance their outdoor experiences, and the advent of rooftop tents has been a game-changer. Among the best rooftop tents in the market is the Thule Tepui Foothill. Independently tested by GearLab, Thule's rooftop tents have been praised for their ease of use, versatility, and overall enjoyment they bring to camping trips. In this review, we will delve into 7 incredible benefits of the Thule rooftop tent, powered by testing and completely free from sponsored content.
1. Easy to Assemble and Fold
The Thule approach to design prioritizes user-friendliness. The Thule Tepui Foothill, for instance, is incredibly easy to set up. Converting the tent from travel to camping mode is as simple as unzipping the cover, unfolding the tent, and extending the included Tepui ladder. The process to put the cover back and fold the tent is just as straightforward.
2. Quality Materials and Durability
The Thule Tepui rooftop tents are made with 600D ripstop fabric, a beefy material known for its ruggedness and durability. The canopy is constructed with a softshell Cordura that can withstand harsh weather conditions. You can be assured of the tent's longevity and reliability, no matter where your 4×4 takes you.
3. Comfort and Spaciousness
Inside the tent, you'll find a high-density foam mattress that ensures a comfortable sleep, even in the most remote locations. The Thule Tepui Foothill, with its lengthwise fold-out design, offers plenty of room for two adults to sleep comfortably. There is even enough space to change clothes or stow away your gear.
4. Versatility
Thule rooftop tents are versatile. They can be mounted on a variety of vehicles, from SUVs to campers, thanks to the universal mounting tracks. This versatility enhances the overall enjoyment of your camping trips, providing a comfortable and durable canopy wherever you park.
5. Excellent Weather Resistance
The Thule Tepui's 600D ripstop canopy and rainfly work together to keep you dry during rainy nights. Even without the rainfly, the tent's material can withstand light rainfall. For stargazing nights, you can simply unzip and remove the rainfly for an unobstructed view of the night sky.
6. Ease of Access
The Thule Tepui Foothill comes with a telescoping ladder, allowing for easy access to the tent. The main door and sides of the cover also use a robust zipper system, making it faster and easier to enter or exit the tent.
7. Compact Design and Storage
One of the advantages of the Thule Tepui Foothill is its compact design. When in travel mode, the tent takes up only half the roof space, freeing up room for other gear. This design also improves fuel efficiency by reducing wind resistance during travel. Inside the tent, pockets and storage spaces provide room to keep your belongings organized.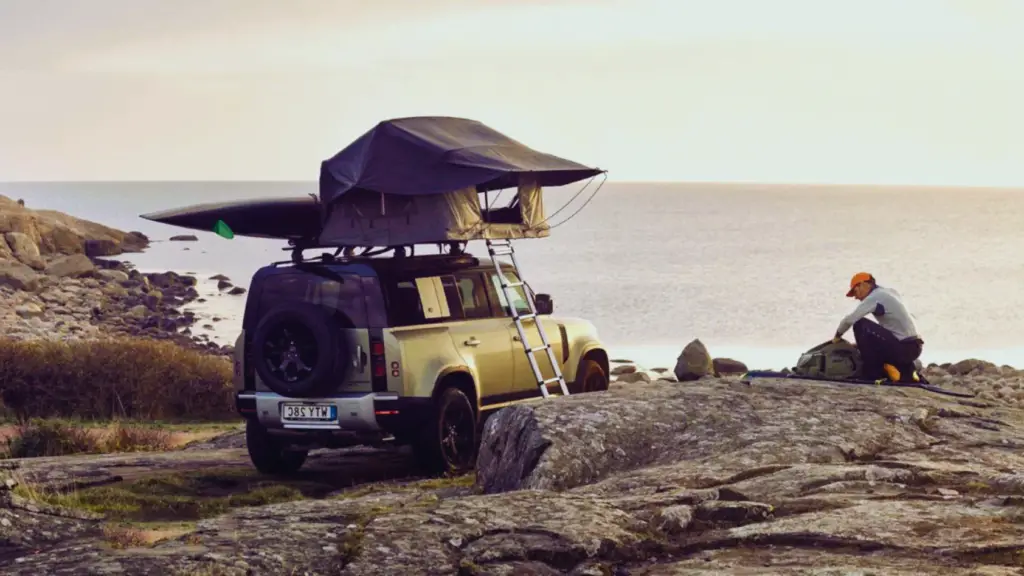 Differences Soft-shell and Hard-shell Rooftop Tents
When it comes to rooftop tents for camping and outdoor adventures, two popular options are soft-shell rooftop tents and hard-shell rooftop tents. Each type has its own set of advantages and disadvantages. Here's a comparison to help you make an informed choice:
Soft-Shell Rooftop Tents
Soft-shell rooftop tents are characterized by their fabric or canvas exteriors and collapsible design. Here are some key differences:
1. Material
Exterior: Soft-shell tents have fabric or canvas exteriors, which are typically made of durable materials like polyester or ripstop nylon. These materials are breathable and can withstand various weather conditions.

Interior: The interior often includes a foam mattress for comfort, and the walls are usually lined with a breathable, moisture-resistant material.
2. Setup
Ease of Setup: Soft-shell tents are relatively easy to set up, often requiring less time and effort compared to hard-shell tents.

Expandability: They can be expanded and folded down quickly, making them convenient for frequent campsite changes.
3. Weight
Lightweight: Soft-shell tents are generally lighter than hard-shell tents, making them a better choice for vehicles with lower weight capacity.
4. Storage Space
Storage: Soft-shell tents offer ample storage space for bedding and camping gear inside the tent when it's closed.
5. Cost
Affordability: Soft-shell rooftop tents are typically more budget-friendly compared to hard-shell alternatives.
6. Aerodynamics
Aerodynamic Design: They tend to have a lower profile and are more aerodynamic, which can lead to improved fuel efficiency during travel.
Hard-Shell Rooftop Tents
Hard-shell rooftop tents are known for their rigid, shell-like construction. Here are some key differences:
1. Material
Exterior: Hard-shell tents have a sturdy, rigid exterior typically made from fiberglass, aluminum, or a composite material. This provides enhanced durability and protection from the elements.

Interior: The interior often includes a built-in mattress, and the hard-shell design provides better insulation and protection from noise.
2. Setup
Setup Complexity: Hard-shell tents may require more time and effort to set up and take down due to their rigid structure.

Stability: They offer superior stability in windy conditions and can handle heavy snow loads.
3. Weight
Heavier: Hard-shell tents are generally heavier than soft-shell tents, which may limit the vehicles they can be mounted on.
4. Storage Space
Limited Storage: The storage space in hard-shell tents is limited to the size of the closed shell, making them less spacious for storing gear when compared to soft-shell tents.
5. Cost
Higher Cost: Hard-shell rooftop tents are typically more expensive than their soft-shell counterparts due to their durable materials and construction.
6. Aerodynamics
Less Aerodynamic: They have a bulkier profile and may slightly reduce fuel efficiency during travel due to increased wind resistance.
In summary, the choice between a soft-shell and hard-shell rooftop tent depends on your specific needs and preferences. Soft-shell tents offer affordability, ease of setup, and flexibility, while hard-shell tents provide durability, stability, and insulation. Consider your camping style, vehicle capacity, and budget when making your decision.
Thule Rooftop Tents Review: Performance Comparison
When equipping your rig for overlanding adventures, a rooftop tent opens up endless possibilities for mobile camping. Thule offers some of the best hard-shell rooftop tents on the market built for performance and ease of use. In this review, we'll compare four of their premium tents to help you choose the perfect model.
The Thule Tepui Low-Pro provides a budget-friendly entry point into the world of rooftop camping while still delivering quality construction.
Set-up: Pre-attached expandable ladder makes set-up quick and simple. Poles assemble with spring-loaded action.
Weather protection: Rainfly offers increased coverage and waterproofing. PU-coated nylon interior resists moisture.
Sleeping capacity: Compact dimensions save space but limit capacity to 2 people maximum.
Height: Low-profile design gives 23 inches of headroom when opened.
Weight: At just 95 lbs, the Low-Pro is lighter than other Thule models.
Notable features: Integrated mounting system fits most roof racks. Budget price but still durable materials.
For solo travelers or couples needing a space-saving rooftop tent, the Thule Tepui Low-Pro is a great entry-level choice.
Thule Tepui Explorer Kukenam
The Kukenam balances ample living space with ease of use for 3 person camping capacity.
Set-up: Pre-attached telescoping ladder extends for access, then lift the lid into place.
Weather protection: Full rainfly creates added weather buffer. PU-coated ripstop nylon resists moisture.
Sleeping capacity: Sleeps up to 3 comfortably with 56 x 91 inch mattress area. Optional annex room available.
Height: 46 inches of headroom let you sit and move around inside.
Weight: Total packed weight is 140 pounds. Lightest 3 person Thule tent.
Notable features: Oversize skylight and side windows brighten interior. Plush 2.6 inch mattress included.
For families or small groups needing a user-friendly, spacious rooftop tent, the Kukenam hits the mark.
Thule Tepui Explorer Autana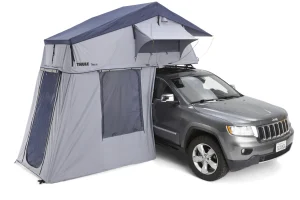 The Autana maximizes interior living space with its extended footprint and high roof peak.
Set-up: Telescoping ladder extends for easy access. Unfold the hard-shell lid into place.
Weather protection: Full rainfly shields the large tent area from the elements. Diamond-coated nylon stands up to harsh weather.
Sleeping capacity: Massive area with capacity for up to 4 campers. Optional annex expands space.
Height: At over 55 inches tall, most people can fully stand upright inside.
Weight: Sturdy materials result in a packed weight of 165 pounds.
Notable features: Vertical side walls maximize livable square footage. 4 large windows provide ample light and ventilation.
For caravanning with larger groups, the Autana provides cavernous and comfortable accommodations.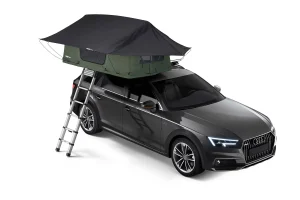 A rugged lightweight backpacking-style tent built for off-road agility and fast setup on the trail.
Set-up: Unfold the tent, stake down, then erect the hooped poles into position.
Weather protection: Aluminum poles give strength in wind. PU-coated rainfly shields rain and snow.
Sleeping capacity: Compact to allow for motorcycle travel but fits 2 campers comfortably.
Height: Hooped design creates livable 36 inch peak height at center.
Weight: At just 87 pounds, the Foothill is highly portable for off-roading.
Notable features: Vestibules on each side allow gear storage with mesh inner doors for ventilation.
When your adventures call for a nimble, road-ready rooftop tent, the Thule Foothill offers the perfect solution.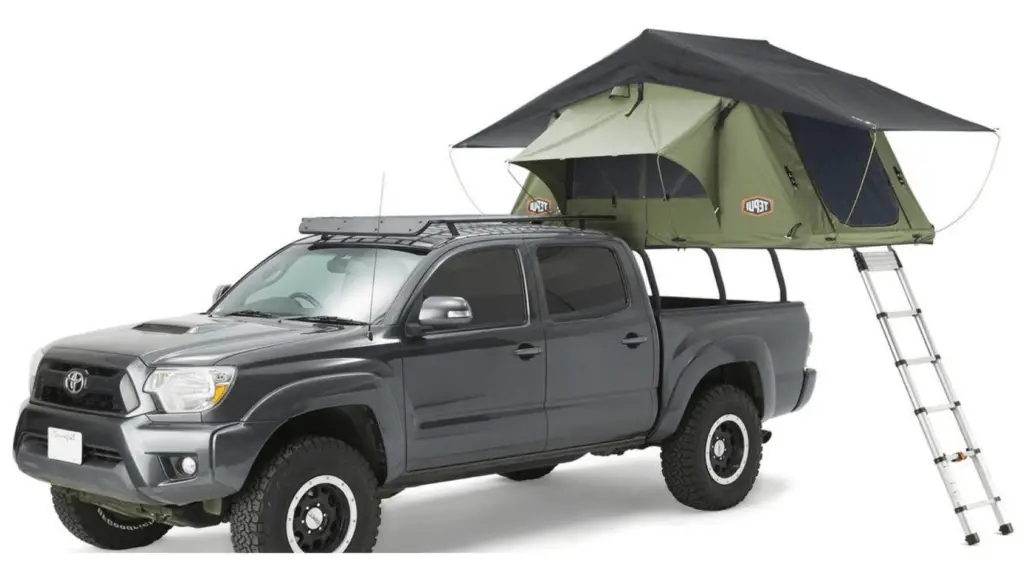 Key Considerations When Choosing a Thule Tent
Keep the following factors in mind when deciding on the best Thule rooftop tent for your needs:
Party size – Make sure to choose adequate sleeping capacity and interior dimensions.

Vehicle size – Consider packed tent weight and proper roof load limits for your vehicle.

Places visited – If traveling rough backroads, prioritize durable, rugged materials.

Set-up frequency – Favor quick, simple set-up if constantly on the move.

Weather expected – Select models with superior waterproofing and rain protection if needed.
Thule engineers premium tents designed for convenient vehicle-based adventures wherever you roam. Use this review to narrow down the perfect rooftop tent for your crew that matches your priorities. You'll be ready to hit the road and camp in comfort!
In short, the Thule Tepui Foothill rooftop tent offers a blend of convenience, comfort, and versatility that traditional ground tents struggle to match. Whether you're a weekend warrior or a long-term road tripper, investing in a Thule rooftop tent is an excellent way to enhance your camping experiences. GearLab, in their quest for an ad-free and influence-free review, found the Thule Tepui Foothill to be a top contender among rooftop tents, and we fully agree!
Thule Rooftop Tents: FAQs
What is a Thule rooftop tent?
A Thule rooftop tent is a fold-out rooftop tent designed and manufactured by Thule, a renowned brand in outdoor equipment. Thule rooftop tents, including the Thule Tepui and Thule Approach series, are tested by GearLab to ensure their quality and performance meets high standards. These tents feature a sturdy ladder, comfortable mattress, and a rainfly for protection against the elements. They are considered some of the best rooftop tents available in the market.
How do I assemble a Thule rooftop tent?
Assembling a Thule rooftop tent is relatively straightforward. Start by unfolding the tent and unzipping the cover to access the interior. Lift the tent using the included ladder or mounting tracks onto your rack. Once the tent is in the desired position, secure it using the mounting hardware provided. Thule provides detailed instructions with each tent to guide you through the assembly process.
What are the benefits of a Thule rooftop tent?
Thule rooftop tents offer numerous benefits for outdoor enthusiasts. These tents are made with durable canopy materials, such as ripstop fabric, ensuring they can withstand various weather conditions. They provide a spacious sleeping area, often with a comfortable foam mattress. Thule rooftop tents can be easily converted from travel mode to camping mode, allowing quick setup at your campsite. Additionally, Thule tents are independently tested and reviewed by GearLab, ensuring their quality and performance.
Are Thule rooftop tents suitable for stargazing?
Yes, Thule rooftop tents are suitable for stargazing. The tents feature a rainfly that can be easily removed, giving you an unobstructed view of the night sky. You can enjoy the beauty of stars and constellations from inside the tent, providing a unique camping experience.
How durable is the canopy of a Thule rooftop tent?
The canopy of a Thule rooftop tent is made from durable materials, such as ripstop fabric with a 600D rating. This ensures it can withstand rough conditions, including rain, sun exposure, and wind. The sides of the cover are designed to provide protection and longevity to the tent, enhancing its durability.
Can I independently buy a Thule rooftop tent?
Yes, you can buy Thule from Amazon and other recommended sellers.