The iKamper Skycamp 2.0 review – a three-person or two-adult and two-child tent that combines the durability of a hardshell RTT with the convenience of a fold-out design.
Rooftop tents often only have room for two adults, so if you're planning on taking your small family camping, you may be out of luck.
But in 2017, iKamper swooped in with the excellent Skycamp to meet this need. As a result of customer feedback, the business has released the upgraded iKamper Skycamp v 2.0.
Taking the kids camping in comfort has never been simpler. You won't spend any time once you get to the campsite because the tent is both roomy and straightforward to erect.
Ikamper Skycamp 2.0 Review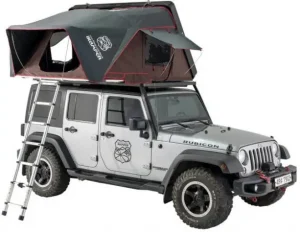 The Ikamper Skycamp 2.0 is an RTT (rooftop tent) made of a hardshell material that promises an unrivaled camping experience. For those who would rather spend less time in the great outdoors setting up their tent and more time out in it, this option is ideal, since it can be erected in under a minute. The Skycamp 2.0's roomy interior is great for hosting small gatherings of friends or a family of four. Quality, weather-resistant materials were used in the construction of the tent to ensure that you will be dry and comfortable in any climate. A built-in mattress, wide windows, and a movable ladder are just a few of the convenient additions that make using the Skycamp 2.0 a pleasure. Overall, the Ikamper Skycamp 2.0 is a great option if you're shopping for a premium hardshell RTT for your next camping trip.
The Ikamper Skycamp 2.0 is a revolutionary hardshell roof top tent that transforms your camping experience. The innovative design of the tent ensures that you can set it up easily and quickly, keeping you protected from the elements in minutes.
| | | | |
| --- | --- | --- | --- |
| Specs | Ikamper Skycamp 2.0 | iKamper Skycamp 3.0 | iKamper Skycamp 3.0 Mini |
| Seasons | 4 | 4 | 4 |
| Weight | 120 lbs (55 kg) | 165 lbs (75 kg) | 125 lbs (57kg) |
| Max Inside Height | 45 in | 132 cm | 52 in | 96.5 cm | 38 in |
| Pockets | 2 | 4 | 4 |
| Windows | 1 side, 4 roof | 3 side, 2 roof | 3 side, 2 roof |
| Floor Dimensions | 83″ x 77″  x 48″ | 83″ x 77″ x 48″ | 83″ x 52″ x 48″ |
| Floor Area | 83" x 77", 43.2 sq ft | 83″ x 77″ (44.3 sq ft) | 83″ x 52″ (29.9 sq ft) |
| Room Divider | No | No | No |
| Vestibules | No | No | No |
| Vestibule Area Dimensions | n/a | n/a | n/a |
| Packed Size | 12 in x 48 in x 56 in | 55 in x 85.5 in x 13 in | 11 in x 42 in x 48 in |
| Floor Materials | Aluminum | Aluminum | Aluminum |
| Main Tent Materials | PU-coated 150D polyester | Waterproof polyester | Waterproof polyester |
| Rainfly Materials | 600 D | 600 D | 600 D |
| Number of Poles | 8 | 8 | 8 |
| Pole Material | Aluminum/spring steel | Aluminum/spring steel | Aluminum/spring steel |
| Pole Diameter | 1/4 in | 1/4 in | 1/4 in |
| Design Type | Fold-out | Fold-out | Fold-out |
| Extras | Memory foam mattress | Memory foam mattress | Memory foam mattress |
The Skycamp 2.0 has a spacious interior, with measurements of 83 inches by 77 inches, for a total of 43.2 square feet—second only to the 47.8 square feet of the Roofnest Condor XL. The peak height of 45″ is 5 inches more than the Roofnest Sparrow but 5 inches less than the Condor XL and 15 inches less than the Roofnest Falcon. The shorter Sparrow is a pop-up hardshell with a flat roof, which allows for more inside capacity, while the considerably higher Falcon has an angled roof, which restricts interior volume. Only the somewhat taller Condor XL has a fold-out design that is most comparable to the Skycamp 2.0. Nonetheless, the Condor XL is a more affordable option than the Skycamp 2.0 by the sum of $500.
The Skycamp 2.0's massive door may be found on the passenger side of the truck. The Skycamp doesn't have a window on the wall facing the driver because to its hardshell roof, but there are two smaller windows in the front and rear that allow good views of the night sky, and a third window on the roof that lets in some sunlight. With the provided tension poles, the polyester side windows can be transformed into a pair of canopies, providing additional shade from the sun. The transparent vinyl on the interior completes the three-layer construction.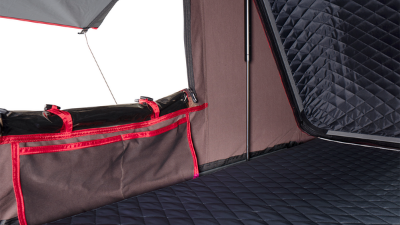 The Skycamp's king-size bed can accommodate up to three adults or two adults and two children. High-density memory foam is used to make the mattress, which comes in at 1.8 inches thick, making it a little thinner than the integrated mattresses on some of our other top-rated RTTs, which are often closer to 2.5 inches. Comfort-wise, this was a major negative. A minor letdown was the Skycamp's meager interior storage space; there were just two small compartments. It would have been ideal to have at least three or four, so that even at full capacity, each camper would have their own private space for belongings. However the global map image that was added to the inside wall was a nice touch.
The Skycamp 2.0 may be converted in a lightning-fast 60 seconds by a single person. In fact, the iKamper team has created a timed YouTube video to prove their point. After releasing the two clips on the passenger side, the roof may be raised with a little upward nudge. After that point is reached, the gas struts will take over and raise the hardshell to their full height. To access the tent's upper levels, you must first extend the ladder and drag it to the ground, then the extension panel of the tent will unfold and the ladder will lock into place.
The ideal angle for a ladder is at about 70 degrees. The awning's tension poles are installed above the doorway, the mattress is slid over, and the awning's corners are clipped into position. The Skycamp excels in the category of cover convenience because to its integrated hardshell, as there is nothing to roll up and put away. We also liked that, unlike with other pop-up hardshell tents like the Rooftop Sparrow, the ladder on all iKamper versions is linked to the extension panel, so you should still be able to reach the vehicle's door beneath.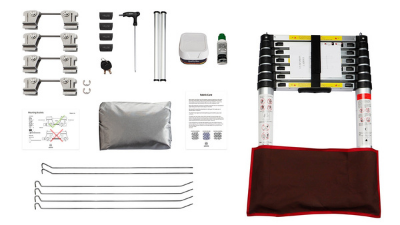 The Skycamp can be dismantled in a matter of seconds. Then, stack the half-mattresses on the other side of the tent from the doorway, and then take the tension poles inside. After that, you'll need to fold up the ladder extension and the main ladder, and then use the three straps to lower the hardshell roof (this may take just a bit of muscle, as the gas struts will provide resistance). When the hard shell is nearly closed, the straps may be tucked within and the clips secured.
With its adaptable mounting mechanism, the iKamper may be installed on virtually any car with two crossbars spaced no less than 30 inches (76 centimeters) apart. Its 2.0 Mounting Brackets can accommodate crossbars up to 1.2 inches (3 cm) in height and 3.5 inches (9.8 cm) in width (9 cm). At greater heights, the Mounting Brackets 1.0 are what you'll need to use. iKamper suggests upgrading to aftermarket crossbars or racks if at all possible, as these components often offer more dynamic weight capability than standard crossbars.
The tent itself requires no installation, however mounting it to your car will take at least two and ideally four people. While we appreciate the effort, we find iKamper's recommendation to use a powered lift to be little impractical. When the mounting brackets have been attached, the tent may be raised upright and centered on the crossbars. In order to install the rail cap, you must first put the bracket into the rail at the base of the floor panel, then insert the bolt between the brackets and tighten it by hand before using an Allen wrench to ensure a secure fit.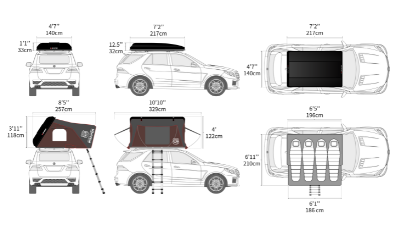 The folded dimensions of the Skycamp 2.0 are 85.8″ by 54.3″ by 12.5″, and it weighs a total of 160 pounds. It has a similar weight and packed dimensions as the Roofnest Condor XL, making it one of the heaviest RTTs we've reviewed (33.7 cu ft versus 30.6 cu ft). Make sure you have enough storage space if you don't want to have your Skycamp up all year. If you have just bought and set up a Skycamp, you should locate a place where the tent can be unzipped and aired to allow any accumulated gases to escape before using it for the first time.
Durability & Weatherproofing
The measures taken by iKamper to ensure that its RTTs are both long-lasting and impervious to the elements were impressive. Skycamp 2.0's floor is a durable yet lightweight honeycomb aluminum, while the canopy is composed of 300gsm polyester-cotton canvas, the rainfly is made of PU-coated 150D polyester, and the hardshell top is constructed of double-layered fiber-reinforced plastic (FRP) with 1″ air insulation. The 16mm aluminum or 4mm nickel-plated steel poles are identical in every respect. The maximum load for the telescopic ladder is 330 pounds, while the maximum load for the tent is 900 pounds.
The Skycamp 2.0 is so well-designed that it is virtually impenetrable to bombs. The poly-cotton canvas is thick enough for four-season use and features taped seams for waterproofing. The polyester rainfly is sturdy and water-resistant, and it can be rolled up when it's not raining to let in some fresh air.
Ikamper Skycamp 2.0 Review: Final Thought
The first iKamper Skycamp Rooftop Tent was so well received that the business quickly followed it up with iKamper Skycamp v2.0. In addition to the cherished qualities of the original Skycamp, this new version adds a few of its own.
On the market for a hard-shell rooftop tent? Go no farther than the best-selling iKamper Skycamp. The lightweight and aerodynamic design is fantastic. It's spacious enough to sleep three people or two adults and two kids.
The iKamper Skycamp really shines because to its roomy layout and quick and simple set up. This wonderful rooftop tent has a wide range of mounting options and is compatible with a wide range of cars and roof racks.
This tent has a king-size memory foam mattress that is 1.8 inches thick. The windows are made up of three different materials: an inside layer of polyester that can be stretched to construct canopy windows using the poles provided, a transparent vinyl middle layer, and an outside layer of mesh screen that can help with ventilation.
The Skyview window is a wonderful addition since it allows you to watch the stars while you fall asleep. This window features a canvas panel that can be zipped closed if you don't feel like looking out at the stars.
The poly-cotton canvas used to construct the iKamper Skycamp is not only waterproof, but also breathable, UV-resistant, fire-retardant, and extremely durable. A 150D rainfly is included to keep you dry inside the tent.
This rooftop tent can be set up and folded down in a matter of minutes, making it one of the greatest features. The maximum load for this tent is 900 pounds (the actual limit will depend on the roof racks on your car), and it weighs just 155 pounds, which is remarkable given its size.
It's a beautiful rooftop tent, but it's not perfect. There are a few different approaches of attaching the tent to the automobile, but they may all be challenging.
As a result of its size, storing the tent while it's not in use might be a hassle. The tent is also more pricey than average tents. Unless you know for sure that you will use the tent frequently and love it, you might be better off saving money and getting a rooftop tent instead.
At $3900, the iKamper Skycamp v2.0 isn't cheap, but the original model is still available for $300 cheaper. The most recent iteration of this remarkable rooftop tent, the iKamper Skycamp v 3.0, is also now available for purchase.
Related post