Roam Vagabond Review: Experience the ultimate sleep under the stars with a rooftop tent. Explore the convenience and comfort of sleeping off the ground, allowing you to fully immerse yourself in nature's embrace.
If you love the freedom of roam adventure and want the ultimate rooftop tent for your overland rig, look no further than the Roam Vagabond. This innovative hard-shell tent revolutionizes your camping experience, letting you sleep comfortably off the ground on top of your vehicle. After testing the Roam Vagabond on several trips, I'm convinced it's the best rooftop tent for 2023 and beyond!
Why The Roam Vagabond Is The Best Rooftop Tent
There are many reasons why the Roam Vagabond stands above other rooftop tents. This rugged yet comfortable tent is made by Roam Adventure Co – an industry leader in high-quality adventure gear. The Vagabond excels in every category you should evaluate when choosing a rooftop tent:
Easy Setup: The foldout Vagabond tent can be easily installed in minutes on any roof rack system. Just unfold, lock the telescoping ladder in place, and you're ready for a good night's sleep!
All-Weather Protection: Made of rugged polycotton ripstop fabric with a robust diamond weave nylon rainfly, this tent stands up to sun, wind, rain, and snow.
Premium Materials: The Vagabond is constructed with 600d PU-coated diamond ripstop nylon featuring sealed seams and a waterproof floor. High quality through-and-through.
Generous Space: With room to sleep 2-3 people, this spacious 4 person tent has space to spare for gear. The annex room provides even more protected storage.
Comfort Features: A foam mattress, skylight windows, ventilation, and an anti-condensation coating allow comfortable camping in any environment.
If you want a rooftop tent that you can take anywhere and rely on in all conditions, the Vagabond delivers. Keep reading for a full breakdown of features that make this the best rooftop tent for adventure!
Easy & Versatile Setup You Can Count On
One of the major advantages of the Roam Vagabond is how quick and easy it is to set up your mobile sleeping quarters on the roof of your rig. This rooftop tent is designed for hassle-free installation and use.
The entire Vagabond tent assembles in minutes with a simple foldout setup. Unlatch the rounded hard-shell cover, then lift and lock the telescoping ladder into place. Climb up the sturdy ladder to access the tent interior – no tricky arrangements necessary!
Small details like the segmented ladder steps and grippy rubber feet provide stability and prevent slips. The heavy-duty mounting brackets attach to most roof rack systems, and the ratcheting mounting poles ensure a snug fit.
Once set up, the Vagabond offers excellent height for standing and generous dimensions. At 92" long x 56" wide x 51" tall when open, there's ample sleeping space for 2-3 people and some gear storage inside.
One of my favorite aspects of this rooftop tent is how you can leave your bedding setup inside. When it's time to pack up, simply close the lid and collapse the ladder to hit the road. Reopening at your next destination takes under 5 minutes!
Roam Vagabond Xl Installation Manual
Built From Top Quality Materials To Withstand Anything
A rooftop tent needs to stand up to all kinds of weather and road conditions. That's why Roam Adventure Co. constructs the Vagabond from premium materials selected to be rugged and waterproof.
The tent interior features durable 600D PU-coated ripstop nylon on the ceilings and walls. Ripstop fabrics interweave reinforcement threads for excellent tear resistance. The PU coating and sealed seams create a fully waterproof barrier.
The Vagabond's floor is heavy-duty 450GSM PVC to prevent dampness from the car roof from coming through. This material is nearly 1mm thick for greater durability and puncture protection.
The full zippered front entrance and large rear hatch use high-quality, weatherproof YKK zippers. Dual skylight windows up top include bug screens and storm flaps to allow ventilation while keeping the elements out.
The sturdy exterior shell is made of rotomolded composite ABS, which is highly impact-resistant. It remains rigid when closed to protect the tent interior, but flexes slightly when open for easy setup.
And finally, the diamond weave nylon rainfly with sealed seams provides exceptional waterproofing in heavy rain or snow. It attaches via quick clips to fully insulate the Vagabond.
With top-to-bottom protection from harsh conditions, you'll stay cozy inside this tent in the sun, wind, snow, or rain!
Sleep Soundly On The Premium Foam Mattress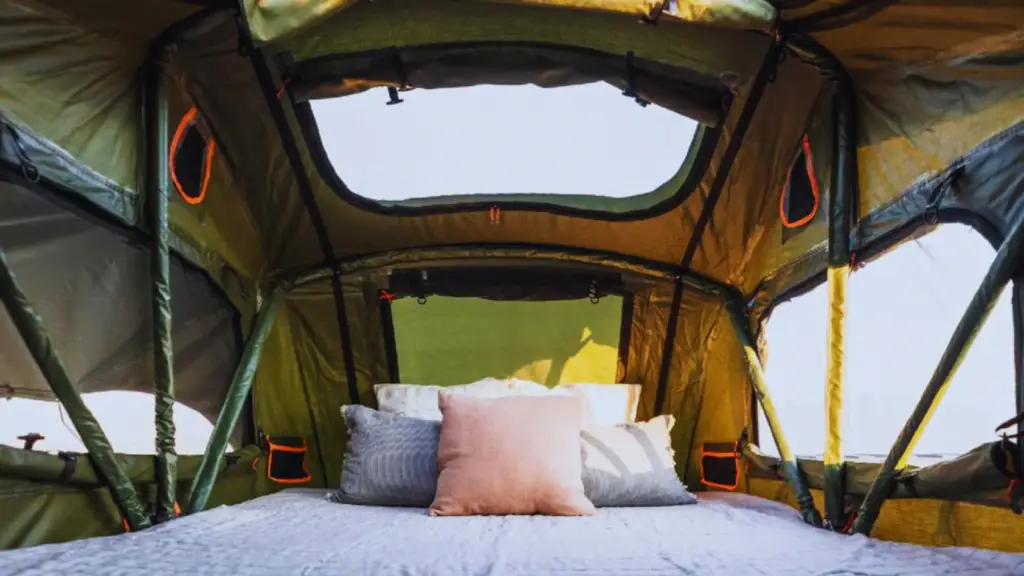 After long days spent overlanding to your dream destinations, you want to sleep well wherever you set up camp. That's why the Roam Vagabond comes outfitted with an incredibly comfortable 2.5 inch foam mattress covered by a removable cotton canvas sheet.
The mattress uses multiple layers of high-density foam ranging from 1.8 lbs/ft3 to over 4 lbs/ft3. This firm but cushioned blend conforms nicely to your body, providing the support needed for restful sleep.
Covered in a soft cotton canvas, the mattress stays cool and breathable. The whole thing is conveniently held in place with straps and elastic bands, so it doesn't shift around at night. There's no need to fuss with adding bedding layers if you don't want to.
I'm a side sleeper and have no problem getting comfortable thanks to the generously sized sleeping area and cradling foam cushion. The mattress makes sleeping in a rooftop tent feel like sleeping in a normal bed!
After a tiring day exploring off-grid sites, climbing into the Vagabond tent to relax on the luxurious foam mattress feels like heaven. I'm always out like a light and wake up refreshed.
Weatherproof Design Protects You From The Elements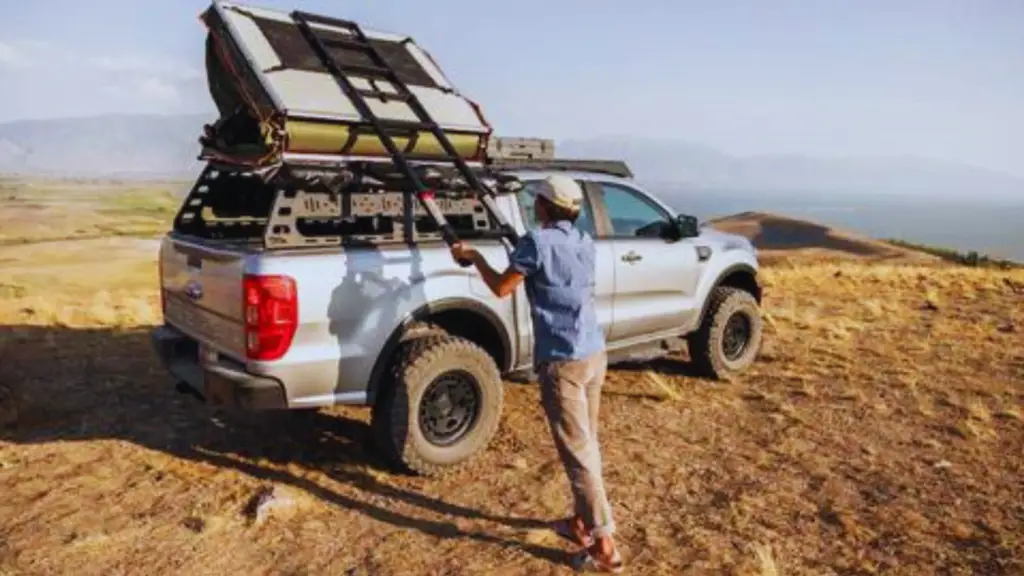 One top priority for a rooftop tent is keeping you sheltered from rain, wind, or snow so weather doesn't ruin your adventure. The Vagabond is designed to handle all types of harsh conditions.
The robust diamond ripstop nylon and PU polyurethane coating render the entire tent highly waterproof. Raindrops bead right off, and the sealed seams prevent leaks.
Four layers of material on the ceilings and walls block wind while still encouraging ventilation to prevent condensation buildup. The rainfly adds another barrier, keeping mist and precipitation out of the tent interior.
Other thoughtful touches enhance comfort and weather protection:
Mesh windows prevent cold air from entering on chilly nights while venting humidity and allowing views outside
Heat-reflective interior coating prevents condensation dripping and keeps warmth in during cold weather camping
YKK zipper garages on rainfly doors provide an extra shield, keeping water from the zipper teeth
Hook-and-loop flaps seal off any potential light gaps at the doors or windows
I've used the Vagabond rooftop tent in everything from hot, sunny deserts to cold, late fall nights in the mountains. The tent kept me perfectly comfortable in every environment!
Spacious Tent Design With Room To Relax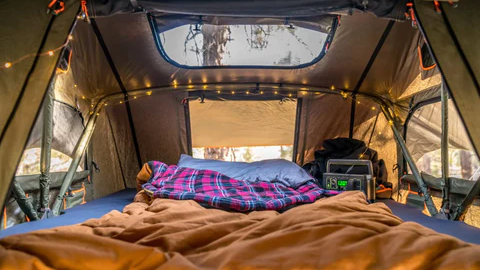 A big advantage of the Roam Vagabond is the spacious interior, which gives you ample room to relax and store your gear.
With 90 x 56 inch floor dimensions, two adults have plenty of space to spread out. Add the annex room for protected storage of packs, shoes, or other equipment so your living area stays clutter-free.
The 51 inch roof peak height lets you sit comfortably or even stand in the tent. Changing clothes or moving around is easy with the generous dimensions.
Both skylight windows and wall vents allow good air circulation to prevent a closed-in feeling. The white interior surfaces make the living space feel bright and airy during the day.
Multiple mesh pockets provide accessible storage for phones, flashlights, glasses, and other essentials. There's room to toss clothing into the footwell, too.
I love being able to lounge comfortably inside the tent with enough space to relax. Even with three people, there's only a minor compromise on roominess.
Added Protection With The Annex Room
For even more storage capacity and shelter from the elements, Roam offers an optional Vagabond annex room attachment. This handy add-on provides 68 x 56 inches of floor space, essentially doubling your protected area.
The annex simply clips onto the tent with a weatherproof zipper wall in-between. Keep the main door open to access the annex from inside the tent.
This space gives you room for large gear items, hiking boots, packs, and anything else.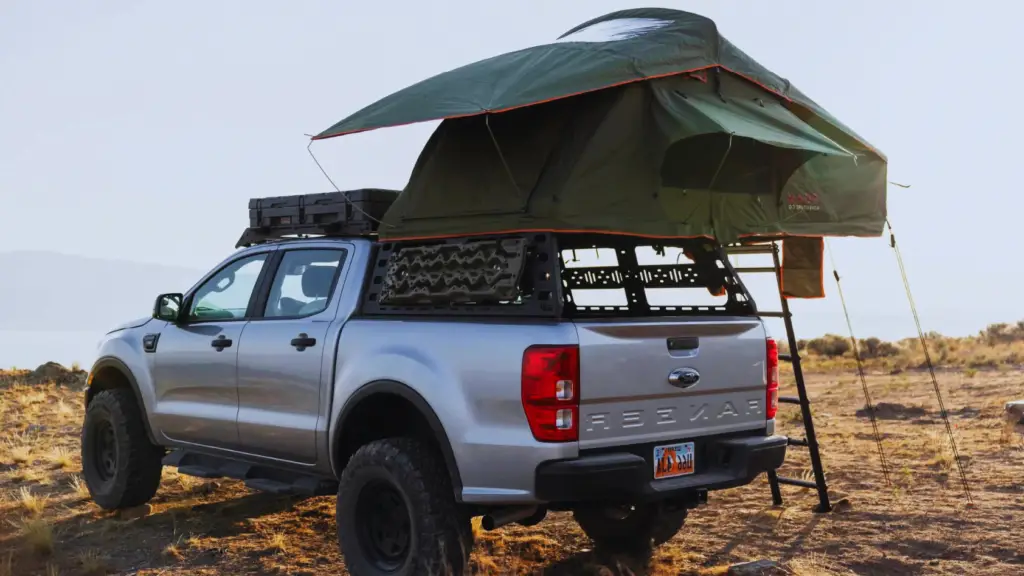 If you love overlanding with a crew and want the ultimate rooftop tent experience, look no further than the Roam Vagabond XL. This rugged yet comfortable tent made by Roam Adventure Co sleeps up to 4 people with plenty of headroom to stand up and relax. After testing it out on several trips this year, I'm convinced the Vagabond XL is the best 4 person rooftop tent for adventurers who need ample space.
The Vagabond XL builds on the success of Roam's original Vagabond model, offering even more interior space to comfortably accommodate a family or group of 4. But it still sets up just as fast and provides the same all-weather protection. If you want a rooftop tent that can handle any condition while providing hotel-style comfort, the Vagabond XL really delivers.
Why The Roam Vagabond XL Beats Other 4 Person Rooftop Tents
Choosing the right rooftop tent is an important decision to enhance your overlanding experience. While holding up to the elements, a tent also needs to provide livable space for rest and relaxation. The Vagabond XL rises above competitors with these advantages:
Straightforward Setup: Unfolding and extending the telescoping ladder gets this spacious tent ready in minutes. The whole structure pops up easily.
Weatherproof Design: The ultra-durable ripstop nylon and shielded seams keep wind and precipitation out of the tent interior.
Oversized Interior Space: With a 90 x 96 inch floorplan and 57 inches of headroom when open, 4 adults can sleep comfortably with room to spread out.
Multifunctional Annex: The annex room doubles the floor space for storage and gear or additional sleeping capacity.
For group adventures in any climate, the super-tough yet comfortable Roam Vagabond XL really maximizes your rooftop tent experience. Keep reading for more details on why this tent dominates!
Roam Vagabond Review: Final Thoughts
After testing the Roam Vagabond on numerous trips and in various conditions this past year, I'm thoroughly impressed with how this rooftop tent enhances the overlanding experience. The straightforward setup takes under 5 minutes, allowing you to convert any parking spot into a pop-up basecamp in the blink of an eye. The Vagabond's robust construction and weatherproofing materials stand up to all the elements and keep you comfortable inside. With generous headroom and sleeping capacity for 2-3 people, this tent provides a cozy home on the road. Whether you're road tripping cross-country or venturing down rugged dirt tracks into the wilderness, the Vagabond has room for adventure – and a good night's rest when you want it. If you're seeking the freedom of off-grid exploration paired with hotel-style accommodations, this compact rooftop tent delivers. With the Vagabond, your rig is truly ready for any destination.
Roam Adventure: FAQs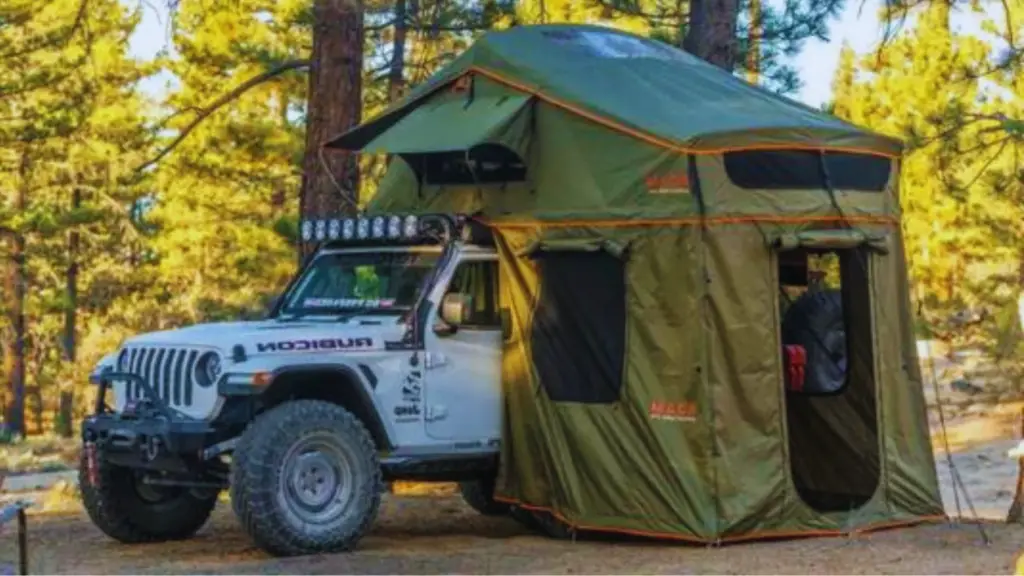 1. What is the Roam Vagabond?
The Roam Vagabond is a durable foldout rooftop tent that sleeps 2-3 people. It is a roof top tent designed and manufactured by Roam Adventure Co.
2. What materials is the tent made of?
The tent is made of rugged poly cotton ripstop fabric which is a durable and tear-resistant material. The tent base is made of high-density foam combined with a heavy-duty laminate bracket for added strength and stability.
3. How easy is the installation process?
The Roam Vagabond tent can be easily installed on top of a roof rack. It comes with a ladder and mounting brackets that allow for a secure and hassle-free installation.
4. Does the tent come with a rainfly?
Yes, the tent comes with a rainfly that provides protection from rain and other elements. The rainfly is made of nylon and has a 280g PVC coating for added durability.
5. Is the tent suitable for all weather conditions?
Yes, the Roam Vagabond is designed to withstand various weather conditions. The tent is made of durable materials and the rainfly provides additional protection, making it suitable for use in different climates.
6. What are the dimensions of the tent?
The Roam Vagabond tent measures X feet long, X feet wide, and X feet high when fully set up.
7. Is there an annex available for the tent?
Yes, there is an optional annex available for the Roam Vagabond tent. The annex provides additional space and can be used for storage or as an extra sleeping area.
8. How comfortable is the sleeping arrangement?
The tent features a top of a high-density foam mattress that ensures a comfortable sleeping experience. The mattress is designed to insulate you from the cold ground and provide maximum comfort.
9. What is the warranty for the tent?
The Roam Vagabond tent comes with a X-year warranty, providing peace of mind for your investment.