Experience the best in outdoor living with our Thule Tepui Foothill Review 2023.
Thule introduced the Tepui's Foothill RTT or rooftop tent in late 2020. It's a two-person tent with a more compact shape, making better use of the available space on a car's roof rack.
I got to try it out, and it's a fantastic choice for people who aren't able to utilize rooftop tents due to a lack of space.
The Thule Tepui Foothill ($2,000) was fantastic since it let us to transport kayaks, bikes, and a roof box without having to sacrifice storage space.
Both the assembly and disassembly of this tent were more time-consuming than those of any other rooftop tent we've used. But, once deployed, its inside was spacious enough for even 6-foot-tall sleepers to feel at ease, and its storage pockets helped keep its residents neat and tidy.
Awnings over the roof vents and windows ensured that we were shielded from the elements and could maintain a comfortable temperature year-round.
Why Thule Tepui Foothill Rooftop Tent
Thule Tepui Foothill Review 
The Thule's Tepui Foothill is a new innovation in the rooftop tent category, and we're excited to share our experience with it. It's an excellent option for those who want to add a rooftop tent without sacrificing valuable space on the rack. Thanks to its "hot dog bun" fold design, there's plenty of additional room on the rack for items such as cargo boxes, bikes, kayaks, and other gear.
Additionally, the tent features a sturdy 600-denier primary canopy and a removable rainfly made of another 600-denier material for extra protection in harsh weather conditions. If you're traveling solo or with one other person and need additional space on the rack for gear, this tent model is the perfect solution.
Compared to Similar Products
| | | | |
| --- | --- | --- | --- |
| Specs | Thule Tepui Foothill | Thule Tepui Autana 3 | Thule Tepui Kukenam 3 |
| Seasons | 3 | 4 | 4 |
| Weight | 55.3 kg | 122 lbs | 59 kg | 130 lbs | 59 kg | 130 lbs |
| Max Inside Height | 96.5 cm | 38 in | 132 cm | 52 in | 132 cm | 52 in |
| Pockets | 2 | 4 | 4 |
| Windows | 3 side, 2 roof | 3 side, 2 roof | 3 side, 2 roof |
| Floor Dimensions | 87 in x 40 in | 56 in x 96 in | 56 in x 96 in |
| Floor Area | 2.23 m2 | 24 sq ft | 3.53 m2 | 38 sq ft | 3.53 m2 | 38 sq ft |
| Room Divider | No | No | No |
| Vestibules | No | Yes | No |
| Vestibule Area Dimensions | n/a | 26 in x 56 in | n/a |
| Packed Size | 9.5 in x 24 in x 83 in | 12 in x 48 in x 56 in | 12 in x 48 in x 56 in |
| Floor Materials | Welded aluminum | Aluminum | Aluminum |
| Main Tent Materials | 600 D | 420 D | 420 D |
| Rainfly Materials | 600 D | 600 D | 600 D |
| Number of Poles | 6 | 6 | 8 |
| Pole Material | Aluminum/spring steel | Aluminum/spring steel | Aluminum/spring steel |
| Pole Diameter | 1/4 in | 1/4 in | 1/4 in |
| Design Type | Fold-out | Fold-out | Fold-out |
| Extras | Double level pockets, loop inside for hanging lights and gear | Awning over ladder, 2.5″ foam mattress | Memory foam mattress |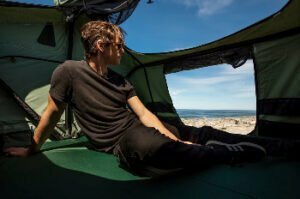 The Foothill features an A-frame form and a maximum inside height of 38 inches despite its compact design. There is enough space, according to our assessment, for two persons to move around without difficulty. If the individual who is furthest from the door wishes to leave the tent first, it's either squeeze or be crushed because the entryway is on the side rather than the end of the tent. We found the mattress to be considerably more comfortable than a standard camping mattress or trekking sleeping pad, despite the fact that it isn't nearly as thick as some of the other types.
The views from The Foothill's are breathtaking. You have an excellent chance of seeing the entire display during such meteor showers since the two roof panels open lengthwise and there is no hindrance other than the central support. If your bikes, kayaks, cargo boxes, or other toys are out of the way, you'll also get a magnificent panoramic view of the surrounding environment because the windows on the other three walls open entirely in addition to the main entrance. Although the inside isn't exactly the roomiest, the Foothill frees up a ton of space on your rack, which is sometimes more significant than sleeping space. For this reason, we gave it bonus points for space.
Thule Tepui Foothill Review: Durability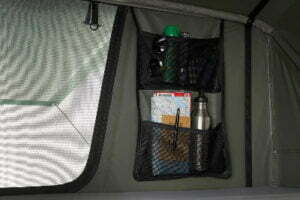 When you spend this much money on a product, the last thing you want to happen is for it to start to come apart. We put these tents through arduous testing by sleeping in each type for at least five nights and evaluating the mounting method while driving on difficult 4×4 highways. We zip-zipped and unzipped every door and window at least 25 times while on our trips, and we switched each tent between travel and camping mode 25 times. The Foothill is a great option if you're searching for a softshell rooftop tent with a tough canopy.
This model's canopy is constructed from 600D ripstop fabric with a water-ventilating coating, the same material that many tents use for their rain fly. This may fully do away with the requirement for the additional rainfly in many climes during most storms. Even after many, borderline violent pulls as part of our testing, the zippers all worked flawlessly.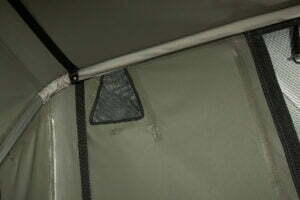 The travel cover on the Foothill is made of Cordura fabric rather than the thicker rubber-like material we've seen on most of the other models we've put through the wringer, which is the only reason we didn't give it a better score for this category. We haven't observed any symptoms of degradation on the rubber versions even after more than three years of use and thousands of highway kilometers on one specific model. But, fabric has a tendency to flap in the wind and might ultimately weather and rip with time, especially if you travel a lot of miles at high speeds on the highway.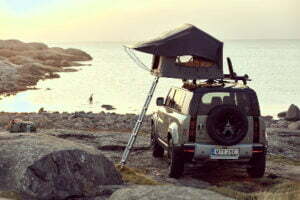 The Foothill is not the simplest tent to switch between travel and camping modes. It takes a little bit longer than most of the other tents because of a few crucial procedures. The three inner poles are telescopic on both ends and must be extended and deflated after each changeover in order to preserve its thin profile when in travel mode. This barely lengthens the procedure by a minute or so, but it is a step that many of the other tents in our assessment do not demand.
The normal Tepui ladder cannot be set in place permanently due to the compact shape. The ladder rests on top of the tent lengthwise while in travel mode. Use a few quick-release pins to secure it to the tent body when setting it up, and then take them out when it's time to replace the cover. Realistically, this just lengthens the setup time by one or two minutes.
Ease of Assembly and Installation
The Tepui Foothill comes prepared to mount on your rack right out of the box, unlike the other soft-top rooftop tents in our evaluation. The mounting rails are already fitted at the manufacturer when you buy this tent, unlike the other versions that need for you to attach the mounting gear below the mattress (which is frequently challenging and requires two people).
Take the Bike out of the packaging, enlist a helper to help you raise it onto your rack, twist down a few nuts with the provided ratcheting tool, and you're ready to go exploring. Install a luggage box, bike rack, or kayak rack while you're at it to finish the job all at once. The only reason we didn't award this tent a better score for this measure is because there are other models that don't require tools to set up or take down when it's time to camp again or remove the tent for storage.
The Tepui Foothill cover is simple to remove and reinstall. The Foothill may be approached from one side, unlike the larger square-shaped tents that need you to make many circuits around your car. We view this as a major plus because you sometimes have to crawl all over your car like a monkey to get the rubber square covers to fit everything in before they can be zipped up.
Value
We think the Thule Tepui Foothill offers excellent value given its flexibility. You may still have room on your rack for your other toys while enjoying the comfort and convenience of a rooftop tent.
Thule Tepui Foothill Review Final Thoughts
For campers who use rooftop tents (RTTs), the Thule Tepui Foothill tent is a fantastic option. Its rectangular design conserves rack space and is ideal for roof sleepers who need to carry supplies. The Foothill tent can hold two people together with whatever other gear they may have, such a small cargo box, a bike, a kayak, or other goods. For RTT campers who want to experience the great outdoors without sacrificing a room, it's a practical choice.
Our verdict: Highly recommended.
Related post