If you're looking for a soft-shell tent with a high waterproof rating and spacious windows, look no further than the Yakima SkyRise HD 2 Tent.
Key Features & Benefits
Rooftop tent with a soft cover.
Very lightweight.
Skylight windows.
Waterproof tent and waterproof fly.
Two doors.
A cable port.
The corners have pockets.
Our Verdict
The tool-free mounting method of the Yakima SkyRise Medium makes setting up the tent on your car nearly uncomplicated, and dismantling it after camping season is considerably simpler. The SkyRise is the only tent we tested that provided extra security in the form of built-in rack locks. When set up, it becomes a fantastic tent. This style is ideal for people who will be setting up and breaking down their rooftop tent regularly because of how simple it is to assemble. The poles are unnecessary without the rainfly, so switching from traveling to camping mode takes no time at all. However, the tool-free mounting technique has width restrictions that prevent it from going any wider than the tent's floor. While this isn't an issue for the vast majority of vehicles and racks, those whose racks aren't adjustable and/or have a wide gap between their crossbars may want to consider investing in a tent that uses a track-style mounting mechanism.
Pros & Cons
What I like:
No tools are needed to put it together.
Locks onto the rack.
Not too heavy.
There are skylight windows.
Protection it gives and quality all around.
There are a lot of possible extras, see below for more. 
What I dislike
Too small for three people to fit.
Costs a lot.
The mounting method isn't very good.
A big space between the tent and the rack.
Comparison to Similar Products
| | | | | | |
| --- | --- | --- | --- | --- | --- |
| Specs | Yakima SkyRise Medium | Thule Tepui Autana 3 | Thule Tepui Kukenam 3 | Thule Tepui Explore... | Smittybilt Overlander |
| Seasons | 3 | 4 | 4 | 3 | 3 |
| Weight | 52.2 kg | 115 lbs | 59 kg | 130 lbs | 59 kg | 130 lbs | 48.1 kg | 106 lbs | 65.3 kg | 144 lbs |
| Max Inside Height | 122 cm | 48 in | 132 cm | 52 in | 132 cm | 52 in | 96.5 cm | 38 in | 130 cm | 51 in |
| Pockets | 4 | 4 | 4 | 4 | 5 |
| Windows | 3 side, 2 roof | 3 side, 2 roof | 3 side, 2 roof | 3 side, 2 roof | 3 side, 2 roof |
| Floor Dimensions | 56 in x 96 in | 56 in x 96 in | 56 in x 96 in | 84 in x 48 in | 56 in x 96 in |
| Floor Area | 3.53 m2 | 38 sq ft | 3.53 m2 | 38 sq ft | 3.53 m2 | 38 sq ft | 2.6 m2 | 28 sq ft | 3.53 m2 | 38 sq ft |
| Room Divider | No | No | No | No | No |
| Vestibules | No | Yes | No | No | No |
| Vestibule Area Dimensions | n/a | 26 in x 56 in | n/a | n/a | n/a |
| Packed Size | 12 in x 48 in x 56 in | 12 in x 48 in x 56 in | 12 in x 48 in x 56 in | 11 in x 42 in x 48 in | 12 in x 48 in x 56 in |
| Floor Materials | Aluminum | Aluminum | Aluminum | Aluminum | Aluminum |
| Main Tent Materials | 210 D nylon | 420 D | 420 D | 260g polyester cotton | 420 D |
| Rainfly Materials | 600 D | 600 D | 600 D | 600 D | 600 D |
| Number of Poles | 8 | 6 | 8 | 8 | 8 |
| Pole Material | Aluminum/spring steel | Aluminum/spring steel | Aluminum/spring steel | Aluminum/spring steel | Aluminum/spring steel |
| Pole Diameter | 1/4 in | 1/4 in | 1/4 in | 1/4 in | 1/4 in |
| Design Type | Fold-out | Fold-out | Fold-out | Fold-out | Fold-out |
| Extras | Locks, quick release, clear sky windows in rain fly | Awning over ladder, 2.5″ foam mattress | Memory foam mattress | Memory foam mattress | Interior LED, extension cords, boot bag |
Performance Comparison
Yakima has always been a big name when it comes to high-quality outdoor gear. They've been making racks, cargo boxes, and gear baskets for decades, so it makes sense that they'd start making rooftop tents. The Yakima Skyrise HD 2 tent, which is their first tent, is a great idea. It's easy to use, comfy, and the designers at Yakima have thought of little things that make car camping easier than ever.
Space and Comfort
The SkyRise provides adequate levels of comfort and space. One feature we really like is that all windows offer clear views, unless the rainfly is up. In contrast to fixed window awnings on canopies, the SkyRise awning can be easily removed from the tent. When the rainfly is detached, the tent essentially becomes an open-air shelter, eliminating any sense of being enclosed. The clear windows in the rainfly make it possible to see the sky even when it's pouring outside.
The SkyRise may not be the best option if you need a lot of vertical space. The inside has a relatively low maximum height of 48 inches. There is an optional annex for the SkyRise that Yakima sells separately; however, it does not protect the ladder. Camping in a downpour means your ladder will be wet and dangerous to climb.
Durability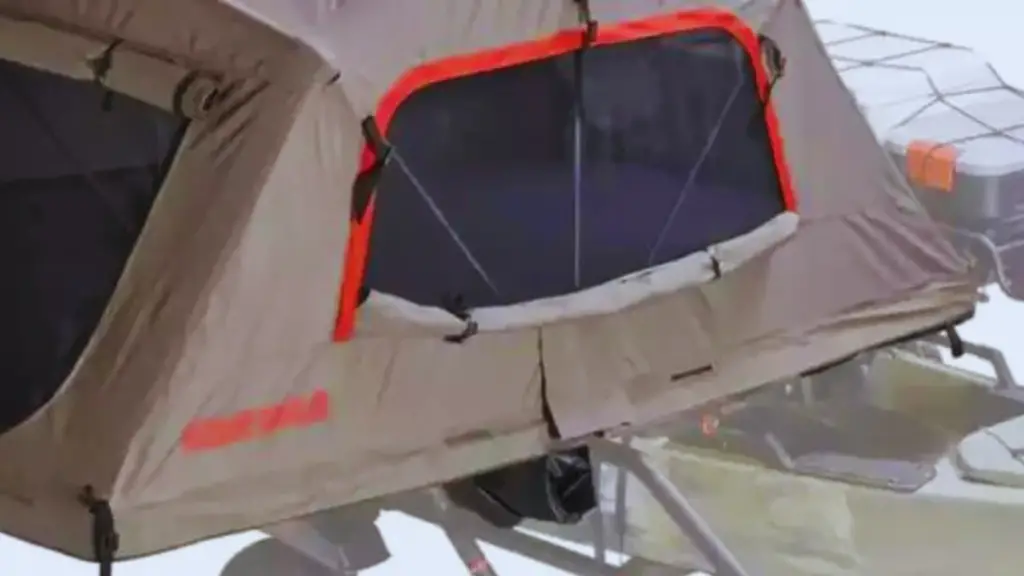 Each tent was taken camping a minimum of five times to ensure durability. We went camping with the intention of finding any design defects, so we converted each tent from transport to camping mode 25 times and opened and closed each zipper 25 times. The SkyRise's durability isn't its strongest suit.
The canopy's construction of 210D nylon isn't the sturdiest we've seen. This shelter is ideal for summer weather and light use, but if you tend to be rough on your equipment, you may want to look elsewhere. Even though most of the other flies in this review are constructed from 420D nylon, the rainfly is only 210D.
Though not the most sturdy, this tent's obvious attention to detail in both design and construction bodes well for its longevity. It is not at all a poorly made product; other versions simply use stronger components.
Ease of Conversion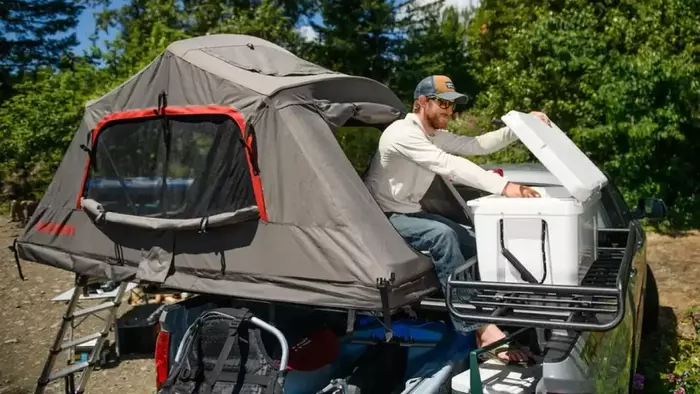 A rooftop tent's convenience lies in the fact that it can be pitched in a matter of minutes. The Yakima Skyrise HD 2 tent may be quickly converted from backpacking to tent mode. Simply remove the velcro cover by tearing it off after the snaps and zippers have been undone. The telescoping ladder makes it simple to find the ideal height, and when the rain flap is removed, there are no poles to deal with.
Ease of Assembly and Installation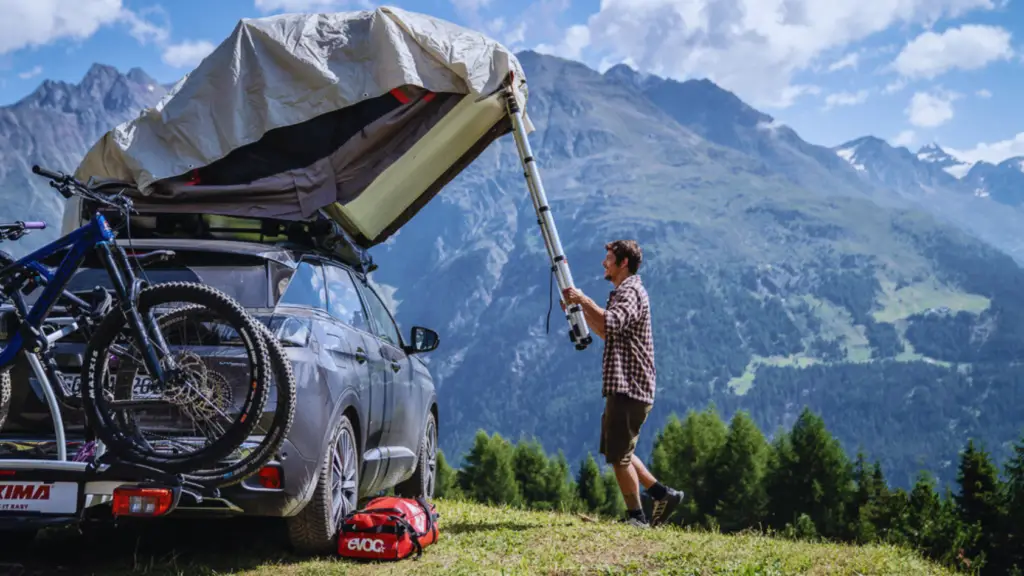 Yakima Skyrise HD rooftop tent  is one of the easiest models to assemble. This type is one of the easiest to construct and install. In contrast to tents with metric wrenches, the Yakima features Allen wrenches for tightening bolts in small spaces. One of the SkyRise's best advantages is its tool-free, quick-release mounting. This tent is perfect if you don't have tools or frequently remove it from your vehicle. This tent is the only one we tested that can be mounted "out the back." All other tents need specific mounting track modifications or drilling.
The quick-release method has limits. Other models we tested had tracks that reached the tent floor. We had to mount this tent with closer crossbars than other types. It's not a major concern, but this tent may not work for a wider, longer rack that isn't flexible.
In this video, you can see how to set up the tent. The tent in the video is the older version that was mentioned, but there is no change.
Cover Convenience
SkyRise's cover may be easily removed. The velcro closures can be torn apart after the zippers and clips have been fastened, making it ready to roll up. Yakima also included straps to keep it rolled up and out of the way, allowing you to open your car doors and use your truck bed without any hassle. However, replacing the cover is not a simple task. It can be annoyingly tricky to line up the three velcro sides just so. In order to use the method, one must attach velcro, zip four zippers, and clip four clips.
 Value
The Yakima SkyRise is one rooftop tent is the ultimate mobile of the best tents we looked at for the money. While on paper, both tents look relatively identical, this one stands out because of its tool-free mounting mechanism, locks, and rainfly windows. This tent is designed for the user who wants less hassle when setting up or taking down their tent from their car. If you don't want to or can't use tools, the tool-free mounting solution will make your life much easier. In addition, SkyRise is safe. Locking your tent to your rack can provide peace of mind if you live in a densely populated region or plan to leave your car at the trailhead.
Materials
All of the things that come in the package are shown in the picture. Note that you have locks and keys for the roof clamps.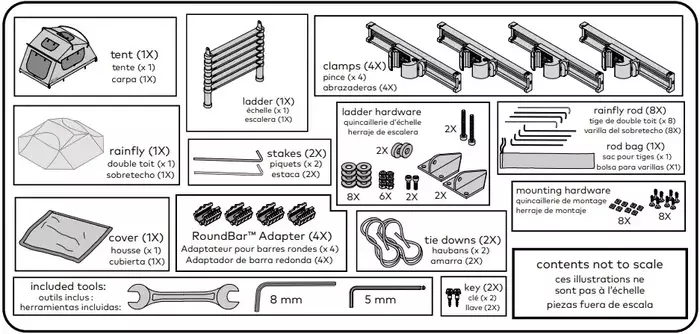 This is a man-made tent, so it is made of 600-denier ripstop polyester, which is strong and thick. This material is quiet, and it won't make much noise when the wind blows. It has a polyurethane finish that makes it waterproof up to 3000 mm.
So you don't really need the fly, but you have it because it gives you extra security and makes all those nice awnings. Again, this is a ripstop polyester, but this one is 210 denier and has a 3000 mm PU covering.
With all of these features, it's not surprising that people only have good things to say about this tent. 6000 mm is more than you'll ever need.
The mattress isn't too soft or too hard. It's about 2.5 inches (6.4 cm) thick. If you weigh a lot and sleep on your side, you might want to add a portable air pad for more comfort.
The poles are all made of aluminum. The firm bottom is made of some kind of plastic, but I couldn't find out more about it.
Keep in mind that they have a thorough guide for all of this. In the video, you can see more. Look at the awning they use, and read on for more.
Who does this Yakima SkyRise HD 2 Roof Top Tent fit?
In terms of seasons and weather, this tent can be used at any time of year and in any kind of weather. The waterproof grade is just great, so you won't get wet if it rains.
If the wind is too strong, you can take off the fly and still be safe, since the inner tent alone is 3000 mm. I have only heard very good things about how well this cover works in bad weather. If you're in a cold place and feel cold, you can close the tent all the way.
Regarding the space, they say it's a shelter for two people, but it's only 48 inches (122 cm) wide. It is therefore possible for two people to use it, but I believe that one person would benefit most. You should know that it is quite long, especially if you are tall.
Only 400 pounds (181 kg) of weight can be put on the tent at one time. This isn't much when compared to the Thule Tepui Foothill Roof Top Tent, which can hold two people.
Accessories
They sell many things that can be used with this tent, such as:
Final Thoughts
In short, the Yakima SkyRise HD 2 Tent is a safe place to sleep that isn't on the ground, and it protects you in any setting. It is small enough to fit in almost any car, and they have a lot of accessories to help you keep your camp life organized. The best choice.
Where to Buy
 Yakima SkyRise HD 2 Tent: FAQs
1. What is the Yakima SkyRise HD 2 Tent?
The Yakima SkyRise HD 2 Tent is a rooftop tent designed for camping and outdoor adventures. It provides a comfortable sleeping space on top of your vehicle.
2. What is the construction of the tent body?
The tent body is ruggedly constructed using 600D ripstop polyester fabric with a 3000mm waterproof PU coating. This ensures durability and protection against the elements.
3. How does the Yakima SkyRise HD 2 Tent mount to my vehicle?
The Yakima SkyRise HD 2 Tent is designed to be mounted on a roof rack. It comes with all the necessary mounting hardware for easy installation.
4. Will the Yakima SkyRise HD 2 Tent fit my vehicle?
The Yakima SkyRise HD 2 Tent is designed to fit most roof racks. However, it's always recommended to check the specifications and compatibility with your specific vehicle and roof rack.
5. Does the tent provide complete protection against the elements?
Yes, the Yakima SkyRise HD 2 Tent provides complete protection against the elements. It is made with waterproof materials, and the windows and doors are designed to keep out rain and wind.
6. Is there a mattress included with the tent?
Yes, the Yakima SkyRise HD 2 Tent comes with a thick wall-to-wall foam sleeping pad for added comfort during your outdoor adventures.
7. What is the annex feature of the tent?
The annex is an additional accessory that can be purchased separately. It provides extra space and can be used as a changing room, storage area, or for other purposes.
8. How durable is the Yakima SkyRise HD 2 Tent?
The Yakima SkyRise HD 2 Tent is constructed using rugged materials and is designed to withstand outdoor conditions. However, it's always important to follow the manufacturer's instructions and take proper care of the tent.
9. What are the customer reviews like for the Yakima SkyRise HD 2 Tent?
Customer reviews for the Yakima SkyRise HD 2 Tent are generally positive. Many users praise its durability, ease of installation, and comfort.
10. Is the Yakima SkyRise HD 2 Tent suitable for medium-sized vehicles?
Yes, the Yakima SkyRise HD 2 Tent is suitable for medium-sized vehicles. It is designed to fit a wide range of vehicle types, including SUVs, crossovers, and trucks. The SkyRise HD 2 Tent has a compact footprint and adjustable mounting hardware, making it versatile and compatible with various roof rack systems. However, it is always recommended to check the specific dimensions and weight capacity of your vehicle's roof rack and consult the manufacturer's guidelines to ensure a proper fit before purchasing any rooftop tent.
Where to buy