If you're an outdoor enthusiast, you probably understand the importance of a well-designed roof rack. Whether you're transporting camping gear or your trusty kayak, a roof rack can be the perfect solution. However, the cost to install a roof rack might deter some. But worry not! Here are 5 surprising ways to slash your roof rack installation cost as of 2023.
What Is A Roof Rack?
The word "roof rack" can be used to describe a number of different car parts. A roof rack is a cargo carrier that you put on top of your car to help carry things like bags, luggage, or sports gear. These are the most popular kinds of roof racks:
Cargo basket 
Cargo box 
Ski rack
Kayak rack
Bike rack
"Roof rack" can also mean the crossbars on top of your car that hold the storage racks together.
Ways to Slash the Cost to Install Roof Racks
1. DIY Installation
The cost to install a roof rack can vary depending on the make and model of your vehicle and the type of roof rack you choose. However, a significant portion of the cost comes from professional installation. It's important to note that many roof racks are easy to install, and doing it yourself can save you money. Companies like Yakima provide comprehensive instructions to guide you through the installation process. Be sure to take your time and ensure everything is secured properly for safe transport.
2. Purchase a Used Roof Rack
Another method to slash the cost of installing a roof rack is to purchase a used one. Sites like eBay, Craigslist, and even local outdoor sports stores often carry used roof racks in solid condition. Remember to check if the used roof rack fits the type of vehicle and roof rail you have.
3. Choose a Lightweight, Simple Design
Complex roof rack systems are not only costly but also require more expertise to install. A lightweight, simple design is typically less expensive, easier to install, and can still provide the functionality you need. It's a win-win situation.
4. Consider Vehicle Compatibility
Many vehicles come with factory-installed roof rails, which can make the roof rack installation process easier and cheaper. If your car has a naked roof, you might need additional tools or accessories for secure attachment. Ensure that you select a rack that's compatible with your car's roof type to avoid extra costs.
5. Shop Around and Negotiate
Prices can significantly vary depending on where you purchase your roof rack. Check out different dealerships, outdoor sports stores, and online retailers to find the best deal. Don't hesitate to negotiate the price, especially at dealerships.
Roof Rack Installation: Step-By-Step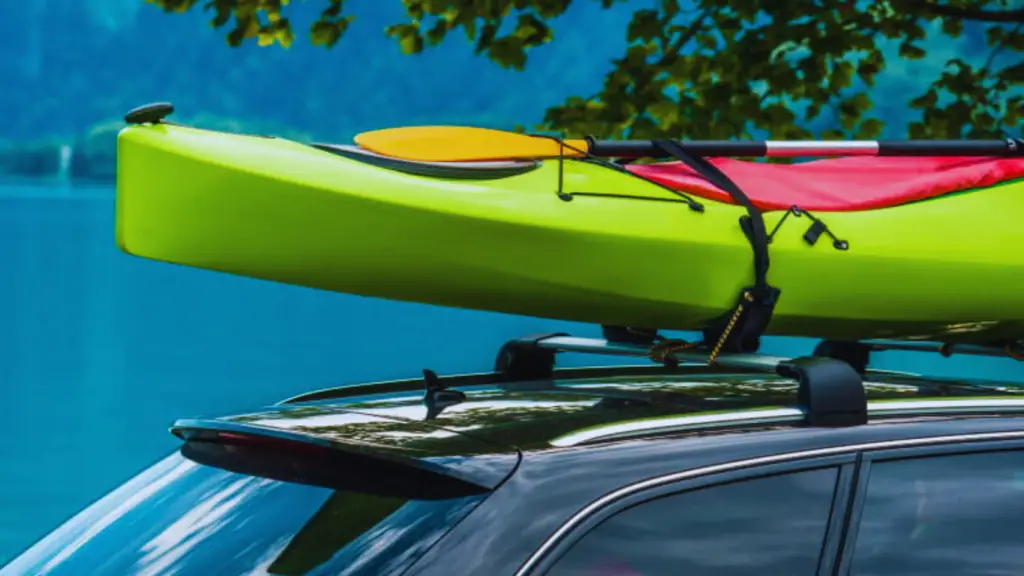 Even though the assembly instructions for each rack are different, you will usually follow these steps.
Most roof racks come with an Allen wrench, which is usually the only tool you'll need to put the roof rack together and put it on your car. But you might also want to have these things on hand:
Extra Allen wrenches: If you're putting something together with someone else, it will go faster if you can both connect parts at the same time.
You can get on the roof of your car without a stool or a ladder if you are tall enough. If not, you might need a step stool or a ladder to get over your car.
Before you put a roof rack on your car, you should clean the top and side rails with a microfiber cloth and cleaning solution.
1. Assess And Prepare Vehicle
You will need roof rack crossbars on your car to add almost any roof rack. Most roof racks attach to these rails that are higher up.
A set of cross bars that were bought separately are put on the roof of a car.
If your car doesn't have a roof, you'll need to put crossbars on it. If your car has crossbars already, you can move on to Step 3. In either case, you should wipe your roof down to get rid of dirt and waste before moving on to the next steps.
2. Install Crossbars
You can put crossbars on your car in two ways: either permanently or with a clamp.
If you want to add crossbars permanently, you should take your car to a dealership to have them done by a professional. Even if you plan to install the crossbars yourself, you should buy the installation kit from a dealership to make sure you get the best crossbars for your car.
Clamp-on crossbars can be used with many different kinds of cars and can be put on at home without the help of a professional.
3. Assemble Roof Rack
Some roof racks come already put together, while others need to be put together before they can be put on the roof. If your rack needs to be put together, you can do it on the ground by following the instructions that came with it.
4. Hoist Roof Rack Above Vehicle
Put the roof rack on your cross bars by lifting it up. Depending on how big this rack is and how strong and tall you are, you may need help with this.
5. Attach Roof Rack
Once the roof rack is lined up with your cross bars, you'll attach it to these bars. The owner's instructions will explain how to do this for each type of roof rack. Some clamps can be tightened by hand, while others may need to be tightened with screws.
6. Check Stability
Once you think you've got your roof rack in place, give it a shake and a wiggle to make sure it's tight enough that it won't fly off on the highway.
Roof Racks We Recommend
What you need it for and what kind of car you have will determine which roof rack is best for you. Do you need to move a snowboard, a boat, or several cargo boxes, for example? Do you want to put on a Toyota Tacoma, a Nissan Pathfinder, or a Subaru Forester?
In general, Yakima, Thule, and Rhino Rack make some heavy-duty, reliable roof racks for a variety of needs, but there are plenty of other reliable roof racks out there as well. We suggest the Yakima Highroad Bike Rack, the Yakima FreshTrack Ski Rack, and the Leader Accessories Folding Kayak Rack.
Check out our list of the best roof racks for a more in-depth look at how they compare.
Final Thoughts
In summary, while the cost to install a roof rack can range from $200 to $600, there are ways to reduce it. By considering a DIY installation, investing in a used or simpler rack, ensuring vehicle compatibility, and shopping around, you can make a budget-friendly choice without compromising on functionality and safety. Happy travels in 2023 and beyond!
Cost to Install Roof Racks: FAQs
1. How much does it cost to install a roof rack?
The cost to install a roof rack can vary depending on several factors such as the type of roof rack, the make and model of your vehicle, and where you get it installed. On average, the installation cost can range from $200 to $600.
2. Can I install a roof rack on my car?
Roof rack installation can be tricky. In most cases, you can install a roof rack on your car as long as it has roof rails or a naked roof. However, it's important to ensure that your vehicle's roof is compatible with the type of roof rack you want to install. 
3. What type of roof rack should I get?
The type of roof rack you should get depends on your specific needs and the type of gear or equipment you want to carry. There are different types of roof racks available, such as crossbars, cargo baskets, and kayak racks, among others.
4. Do I need professional help to install the roof rack?
While it is possible to install a roof rack on your own, the installation process can be tricky and requires some expertise. If you're not familiar with the installation process or you want to ensure it is installed properly, it's recommended to seek professional help.
5. How does the make and model of my vehicle affect the installation?
The make and model of your vehicle can affect the installation of a roof rack because different vehicles have different roof designs. Some vehicles may require specific adapters or mounting systems for the roof rack to fit properly.
6. Will the cost of installation vary depending on the type of roof rack?
Yes, the cost of installation can vary depending on the type of roof rack you choose. Some roof rack systems are more complex and require additional installation steps, which may result in higher installation costs.
7. How easy is it to install a roof rack?
The ease of installation depends on the specific roof rack and your experience with similar installations. Some roof racks come with detailed installation instructions and can be easily installed with basic tools, while others may require more advanced knowledge or professional assistance.
8. Can I transport a kayak or luggage with a roof rack?
Yes, a roof rack is designed to carry various types of gear, including kayaks, luggage, bicycles, and other equipment. However, certain roof rack accessories may be required, such as kayak carriers or cargo boxes, to ensure secure and safe transport.
9. Why is it important to properly install the roof rack?
There are a few key reasons why it's important to properly install the roof rack on your vehicle:
Safety – A roof rack that is not securely installed could come loose or even fall off while driving. This poses a serious safety hazard to other vehicles.
Load capacity – Roof racks are engineered to proper load distribution specs to carry weight safely. Improper installation can overload parts and compromise integrity.
Aerodynamics – A loose rack creates wind noise and drag, lowering gas mileage. Correct adjustment minimizes impact on handling and MPG.
Cargo security – Passengers expect anything fastened to the roof to stay put. Proper tightening according to instructions keeps items locked in place.
Prevent damage – Vibrations from an ill-fitting rack could potentially dent the roof over time. Proper fitment prevents contact issues.
Warranty – Vehicle manufacturers may void warranty if aftermarket equipment like racks are not professionally installed per guidelines.
Taking the time to fully tighten all bolts, adjust the rack squarely and balance weight properly gives peace of mind your roof will safely carry gear for adventures. It's an important part of vehicle maintenance.
How Much Are Roof Rails for a Car?
The cost of roof rails can vary depending on the make and model of vehicle, but in general here is a breakdown of average roof rail prices:
Economy crossbar systems start around $100-200 installed for many smaller cars. These are basic bolt-on bars.
OEM (original equipment manufacturer) roof rails from the automaker run $200-500 on average. These integrate best with the vehicle design.
Premium aftermarket crossbars from Thule, Yakima, Rhino-Rack run $300 to 600 depending on the length needed. Often adjustable for different vehicles.
For luxury/import vehicles, OEM and branded crossbars can be $500-1000 due to smaller volumes and more advanced designs.
SUVs and larger vehicles tend to be in the $300-800 range due to longer rail lengths needed.
Vans and commercial vehicles regularly require crossbars over $800 due to extra reinforcements.
Custom-fit roof rails for classic/exotic cars are often $600-1500 due to low volumes and specialized fabrication.
It's worthwhile to get quotes from dealers and online retailers, as deals can sometimes lower the roof rail price by 15-20%. Labor for installation typically runs $100-300 depending on vehicle complexity. Overall this versatile upgrade commonly ranges between 8-15% of the vehicle's value.
What Are the Benefits of Installing a Roof Rack?
Here are some of the key benefits of installing a roof rack on your vehicle:
Increased Cargo Capacity – A roof rack provides additional space to securely mount storage boxes, bikes, kayaks, luggage carriers and more on top of your vehicle. This frees up interior space.
Access to Recreational Gear – Roof racks make it easy to load and transport equipment for sports and hobbies like biking, kayaking, skiing, surfing etc.
Rooftop Tent Option – With crossbars or a rack installed, you have the ability to add a rooftop tent for elevated camping right on your car.
Aerodynamic Profile – Properly installed roof racks blend into the vehicle shape better than irregular bulky loads inside or tied to doors.
Fuel Efficiency – Exterior loads create less wind drag than cargo filling the cabin, helping boost gas mileage slightly.
Safety – Securing gear atop rather than inside the vehicle ensures safe transport and proper weight distribution for handling.
Style Upgrade – Many see roof racks as a sign of adventure and versatility. They can complement the look of SUVs, crossovers, trucks and wagons.
Overall, a roof rack maximizes your vehicle's utility for active outdoor lifestyles and road trips, while maintaining safety and driving dynamics.