When embarking on a thrilling kayaking adventure along the river or coast, the safety and security of your kayak become paramount. A reliable kayak rack for your Subaru Outback is your key to ensuring a worry-free journey. But with various options available, how do you pick the Perfect Kayak Racks for Subaru Outback? Look no further; we've got you covered.
Exploring Kayak Rack Options (With Expert Recommendations)
Let's dive into the world of subaru outback kayak carriers and explore the five common types, each offering distinct advantages.
1. J-Style Hook Carriers: The All-Time Favorite
J-Style Kayak Racks, also known as j-cradles, reign supreme as the most popular choice worldwide. Their ease of use and convenience make them a top pick. Moreover, they can be folded down when not in use, saving space.
These racks cradle your kayak's hull shape, allowing you to transport one or two kayaks on your Subaru's roof. Typically featuring two arms supporting the kayak upright and secure load straps, J-style kayak carrier simplifies loading and unloading from the side of your vehicle.
While they offer unparalleled convenience, it's worth noting that J style kayak carriers tend to be on the pricier side and accommodate a maximum of two kayaks simultaneously. For Subaru Outback owners, our top recommendation is the Thule Hull-a-Port Rooftop Kayak Carrier, known for its quality and reasonable pricing.
2. Horizontal Carriers: Versatile and Cushioned
Horizontal kayak carriers, the most basic type, stand out for their versatility. They can adapt to various hull shapes, thanks to their large, cushioned, and flexible pads that protect your kayak from damage.
Most horizontal carriers boast two independent pivoting saddles with angle-setting levers, allowing you to tailor the carrier's angle to your kayak's shape. Easy installation and compatibility with most crossbars make them an attractive choice.
For Subaru Outback enthusiasts, we recommend the YAKIMA DeckHand Roof Mounted Boat Rack as the best horizontal kayak rack. It offers a load capacity ranging from 75 to 85 pounds.
3. Vertical Carriers: Space-Saving Excellence
When roof space is limited, vertical kayak stands, also known as kayak posts or stackers, come to the rescue. They excel at transporting multiple kayaks with minimal space requirements.
To use them, simply lift the kayak and place it against the post or the neighboring kayak. Unlike J-Style hook carriers, vertical kayak racks can accommodate up to four kayaks. However, due to their design, they may be less stable, so always remember to secure your kayaks with straps.
Our top suggestion for vertical racks is the Thule Compass Kayak and SUP Carrier, perfectly suited for the Subaru Outback factory roof rack.
4. Lift-Assist Carriers: Easing the Load
Lift-assist kayak racks are engineered to simplify the process of loading a kayak. They come in various designs, some even offering additional attachments for added loading support.
For instance, J-style racks often feature an extra arm to aid in supporting the kayak during the lifting process. On the other hand, rolling systems allow you to roll the kayak onto the rack before lifting it into place. These systems are particularly beneficial for heavier kayaks or individuals with limited upper-body strength.
It's important to note that this convenience comes at a cost, as lift-assist carriers tend to be pricier. For those seeking an easier loading experience, we recommend the Thule Hullavator Pro Rooftop Kayak Carrier, which includes bow and stern tie-downs for transporting one kayak.
5. Soft Roof Rack: Budget-Friendly Transport
If budget-consciousness is your priority, a soft roof rack provides an economical solution. This system typically comprises two foam pads that snugly fit onto your Subaru's roof, along with two or more tie-down straps.
Installing a soft roof rack is a breeze, requiring no tools and, in some cases, no roof rack. Begin by placing the pads over your car and securing them in place. Ensure that the strap with the buckle passes through the driver's door, and tighten the straps inside the car.
While soft roof racks are cost-effective, they may not match the durability of hard-shell roof racks. However, they are a fantastic option for those looking to stay under a $100 budget. For Subaru Outback owners, the HEYTRIP Universal Soft Roof Rack Pads are a stellar choice, compatible with or without a roof rack.
Factors to Consider When Choosing a Kayak Rack for Your Subaru Outback
Getting your kayak or other watercraft to and from the launch point is half the battle. If you drive a Subaru Outback, finding the right kayak roof rack is crucial. But with so many options on the market, how do you choose? Here are some important factors to consider when shopping for the best kayak roof rack for your Subaru Outback.
Boat Size and Quantity
Will you need a setup that can accommodate just a single kayak, or do you need space for a kayak and canoe? Measure your boat(s) and choose a carrier with fittings sized appropriately.
Roof Profile and Clearance
Opt for a low profile design like the Yakima JayLow to maintain headroom and fit in garages. Avoid interference with sunroofs or raised roof racks.
Loading Capacity
Check the weight rating and distribute weight evenly. The Hull-A-Port Evolution is suitable for lighter single kayaks.
Ease of Use
Carriers like the Thule Paddle Sport provide tool-free installation and quick secure loading/unloading of crafts.
Security
Look for straps, clamps, and tie-downs that safely attach boats without risk of slippage. Anti-rattle features boost safety and reduce noise.
Rack Compatibility
Make sure the rack is compatible with your Outback's factory side rails. Adjustable setups like Hull-A-Port fit various models.
By considering use cases and your vehicle specs, you'll find a kayak roof rack that safely and securely transports your kayak with ease. Top brands like Thule and Yakima boast quality construction for fun water adventures ahead.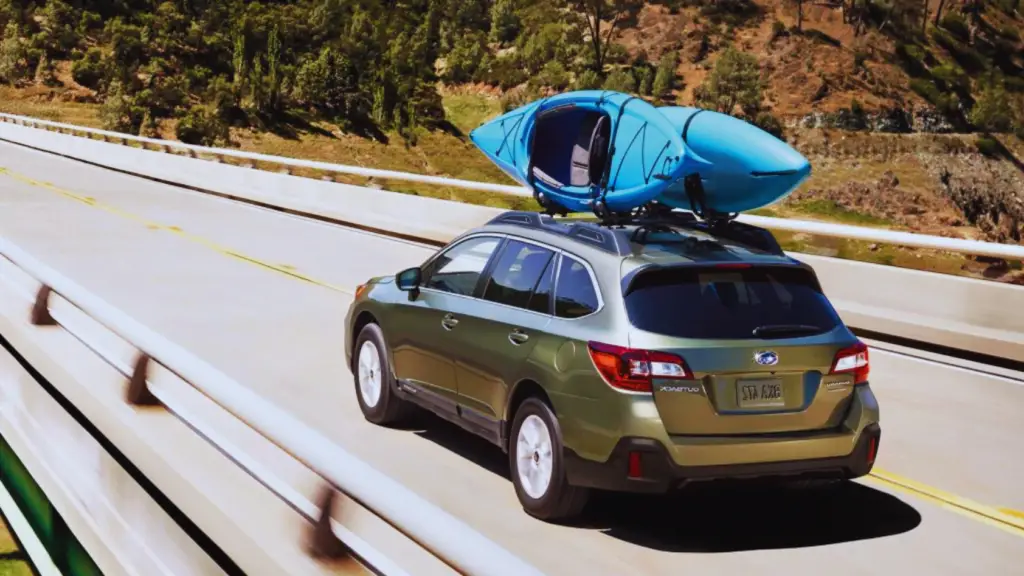 Frequently Asked Questions About Kayak Racks
Let's address some common questions related to kayak racks:
Q1. What Is The Best Kayak Rack For Subaru Outback?
The ideal choice depends on your specific needs, but we recommend the J-Style Hook Carriers for their versatility and widespread popularity.
Q2. Are Kayak J Hooks Universal?
Yes, kayak J hooks are universal and can fit various crossbars, including round bars, aero bars, and square bars. Installation is tool-free, with hooks that screw on and secure using included hardware.
Q3. Can You Fit 3 Or 4 Kayaks On A Roof Rack?
Indeed, a roof rack can typically accommodate 3 or 4 kayaks. However, it's crucial to check your car and roof rack's weight limits to ensure safe transportation. Consider using a stacker roof rack for carrying up to four kayaks simultaneously.
Q4. Are Soft Roof Racks Any Good?
Soft roof racks are a popular choice for transporting kayaks and other items on a car's roof. They offer easy installation and usually do not require drilling or screws. However, they may be less stable than other roof rack types and may not be suitable for heavier items.
Q5. How Much Weight Can Soft Roof Racks Hold?
The Subaru Outback can typically support a maximum rooftop load of around 150 pounds, including the crossbars and your kayak carrier.
Choosing the Best Carrier for Your Subaru Outback
In summary, the best kayak rack for your Subaru Outback hinges on your unique requirements and preferences. If versatility is your aim, consider the J-Style hook carrier. For heavier loads or a more permanent solution, opt for horizontal or vertical carriers. And if you seek a budget-friendly, tool-free transport solution, the soft roof rack is a fantastic choice.
Remember, safety and proper securing of your kayak are paramount. Whichever kayak rack you choose, rest assured that your Subaru Outback is capable of facilitating memorable and exhilarating kayaking adventures. Happy paddling!