Find the Perfect Camper on RVShare Review and Experience the Freedom of the Open Road!
All you nature lovers and adrenaline seekers, assemble! RVshare is the best place to find a recreational vehicle for your next camping trip or other outdoor excursion.
Imagine yourself traveling on an open road, stopping at a campsite, starting to prepare a great supper, and then enjoying it with your friends while gazing at the sky. What could be more relaxing than eating a delicious meal and drinking a bottle of wine while gazing at the stars? With RVshare, this could actually be possible.
RV rentals might be difficult to find. In case you've already checked out Outdoorsy and Wicked Campers and were underwhelmed, you'll want to keep browsing. For this reason, exploring RVshare more is highly recommended.
RVshare boasts low rates, a wide selection of RVs in locations around the United States, and no membership fees. The question is whether or not they deliver on their claims of providing stress-free rentals. Keep reading to learn everything about this new RV rental service. ‍
RVShare Review
RVShare has received many favorable reviews online. You may read RVShare evaluations on reputable web review sites, and each client has given them at least four stars out of five.
Trustpilot gives the platform an "excellent overall grading" with a 4.4 rating based on more than 4500 reviews.
On the basis of more than 700 reviews, the Better Business Bureau assigns it an A+ rating.
Yet, you shouldn't rely only on these RVShare evaluations. What appeals to other customers could be a major turnoff for you.
Hence, you should thoroughly review the website before using it, whether your goal is to rent RVs through the platform or to advertise your RVs for rent. That's exactly what my review of RVShare does for you.
I have covered every aspect of how to use the site in depth for both renters and RV lister in my thorough evaluation. After reading the review, you will be aware of the,
The system's fundamental controls
Exra features 
Pricing policies
Let's get started so you may begin organizing your upcoming RV vacation without delay.
RVShare Alternative:  Outdoorsy

RVShare is a peer-to-peer rental site for RV renting service. Consider them the Airbnb of the RV industry. They build a place where people can hire out their RVs to earn additional money and where those wishing to rent an RV at a reasonable price can do the same.
The RVShare co-founders' first idea was the catalyst for everything. An RV that they had purchased for their honeymoon was currently waiting for its next significant excursion out in their driveway. The pair then had an idea: they could make some additional cash by renting out their RV!
This idea gave birth to their business, RVshare, which has since assisted others in listing and renting RVs.
From New York to Orlando to Las Vegas, RVShare now offers advertisements for campers for rent across the US. There is a rental with your name on it wherever your quest takes you in the US.
How does RVshare work?
RVShare appears to have a simple operation from the outside. Although simple and convenient for end users, operational complexity may arise.
The primary function of the website is to act as a matchmaker between RV renters and RV owners. So why would anyone use RVShare instead of trying to find their own clients and RV rentals independently?
Now we're getting into the tricky parts of the platform.
RVShare's convenient features and services ensure that both parties can complete the transaction with minimal effort. In addition to its other notable characteristics, its insurance coverage and roadside assistance are also noteworthy.
The platform's facilities and management services, as a result, come at a premium for both parties.
That's the big picture, but in my RVShare review, I'll break down the platform's operation for renters and listers separately to offer you a more nuanced picture.
Renting an RV with RVshare
RVShare is a website that facilitates the renting of recreational vehicles by displaying the owner's listings of available vehicles in an organized fashion.
You may pick and choose the RV you hire.
Class A, B, and C RVs, as well as fifth-wheelers, campers, travel trailers, and a plethora of other possibilities, are just some of the alternatives.
You'll need to sign up for the service and fill up a profile before you can begin searching the extensive database.
It is required that members be at least 25 years old and in possession of a current driver's license. And you'll need to be DMV-approved, too. Don't worry; if you have everything you need on hand, the whole process will just take a few minutes.
Those with spotless driving records are the only ones accepted into RVShare. In this way, they can protect their listers' investment in the cars they hire out.
Because of this, you won't be allowed onto the platform if,
You have a suspended license.
Within the last year, you have accumulated more than two speeding citations.
You've been in two or more accidents in the past 12 months.
If you don't have any major issues in these three areas, RVShare will immediately approve you as a tenant.
If you've already checked off all the boxes to become a renter on the site, then follow these steps.
1. Verify your information
RVShare sends encrypted texts to your phone without verification software. Mobile verification completes the process.
Checking my account login status may take a second. RVShare will confirm your submission through email.
Verify using a passport or driver's license. RVshare's servers decrease fraud and strengthen privacy claims to fight evasion.
An encrypted phone picture makes uploading this data easy.
2. Search RV Rental Listings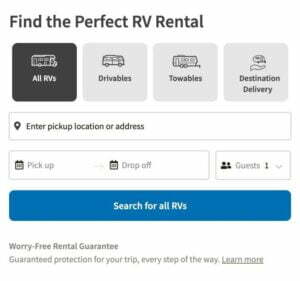 RVshare offers the "Instant Book" feature, which allows reservation requests to be automatically approved by some RV owners.
After reviewing information and images from various Colorado Springs RV rentals, we've selected our top three picks.
RV rentals can come from private individuals or small businesses, with prices varying from advertised rates.
RVshare is an excellent option for those who own an RV and want to travel throughout the US and Canada.
After joining, users can search for RVs by location and send requests to owners using the platform's messaging system.
Instant Book can be enabled for a speedy reservation process. Once approved, you can start planning your trip.
3. Confirm and Pay for your RV Rental
After completing the online booking process, you will submit payment and get confirmation of your reservation. The final step is to confirm your RV stay and pay for it. You must provide your credit card information and billing address in order to make a payment. When reserving an RV, make sure to read and grasp the following terms and restrictions.
You must attentively study the regulations RVShare is not only a unique option to rent an RV from private owners, but it's also a terrific opportunity for individuals who wish to supplement their income by renting their RVs on the platform.
When you post your RV on RVShare, you can also cover expenditures such as gasoline prices and general wear & tear. All you need to do is find 7-8 folks who are prepared to go in on the costs with you and contribute money.
4. Wait for the confirmation of the owner
RV owners may reply to rental requests made through RVshare within 24 hours. It's important to get in touch with the owner via your RVshare account.
Before doing so, wait for confirmation from all parties in the RVShare system.
5. Tell the owner about your trip
After renting an RV, pick extras like emptying and refilling water tanks or cleaning the outside.
These choices might be expensive, but the RV owner can help. The RV owner we leased charged $400 for a "easy living package" that included a water tank refill.
The owner will appreciate knowing your location, duration of stay, and reason for the visit. Tell them where you are.
How RVShare Works RV Owners
To list your RV, go to their website and enter your information. An RVshare team member will then get in touch with you. Once you've been approved, you can start renting out your camper.
RVshare has a customer service team that can answer any questions or concerns you have.
Selecting an RV Class
There are three main types of motorhomes that you can drive yourself.
Class A is for models that look like extra-large tour buses. RVs that are Class A and weigh more than 26,000 pounds need a special license.
Sleeper or camper vans make up Class B.
Models in Class C come in sizes between those of the other two classes. Class A models are bigger than these.
You might also be able to pull an RV or travel trailer, but you'd need to rent or buy a strong enough car to do so. (If you choose one of these RVs, read these tips on how to pull a trailer.)
We decided that a Class C RV would work for us, and we made plans to start and end our road trip in Salt Lake City, Utah. Since we were coming from Boston, we looked for RV rentals near the airport.
Pros of using RVShare for an RV rental
Wide selection of RVs to choose from
Easy search and filter options to find the perfect RV for your trip
Secure booking and payment options with $1 million liability insurance and 24/7 roadside assistance
Competitive rental fees compared to other rental sites
Good customer support
Cons of using RVShare for an RV rental
Higher rental fees during peak travel season
Some RVs may be older or less well-maintained than others
Limited availability of RVs in certain locations
Customer reviews and ratings of RVShare are generally positive, with many customers praising the site's wide selection of RVs and easy booking process. However, some customers have reported issues with older or poorly maintained RVs and higher rental fees during peak travel season.
Personal Experience with RVShare
To provide a real-life example of what it's like to rent an RV through RVShare, I decided to give it a try for a recent trip I took. Overall, I found the experience to be positive and would recommend RVShare to others looking to rent an RV.
First, I used the search and filter options on RVShare to find an RV that would fit my needs for the trip. I was able to find a motorhome that was the perfect size for my group, had all the amenities we needed, and was within our budget. The booking and payment process was easy and secure, and I appreciated the added peace of mind of knowing that we were covered by RVShare's liability insurance and roadside assistance.
When we picked up the RV, we found it to be clean and well-maintained. We had a minor issue with the air conditioning, but RVShare's customer support was quick to respond and help us resolve the issue. Throughout the trip, we enjoyed the flexibility and convenience of traveling in an RV. We were able to visit multiple destinations without having to worry about finding hotels or restaurants, and we enjoyed cooking our own meals and relaxing in the comfortable living area of the RV.
One potential downside of using RVShare is that rental fees can be higher during peak travel season. However, I found the rental fees to be competitive compared to other rental sites, and the added benefits of using RVShare (such as the wide selection of RVs and secure booking process) made it worth it for me.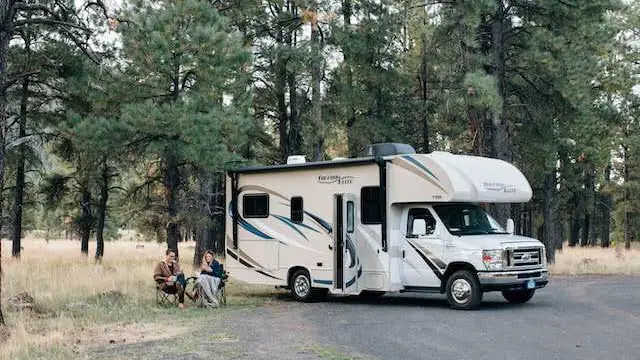 When you're in charge of organizing a girls' getaway, you want everything to run smoothly. Therefore, insurance is essential, particularly when driving!
There is insurance to protect you on rainy days.
When a reservation is made through the RVshare app, the standard insurance package is displayed. There is an option to upgrade your insurance during the booking process.
Included in the regular insurance plan are:
Comprehensive and collision coverage of up to $300,000 based on the RV's value.
Free 24/7 roadside assistance, free tire service, and free towing.
State statutory liability limits.
In all 50 states and Canada, renters and owners are protected. In addition, RVshare provides you with insurance documentation for your trip.
Q. How does RVshare handle cancellations?
Occasionally, life presents a curveball. In certain circumstances, you may need to cancel your vacation.
RVshare's cancellation policies vary based on the level of protection selected at the time of booking. There are flexible, standard, and rigid alternatives. Each type of cancellation policy provides varying levels of refunds and imposes varyingly stringent conditions.
Q. What do people have to say about RVshare?
There are many raving testimonials about RVshare available online. Over 13,000 customers RVShare reviews to find on Trustpilot have a rating of 4.4/5.
The vast majority of camper rental reviews attest to a simple and straightforward experience. They say that the owners they dealt with were very nice, and that RVshare was very helpful.
Several reviewers remarked that the pricing to rent the RVs was affordable. Consumers also appreciated that basic insurance was rolled into the price.
There are however some unfavorable remarks among all the glowing praise. RVs allegedly broke down and were not as stated in several recent reviews. Several comments on the internet imply that owners will cancel rented RVs at the last minute. However, in this case, they did get a full refund right away.
If you can get past the minor complaints, you will find that your next trip offers excellent value for the money. RVshare might help make your aspirations of hitting the road a reality.
RVShare Review – The Final Verdict
I can't say enough nice things about what happened to us. I looked into several RV rental companies and found that RVshare was the best choice for us in terms of price and service. So does my husband.
We think that renting an RV was a great way for our family to spend time together. We want to rent another RV in the near future.
Does RVShare Worth It?
Not everyone wants to RV. If you say yes to most of these, it's probably a good choice:
You have a lot of freedom. When you take a road trip in a motorhome, you can drive where you want and stay almost anywhere.
You don't like tent camping. For our family, it was important to have a place to hide from the weather and control the temperature.
You want to disconnect as a family. Some RV parks have WiFi, but we focused on spending time together without our devices.
Repacking is annoying. We had more time to enjoy our trip when we only had to unpack once instead of having to unpack and repack at every stop.
You don't like using public bathrooms, so having our own was very important. In some places, the lines to use the bathroom were ridiculously long.
You want to be able to use your gadgets. Even though the goal was to disconnect, having access to our gadgets was helpful on long days of driving. There were many plugs in our RV.
You like meeting new people. Traveling by RV gives you lots of chances to meet other travelers. Campers sit around campfires and talk while their children play together.
I hope that my review of RVshare will help you decide if renting a motorhome for your family is a good idea. We think the benefits are much more important than any problems (no maid service, shared showers, etc.)
Have you rented an RV before? Share your experience in a comment.
Related post