When taking a group of people camping or on another outdoor trip, you may find that your car is too crowded to fit everything you need. You'll have to leave things behind that are important to you, even though you wish you could bring them all. Our review on roof basket vs cargo box will provide you with all the needed information to enable uou to decide.
A cargo box or roof basket box would be quite useful right now. The additional capacity for storage not only allows you to carry everything you need, but also makes the inside of the car much more spacious and pleasant.
Which one, though, is the best? Come with me as we compare and contrast the two common types of cargo containers, the Roof Basket Vs Cargo Box, and weigh the benefits of each to help you make an informed choice.
What Is A Cargo Box?
Cargo boxes are available in a variety of sizes and are made of strong plastic to fit atop your vehicle for extra storage.
Cargo boxes, with their sturdy exteriors, safeguard your possessions from harm as they ride on the car's roof. You can be certain that your goods will make it through the trip unscathed thanks to the cargo box's ability to deflect debris, rain, and insects.
Cargo boxes are useful because they can be locked, and because breaking into their hard shell is far more difficult than breaking into, for example, a cotton cargo bag.
Mounting a cargo box to your car's roof is a costly proposition that requires the installation of a roof rack. Before you can attach a cargo box to the top of your car, you'll need to spend some extra money putting in a roof rack. Furthermore, you should make sure the cargo box you select is compatible with the roof racks you already have.
Because of their rigidity, cargo boxes also require dedicated storage space while they are not in use. Since cargo boxes tend to be very tall, you may need to take them off if you intend to park your vehicle inside a standard garage.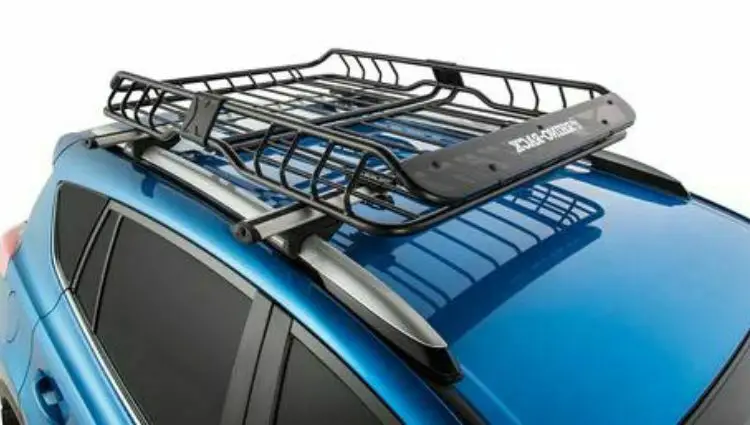 What Is Roof Basket? 
Cargo baskets are a practical addition to any explorer's vehicle. Cargo bags and outdoor items for the beach or the great outdoors are welcome. Anyone who enjoys spending time away from civilization will appreciate how simple it is to store their stuff in a secure location.
There are Cargo Baskets that attach to the roof and there are Cargo Baskets that attach to the hitch.
Cargo baskets mounted on top of a vehicle require a preexisting roof rack system, either one installed by the manufacturer or one of our versatile Roof Rack Systems. Check out one of our Automatic Roof Rack Fit Guides to learn more about the many multifunctional base roof rack system choices we provide for your car. If you find that the standard-sized Cargo Baskets are insufficient, you can usually purchase an extension kit to make them the desired length. Use a stretchable cargo net with impact-resistant hooks to keep all of your belongings safely in your basket.
Rack Attack offers a Sportrack cargo basket that may be placed to the back of your vehicle through the hitch if you don't have room for a roof-mounted basket. This carrier may be attached to any hitch with a 2″ receiver.
Roof Basket Vs. Cargo Box – Which is Best?
Discover the key benefits of both the cargo box vs the roof basket today. Whether you need extra storage space in or on your vehicle, you may choose between a roof basket and cargo box. You should still compare the two goods and understand their differences before making a final choice. You may now move on with confidence knowing this crucial piece of knowledge.
Space
There is  much of a difference between the two in terms of size. When it comes to storage space, you may discover roof baskets are much compatible than a cargo box  When packing, I find that a soft shell provides me more leeway than a rigid one.
Cost
If you don't already have a roof rack, purchasing roof baskets is a far more cost-effective option than purchasing a cargo box.
Protection & Security 
Cargo boxes offer superior protection for your items compared to standard roof baskets. They feature a more secure locking mechanism due to their robust casing, and they are also more resistant to impact.
Storage
A cargo box or roof basket will need you to either set aside specific storage space for it or keep it permanently atop your vehicle.
Roof Basket Vs. Cargo Box – Installation
Roof Basket Setup
Vehicles without a mounting rail and cross bar will not be able to use the rack. An appropriate mounting rail may be available at your local car dealership; please check with them if you need to.
To prevent uneven stress on the rack, place the saddle over to one side. Put them in line with the car's crossbar. It may be required to move the crossbar along the mounting rail. Space the two crossbars at least 15″ apart.
The rack may be kept in place on the crossbar by tightening the saddle's wing nuts
Cargo Box Setup
You should set up anchor points within your roof box, perhaps using U-brackets or bolts. The clamp plates should be threaded from the top of the roof box, and the sliding block screws should be pushed in from the bottom. Loosen the screws holding everything together.
Iterate this process with the remaining 4 fixed positions.
To install the roof box, you must first attach it to the roof rails (PS: you should probably ask for assistance).
Place the sliding blocks into the roof bar carrier and the roof box to the left of the carrier rails. Proceed in the same manner for the right side.
The roof box should be centered, and the clamping bolts on the sliding blocks should be tightened.
Done! Get your stuff together and get in the car.
Roof Basket Vs. Cargo Box - Final Thoughts
The best selections will be dependent on your specific requirements after a review of the underlying factors:-
Vehicle compatibility
Security
Placement in storage afterward
Cost
If you aren't transporting anything particularly precious and money is an issue, the roof basket is your best choice. You can save some money, have plenty of room to move around in, and not worry about the weather.
If you can spare the extra cash, though, a cargo box is the way to go because it is waterproof, can withstand impacts, and provides extra protection for your goods. There's a lot of room here, plus they're lockable, so your possessions are protected.
Take into account your current situation with regards to safety, after-use storage, the availability of roof rails, and the associated expense. Keep in mind the product's compatibility with your car by reading reviews. It's possible that you'll need to purchase more parts in order to set it up.
You may now choose between a cargo box and a roof basket with the knowledge you have gained here.
Roof Basket Vs Cargo Box - FAQs
Information on the roof basket vs cargo box that you may find helpful is provided below.
Q. Should I get a roof box or basket?
Roof baskets are convenient and simple to install, however they do not protect belongings from rain. Despite its streamlined design, silent operation, and safe construction, roof boxes can be prohibitively costly and provide little space for your goods.
While flat racks provide a versatile foundation for transporting goods, they are often ineffective without the addition of attachments. As an added complication, they are the most challenging to mount on automobiles.
Your decision should be guided by how much stuff you need to transport. Just be sure that whatever you're hauling can be safely secured and that your chosen method of attaching the goods to the roof can handle it.
Q. Can you put a roof box on a roof basket?
Using a roof rack and a cargo basket, such as the Rhino-Rack # RMCB02, you may attach a rooftop cargo box, such as the Yakima SkyBox 12 # Y07334. A few things should be kept in mind as you are ready to perform this.
Q. Can you Rent an Outdoor Roof cargo box or Baskets?
Yes! When going camping, it's a good idea to rent a roof box or basket. Rates for rentals might vary widely based on the time of year and the company you choose. However, if you're prepared to spend a little extra money, this is an option worth thinking about because you won't have to worry about any equipment malfunctions.
Even if you don't want to break anything, you should probably get insurance anyhow. This implies that you won't be responsible for fixing any faults or damaged parts. The fact that certain rental businesses provide set up services at no extra cost is still another reason to choose this strategy.
Q. Can suitcases be in a roof box?
Although you would think that the suitcase is the proper place for your luggage and the roof box is better suited for your less neatly packed belongings, many roof boxes are in fact constructed in a way that allows them great for storing suitcases. Your roof box is essentially a giant suitcase that you've strapped to the top of your automobile.