Are you an avid cyclist who loves exploring the great outdoors with your bike? If so, you probably understand the importance of having a reliable and secure way to transport your precious bikes to exciting destinations. That's where a tailgate bike pad comes into play. In this comprehensive guide, we'll walk you through everything you need to know about tailgate bike pads, their benefits, considerations, and the top options available in 2023.
The Dakine Pickup Pad DLX offers a durable and secure way to transport your mountain bikes. Its PVC tarpaulin construction and molded foam bumpers help protect your tailgate and bikes from scratches and bumps on dirt roads. This pad can accommodate up to 5 bikes securely, and it features a large flap for using your backup camera.
2. Race Face T2 Tailgate Pad
5. Fox Racing Tailgate Cover
6. Yakima GateKeeper Tailgate Pad
9. Athletico Tailgate Pad for Bikes ($120)
10. Bomber Strap Tailgate Bike Pad
Why You Need a Tailgate Bike Pad
Tailgate bike pads have become an essential accessory for cyclists who want a safe and convenient way to transport their bikes to outdoor destinations like national parks and downhill trails. These pads offer a secure method to carry your bikes while also protecting your vehicle from potential scratches and damage. With a plethora of options on the market, choosing the right tailgate bike pad can be overwhelming. This guide will help you navigate through the features, advantages, and disadvantages of these pads, so you can make an informed decision.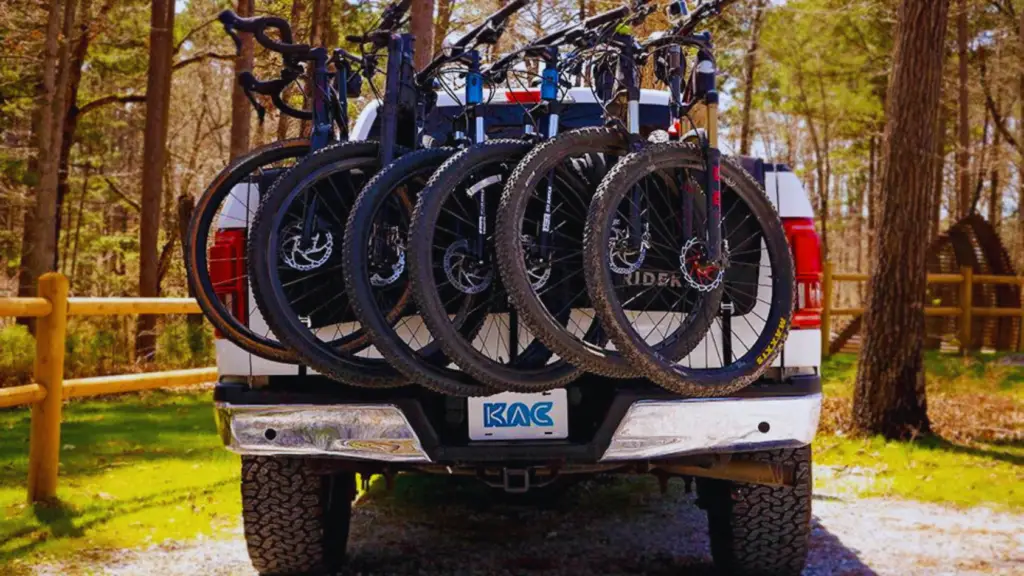 Considerations When Choosing a Tailgate Bike Pad
When selecting a tailgate bike pad, there are several important factors to keep in mind. These considerations will help you find the perfect pad that suits your needs and offers maximum convenience and protection for your bikes during transportation.
Size and Compatibility
The size of the tailgate bike pad should correspond to the size of your truck's tailgate. To ensure a snug and secure fit, measure your tailgate before making a purchase. Additionally, if your truck is equipped with a backup camera, opt for a pad with a cutout that accommodates this feature. Look for a pad that is compatible with a variety of truck models and tailgate styles, as this versatility allows you to use the pad across different vehicles.
Capacity
Consider how many bikes you plan to transport at once. Some tailgate bike pads can carry multiple bikes, while others are designed for a single bike. Choose a pad that aligns with your current and future transportation needs. Families of cyclists will benefit from pads that can accommodate a larger number of bikes.
Material and Durability
High-quality materials are essential for a durable and long-lasting tailgate bike pad. Look for pads made from heavy-duty vinyl, foam padding, and sturdy straps. These materials ensure that your bikes remain secure and well-protected during transit. Additionally, UV-resistant materials prolong the pad's lifespan by safeguarding it from sunlight exposure.
Bike and Vehicle Protection
The primary function of a tailgate bike pad is to safeguard your bikes and your vehicle during transportation. Choose a pad with ample padding and secure straps or tie-downs to prevent bikes from shifting, scratching against each other, or damaging the tailgate.
Ease of Use
A user-friendly tailgate bike pad should be easy to install and remove from your tailgate. Look for pads equipped with quick-release straps or buckles, which simplify the loading and unloading process, saving you time and effort.
Security Features
Considering the value of your bikes, security features are crucial. Look for a tailgate bike pad with lockable straps or a locking mechanism to deter theft and ensure the safety of your bikes during transit or when parked.
Price
Tailgate bike pads come at various price points. While a higher price may indicate better quality and features, there are affordable options that still provide adequate bike protection. Assess your budget and prioritize features that align with your needs.
Versatility
Some tailgate bike pads offer additional functionality beyond bike transportation. Pads that double as camping mats or outdoor rugs provide added versatility for outdoor enthusiasts.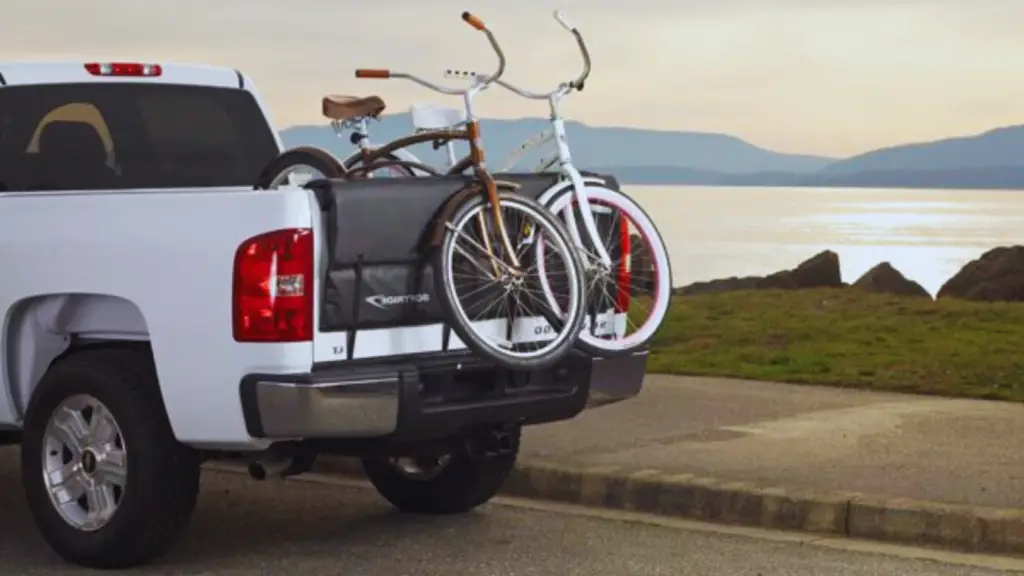 The Advantages and Disadvantages of Tailgate Bike Pads
Before making a decision, it's important to consider both the pros and cons of using a tailgate bike pad for transporting your bikes.
Pros:
Easy to Use: Installing a tailgate bike pad is a straightforward process. With minimal equipment required, it's much simpler compared to using a bike rack.
Cost-effective: Tailgate bike pads are more budget-friendly compared to bike racks, making them an affordable option.
Space-saving: These pads don't occupy much storage space, making them ideal for individuals with limited garage or apartment space.
Bike and Vehicle Protection: Tailgate bike pads protect both your bikes and your vehicle from potential damage during transportation.
Multiple Bike Capacity: Depending on the size, some pads can accommodate multiple bikes, perfect for group rides or family outings.
Cons:
Limited Vehicle Suitability: Tailgate bike pads are only suitable for trucks and SUVs with tailgates. They're not compatible with cars or vehicles without tailgates.
Limited Carrying Capacity: Some pads can only carry a limited number of bikes, which might be inadequate for those needing to transport several bikes.
Potential Tailgate Damage: Incorrect usage of the pad might lead to damage to your tailgate, including scratches and dents.
Access Limitations: While using a pad, you might lose access to your tailgate, although some pads have cutouts to mitigate this.
Installation Challenges: While generally easy to use, some users might find installation challenging, especially when securing the pad and bikes.
Final Thoughts
Choosing the best tailgate pad for your mountain bike adventures in 2023 depends on your specific needs. Whether you need a pad that can carry multiple bikes, one with a large flap for backup camera use, or a pad that offers extra protection for your tailgate and bikes, there is an option for you.
Remember, the best mountain bike tailgate pads should keep your bikes secure and protect your tailgate from scratches and dings. Always ensure that your bikes are secured properly before hitting the road to prevent them from getting lost while driving. Happy mountain biking!
What are tailgate bike pads?
Tailgate bike pads are specially designed covers that you can attach to the tailgate of your pickup truck to securely transport your mountain bikes. These pads provide a cushioned and protective surface for your bikes, preventing scratches and damage during transit.
How do tailgate bike pads work?
Tailgate bike pads typically have straps or attachments that secure them to the tailgate of your truck. They have individual padded sections that you can place your bikes on, with slots for the bike forks. The pads hold the bikes securely in place, preventing any movement or potential damage during transportation.
What are the benefits of using a tailgate bike pad?
Using a tailgate bike pad offers several benefits. Firstly, it allows you to transport multiple bikes at once, saving you the trouble of having to install individual bike racks. It also protects your bikes from scratches and dings that can occur when placing them directly on the truck bed. Additionally, many tailgate pads offer a convenient backup camera flap, allowing you to use your truck's backup camera while the pad is installed.
Are tailgate bike pads universal? Will they fit on any truck?
Most tailgate bike pads are designed to be adjustable and fit a wide range of pickup trucks. However, it's always important to check the specifications and sizing of the pad to ensure it will fit properly on your truck. Some pads may come in different sizes, so you can choose the one that best suits your truck's tailgate dimensions.
Can I still use my truck bed with a tailgate pad installed?
Yes, you can still use your truck bed even with a tailgate pad installed. Many tailgate pads have a foldable flap or tarpaulin section that allows you to access the truck bed without removing the entire pad. This gives you the flexibility to transport your bikes and still have space for other items in the truck bed.
How many bikes can I transport with a tailgate pad?
Tailgate pads typically have slots or compartments to securely transport multiple bikes. The number of bikes you can transport depends on the size and design of the specific pad. Some pads can accommodate up to five bikes, while others may be designed for two or three bikes. Check the product specifications to determine the capacity of the pad you are considering.
Are tailgate pads durable and secure enough for mountain biking?
Yes, tailgate pads are specifically designed to be durable and secure for mountain biking. They are made from high-quality materials such as tarpaulin or sturdy fabrics that can withstand rough outdoor conditions.