If you're an avid camper or someone who loves to explore the great outdoors, a pop up camper rental could be the perfect choice for your next trip.  Well, look no further than a pop-up camper rental! Pop-up campers are an excellent option for those who want to experience the thrill of camping without sacrificing the comforts of home. In this blog post, we're going to explore the benefits of pop-up camper rentals, what to look for when renting, and some tips for making the most of your adventure.
Pop-up tent trailer rentals: Everything You Need to Know
What Is A Pop Up Camper?
A pop up camper is a lightweight, collapsible trailer with a removable roof. Soft tent-like materials or hard, collapsible sections are used for the folding top.
They are typically easier to pull with smaller SUVs, vans, and even certain autos fitted with a hitch located beneath the vehicle since they are lighter than other types of towable RVs.
Even though they are compact, pop up campers still include dedicated eating and sleeping areas. Some of the larger campers even include full kitchens, bathrooms, and showers.
By beginning your search for a pop up trailer rental on Outdoorsy, you're preparing for an epic journey.
Reasons To Rent A Pop-up Camper
Renting a pop-up camper is a smart move for a variety of reasons. Maybe even better than the rest of the recreational vehicle options out there.
A pop-up camper's diminutive size makes it an ideal choice for those seeking a lightweight, portable RV. They are easy to haul and park due to their little size. Also, unlike the huge RVs, you won't be confined to an RV park, but rather, you'll have the freedom to explore new and interesting places when camping.
Towable pop-up tents are easy to transport. You can tow it with an SUV, a van, or even a car; you don't need a one ton pickup truck.
When you camp with a pop up, you can keep your car nearby. If you want to go out and about during the day while staying in a motorhome or camper van, you'll either have to stay put or pack up and shift your entire setup. For day trips, you may take your car and leave the RV at home with a pop up.
Renting a pop-up camper can save you money compared to renting a more traditional RV. The usual rate for renting an Airstream or fifth wheel is upwards of $100 per night. A pop-up tent trailer is a lot less expensive.
How Much Does It Cost To Rent A Pop Up Camper?
In most cases, you can expect to pay anything from $50 to $100 per night to rent a pop up camper. Yet, there are a number of variables that will affect the actual rate. Such factors include, but are not limited to: season, place, number of beds, and availability of extras. A smaller RV, such as a pop-up camper, will have significantly lower nightly rates than a bigger one. Because you won't be towing as much weight, you'll likely save money on petrol as well.
Off-season camping can save you money, as can camping in places that are difficult for bigger groups to reach. You'll be able to spend less time worrying about money and more time enjoying the peace and quiet of your camping trip.
Pop Up Camper Rental Alternatives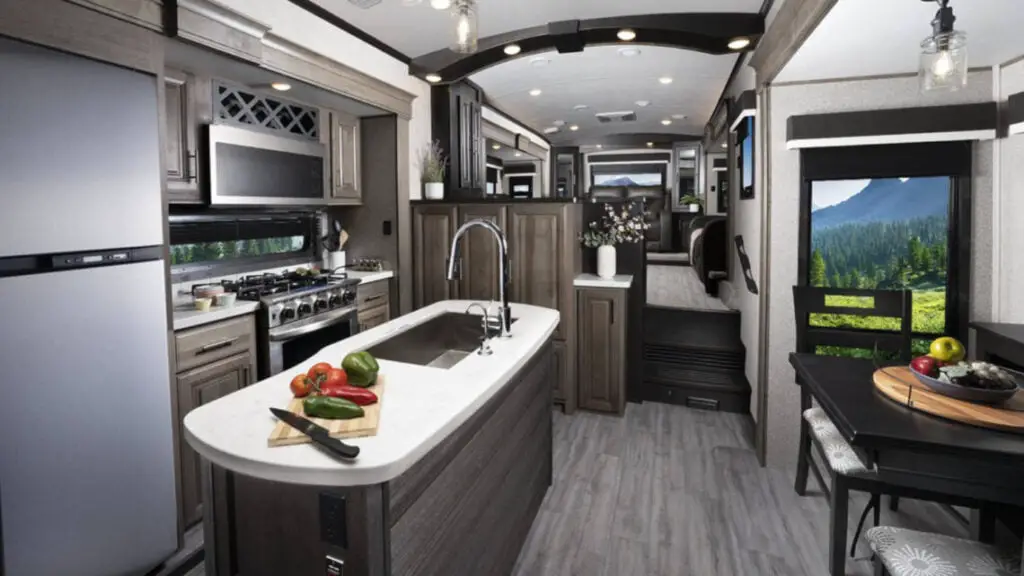 Campers looking for multi-night excursions in large groups would really benefit from the convenience of fifth-wheel trailers. Has all the conveniences of home and can be towed directly to your camping spot.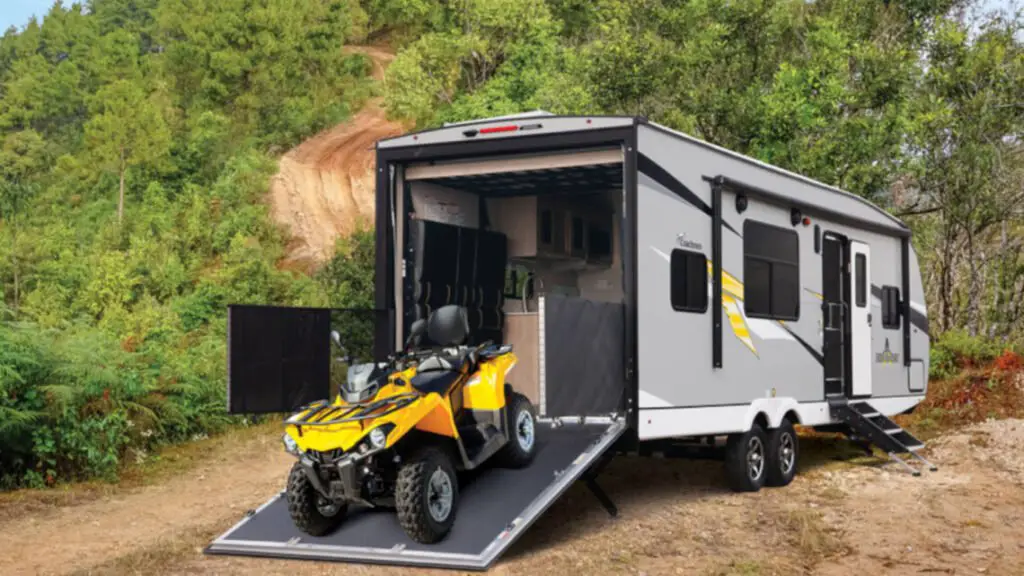 Campers who wish to transport heavy items like motorcycles, skis, kayaks, and other equipment might benefit greatly from renting a toy hauler.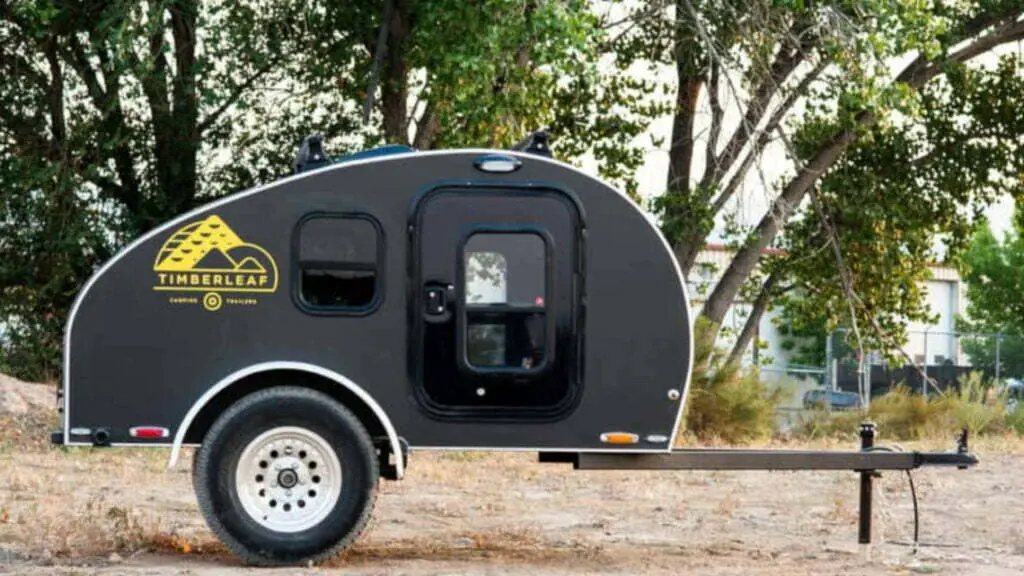 Campers looking for a compact, comfy, and easy-to-transport sleeping solution would benefit greatly from using a micro trailer.
4. Pop Up Trailers For Rent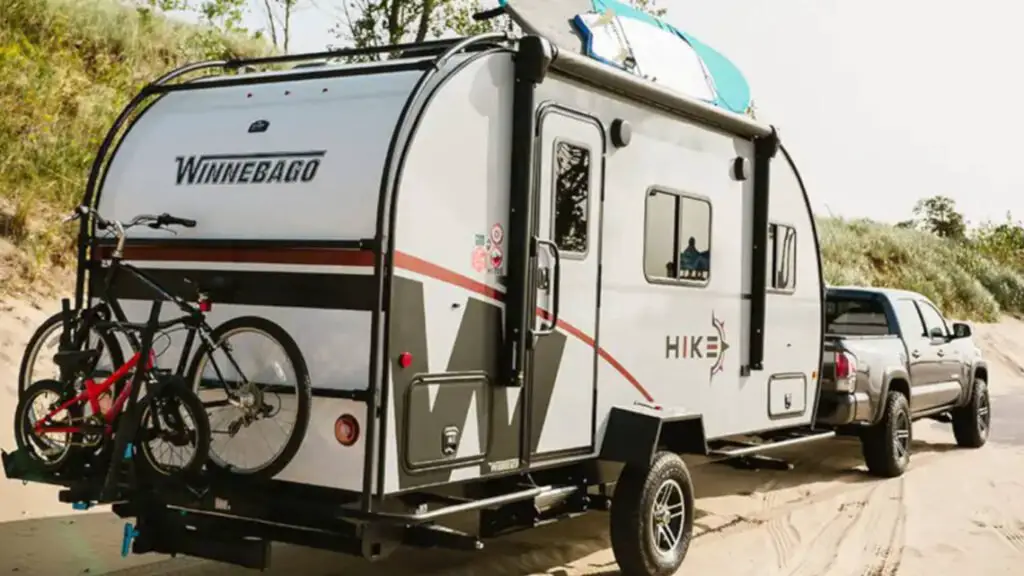 Pop-up trailers, sometimes known as towable recreational vehicles, are extremely versatile. Compared to other types of rigs like motorhomes, fifth-wheels, Airstreams, and travel trailers, these are extremely compact and lightweight. As a result of their lightweight and compact design, they may be pulled by almost any car and set up camp in places where larger recreational vehicles are prohibited. In case you're looking for some suggestions, here are a few excellent ones.
1. 2019 Family Size 30Ft Trailer with Slide Out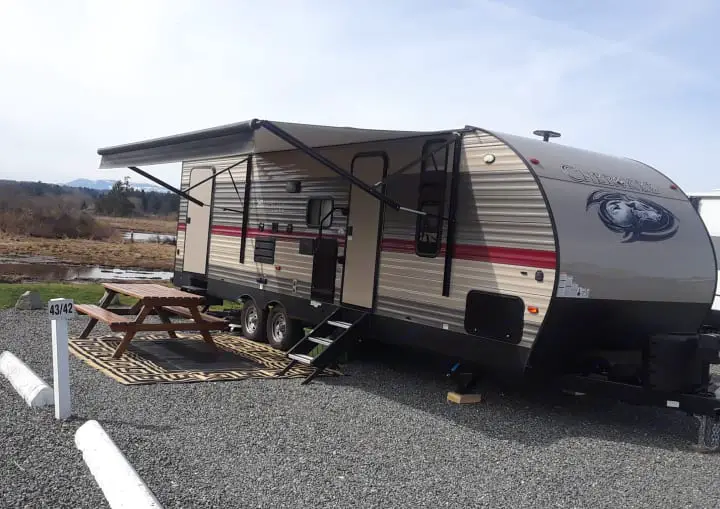 This trailer rental is what the average person would recognize as a "pop up," and it's all set for your next trip with the family. It's as easy to tow as a small car yet has all the comforts of home. There's room for up to six passengers in this 25-foot RV. There are several different sleeping arrangements available, including a king bed, a queen bed, and a dinette that turns into a bed.
Amenities 
26-gallon freshwater tank
Kitchen skink
Stove
2 refrigerators
Dining table
Toilet 
Gas grill 
Awning
Sleeping for 6
Average Rates
Daily: $59.25/night
Weekly: $53.33/night
Monthly: $47.40/night
2. 2021 Coachmen Apex Outfitter 208 BHS
This pop-up trailer is 29 feet long, giving you plenty of room to stretch out. Just attach a hitch and tow it to your next destination. This rig can easily accommodate four people, or two adults and up to four children. There is a completely furnished kitchen (except the food, of course), an outside mat, a folding table, and a BBQ grill at your disposal at the rental property. Do you wish to bring Fido? Your pet is welcome in this trailer!
Amenities
Kitchen sink
Refridgerator
Stove
Dining table
Indoor and outdoor showers
Toilet
Generator
Heater
Sleeps 4-7
Average Rates
Daily: $110/night
Weekly: $78.59/night
Monthly: $71.70/night
Renting a pop-up tent or a tent for your car's roof is a great way to go camping in the backcountry without having to sleep on the ground. If you rent a 4×4 with a pop-up tent on top, you can take the road less traveled and sleep comfortably. These kinds of rentals are much cheaper than renting an RV, and they are much easier to drive since the vehicle is just a regular truck or SUV.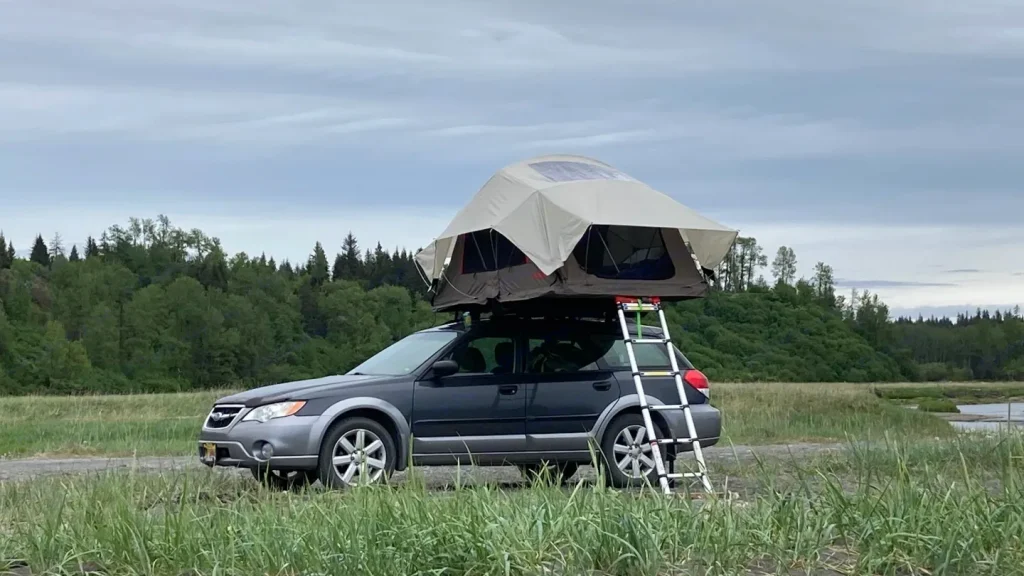 Enjoy a unique camping experience with this rooftop tent rental and vehicle. Tents available with either a Jeep or 4Runner. The setup comes with the tent that sleeps 2-3, and an airmatress for the back seat of the SUV, for room for one more. There are a number of add-ons available such as solar panels, grill, cooking equipment, and extra tent to ensure you have everything you need to enjoy your trip!
Amenities
Generator
Radio
Dining table
Stove
Average Rates
Daily: $103.50/night
Weekly: $103.50/night
Monthly: $103.50/night
2. 2015 Jeep Wrangler 4x4 With Roof Tent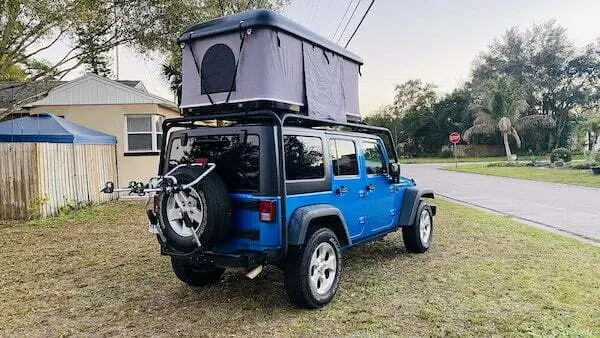 This pop up tent and Jeep rental is excellent for traveling light and experiencing the outdoors, whether you're headed to the beach or the forest. The tent can accommodate two people while the Jeep has seating for six. The tent is equipped with clean bedding, ensuring a comfortable night's sleep even when pitched beneath the open sky.
Amenities
Average Rates
Daily: $99/night
Weekly: $89.10/night
Monthly: $79.20/night
3. 2020 Coleman Grand Tour Elite Niagara
This pop-up camper provides 29 feet of luxurious living space. Quite easy to attach a hitch and move on to the next adventure. Depending on how many kids you have, this setup may sleep anywhere from two to four adults. The vacation rental has everything you need for a camping excursion except for food, including a fully supplied kitchen, an outdoor mat, a folding table, and a BBQ grill. Have you considered bringing Fido along? Tofurky is welcome in this mobile home.
Amenities
Kitchen sink
Refridgerator
Stove
Dining table
Indoor and outdoor showers
Toilet
Generator
Heater
Sleeps 4-7
Average Rates
Daily: $110/night
Weekly: $78.59/night
Monthly: $71.70/night
What To Consider Before Renting A Pop Up Camper?
How often do you plan on going on camping trips?
Unless you go camping many times a year, you should probably just rent equipment instead of buying it. For those who go on four or more camping excursions year, having access to a camper is a huge convenience.
How much does it usually cost to rent a pop-up trailer?
It's possible to rent a pop-up camper for as little as $50 a night. During a long weekend (three to four nights), you can often hire a pop-up camper for roughly $500 (this price typically includes insurance, fees, and taxes).
Yet, renting a pop-up camper may cost more during the busy camping season. But, if you're going to be flexible with your travel dates, you may sometimes find lower prices for rentals during the off-season.
Are you thinking of adding a roof rack to your pop-up camper?
It's not a good idea to hire a pop-up camper if you have roof cross bars, since you may need to make changes to fit them. Skis, kayaks, and bicycles are all quite lengthy and awkward to move, so a roof rack may come in very handy.
Look at our post for additional details on installing roof racks on pop up tent trailer rental.
Pop Up Camper Rental: Final Thougts
If you're just getting started in the camping industry, there are a few good reasons to rent before you buy.
Aware of how you feel when driving and hauling
The process of determining which qualities are most and least important
Simplifying the indoor and outside storage of your belongings
Costs and benefits of several types of campers to help you pick the right one for your trip.
Following that, you'll have the knowledge to plan your next steps in the trip effectively.
Lastly, we've hope you find this review easy to understand, informative, and entertaining. If that's the case, please feel free to leave a comment.
Related post