If you're camping in hot weather, you might be wondering if it's possible to use an air conditioner in a tent.
As temperatures continue to soar and the days get longer, it can be difficult to survive in a tent without an air conditioner. But don't despair – with a few tips and tricks, you can stay cool even when camping in the hottest of conditions!
In this blog post, we'll explore how you can make the most of your air conditioner while still having an enjoyable tent camping experience. So sit back, relax, and enjoy – because you're about to learn how to beat the heat!
Using an air conditioner in a tent can be a great way to beat the heat outside and make sure you are comfortable while camping. While it is absolutely possible and sometimes even necessary to use an air conditioner in your tent, there are pros and cons that you should consider before doing so.
Pro:
Improves tent comfort.
Allows sleeping through hot outdoor picnics.
Filters smoke, insects, and dust.
Creates ambient air for relaxing and reading.
Cons:
Air conditioners are costly and energy-intensive.
Can cause tent walls to condense and grow mold or mildew.
Extra wires or electronics might raise camping safety issues (e.g. electric shock).
Reduces fresh air intake since ACs circulate air.
Types of Tent Air Conditioners
1. Portable air conditioners
All camping air conditioners are portable. But this air conditioner is a portable unit with a compressor that squeezes a cold liquid called refrigerant. It draws warm, humid air over the cooling coil's refrigerant. A fan blows cool air into the tent, and an exhaust line expels hot air.
A tent with an exhaust hose-sized window is needed to camp with a portable air conditioner (usually around 6–8 inches in diameter).
Pro:
Ideal for humid conditions since they remove humidity.
Only the exhaust hose is exposed, making portable ACs reasonably safe.
This standalone AC doesn't require a stand.
For a window mounted AC, your tent does not need an AC port.
Cons:
Especially in a tiny tent, can be bulky.
If used for long durations, can drain power.
It works best with mains electricity.
2. Evaporative coolers
You may use these to cool off your tent by adding water to the tank they come with and letting it evaporate. The fan pulls hot air into the cooler, where it is cooled and humidified by pads soaked in water, and then pushed back into the tent.
Pro:
Portable.
Save room in small tents and campervans.
The cheapest camping AC.
Cons:
Less cooling power 
Since they add moisture, they're bad for humid climates.
3. Window-mounted ACs
An evaporator coil draws room heat into these ACs. After going through a liquid refrigerant and an AC condenser, the air is let out and cooled.
A tent with an AC inlet or flap may vent this air conditioner. The majority will be outside the tent. It must be positioned on an AC stand or milk crate.
This camping air conditioner can be DIYed for tents without AC ports. Cutting a tent hole to make a port is dangerous. To produce a secure fit-out, you'll need to seam the edges and seal any air spaces. If you cut a hole too large for the AC, you'll destroy the tent, so measure before starting.
Pro:
The most powerful ACs are window-mounted.
Cons:
The unit's exposure to the outside world makes it vulnerable to damage or theft.
These are the difficult camping ACs to put up.
Needs external power.
Large and heavy, making transport difficult.
Comparison of Air Conditioner in a Tent
Best Tent Air Conditioner Reviews
To find the best camping air conditioner, we looked at different tent sizes, different climates, and, of course, how well the unit cooled.
1. Black + Decker Portable Air Conditioner: Best Overall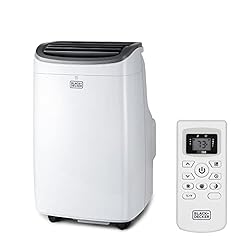 The Black + Decker Portable Air Conditioner is the most well-known and useful tent air conditioner. The Black + Decker portable device is our top pick for a reason.
The power-to-price ratio is our favorite feature. The Black + Decker is the most affordable unit from a trusted brand. This 4,000 BTU tent air conditioner can cool large cabin tents up to 12 people, but it's also suitable for smaller family camping tents like 6 or 8 person models.
Black+Decker has all the essential features. The intake duct and tent window attachment kit makes it simple to set up any tent. The Black + Decker's "sleep mode" reduces fan noise while you sleep, making ownership easier.
The Black+Decker tent air conditioner has no drawbacks for 99% of campers. Because it has a smaller cooling capacity than most portable ACs, it's cheaper than most window units and evaporative coolers. Most tents need 4,000 BTU, but if you have a wilderness castle that sleeps 12 or a bell tent with lots of ceiling area, you may need mor
2. Honeywell HL10: Best Overall Quality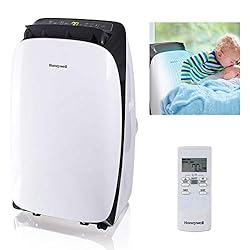 The Honeywell HL10 can cool even the largest and tallest tents in the warmest conditions with 10,000 BTU. This premium house AC unit can handle vast spaces and has several premium features.
This powerhouse has a dehumidifier, digital controls, a remote, and two air filters. We like that the Honeywell HL10 automatically moves up and down to spread air evenly in large tents with more than one chamber. This unit is easy to set up because the warm air exhaust hose is already put together and stretches from 11″ to 59″.
If you're interested in the Honeywell HL10, keep these points in mind: First, the Honeywell is much more costly than other portable units on our list due to its quality and performance. Second, this large, powerful machine takes up more space than alternative possibilities. It's not large or heavy, but it's several inches broader and higher than our other portable options. Since it's going in a big tent, you probably have room, but keep the Honeywell's dimensions in mind while planning your setup.
3. SereneLife SLPAC8: Budget Choice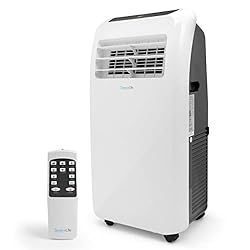 SereneLife makes a portable tent air conditioner if you want to save money on gear and firewood. The SereneLife SLPAC8, our cheapest option, produces 8,000 BTU, enough to chill even the largest tents.
We were impressed by SereneLife's SLPAC8's superior features for the price. It has smooth-rolling caster wheels that make it easier to move. It also has a fan, a dehumidifier, a swinging function that lets air circulate better around the tent, and a remote control that lets you change the temperature without getting out of bed.
This SereneLife unit is surprisingly tiny and powerful. The SLPAC8 is similar in size to our list-topping Black + Decker, but it weighs several ounces less and cools a bigger area.
The SereneLife AC has problems, but they're typical of cheap models. The SereneLife manual water tank draining is most notable: If you're camping in hot and humid weather or using the dehumidifier, you'll need to drain the device at least once every 48 hours.
This unit's quality is comparable to that of Black + Decker and LG. That makes it noisier, less elegant, and less durable. If you only use it for camping, it should last for many seasons.
4. LG 115V Window Air Conditioner: Best Window Tent Air Conditioner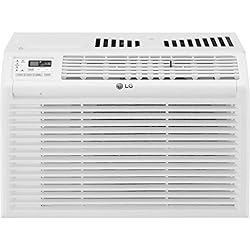 Window AC units aren't for everyone, but those who can use them can benefit from their value and effectiveness. The LG 115V Window AC, our top window tent air conditioner, shows what a window unit can do.
For starters, this window AC from a top brand costs less than even the cheapest portable AC and has 6,000 BTU of cooling capacity. That cools even 14-person cabin tents for half the price of a portable AC.
Additionally, this LG window AC is lightweight and compact. The business end is 17 inches wide and weighs less than 40 pounds, making it easy to carry to and from the tent.
This LG window unit has the same issues as any window-style tent air conditioner: If your tent isn't meant for window-style AC units, mounting them can be difficult. That means you'll have to get creative with how you arrange the LG and keep the front-facing circuitry out of the elements. If you have a window-unit camper and want a consistent performer for your next trip, this LG is hard to beat.
5. Amazon Basics Window AC: Budget Choice For Window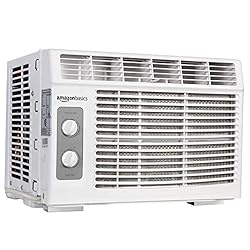 Amazon's 5,000 BTU window AC is one of their cheapest "Amazon Basics" products.
The Amazon Basics Window AC can cool a tent without fuss. This device can chill a large cabin tent with numerous rooms with 5,000 BTU.
Adjustability is also good value: This Amazon Basics air conditioner lets you manually regulate air direction, temperature, and fan speed. One washable/reusable filter keeps dust and pet dander outside for easy maintenance.
This window-mounted gadget is simple, but Amazon means "basics": all controls and settings are selected from the front.
It's not fancy, but that's typical with window units. If you don't like background noise while sleeping, keep looking: even on low, this AC is the loudest. If you don't mind "white noise" while sleeping, there's no cheaper way to buy a high-powered tent AC.
6. Honeywell CO48PM: Best Evaporative Air Conditioner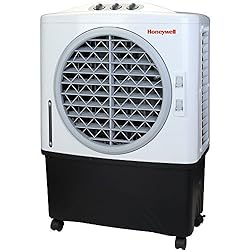 Evaporative air conditioners, which are also called "swamp coolers," cool the air by letting water evaporate into it. These units are common in large projects like factory cooling or wide outdoor areas, but they're also an unexpected alternative to tents.
This full-sized Honeywell direct evaporative air conditioner can cool up to 610 square feet. Evaporative cooling systems don't chill as well as refrigerant-powered AC units, but the Honeywell CO48PM has the cooling capacity of a 14,000 BTU air conditioner, making it perfect for even the largest tents.
Evaporative cooling consumes 80% less energy than standard air conditioning, which is great if you're paying for metered power at a campsite. This Honeywell also works as a powerful cooling fan outside the tent, making it useful for camping.
Due to its power and adaptability, the Honeywell CO48PM is our top evaporative cooler, but it has some drawbacks. For starters, there's no convenient method for directing air outside the tent, so you'll have to use your tent's ventilation. The Honeywell's initial cost is comparable to a quality portable AC unit. However, if you camp often in larger tents, you'll save energy over time.
7. Vivibyan Personal Air Cooler: Best Evaporative AC On A Budget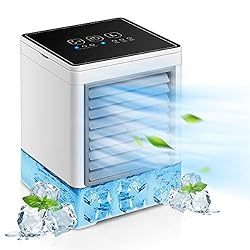 It's portable enough for tent air conditioning in modest one- and two-person tents! This compact unit is perfect for cooling one or two individuals, not "the whole tent." This makes it ideal for cheap van living or power-conscious builds.
We like the Vivigyan Portable Air Cooler since it runs on a USB port and uses little electricity. It can function as a nighttime AC unit on a lithium power supply, so you don't need electricity hookups to stay cool. Eco-friendly.
Its small size and low power output are its main drawbacks. The Vivigyan's small water tank needs to be filled every few hours, while the Honeywell's tank holds more than 10 gallons.
However, a full tank can cool for six hours, making it ideal for overnight use. Despite its flaws, the Vivigyan remains the cheapest tent air conditioner on this list.
DIY Air conditioner for camping
How To Choose The Best Air Conditioner For Tent
1. Cooling capacity
Finding a camping air conditioner with enough cooling power is challenging. When selecting furnishings for a house, floor area is most important, but tents are different. A 100-square-meter tent may need extra cooling.
The tent's insulation (which makes it take longer to cool), ceiling height, ambient temperature, wind speed, direction (sun or shade), number of people inside, number of tent rooms, and whether the flaps and windows are open are all aspects to consider.
2. Easy setup
Consider how long and how difficult it will be to set up your tent's AC. A small evaporative cooler is preferable for convenience. Window air conditioners take longer to install, but they cool better.
3. Size
Your tent's AC should accommodate people, camping gear, and sleeping space. If your camping air conditioner is too big, it will constrict the area and make the experience uncomfortable.
If you have a 2-person tent, a modest AC may be better for cooling. Going too big can make your tent too cold, too fast, leading it to cycle on and off, which is bad for the appliance.
4. Power Source
Consider the power sources at your favorite campsites. The camping AC power source should work with this.
5. Noise level
White noise can muffle campers. You don't want your AC to be too noisy to sleep or drown out nature.
Evaporative coolers are the quietest. Some offer a 25 dB sleep setting, barely above a whisper. Window-mounted ACs are the next quietest, and portable ACs are the loudest.
6. Weight
A big air conditioning unit won't fit in your boot with all your camping and hiking gear. Window-mounted ACs are heavier than modest evaporative coolers.
7. Price
Small evaporative air coolers, portable air conditioners, and window-mounted air conditioners each cost less than $100, $350, and $400. Air conditioning for a medium or large tent will cost extra.
Consider the AC's usefulness when buying one—can you use it at home or at work? If not, consider if you camp often enough to justify an expensive purchase.
How to Set Upp Air Conditioner in a Tent
Step 1: Set up a tent with an air conditioning system port facing the power socket. Cut a hole if your tent has no AC port.
Step 2: Measure a window AC's face. Next, draw the tent's AC unit location. Cut the hole with a sharp box cutter or scissors. Cut a tent hole to match the exhaust hose diameter for portable AC units.
Step 3: Position the AC platform on a level surface and place the window unit on top. Seal the tent AC port with weatherstrip or duct tape after inserting the AC face. Place the portable AC inside the tent and run the exhaust pipe through the AC port. Seal with weatherstrip or duct tape.
Step 4: If your campsite has an electrical outlet, connect your AC unit to it with an extension cord. Non-electric campsites require a generator.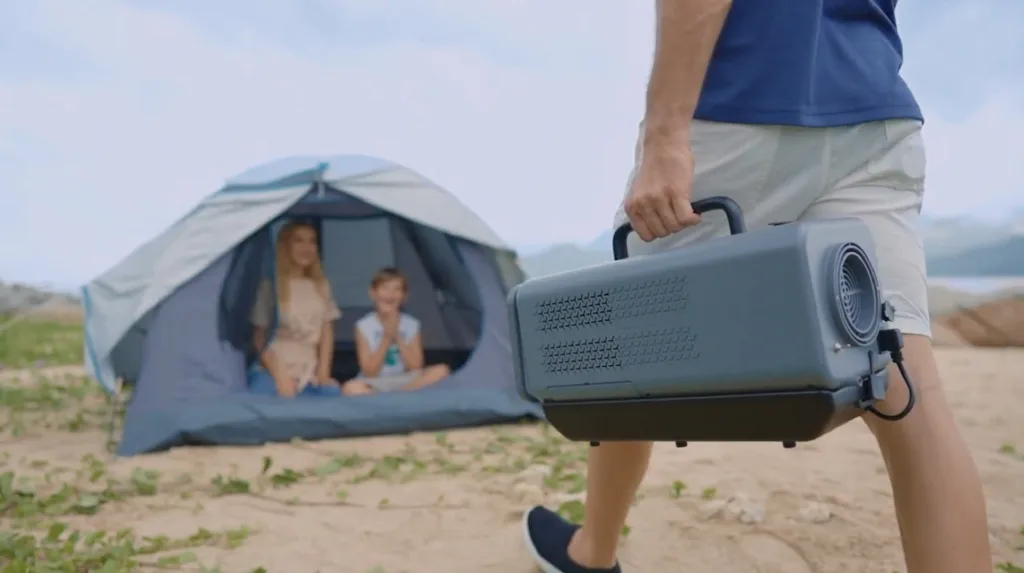 Air Conditioner in a Tent - FAQs
Q. Can I use an air conditioner in a tent?
Indeed, it can! Some campers may scoff at the concept of using air conditioning in a tent, but many find that it enhances their experience of the great outdoors. How much you get out of your experience depends on what you want and need.
Q. How big of an AC unit do I need for a tent?
Most tent air conditioners are between 5,000 and 12,000 BTU, with higher BTU ratings being able to cool larger tent spaces. A 5,000 BTU air conditioner is sufficient for a 10′ by 10′ tent; if your tent is larger, you can choose a unit with more BTU.
Q. Can solar panels be used to power air conditioner in tent?
You just need to make sure you have the necessary beginning wattage for them. Let's say 450 watts is all the power a certain device needs to function, but it might need a whole 900 watts to get into gear.
Check that your solar power system is capable of meeting that demand.
Air Conditioner in a Tent – Final Thoughts
When traveling, it might be helpful to have a way to escape the heat, and purchasing an air conditioner for your tent or RV can do just that.
Find the proper air conditioner for your tent and climate by learning about the unit's individual performance specs. Still, it's important to weigh the potential payoff against the time and energy required.
The best portable air conditioner for a tent can make camping more bearable, but it needs to be lightweight, small enough to fit inside your tent, and simple to plug in once you get there.
Here are our recommendations:
Related articles we might need: