Adventures await behind the wheel of your Subaru Outback, especially for the avid outdoor enthusiasts. Camping affords you the perfect opportunity to escape the hustle and bustle of everyday life and revel in the serenity of nature. However, to enjoy your camping experience fully, choosing the right camping tent is imperative. For this reason, we've compiled a comprehensive list of 10 essential tents for Subaru Outback owners. Each of these tents provides unique features – from traditional ground tents to the more adventurous rooftop setups – ensuring comfort, convenience, and a home away from home while meeting your outdoor needs.
Napier Sports SUV Tent
Napier Sports SUV Tent: A Perfect Fit for Subaru Outback Owners
Ready to notch up your camping experience? The Napier Sports SUV Tent is a top contender. Its size and design are particularly suited to any SUV, like your Subaru Outback. The spacious 10′ x 10′ ground tent area provides ample living and sleeping space. With an impressive height of over 7′, it has more than enough overhead room to ensure you're not constantly ducking down. This feature enables you to enjoy a comfortable indoor experience, whether you're settling down for the night or huddled up with friends on a chilly night around a makeshift bonfire.
Integration with Your Vehicle: A Unique Feature
This versatile tent is designed just not to be a separate living area, but it also seamlessly merges with your Subaru Outback. It attaches directly to your vehicle's cargo area, meaning you'll gain additional space and comfort while you camp. This design is particularly beneficial when camping in locations where space can be at a premium. Plus, it gives you ready access to your vehicle without having to step out of your tent—perfect for when you've forgotten that crucial piece of camping gear in your cargo area.
Enhanced Privacy and Weather Protection
We all value privacy, and this extends to our camping experiences. The Napier Sports SUV Tent's storm flaps in the windows and doors ensure your privacy even while in the great outdoors. They play a dual role: not only do they shield you from prying eyes, but they also offer additional protection against unpredictable weather conditions. Whether a sudden rain shower strikes or the temperature plummets at night, you can have peace of mind knowing that you and your Subaru Outback are well-sheltered. This combination of privacy and weather-related protection makes the Napier Sports SUV Tent a smart choice for your Subaru Outback.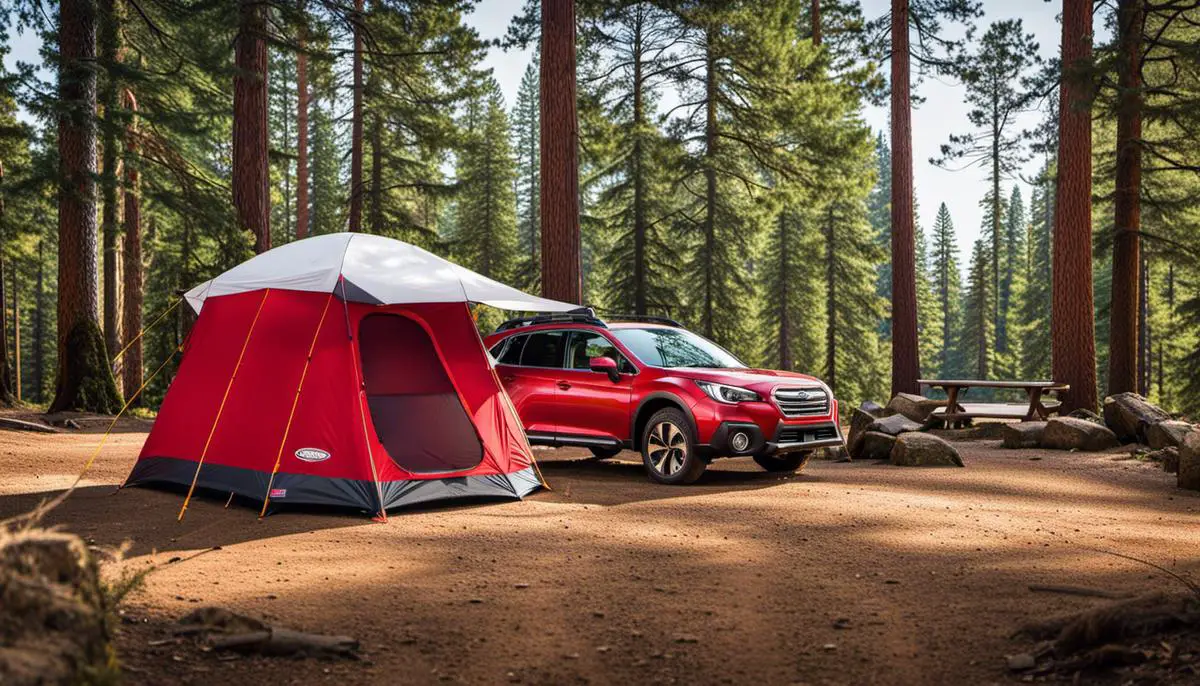 Rightline Gear SUV Tent
Rightline Gear SUV Tent: A Versatile Option
The Rightline Gear SUV tent is a fantastic choice for Subaru Outback owners. This is not just your everyday tent. Its versatility makes it a standout, comfortably sleeping up to four adults. The tent conveniently attaches to the rear of your Outback, morphing your vehicle into a bona fide camper. In this way, you not only get additional sleeping space, but you can also use it for extra storage.
Built to Withstand the Elements
This tent's construction is designed with durability in mind. The material is water-resistant, perfect for those damp days in the wilderness. Additionally, the seams of the tent are tape sealed, a detail that gives you an extra layer of protection against potential rain or dew. So, whether you are setting up camp in the middle of a forest or by a lake, you can count on this tent to keep you dry.
Free-Standing Design for Ease of Use
One of the highlights of this tent is its free-standing design. It allows you to disconnect your Subaru Outback and drive away without taking down the tent. This attribute is incredibly convenient if you want to use your car during the day and have set up camp at a static location. With this tent, you get to enjoy a camping experience undisrupted by the back-and-forth of tent setup and takedown.
Tough Base for All Kinds of Terrains
After a long day of adventuring, the last thing you want to worry about is whether your tent can withstand the terrain, and the Rightline Gear SUV tent alleviates that concern. Its base is impressively robust and designed to be set up on various ground conditions. A rocky campsite, a sandy beach, or a grassy knoll – this tent handles it all. And on the plus side, no tarp is needed, saving you from carrying extra gear. This tent's robust base is all you need for a worry-free camping experience.
Honda Genuine SUV Tent
Despite what the brand name suggests, the Honda Genuine SUV Tent is a perfect match for the Subaru Outback. Its versatility expands beyond Honda vehicles and provides an outstanding outdoor experience for any Outback owner.
The tent seamlessly attaches to the cargo area of the Subaru Outback, transforming your vehicle into a sturdy and convenient camping habitat. It offers a home away from home while retaining easy access to your vehicle's interior—which is a definite luxury when camping.
One of the most significant features of the Honda Genuine SUV Tent is its spaciousness. With a sleeping capacity for six people, this tent can comfortably accommodate your entire family or a group of friends. This gives you the freedom to enjoy your outdoor adventures with loved ones without worrying about space or comfort.
The tent also boasts a high-quality polyethylene floor that ensures you stay dry, even under wet weather conditions. This feature, combined with the tent's weather protection rain fly, guarantees a snug and dry camping experience regardless your destination's unpredictable weather patterns.
Access to and from the tent is a breeze, thanks to its large door. This feature not only facilitates easy movement in and out of the tent but also provides great ventilation, making your stay inside it more comfortable.
Overall, the Honda Genuine SUV Tent sets a high standard for car camping with the Subaru Outback. Its compatibility with the vehicle, combined with its robust design, roominess, and weather protection, makes it an essential piece of equipment for any Outback owner who loves to camp in the great outdoors.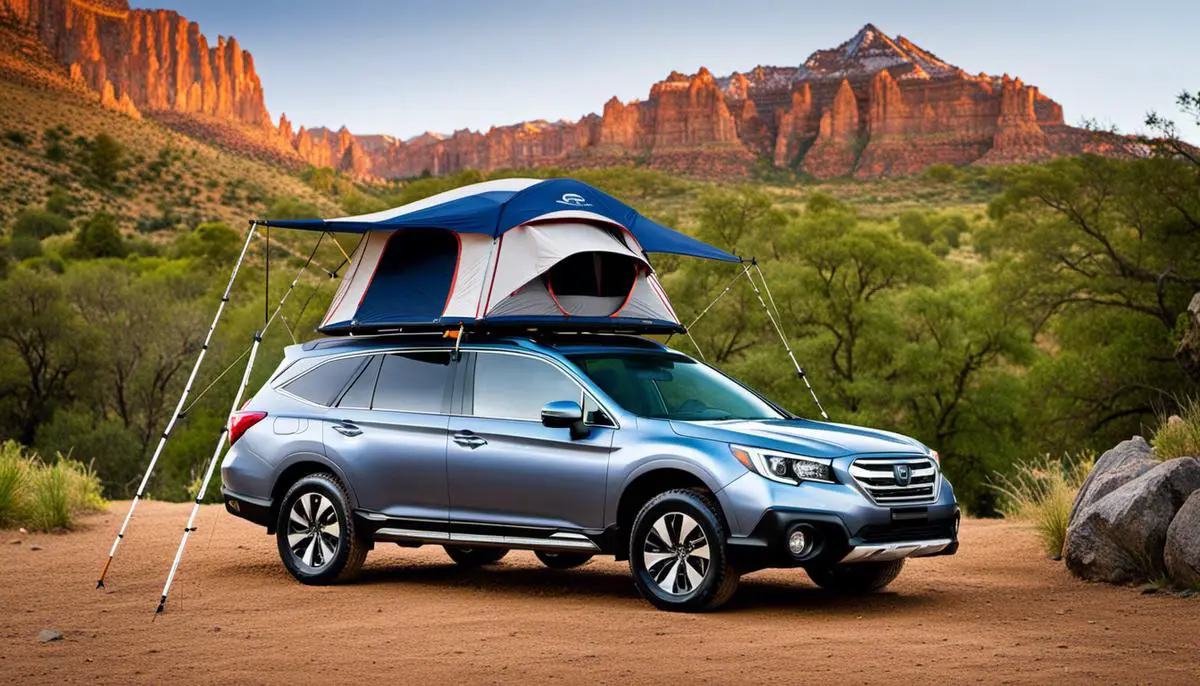 Smittybilt Overlander Tent
The Lowdown on the Smittybilt Overlander Tent
Constructed for durability and comfort, the Smittybilt Overlander Tent is one of the firm favorites among Subaru Outback enthusiasts. This rooftop tent spares you from the hassles of rocky, uneven, and potentially bug-infested camping terrains, while offering an enjoyably elevated view of your surroundings.
Key among its features is its exceptional load capacity. Able to support up to 661 lbs, the tent is spacious enough to comfortably sleep 2 to 3 people. This means more space for you and your camping partners, or extra room for gear, pets, and other camping essentials.
What sets the Smittybilt Overlander apart from its rivals is its consideration for leisure and comfort. Built with sunroof panels, it provides an exceptional opportunity for night-time stargazing. The tent is constructed from heavy-duty polyester that's waterproof and capable of standing up to high wind, making it ideal for both fair weather camping and more challenging conditions.
Installation doesn't require any specialist knowledge and the tent can be easily fitted atop your Subaru Outback. Once pitched, it offers more than enough room to truly stretch out and relax after a long day of exploration.
With its sturdy construction, easy installation, and consideration for user comfort, the Smittybilt Overlander Tent makes an excellent choice for Subaru Outback owners. Whether you're a seasoned camper or only embarking on your first outdoor adventure, this rooftop tent guarantees a comfortably relaxed and elevated camping experience.
In terms of convenience, comfort, and compatibility with your Subaru Outback, the Smittybilt Overlander tent is an essential tent to add to your camping checklist.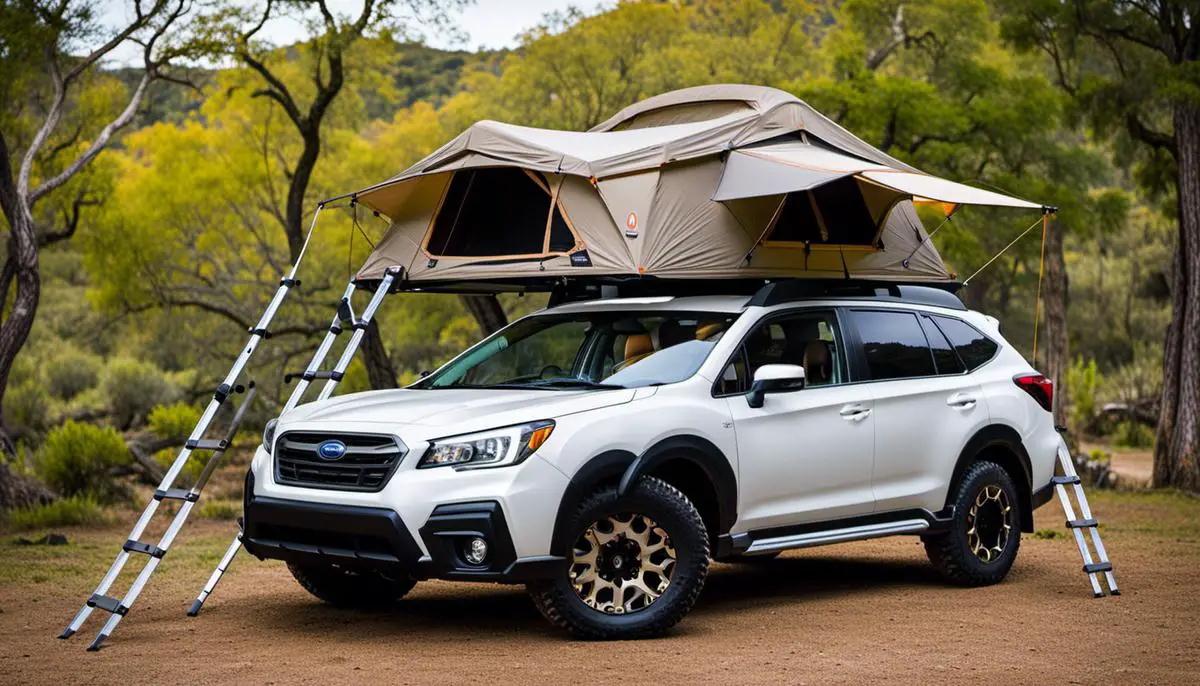 KingCamp Rooftop Tent
KingCamp Rooftop Tent: A Perfect Fit for your Subaru Outback
Enjoy the freedom of the open road with the KingCamp Rooftop Tent, designed specifically to fit the contours of your Subaru Outback. Sleep comfortably over rocky terrain or muddy ground knowing you have the sturdy support of your vehicle underneath you.
The KingCamp Rooftop Tent comfortably fits two people, making it an ideal choice for couples or close friends embarking on an adventurous road-trip or a night of stargazing. Making your sleep experience as comfortable as possible, the tent includes a foam mattress, adding a touch of home-style comfort to your outdoor adventure.
Constructed from heavy-duty polyester, the KingCamp Rooftop Tent is designed for maximum durability. Rain, snow, or sunshine, the tent fabric can withstand various weather conditions, ensuring you stay dry and comfortable, regardless of what Mother Nature throws your way.
In addition to its sturdy construction, the KingCamp tent also comes with mesh windows. These windows not only allow for spectacular views of your surroundings, but they also provide excellent ventilation, reducing condensation and creating a refreshing environment within the tent.
The standout feature that establishes KingCamp Rooftop Tent as a top contender for Subaru Outback owners, however, is its compact design. Despite its spacious interior, when folded up, the tent won't take up much space on your Subaru Outback's roof. This squeezed style, combined with its robust features, makes the KingCamp Rooftop Tent an essential gear for any Subaru Outback owner who appreciates the blend of comfort and adventure.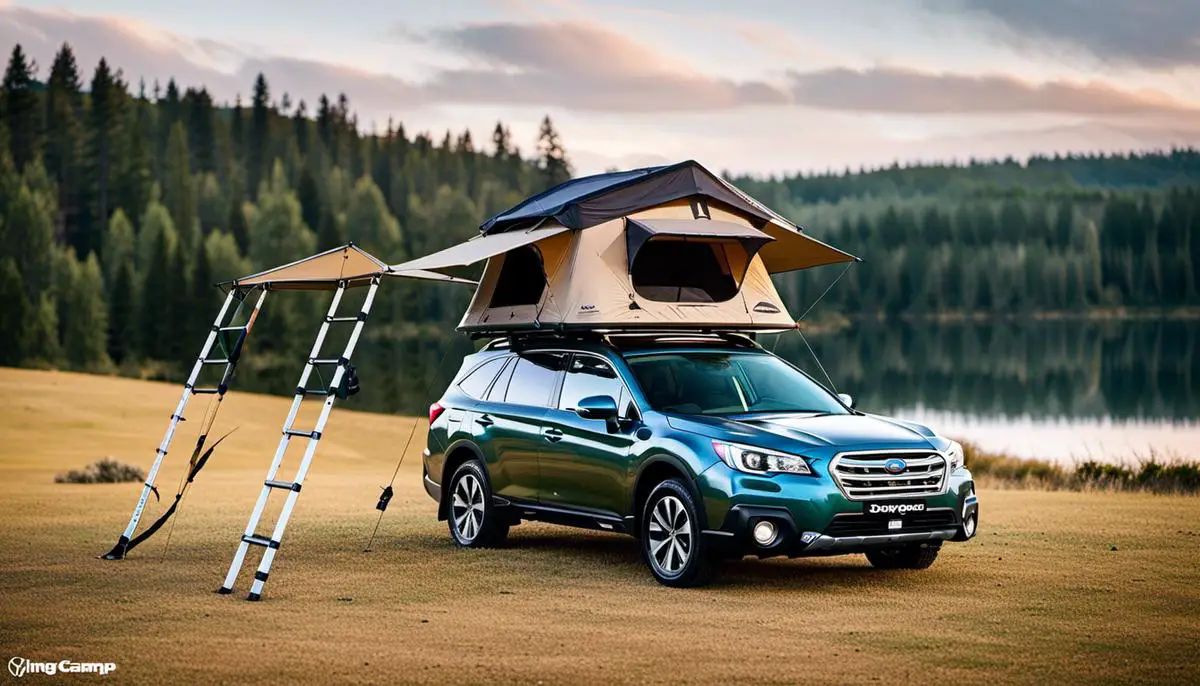 Sportz Dome-To-Go Tent
Sportz Dome-To-Go Tent: A sturdy Choice for Subaru Owners
Sports and adventure enthusiasts who own Subaru vehicles, including Outback, will find the Sportz Dome-To-Go Tent a perfect camping mate. This tent takes comfort and convenience to another level, making your camping experience much more enjoyable and worry-free.
Built for four, this tent is plentiful in space and stands at a head height of 6.5 feet, negating issues related to cramped environments or claustrophobia. So, whether you have kids or you are camping out with your adventure-loving friends, there's room for all. The camping experience comes to life with late-night chit-chats, shared stories, and laughter filling the tent, leaving behind unforgettable memories.
Protection from unpredictable weather is a core feature of the Sportz Dome-To-Go tent. With a full tape-seamed rain fly, sudden rain surprises won't damper your adventure excitement. This rain shield ensures you stay dry and snug, even in the downpours.
Under the sun, comfort and shade are of utmost importance. The tent features a 6' x 6' awning that provides the all-essential shade during sunny days. You can sit back, relax, and enjoy the view around you without having to worry about being exposed to direct sunlight.
Every seasoned camper knows that keeping water out during camping is key. The Sportz Dome-To-Go Tent has a unique bathtub-style floor, a feature designed specifically for water protection. This means even if you camp at damp or wet grounds, you'll stay dry and cozy, ensuring you that absolute fun and relaxation during your camping trip can be achieved with this versatile tent.
Adventures should be about creating memories, exploring new terrains, and relaxing amidst nature. And, a spacious, weather-resistant, and sturdy camping tent like Sportz Dome-To-Go can significantly enhance your camping experience, especially for Subaru vehicle owners.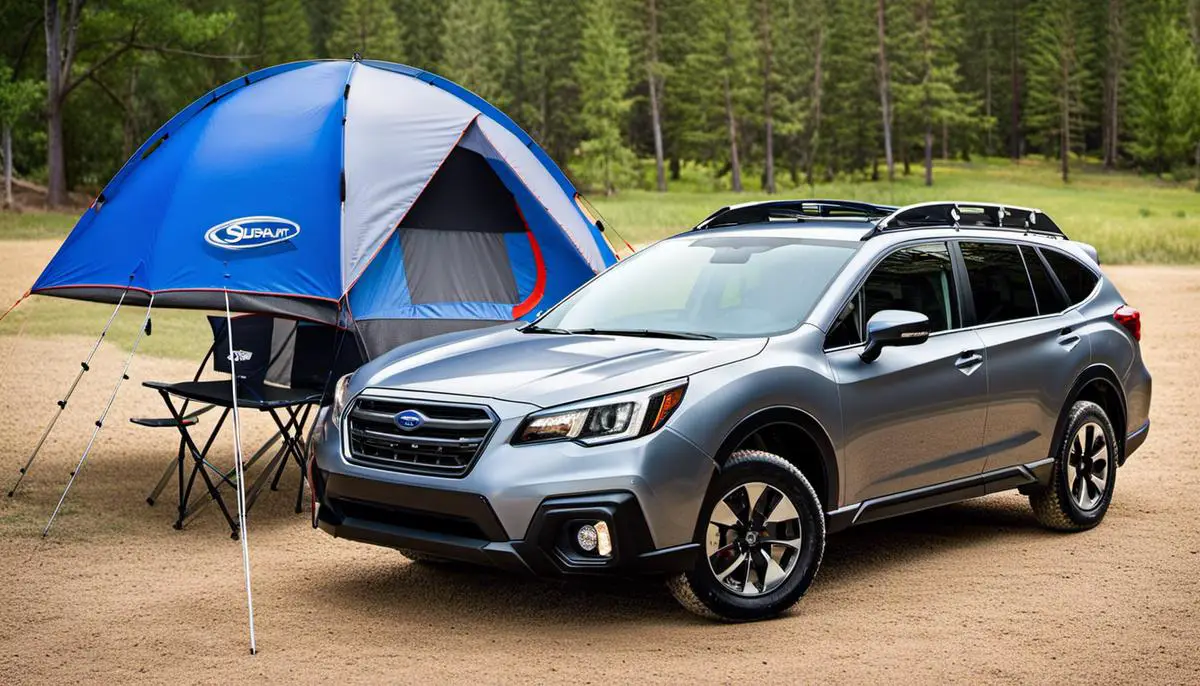 Ayamaya Pop Up Tent
Featuring a double-layer structure
The Ayamaya Pop Up Tent is built for comfort and convenience. This unique design offers exceptional breathability and superior waterproofing, which are beneficial when camping in different climates or weather conditions. These features make the tent an ideal companion for Subaru Outback owners who often face unpredictable weather during their adventures.
The Ayamaya Pop Up Tent doesn't lack space either.
With a generous interior, it can comfortably accommodate 4-6 people. This spec makes it an excellent choice for Subaru Outback owners who often embark on group trips or family camping adventures. It's an opportunity to connect with friends and loved ones without sacrificing comfort or privacy.
When it comes to setting up camp, convenience is key.
Thankfully, this pop-up tent lives up to its name, offering a swift and hassle-free setup process that even novices will appreciate. With its intuitive design, you can pitch your camp in a matter of minutes, leaving more time to explore your surroundings or relax with the company.
Despite its spacious interior, the Ayamaya Pop Up Tent doesn't compromise on transportability.
It can be packed down to a compact size, allowing for easy storage and transportation. This is particularly appealing to Subaru Outback owners, as it conveniently fits in the habitually tight trunk space.
But it's not all about practicality.
The Ayamaya Pop Up Tent is also visually appealing, with a design that blends seamlessly with the outdoors while offering a touch of modernity. This combination of aesthetics and functionality makes any camping trip with a Subaru Outback an experience to remember.
In conclusion, the Ayamaya Pop Up Tent isn't just an accessory for Subaru Outback owners – it's a necessary part of the experience.
It marries practicality with comfort, ease of use with durability, and spaciousness with compactness. This tent is an essential companion, whether you're venturing into the wilderness or simply enjoying a weekend getaway in the great outdoors.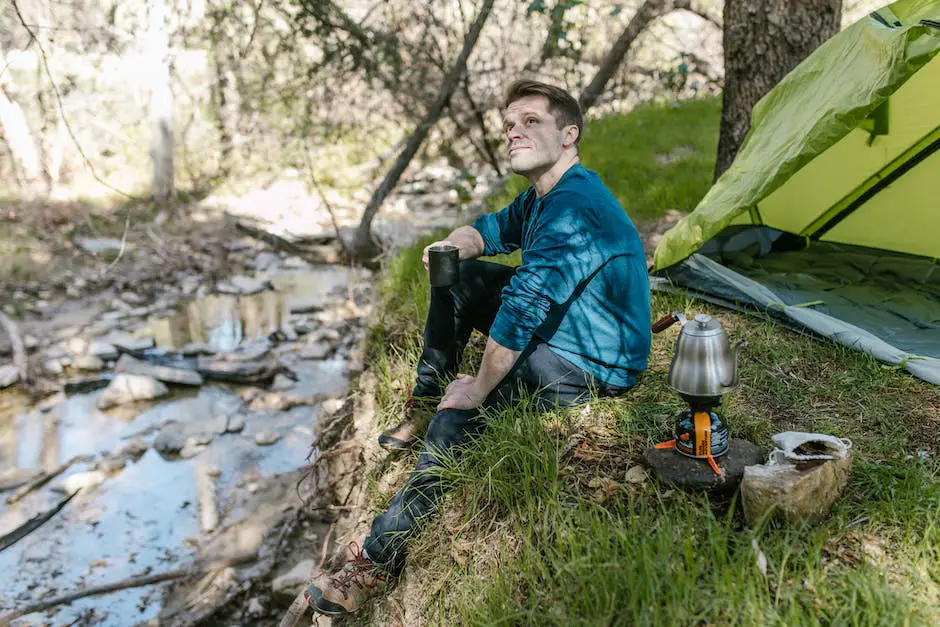 Dac Inc.-Vehicle Tents
Transform Your Subaru Outback into a Campsite with DAC Inc.-Vehicle Tents
If you're a Subaru Outback owner with a passion for camping and outdoors, the DAC Inc.-Vehicle Tents deserves a place on your gear list. These tents attach seamlessly to your vehicle's rear and effortlessly turn your beloved Outback into an efficient camping tent.
The design focuses on the idea that camping doesn't need to be complicated or take too much time to set up – in fact, you can establish your temporary dwelling in less than five minutes. Yes, you read that right, five minutes! Just think about it: no more wasting time trying to put together complex tents while losing the daylight.
But the simplicity in design and setting-up process isn't the only appeal of the DAC Inc.-Vehicle Tent. Crafted from "no-see-um mesh", this tent provides an extensive deal of privacy despite being attached to your vehicle. It covers all windows and doors, ensuring that even in a parking lot full of cars, your privacy remains uncompromised.
Beyond privacy, the mesh design allows for impressive ventilation, a critical aspect for a comfortable camping experience. Regardless of the weather, whether it's sultry summer or chilly fall, the tent maintains a balanced internal environment.
Intuitively designed and cleverly executed, the DAC Inc.-Vehicle Tents are an essential pick for Subaru Outback owners who love camping. The beauty of this tent lies in its simplicity, portability, and versatility, making it a standout choice among a sea of conventional camping tents.
Yakima Skyrise Rooftop Tent
Get out there and explore with the Yakima Skyrise Rooftop Tent
Pack up your Subaru Outback and hit the road because the Yakima Skyrise Rooftop Tent is the perfect companion for your off-road adventures. Made from lightweight and strong materials typically used for high-end backpacks, this tent brings strength, durability, and portability into one neat package. Not to mention, it's incredibly light, helping to support fuel-efficiency for your Outback.
Install this tent atop your Subaru without a fuss. Ease of set-up is a huge selling point as the Skyrise can be mounted on your vehicle without any tools. This means more time enjoying the outdoors and less time fumbling with instructions and a toolkit.
Once installed, your Subaru transforms into a mobile campsite, ready for whatever your journey has in store. The Yakima Skyrise elevates you off the ground, providing a unique camping experience and a fantastic view of your surroundings through the mesh panel windows.
After a long day of exploration, retire to the comfort of the Skyrise's 2.5" foam mattress. This wall-to-wall mattress creates the perfect cozy retreat. Plus, with its water-resistant rainfly, you'll be prepared for whatever weather your adventures bring.
And it's not just about comfort—the Yakima Skyrise Rooftop Tent is made with safety at the forefront. Crafted with robust aluminum poles, it can withstand the wind and keep you secure, no matter where you choose to pitch up for the night.
The Yakima Skyrise Rooftop Tent epitomizes the perfect blend between comfort, durability, and safety. Your Subaru Outback, coupled with this rooftop tent, is your ticket to the great outdoors. So get out there, and enjoy the ride!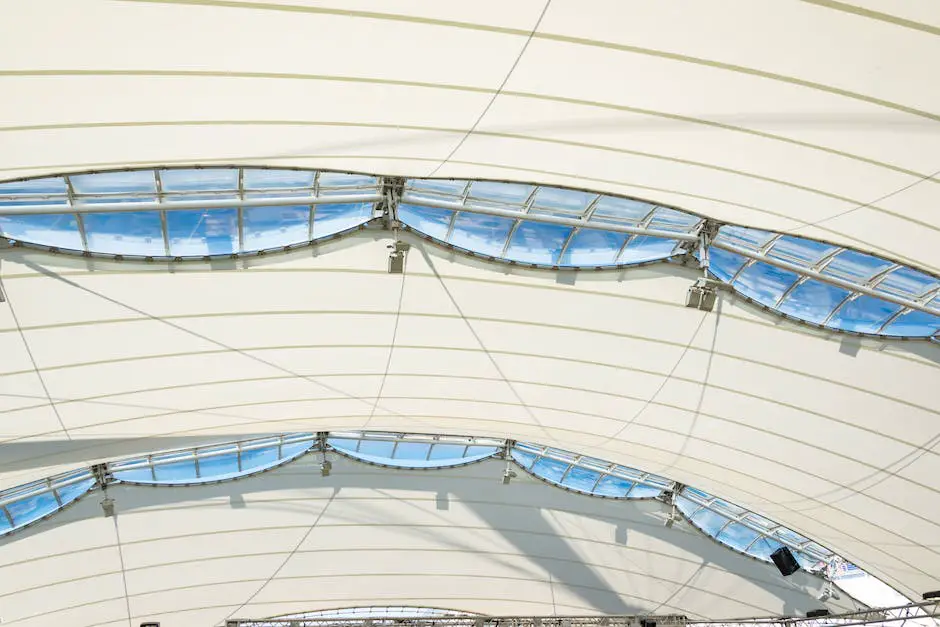 ARB Simpson Rooftop Tent
Stay Comfortable Under the Stars with ARB Simpson Rooftop Tent
Embrace the outdoors while enjoying comfort and convenience, accessible straight from your SUV's rooftop. The ARB Simpson Rooftop Tent provides Subaru Outback owners the luxury of a well-insulated sleeping area, protected from the elements and unwanted bugs. You'll be elevated above the ground, providing a great vantage point and an added sense of security against pesky mammals that tend to invade campgrounds.
Stepping up your camping game has never been easier. Once parked, your tent can be set up in minutes, providing a hassle-free start to your camping experience.
Expand Your Shelter with the Pull-Out Veranda and Optional Annex
Ground tent campers might dispute the practicality of a rooftop tent, citing the lack of vestibule or extended shelter. Well, the ARB Simpson Rooftop Tent has proven them wrong. This durable and versatile rooftop tent flaunts a unique design feature: a pull-out veranda. This increases your living space, providing additional shelter from either the blistering sun or unpredictable rain showers. An optional annex can be added, extending your shaded area to the ground level.
Made to Fit Your Subaru Outback
The main issue most campers run into with rooftop tents is the struggle to find one that fits their vehicle. Subaru Outback owners, fear no more. The ARB Simpson Rooftop Tent has been tailor-made to settle smoothly onto your car's roof, creating a seamless integration with your vehicle. It takes away the worry of compatibility issues, making your camping adventure peaceful and stress-free.
A Must-Have for Subaru Rooftop Camping Enthusiasts
With its robust construction, user-friendly features, and perfect fit for Subaru Outback, the ARB Simpson Rooftop Tent is a must-have for all rooftop camping enthusiasts. This tent has the ability to turn your average camping trip into a unique and unforgettable escapade. So whether you're traveling solo or planning a family getaway, this tent won't let you down. Make camping trips more memorable with your Subaru Outback and an ARB Simpson Rooftop Tent.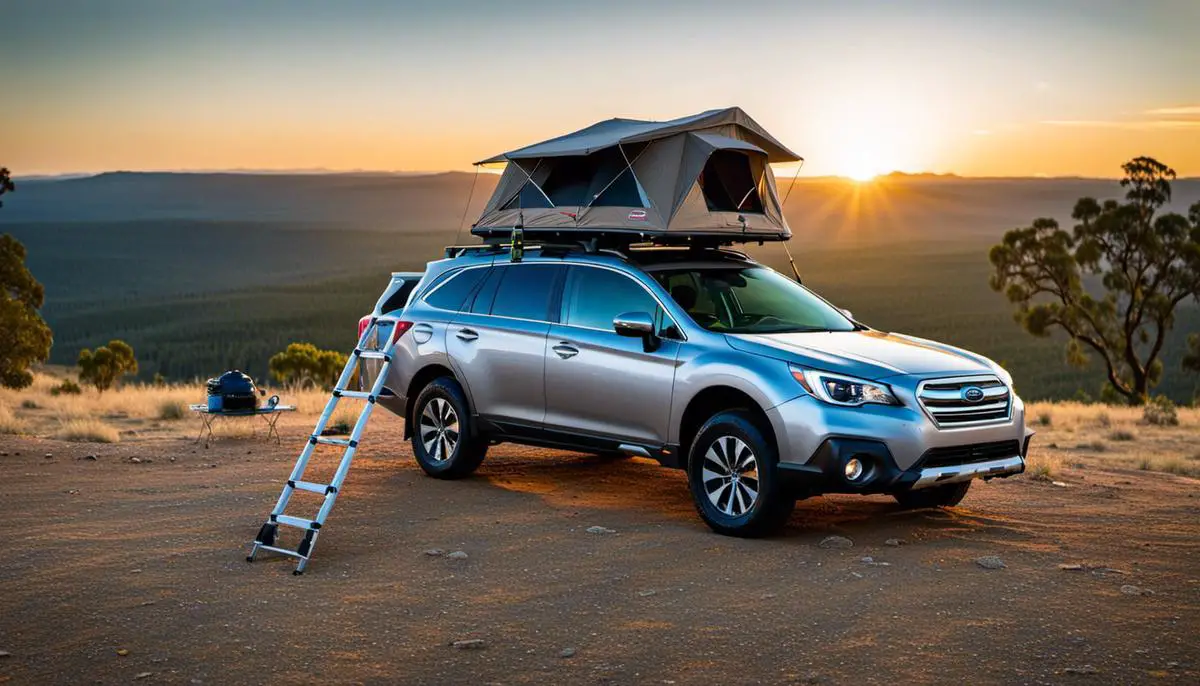 Embracing the tranquility of nature doesn't mean sacrificing comfort. These ten tents bring together the best of both worlds, serving as essential Subaru Outback accessories for outdoor enthusiasts. Each offers a special niche that addresses your specific camping needs, whether you are looking for a traditional ground tent, a roomy annex, or an adventurous rooftop arrangement. Their design, space, and features transform camping into a luxurious experience, making your Subaru Outback an extension of your cozy home. Embark on your adventure today – choose the tent that best matches your outdoors vibe, and rediscover the joy of camping in comfort and style.