If you need to transport your golf clubs but don't want to sacrifice too much inside your car, a golf club roof rack cargo box is a fantastic option. Having golf clubs in the backseat effectively eliminates any possibility of transporting other people in the vehicle. Your clubs won't fit in the trunk until you remove some of the other items there.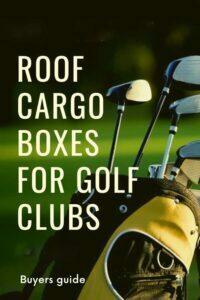 Additional effort is required to carry the clubs to and from the automobile. It's much easier to grab them from the top of your car. Having a roof box is not only practical, but versatile.
While it could be tempting to settle for the first golf club roof rack that looks OK, it's important to do your homework and make an educated purchase. Never acquire one simply because you feel like you need one. Lack of preparation may lead to a number of problems down the road, so it's important to complete your homework.
To help you narrow down your options, we've compiled a brief list of roof boxes. Listed below are the best golf club roof rack boxes in my opinion.
Best Golf Club Roof Rack: Review
1. INNO Wedge Plus Cargo Box

This roof box is ideal for the ardent golfer who wants to make sure they can bring their clubs with them wherever they go, but it was originally intended for winter sports and can store up to six snowboards or eight skis.
This roof box's inside mat is a great safety feature meant to keep your clubs from getting scratched up on the road. In addition to keeping them from making as much noise as possible by hitting against one another within the box during transit, it also keeps them from moving around inside the box.
The box is designed to fit neatly on most vehicles and move out of the way when a car's hatch is opened. When you go to the golf course, you can quickly and easily access your clubs thanks to the bag's dual side opening.
Because of the convenience of its installation and the security it provides, this box is the best choice for a golf club roof rack to be transported on a car's roof.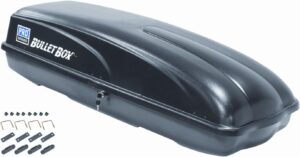 This roof box's 110-pound weight capacity means you can safely transport not only your own clubs, but also those of your friends and family, without worrying about overloading your vehicle's suspension.
It comes already built, so all you have to do is strap it to your car's roof and go. This box may be mounted to any standard roof rack with ease thanks to its U-bolt mounting mechanism.
This roof box may not be the largest on the market, but with 13 cubic feet of storage capacity, it will do just well for hauling your golf equipment. As a matter of fact, the compact size makes it simple to pack your clubs without worrying about them banging about in the box while you're on the road, which may cause damage if you're not cautious.
The weatherproof ABS material used in its construction means that your clubs will be safe from the elements, including heavy downpours and harmful ultraviolet light.
3. Thule Sidekick Cargo Box
For any golfer who wants a solid, long-lasting box but doesn't want one that is too big, this is a terrific space-saving solution.
It allows you to keep your clubs in the box, but it is made to be compact so you can also connect other things to the roof rack with it. The strong U-bolt installation makes it fast and straightforward and allows you to attach the box when you're in a hurry.
Although this box's load capacity is a touch smaller than that of other competitors—just 75 pounds—the majority of golfers won't find this to be an issue. When the clubs are taken out of the golf club bag, they will fit comfortably within the box.
Even while this Thule box requires more construction than the majority of comparable alternatives, the process is still rather simple. You never have to question whether your golf clubs will be secure when they are in the box since it has two locks.
You may feel confident knowing that your belongings are safely kept within the box, which will also be fastened to your roof rack.
4. SportRack Horizon Cargo Box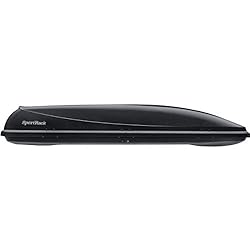 This golf club roof rack box is fantastic since it has plenty of storage inside for your golf clubs and their bag, so you can take your game on the road without having to unpack anything.
This is unusual since most roof boxes lack the inside space required to accommodate a golf bag. It's possible that wider bags won't fit, but smaller ones will fit firmly and won't move about.
Those in a rush will appreciate this box since the fast release attachment kit allows for easy installation and removal from the roof. Passenger-side access to the contents is made easier by the fact that the box opens away from the vehicle.
The robust ABS material used in its construction is not only appealing, but also highly sturdy, so there is very little chance of harm to the clubs when on the road. It fits on most factory racks with no issue.
5. Yakima RocketBox Pro 12 Box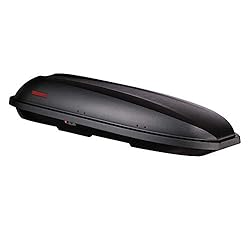 Take your clubs to the course without worrying about your gas mileage thanks to the aerodynamic design of this box.
Most golfers will find this to be an excellent solution, whether they just have a tiny car or don't want their clubs to make a racket while traveling. Its compact size and shorter design make it ideal for vehicles with little cargo space, yet its 58″ length ensures that you'll still have enough for your golf clubs.
If you select this fantastic Yakima box, you won't have to worry about the security of your golf clubs on the road, a common source of anxiety for many golfers. The SKS locks provided are among the toughest and most reliable available, and they are meant to deter would-be thieves. Also, when closed, it forms a tight and secure seal.
6. Yakima Skybox Carbonite Cargo Box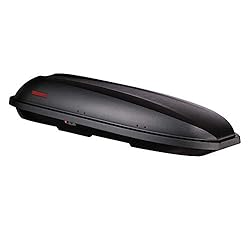 With a light weight of only 75 pounds, this sturdy cargo box is simple to mount on your vehicle, yet it still has enough bulk to make you feel safe leaving valuables inside while driving.
This fantastic roof box is made to provide the necessary support and space without significantly increasing the weight of your vehicle, which can reduce its speed and gas efficiency. In addition to being lightweight and convenient for road trips, this golf bag also has lid stiffeners to prevent the lid from closing on you as you retrieve your clubs.
The Yakima Skybox Carbonite has been carefully crafted to minimize wind resistance and noise, so you won't barely notice it's there. This makes long vehicle rides much more bearable by eliminating the annoying noise of wind rushing past an open box.
The SKS lock and the superlatch tight closing system work together to keep your possessions safe, and the box opens on both ends so you can get to them quickly.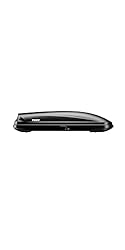 This roof cargo box is exceptionally lengthy, making it a great choice for golfers who may have trouble fitting their equipment into shorter roof boxes.
It's longer than most boxes and has enough space for your clubs and supplies, even a soft golf bag, thanks to its 31″ width and 14.5″ height.
It's intended use is for carrying winter sports equipment, but its roomy inside means it's also a good choice for golfers. This box's primary locking system is extremely well-designed, and it will effectively deter any attempt to steal its contents.
When all the bolts are securely in place, you may take out the key. Assuring the safety of your clubs and giving you peace of mind, Thule doesn't allow you to take the key out of the box until it's locked and bolted.
8. INNO 320 Rooftop Cargo Box

With its extra length, this 14-cubic-foot box is ideal for transporting golf equipment in addition to skis and snowboards, for which it is ideally suited.
The aerodynamic shape of this roof box makes it ideal for transporting golf equipment, and it doesn't get in the way of opening the trunk. You may mount this INNO box on your car's roof without worrying about it interfering with your line of sight through the windshield.
Your clubs will be safe from the elements and any potential harm caused by severe weather since this box has a sturdy seal that has been redesigned and engineered to keep water out while you're in a storm. It includes a lid lock that keeps the top of the box from being opened accidentally.
You may be certain that your belongings will be safe at all times since the key cannot be retrieved unless the lid is completely closed and secured.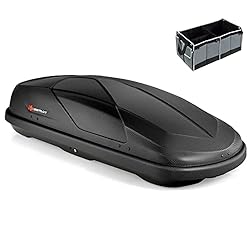 It goes without saying that you need to take precautions to keep your golf clubs dry whenever you transport them.
And that's why this box is a fantastic alternative for golfers. With its sturdy seals and watertight construction, this box can withstand even the heaviest downpours without suffering damage.
It can resist a wide range of inclement weather without displaying indications of wear and tear or permitting any harm to your clubs.
The metal lid stiffeners significantly increase the box's strength and longevity in comparison to similar products. It has an impressive weight capacity of 165 pounds, making it possible to carry along enough clubs for the whole family.
The four fast attach anchors make mounting this box on your roof a breeze, and the dual-sided aperture ensures you'll never have trouble getting to your clubs.
10. Thule 613 Pulse Cargo Box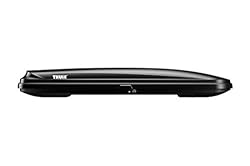 Even though it has a lower capacity than some of the others on this list, this 11-cubic-foot box is still a terrific choice for any golfer who has to transport their clubs safely.
With an inside length of 82.75 inches, this case can accommodate even the longest golf clubs for transport. You won't notice as much drag from the wind when driving with this box on your car due to its low profile design.
This Thule box boasts a fast-grip mounting mechanism that allows you to connect the box to your car in a matter of minutes and provides passenger-side loading and unloading for added user safety.
Because of this, and the high-quality locking mechanism, it is a fantastic choice for any application. Users are able to be certain that their golf clubs are safe in the trunk since the key cannot be retrieved from the box until all locking points are secure.
There are certain things to keep in mind while shopping for a golf club roof rack travel case.
11. Thule Force Cargo Box

The AeroSkin coating is both robust and soft to the touch, making this luggage box stand out from the competition.
This diamond-textured material will not only preserve the box and your clubs in pristine shape for a longer period of time regardless of the conditions in which they are stored, but it will also protect them. The aerodynamic design of the box means it will cause less drag when traveling at highway speeds.
To ensure the box is securely closed at all times, we installed a large, simple lock that can be opened with one hand. To top it all off, the mounting method was made so that you could secure this box to your vehicle without the need for any tools.
The quick-grip technology makes it simple to fasten your box to the roof rack in a matter of minutes.
How to Choose the Best Golf Club Roof Rack
When selecting a Golf Club Roof Rack, several key factors should be taken into account to ensure a secure and efficient transportation solution for your golf clubs.
Compatibility: Ensure that the Golf Club Roof Rack is specifically designed to fit your vehicle's roof shape and size. Look for compatibility information provided by the manufacturer to guarantee a proper fit.

Capacity and Size: Consider the number of golf clubs you typically carry and choose a Golf Club Roof Rack with adequate capacity. Additionally, check the dimensions to ensure it can accommodate your clubs without any limitations.

Security Features: Look for a Golf Club Roof Rack that offers secure locking mechanisms to protect your valuable golf clubs from theft. Features such as lockable attachment points and integrated locks provide peace of mind during transit and when parked.

Ease of Use: Opt for a Golf Club Roof Rack that is user-friendly and easy to install. Features like quick-release mechanisms and tool-free installations can save you time and effort when loading and unloading your golf clubs.

Durability and Stability: Select a Golf Club Roof Rack made from high-quality materials, designed to withstand various weather conditions and provide stability during transportation. Sturdy construction and reliable attachment systems ensure your clubs stay safe and secure throughout your journey.
By considering these factors when choosing a Golf Club Roof Rack, you can ensure a hassle-free and safe transportation solution for your golf clubs, allowing you to focus on enjoying your game to the fullest.
Golf Club Roof Rack: Final Thoughts
Here are twelve golf club bags to transport your equipment in style. If you're still unsure about whether cargo boxes will fit your car, check out our shopping guidelines.
This guide only scratches the surface of what you need to know about cargo crates. If you want to find out more about cargo boxes, then the beginner's handbook is where you need to go.
For instance, you will learn how to properly select a cargo box, how to clean a roof box, how to properly store your cargo box, how to transport your skis or snowboards, the benefits of using a cargo box, the various ways in which cargo boxes can be used, how to properly install a cargo box, and much more.
It's unclear whether or not a roof cargo box would be suitable for carrying golf clubs. This is something that varies by vehicle type, make, and model, as well as the size and shape of the trunk. If your vehicle has a roof rack, you should be able to install a cargo box. However, the safest bet is to double-check with whoever made your automobile and/or cargo box.