Not sure which cargo box is right for you? Check out our Thule vs Yakima cargo box comparison.
Carrying essential accessories while on the go can be challenging, especially for outdoor enthusiasts looking to bring all their gear on their adventures. From tents and sleeping bags to skis and snowboards, having ample and secure storage is a must. Rooftop cargo boxes provide an excellent solution to pack all your equipment and valuables when heading out on road trips, camping excursions, and other outdoor activities.
Rooftop cargo carriers are enclosed containers mounted onto a vehicle's roof rack system to provide additional lockable and weatherproof storage. They allow you to free up interior cargo space and carry awkwardly shaped gear externally. Rooftop cargo boxes are designed aerodynamically to minimize drag and wind noise while driving. They keep your belongings safe, secure, and easily accessible.
For outdoor lovers who need extra room for all their equipment, rooftop cargo boxes are the perfect solution. They provide secure and inconspicuous storage to carry your essentials on any adventure.
Thule was founded in Sweden in 1942 and has pioneered in car-related products for active lifestyles for over 75 years. The company specializes in transport solutions for automobiles including roof racks, bike racks, cargo carriers, strollers, and more.
With a focus on quality manufacturing and customer satisfaction, Thule emphasizes functional designs, ease of use, and reliability. The brand offers a range of rooftop cargo boxes catering to different storage needs and budgets. Thule aims to provide superior carrying solutions to support transporting equipment securely and conveniently for outdoor enthusiasts.
Yakima, based in the United States, was established in 1973 and has since expanded globally as a leading manufacturer of outdoor gear transport products. The brand focuses on creating innovative, durable, and versatile accessories for an active, outdoor lifestyle.
Yakima emphasizes craftsmanship and attention to detail in their products like roof racks, cargo boxes, bike racks, and watersport carriers. With a priority on reliability and practicality, Yakima aims to enable outdoor lovers to transport their gear safely for all types of adventures and excursions.
Thule vs Yakima Cargo Box: An In-depth Comparison
When it comes to selecting a rooftop cargo box for your vehicle, the two names that often come to mind are Thule and Yakima. Both brands offer high-quality cargo box options, but how do they stack up against each other? Let's delve into the details, comparing the best cargo boxes of 2023 from these two giants using the following criteria: aerodynamics, design, security, mounting system, size, durability, and functionality.
Aerodynamics
When considering aerodynamics, one must look at how the cargo box affects the overall fuel efficiency and performance of your vehicle.
Thule: The Thule Vector, Thule Pulse, and Thule Motion XT L are renowned for their aerodynamic shape. The streamlined design minimizes air resistance, helping to maintain fuel efficiency even when the box is fully loaded.
Yakima: Yakima's roof boxes, particularly the Yakima Skybox NX and Yakima Rocketbox Pro 14, also offer excellent aerodynamics. Yakima CBX 18, released in 2023, has a unique angular shape that's also designed to minimize drag.
| Thule | Yakima |
| --- | --- |
| Vector, Pulse, Motion XT L | Skybox NX, Rocketbox Pro 14, CBX 18 |
Design
Design is a crucial factor when buying a rooftop cargo box, as it not only affects the look of your vehicle but also influences functionality.
Thule: Thule's cargo boxes are sleek and modern, with high-gloss finishes that give them a premium look. Models like the Thule Vector and Thule Force XT Sport are particularly eye-catching.
Yakima: Yakima roof boxes also boast a stylish design. The Yakima GrandTour and Yakima Skybox NX have a matte, textured finish that reduces the appearance of scratches and scuffs.
| Thule | Yakima |
| --- | --- |
| Vector, Force XT Sport | GrandTour, Skybox NX |
Security
Ensuring the security of your belongings is critical when using a cargo box. Both brands offer boxes with robust locking systems.
Thule: Thule brand is known for its secure locking mechanisms. Most Thule models feature a central locking system that only allows the key to be removed when all points are securely closed.
Yakima: Yakima's roof boxes also provide excellent security. Many Yakima models, like the Yakima GrandTour, feature the SuperLatch™ security system that ensures the box is locked and secure before you drive away.
| Thule | Yakima |
| --- | --- |
| Central locking system | SuperLatch™ security system |
Mounting System
A user-friendly mounting system is essential for easy installation and removal of the cargo box.
Thule: Thule cargo boxes come with the PowerClick quick-mount system, which is designed for fast and secure fitting. The system clicks when the box is properly mounted, ensuring safety.
Yakima: Yakima also offers an easy-to-use mounting system. Their boxes feature the brand's proprietary mounting hardware that fits most crossbars.
| Thule | Yakima |
| --- | --- |
| PowerClick quick-mount system | Proprietary mounting hardware |
Size
The size of the cargo box can influence how much you can pack for your trip.
Thule: Thule provides a variety of sizes to suit different needs. From the spacious Thule Motion XT L to the more compact Thule Force XT Sport, there's a Thule box for every size requirement.
Yakima: Yakima offers similarly varied sizing options, with the Yakima Skybox NX being one of their largest models, and the Yakima Rocketbox Pro 14 serving those looking for a smaller box.
| Thule | Yakima |
| --- | --- |
| Motion XT L (Large), Force XT Sport (Small) | Skybox NX (Large), Rocketbox Pro 14 (Small) |
Durability
Durability is a key factor to consider when selecting a rooftop cargo box, as it determines how well the box will withstand the elements and the test of time.
Thule: Thule's cargo boxes are renowned for their durability. Made from tough ABS plastic, they are designed to resist impact and harsh weather conditions.
Yakima: Yakima boxes are also built to last, with sturdy construction and weather-resistant materials.
| Thule | Yakima |
| --- | --- |
| ABS plastic | Weather-resistant materials |
Functionality
The overall functionality of a cargo box is determined by how easy it is to use and how well it performs in terms of providing additional cargo space.
Thule: Thule boxes are known for their user-friendly features, such as dual-side opening for easy access, and forward position on the roof of your car to ensure full trunk access.
Yakima: Yakima boxes also offer great functionality. Models like the Yakima GrandTour provide dual-side opening, while the Yakima Skybox NX features an integrated SKS (Same Key System) lock for added convenience.
| Thule | Yakima |
| --- | --- |
| Dual-side opening, forward position | Dual-side opening, integrated SKS lock |
In conclusion, both Thule and Yakima offer a range of high-quality cargo boxes that are sure to meet your rooftop storage needs. From aerodynamics to functionality, each brand has its strengths. Whether you prefer a Thule or Yakima cargo box will depend on your specific requirements and personal preference. Regardless of the brand you choose, a cargo box can help maximize the cargo space of your vehicle, making your trips more enjoyable.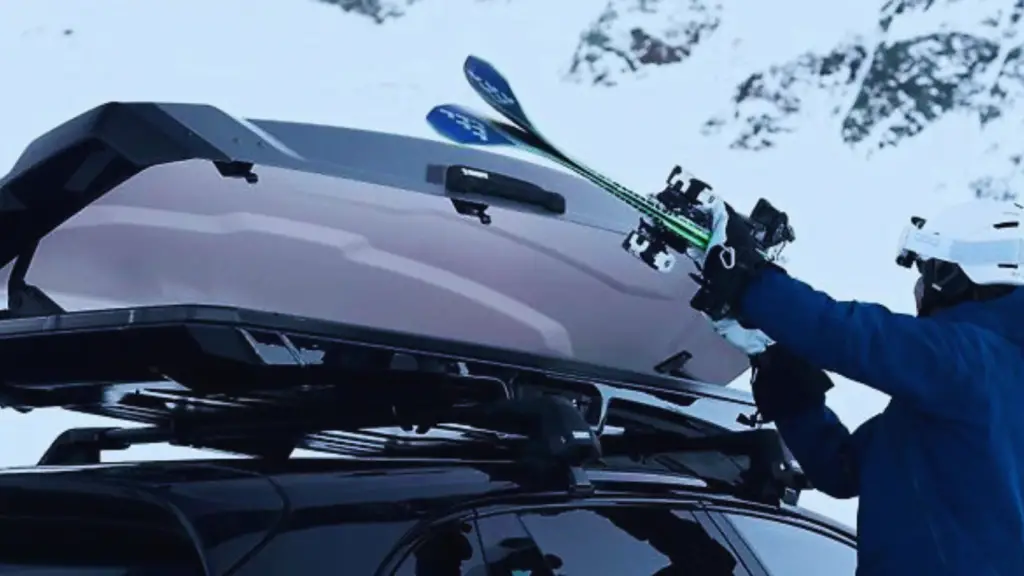 Key Elements to Look for When Choosing the Right Rooftop Cargo Box
Purchasing a rooftop cargo box is an investment. To choose the right one for your needs, consider these key elements:
Aerodynamics – The cargo box shape should be optimized for wind resistance to minimize drag. This maintains fuel efficiency. Low profile designs best boxes work perfectly fine.
Design – Look for dual opening lids, interior securing features, quick release mounting, and easy handle access. A smooth, durable shell protects contents.
Locking System – Secure lock mechanisms on the opening and mounting hardware deter theft attempts. Integrated central locking systems provide all-round security.
Opening/Closing – Smooth opening and self-propping lids make loading and unloading easy. Lockable opening latches keep the lid secure while driving. Automatic opening assists simplify access.
Mounting – The mounting system should be compatible with your vehicle's roof rack. Tool-free and quick mounting hardware allow fast installation. Proper tightening prevents shifting.
Security Features – Look for pry-resistant outer shells, tamper-proof hinge systems, reinforced lock areas, and secure tie-down straps inside the cargo box.
Storage Method – Interior fasteners, adjustable dividers, and tie-down points allow organized storage. Nets and bags keep small items secure. Durable linings protect contents.
Matching Vehicle – Choose a rooftop cargo box size and shape that matches your vehicle dimensions. Ensure it allows rear hatch access.
Weight Capacity – Check the cargo box's weight limit and choose one capable of holding your intended gear. Heavier storage capacity provides flexibility.
Ease of Use – Opt for hassle-free assembly with pre-installed mounting hardware. Clear instructions guide installation. The cargo box should open, close, lock securely and load easily.
High Quality Materials – Durable outer shells made of thick ABS plastic or composite materials withstand impact andelement exposure.
Weatherproofing – Waterproof sealing prevents moisture damage during storms or snow. UV coating limits sun damage. Interior padding protects contents.
Following these tips when comparing rooftop cargo box options will help you select the ideal model to safely and securely transport your gear for adventures.
Durability and Material
When selecting a rooftop cargo box, be sure to check its durability and damage resistance to protect the contents. Also consider the materials used in construction:
Outer Shell – Made from thick ABS plastic or fiberglass composite materials. Impact-resistant and prevents dents.

Base – Reinforced plastic base or composite hard shell. Provides stability and prevents interior damage.

Lining – Felt, carpet or padded lining to protect contents from shifting and bouncing.

Hardware – Weatherproof steel or alloy mounting components. Prevents rust and breakage.

Gaskets – Rubber seals around lid openings keep out dust and moisture. Ensure waterproofing.
Ideally, choose a cargo box made with durable, rugged materials suitable for the environments you'll encounter. Quality plastics, impact-absorbing outer shells, weatherproof hardware and water-tight interior protection will keep your contents safe and undamaged.
The cargo box should resist cracking, fading, corrosion and abrasion. Check product specs and read reviews to confirm durability before purchasing.
Functionality
Don't compromise on ease of use – the rooftop cargo box should check all the functionality requirements:
Quick and easy installation with a tool-free mounting system and minimal parts to attach.

Convenient opening and closing of lid – side opening allows access from either side of the vehicle.

Interior securing points to fasten down contents and prevent shifting during transport.

Sized appropriately for your vehicle's make and model. Should not impede rear liftgate access.

Adequate storage capacity for your intended use and gear volume.

Locking mechanism and keys to securely protect your belongings inside the cargo box.

Weight rating able to accommodate heavy gear like sporting equipment, tools, luggage etc.

Aerodynamic shape with rounded edges to reduce drag and wind noise.
Choose a rooftop cargo carrier that fits your practical use purposes and makes storing, accessing and transporting your cargo a breeze.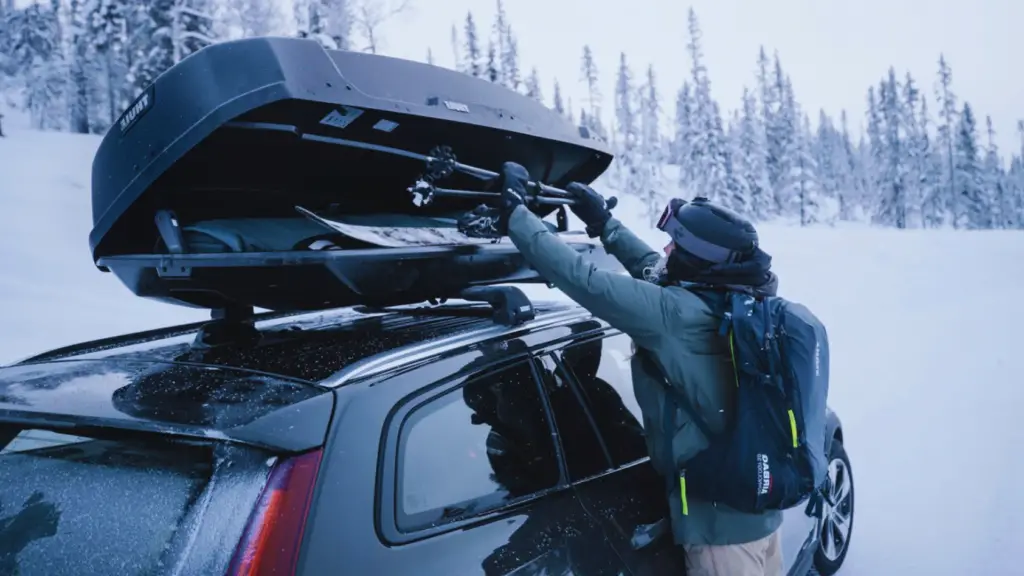 Thule vs yakima cargo box FAQs
Q1: Do rooftop cargo boxes require special equipment to install and use?
A: No special equipment is needed. Thule and Yakima cargo boxes come with integrated mounting hardware that attached to the roof racks on your vehicle (sold separately).
Q2: What are some guidelines for what can be stored in a rooftop cargo box?
A: You can safely store any items that fit completely within the enclosed space of the cargo box. Make sure to distribute weight evenly and secure contents.
Q3: Can I use my own lock on the rooftop cargo box?
A: Most cargo boxes come with integrated locking systems or SKS lock cores specific to that model. Using your own non-compatible lock is not recommended and may void warranties.
Q4: How much weight can rooftop cargo boxes hold?
A: Weight capacities range from 110-165 lbs for Thule models and 80-150 lbs for Yakima. Always check manufacturer specs and distribute weight evenly across the box.
Q5: Will a cargo box negatively impact my car's gas mileage?
A: Well-designed rooftop cargo boxes minimize drag and wind resistance for minimal MPG impact. But all exterior cargo carriers reduce mileage slightly.
Q6: What maintenance is required for rooftop cargo boxes?
A: Keep the box clean by washing off dirt and grime buildup. Check mounting hardware tightness before each use. Apply exterior wax occasionally. Avoid overpacking.
Top Recommendations From Thule and Yakima
Based on excellent reviews and top-rated performance, here are the recommended picks:
Thule Cargo Boxes:
Yakima Cargo Boxes:
These models provide the ideal blend of space, protection, security, and convenience for your rooftop storage needs.
Final Tips for Choosing the Best Rooftop Cargo Boxes
Assess your vehicle's specifications and rooftop storage requirements before selecting a cargo box.

No special tools or mechanical skills are needed to install and use a rooftop cargo carrier.

Thule excels in weather protection and security while Yakima offers larger capacities.

Follow the tips in this guide to identify the key features and considerations for your needs.

Pick a reputable brand known for quality like Thule or Yakima for a durable and high-performance