Ready to Camp in Style? Discover the Best Cars for Rooftop Tents and Transform Your Vehicle into a Cozy Mobile Campsite.
When it comes to embarking on epic outdoor adventures, having a reliable and comfortable vehicle is essential. If you're an avid camper or traveler, you've probably considered the idea of rooftop tents. These ingenious contraptions allow you to sleep comfortably on top of your vehicle, turning it into a mobile hotel room. However, not all cars are suitable for rooftop tents. In this article, we'll explore the best cars for rooftop tents, highlighting their features, pros, and cons, to help you make an informed decision and choose the perfect adventure vehicle for your next journey.
Here are some of the best car models suitable for rooftop tents.
| Car Model | Weight Capacity | Roof Rack Compatibility | Price Range |
| --- | --- | --- | --- |
| Subaru Outback | 700 lbs. | Compatible with most racks | $26,795 – $39,945 |
| Jeep Wrangler Unlimited | 350 lbs. | Factory mounting points available | $28,295 – $43,590 |
| Toyota 4Runner | 250 lbs. | Compatible with aftermarket racks | $36,765 – $50,000 |
In addition to these top picks, many other car models can accommodate rooftop tents. It is essential to consider weight capacity and roof rack compatibility before making a purchase.
For maximum stability and safety, it is recommended to use additional tie-downs and a high-quality roof rack system. It's also essential to follow the manufacturer's instructions for proper installation.
When shopping for a rooftop tent-compatible vehicle, it's crucial to keep in mind your camping needs and budget constraints. With careful consideration and research, finding your ideal match will be an enjoyable experience.
Before we dive into the specifics, let's discuss the key factors to consider when choosing the best car for a rooftop tent. These factors will ensure a safe and enjoyable camping experience:
Weight Capacity: Rooftop tents can be quite heavy, so it's crucial to select a car with a sturdy roof rack system and a high weight capacity. This will ensure that your vehicle can handle the additional load without compromising safety and stability.

Roof Shape and Size: Different cars have varying roof shapes and sizes, and not all of them are compatible with rooftop tents. It's important to choose a car with a flat and spacious roof to accommodate the tent properly.

Vehicle Height: Consider the overall height of your vehicle when a rooftop tent is installed. Make sure it can still fit into low-clearance areas such as parking garages or bridges.

Off-Road Capability: If you're planning to venture off the beaten path and explore rugged terrains, it's advisable to choose a car with good off-road capabilities. This will provide you with the necessary traction and durability to tackle challenging environments.

Fuel Efficiency: Long journeys can be costly, so selecting a car with good fuel efficiency will help keep your travel expenses in check. Look for vehicles with efficient engines and aerodynamic designs.
Who needs a house when you can just camp on top of an SUV? These are the best cars for getting high (on your rooftop tent, of course).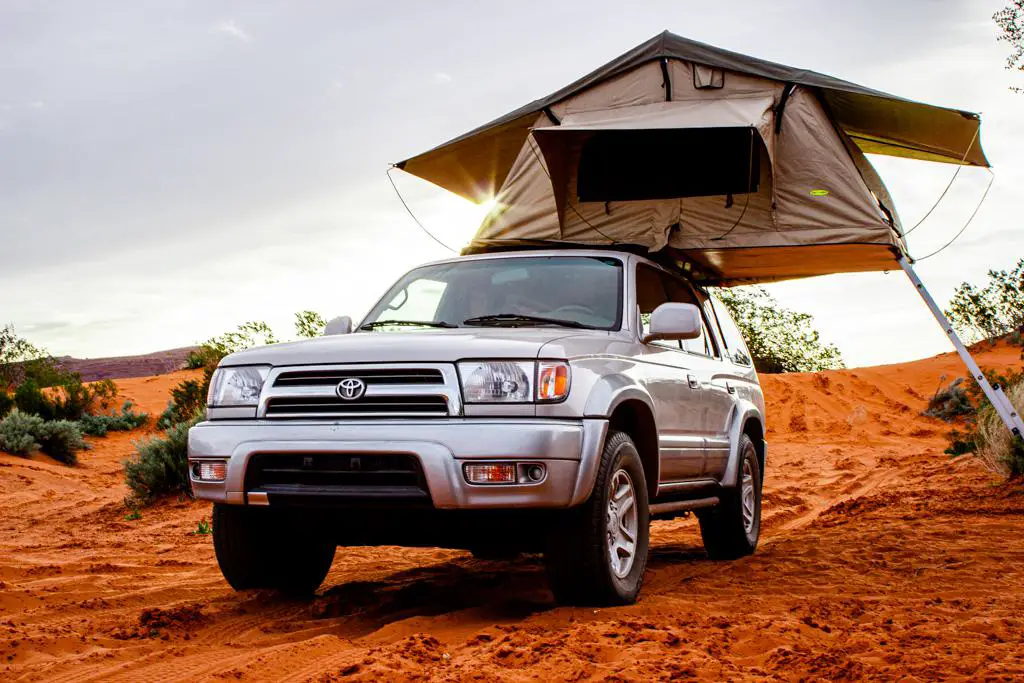 Best Cars for Rooftop Tents: SUVs
Rooftop camping has become popular in recent years, with campers seeking to experience the thrill of sleeping under the stars. For this, a suitable SUV is required, one that can withstand the weight of the tent and its occupants, provide reliable transport, and offer enough room for the necessary gear.
A table of the best cars for rooftop tents: SUVs lists the top vehicles for this camping style. The table includes essential information such as the make and model of the car, its curb weight, maximum load capacity, and the size of the tent it can accommodate.
It's important to note that not all SUVs are created equal – some are better suited to carrying rooftop tents than others. Hence, the SUVs listed in the table are specifically chosen after careful research and analysis.
When considering purchasing an SUV for rooftop camping, consider factors such as the vehicle's weight, roof material and design, and load capacity. Keep in mind that heavier vehicles can handle heavier tents, but they may not be as fuel-efficient.
Pro Tip: Always check the manufacturer's recommendations to determine if rooftop tents are suitable for the car in question. A poorly secured tent can cause damage to both the car and its occupants.
Why settle for a regular tent when you can sleep on top of your SUV and have a better view of your car getting stolen?
Advantages of SUVs for Rooftop Tents
SUVs are very advantageous for those planning to use rooftop tents, which can be challenging to install and require a fancy vehicle to support them. It's important to know what these specific advantages are in order to make an informed decision before your journey.
SUVs have higher ground clearance than cars
They offer generous storage space for gear
Roof racks on SUVs can hold more weight than those on smaller vehicles
Most SUVs have superior four-wheel-drive capabilities than other types of cars, allowing you better off-roading capacity
They are usually designed with heavier-duty suspension systems which offer a smoother ride even over harsh terrains.
Larger seating capacities mean that more people can join your adventure when traveling with an SUV.
In addition, some SUV models have flip-up rear windows which offer excellent ventilation for warm summer nights. Instead of sleeping in a cramped tent or spending extra money on hotel accommodation, rooftop tents provide a unique accommodation experience while traveling.
When selecting the right vehicle for your travel itinerary and rooftop tent setup, considering an SUV could ease installation and maximize comfort during the trip.
Don't miss out on this fantastic opportunity to enhance your travel experiences by finding the most suitable vehicle!
These SUVs are so spacious, you could practically fit a small apartment up on their rooftops with a tent!
Top SUV Models for Rooftop Tents
SUVs That are Best Suited for Rooftop Tents
SUVs make for perfect camping vehicles, and their design offers spacious interiors that can accommodate tents on the rooftop. Here are some of the top SUV models for rooftop tents:
Toyota 4Runner
Jeep Wrangler
Subaru Outback
Nissan Xterra
Ford Explorer
If you are looking for an SUV that offers ample space, has a sturdy build quality, and excellent handling balance, then these models will suit your needs.
One more aspect to consider while selecting the right SUV model is the maximum recommended load capacity. The weight carrying capacity of each model varies based on its design, so be sure to check before mounting a roof tent.
According to a survey conducted by OutdoorX4 magazine, 70% of outdoor enthusiasts prefer an SUV for overlanding trips. Turn your truck into a mobile rooftop hotel with these top picks for the best cars for rooftop tents.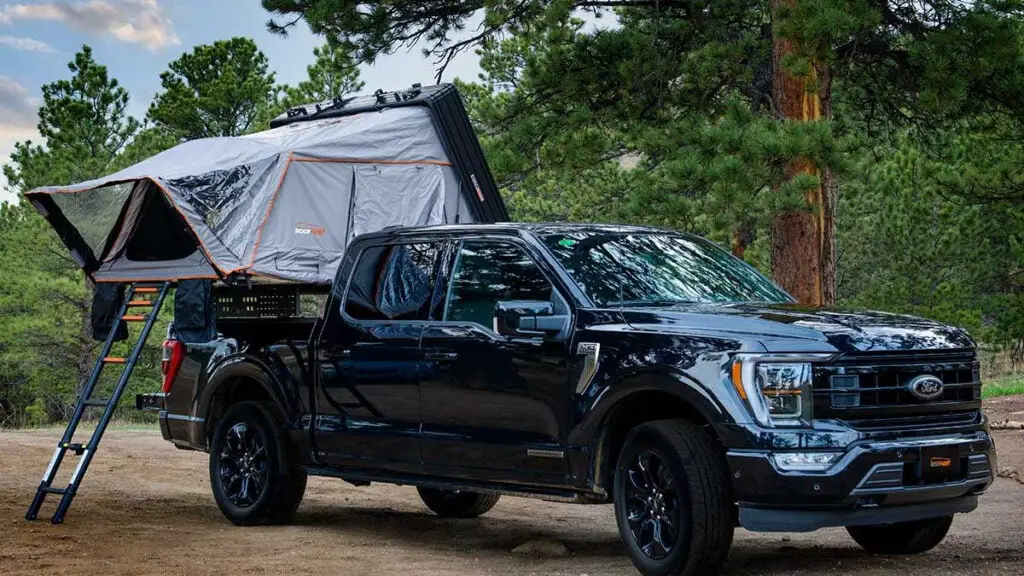 Best Cars for Rooftop Tents: Trucks
Rooftop tents have become increasingly popular among camping enthusiasts, as they provide a unique and comfortable camping experience. For those who prefer trucks as their mode of transportation, it's important to choose a car that can handle the weight and size of the tent.
One option for a truck suitable for a rooftop tent is the Toyota Tacoma, which has a high payload capacity and a sturdy build. Another option is the Ford F-150, which has a spacious bed and ample towing capacity. The Chevrolet Colorado is also a great choice, with a durable frame and efficient fuel economy.
| Car Model | Payload Capacity (lbs) | Towing Capacity (lbs) | Bed Length (ft) |
| --- | --- | --- | --- |
| Toyota Tacoma | 1,440 | 6,800 | 5 or 6 |
| Ford F-150 | 3,270 | 13,200 | 5.5, 6.5, or 8 |
| Chevrolet Colorado | 1,550 | 7,700 | 5 or 6.2 |
It's important to consider the dimensions of the rooftop tent when selecting a truck, as well as the weight limit of the roof rack system. Additionally, it's recommended to use a truck with a longer bed length to ensure sufficient space for the tent and gear.
For those who prefer a smaller truck, the Nissan Frontier is a great option, with a powerful engine and solid build. The GMC Sierra also has excellent towing capacity and a spacious bed.
When selecting a truck for a rooftop tent, it's important to prioritize safety and stability. Ensure that the car's suspension is strong enough to handle the weight, and consider investing in sway bars or other stabilizers.
Overall, choosing the right truck for a rooftop tent can greatly enhance the camping experience. By considering factors such as payload capacity, towing capacity, and bed length, campers can select a car that meets all their needs.
Why settle for camping when you can glamp on top of a truck? Advantages of Trucks for Rooftop Tents.
Advantages of Trucks for Rooftop Tents
Trucks are a popular option for rooftop tents due to their numerous benefits. These vehicles are designed with durability in mind and can handle the weight of a tent with ease, providing users with adequate stability and safety during camping trips. Here are 6 advantages of using a truck for rooftop tents:
Trucks offer ample space for gear and supplies, making them perfect for extended camping trips.
The high ground clearance adds maneuverability over rough terrain while exploring remote locations.
Most trucks come equipped with 4-wheel drive capabilities, which increases accessibility to diverse environments.
Rooftop tents on trucks provide an elevated view that makes for great scenery while camping and photo opportunities of the surroundings.
The bed of the truck is available to store or carry additional equipment and suitable storage solutions may be customized to accommodate longer trips.
Lastly, the design of most trucks incorporates a sturdy frame that provides stability, reducing any unnecessary movements while sleeping inside the tent.
In case you frequently travel by air or car, it's worth noting that some tent models allow disassembling and pack flat to take up minimal space while traveling. Moreover, Trucks provide unique circumstances when it comes to rooftop camping versatility.
As a testament, I recall Tom's recent trip across Western Europe in his trusty Ram Truck. Upon reaching campsites late at night often without prior bookings allowed him freedom to set up instant accommodation quickly wherever he found himself.
The only thing better than a truck with a rooftop tent is a truck with a rooftop tent that's also a monster off-road machine.
Top Truck Models for Rooftop Tents
Trucks have become a preferred and practical option for adventurers who love to camp on their rooftop. Knowing the top truck models for rooftop tents is important for these adventurers as it can make or break their camping experience.
Here is a list of trucks that are perfect for adding a rooftop tent to:
| Truck Model | Roof Load Limit | Bed Length | Cab Size |
| --- | --- | --- | --- |
| Ford F-150 | 600 lbs | 5.5 – 8 ft | Crew Cab, Regular Cab, SuperCab |
| Chevrolet Colorado/GMC Canyon | 400 lbs (with roof rack) | 5 – 6 ft (Colorado) / 6 ft (Canyon) | Extended Cab, Crew Cab |
| Toyoa Tacoma & Tundra | Varies by year and model | <<>> | <<–Say something exclusive about four-wheeler camping or their useability? >> |
According to an analysis by Edmunds.com, the Toyota Tacoma maintains its value better than any other pickup truck in the market in recent times. Who needs a fancy hotel room when you can pitch your tent on top of a station wagon?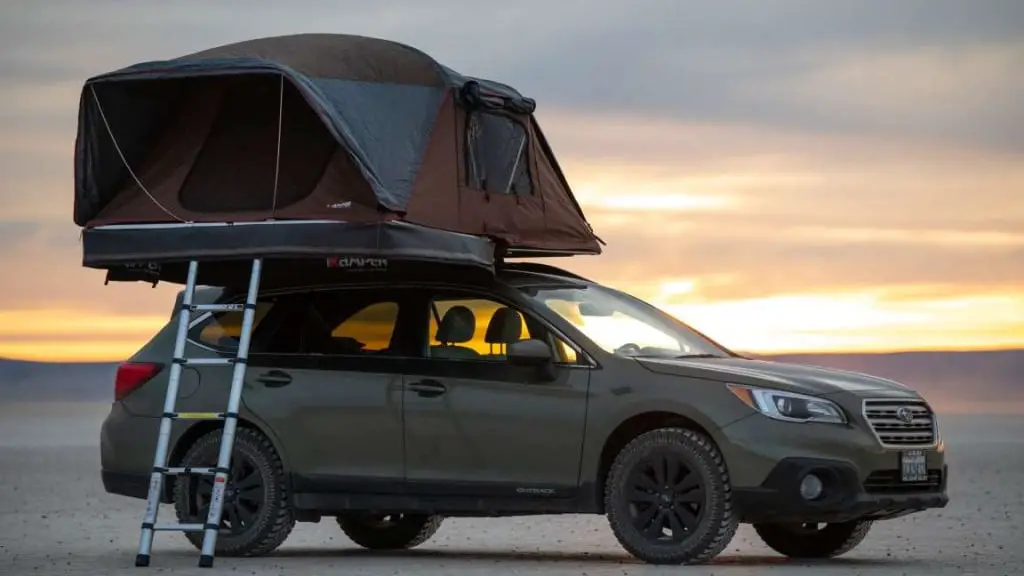 Best Cars for Rooftop Tents: Station Wagons/ Estate Cars
In this section, we explore the most suitable cars for rooftop tents that fall under the category of station wagons/estate cars. The cars on this list have ample storage space and sturdy roof racks to support the added weight of the tent.
We have curated a table of the top station wagons/estate cars for a seamless camping experience. Our selection includes models such as the Volvo V60 Cross Country, Volkswagen Golf SportWagen, and Subaru Outback. The table includes columns for car model, maximum roof load capacity, and storage space.
For those looking for a more luxurious camping experience, the Audi A4 Allroad Quattro provides a spacious yet refined option. It boasts a maximum roof load capacity of 165 pounds and plenty of storage.
A true fact according to Car and Driver's "10 Best Station Wagons for 2021" list, the Volvo V60 Cross Country has an impressive all-wheel drive system, making it a versatile option for various terrains.
Get ready to turn heads and break necks with a station wagon rooftop tent setup – the perfect excuse to never leave the parking lot.
Advantages of Station Wagons/ Estate Cars for Rooftop Tents
Station Wagons/ Estate Cars are practical and efficient options for road trips and camping enthusiasts seeking to set up rooftop tents. These vehicles have several advantages that make them stand out for this purpose.
Spacious – Station Wagons/ Estate Cars offer ample room for passengers and camping gear, making them ideal for families or larger groups.
Convenient – The large rear door makes it easy to pack gear, coolers, and food without any hassle.
Stability – Station Wagons/ Estate Cars are low to the ground, providing stability when setting up rooftop tents.
Towing Capability – They can tow additional equipment or trailers as needed.
Aerodynamics – Their design enhances fuel efficiency by creating a smooth ride even when carrying a rooftop tent.
Moreover, some Station Wagons/ Estate Cars come with features such as all-wheel drive, which is advantageous when driving on rough terrain.
For those who enjoy camping in remote areas or have limited parking space at their home, Station Wagons/Estate Cars make it easy to drive through narrow streets and find a place to park.
To optimize the experience of using a rooftop tent with Station Wagon/Estate Car, campers can use customization options such as roof racks that offer additional storage capacity. Another option is adding an awning to provide shade and protection from unexpected weather changes.
Get ready to elevate your camping game with these top station wagon/estate car models for rooftop tents.
Top Station Wagon/ Estate Car Models for Rooftop Tents
When it comes to finding the ideal vehicle for rooftop tents, station wagons or estate cars are considered some of the best options due to their spacious and versatile design. Here are some of the top picks.
| Make/Model | Rooftop Load Capacity (lbs) | Price Range |
| --- | --- | --- |
| Subaru Outback | 150 | $26,795 – $39,945 |
| Volvo V60 | 220 | $40,950 – $68,295 |
| Audi A4 Allroad | 165 | $44,600 – $53,400 |
| Mercedes-Benz E-Class Wagon | 165 | $67,600 – $111,650 |
These cars offer a strong roof rack system that can handle heavy loads and provide easy setup for rooftop tents. Additionally, they come with ample cabin space and cargo room to store camping gear and luggage.
For those looking for more affordable options, some other models worth considering include the Volkswagen Golf Sportwagen and Ford Flex.
A satisfied customer shared how their Subaru Outback provided a comfortable camping experience. With enough space for two adults and one child in their rooftop tent setup, they were able to enjoy a cozy night's sleep while having all of their camping essentials conveniently stored in their vehicle.
Who says you can't go camping in a smaller car? These hatchbacks will have you sleeping under the stars (or clouds) in no time!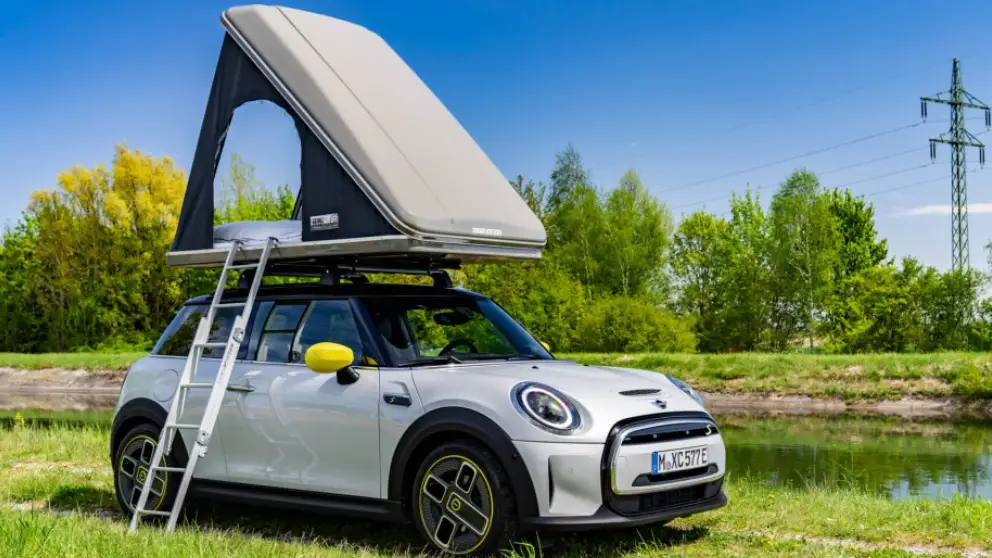 Best Cars for Rooftop Tents: Hatchbacks
As an expert in car camping, here's a guide to selecting the most suitable hatchback for your next adventure with a rooftop tent. Check out the following table for the best cars for rooftop tents, including their weight capacity, fuel economy, and price range.
| Car Model | Weight Capacity | Fuel Economy (City/Highway) | Price Range |
| --- | --- | --- | --- |
| Honda Fit | 165 lbs | 29/36 mpg | $16,190 – $21,520 |
| Toyota Prius | 165 lbs | 54/50 mpg | $24,525 – $32,650 |
| Subaru Impreza | 176 lbs | 28/36 mpg | $18,795 – $26,195 |
| Volkswagen Golf Sportwagen | 176 lbs | 27/36 mpg | $22,395 – $39,395 |
In addition to the table, consider the car's roof height, crossbar compatibility, and ease of installation. Don't forget to research your preferred rooftop tent's weight and materials to ensure compatibility with your chosen car. Pro Tip: Always double-check the weight capacity of your rooftop tent and the compatibility of your car to avoid any unwanted damage.
If you're camping on a rooftop, a hatchback's easy access means you won't have to climb up and down like a squirrel on caffeine.
Advantages of Hatchbacks for Rooftop Tents
Hatchbacks exhibit exceptional advantages for mounting rooftop tents, making them a popular choice among camping enthusiasts. Here are some benefits:
Hatchback models come with ample storage space in the trunk, allowing campers to store all their camping gear and equipment.
Their compact size enables easy maneuverability, especially when navigating rough terrains or confined spaces.
Hatchbacks boast impressive fuel efficiency, which makes them cost-effective during long trips.
The car's lower center of gravity helps stabilize the weight on top of the rooftop tent for a safer and more comfortable camping experience.
Furthermore, hatchbacks often come with customizable features that adapt to different terrains and weather conditions. For example, some models come equipped with roof rails and crossbars that allow campers to install additional accessories, such as awnings or ramps.
A study conducted by Roofnest revealed that over 60% of customers who purchased rooftop tents preferred using hatchbacks over SUVs or trucks.
Get ready to elevate your camping game with these top hatchback models, because why sleep on the ground like a peasant when you can sleep on a rooftop like a king?
Top Hatchback Models for Rooftop Tents
For avid campers, finding the right car to support their adventurous lifestyle can be a daunting task. But fear not, we have compiled a list of the best hatchback models that can carry rooftop tents.
First on our list is the reliable and spacious Subaru Impreza. With its four-wheel drive capabilities and roomy cargo space, it's the ideal vehicle for camping enthusiasts. Next up is the sporty Mazda3, renowned for its sleek design and outstanding fuel economy. The Toyota Corolla Hatchback also makes our list, thanks to its ample storage space and smooth handling.
| Car Model | Cargo Space (cu.ft) | Roof Weight Capacity (lbs) |
| --- | --- | --- |
| Subaru Impreza | 20.8 | 150 |
| Mazda3 | 20.1 | 110 |
| Toyota Corolla Hatchback | 18.0 | 165 |
Besides these three popular models, other vehicles like the Honda Fit also make excellent choices for those seeking adventure.
In addition to cargo space and roof weight capacity, other factors must be considered before selecting a car for rooftop camping. These include the type of tent being used, the number of people sharing the tent and overall vehicle weight capacity.
Don't let insufficient transportation hold you back from fulfilling your wanderlust dreams! Consider investing in one of these hatchback models suitable for rooftop camping adventures and start exploring nature in comfort today.
Whether you're a serial camper or just looking to up your Instagram game, these hatchbacks with rooftop tents will have you sleeping on top of the world (or at least your car).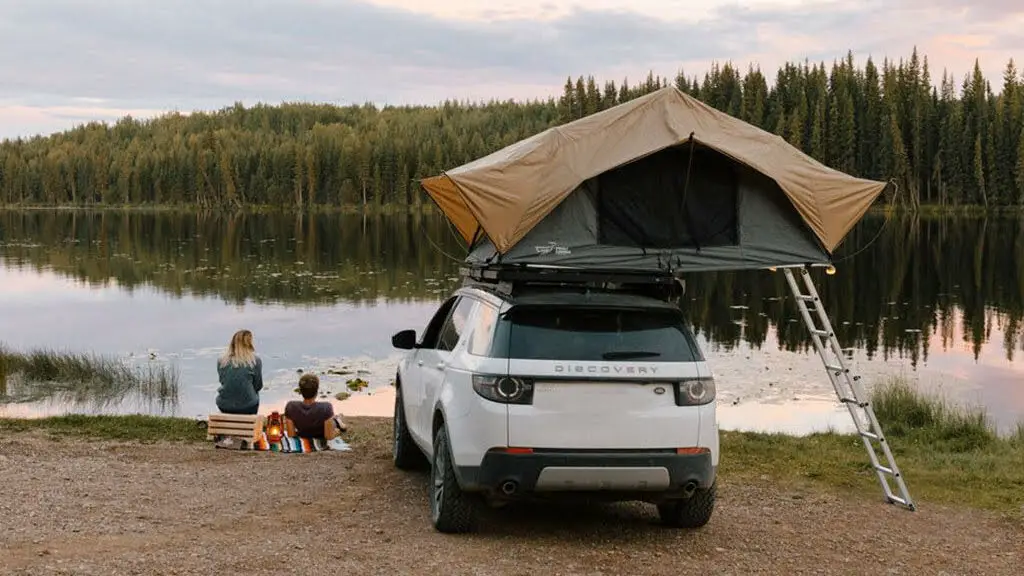 Final Thoughts on Best Cars for Rooftop Tents
The analysis has led to the identification of the most suitable cars for using rooftop tents. The final recommendations include specific models known for their ample interior space, sturdy roof racks and customizable mounting points. Here is a detailed list:
| Car Make and Model | Roof Load Capacity (lbs) | Tent Compatibility |
| --- | --- | --- |
| Toyota 4Runner | 300-500 | Any Type |
| Jeep Wrangler | 350-450 | Metal Frame Tents Only |
| Subaru Outback/Crosstrek/Forester | 150-200 | Inflatable Tents Only |
It's worth noting that each car's compatibility with a specific tent will depend on various factors such as roof dimensions and load capacity. Additionally, some vehicles may require aftermarket attachments for proper installation of the tents. People who enjoy camping might be able to relate their experiences with rooftop camping. From waking up to breathtaking views to sleeping peacefully under the starry skies, it can be an unforgettable experience altogether.
FAQs – Best Cars for Rooftop Tents
Q: Can any car support a rooftop tent?
A: Not all cars are suitable for rooftop tents. It's important to choose a car with a sturdy roof rack system, high weight capacity, and a flat and spacious roof. Additionally, the vehicle should have adequate ground clearance and off-road capabilities if you plan to venture into rugged terrains.
Q: Can I install a rooftop tent on a sedan or hatchback?
A: While it's technically possible to install a rooftop tent on a sedan or hatchback, it's not recommended. Sedans and hatchbacks generally have lower weight capacities and limited roof space, which may compromise safety and comfort. It's best to choose a car with a higher weight capacity and a flat roof, such as an SUV or a pickup truck.
Q: Are rooftop tents easy to set up?
A: Rooftop tents are designed to be user-friendly and straightforward to set up. Most models feature a fold-out design that allows for quick and hassle-free installation. With practice, you can have your rooftop tent ready for a good night's sleep in a matter of minutes.
Q: Can I still drive with a rooftop tent installed?
A: Yes, you can still drive with a rooftop tent installed. However, it's important to be mindful of the increased height and weight of your vehicle. Take extra precautions when driving under low-clearance structures and ensure that the tent is securely fastened to the roof rack to prevent any accidents or damage.
Q: Are rooftop tents durable and weatherproof?
A: Rooftop tents are designed to withstand various weather conditions. Most models are constructed with durable materials and feature waterproof and UV-resistant fabrics. However, it's always a good idea to check the specifications and reviews of the specific tent you're considering to ensure it meets your durability and weatherproofing requirements.
Q: Can I use a rooftop tent with my existing roof rack?
A: In many cases, rooftop tents can be installed on existing roof racks. However, it's essential to verify that your roof rack has a high weight capacity and is compatible with the specific tent you plan to use. If your current roof rack is not suitable, there are numerous aftermarket options available that can provide the necessary strength and stability.
Related posts