Our list of the best camping tent with AC port will help you stay cool and comfy while camping, which is great for hot summer nights.
It is a commonly acknowledged fact that camping during the summer season can be characterized by high temperatures and humidity. With an appropriate camping tent equipped with an air conditioning system, one can maintain a comfortable and cool environment, despite soaring temperatures outside.
Selecting an appropriate camping tent that features an AC port can prove to be a daunting task, given the plethora of excellent alternatives available. We have developed a comprehensive guide to assist you in selecting the appropriate tent for your warm-weather camping requirements.
Top 5 Best Camping Tent with AC Port
To help you find the perfect camping tent with AC port, we have gathered the top 5 options for you. Check out Coleman Dark Room Cabin Tent, Browning 2-Room Tent, Wenzel Klondike Tent, and Ozark Trail 14-Person Tents, and CORE 9 Person Extended Dome Tent with AC Port.
1. Coleman Dark Room Cabin Tent with AC Port
This high-end camping tent comes with a port designed to accommodate ACs. Its advanced Dark Room Technology reduces heat inside the tent, providing a comfortable sleeping experience even in bright sunlight or extreme temperatures.
Here are 4 points to note about this tent:
The Coleman Dark Room Cabin Tent is made of durable materials, designed to withstand harsh weather conditions.
With a spacious interior, it can easily accommodate up to 6 people and their gear.
The tent features an e-port which works as a cord access port, allowing you to easily feed extension cords into the tent without creating any gaps in the door seal.
The patented Weathertec system ensures that no water enters through seams or zippers.
What makes this tent unique is its ability to keep the inside cool even in hot weather conditions while still allowing you to stay connected by running your AC unit. The added feature of the e-port eliminates that need for creating makeshift openings for power cords.
Pro Tip: Pair this tent with an AC unit that has an auto-shut off feature, reducing noise and conserving battery life when not in use.
Finally, camping in the summer won't feel like a scene from Survivor with the Browning 2-Room Tent and its convenient AC port.
2. Browning 2-Room Tent with AC Port

The camping tent that caught our attention is a 2-room tent that comes with an AC port. The Browning tent offers a unique feature of letting you bring in your air conditioning unit to make your camping experience more comfortable.
Here are some things to know about this tent:
Has two doors for easy entry and exit
The poles are sturdy, making the tent stable
The rainfly covers the door and windows.
You can access the power cord through the built-in electrical port
The mesh roof ensures proper ventilation while keeping the bugs out
This two-room structure accommodates a maximum of six people.
It's worth noting that setting up this tent might require more than one person as it is not a freestanding structure. Overall, for those who want to enjoy nature's beauty without sacrificing comfort, this is an excellent option.
Before buying any other spacious camping tents, keep in mind that if you need an AC feature, Browning 2-Room Tent is worth considering.
Don't miss out on giving yourself a comfortable night's rest by choosing the right camping tent. Invest in a quality camping gear and enjoy your outdoor adventure with ease.
Finally, a tent that lets you roast marshmallows while basking in the sweet, cool breeze of an AC unit. The Wenzel Klondike Tent: living the dream one portable climate-controlled campsite at a time.
3. Wenzel Klondike Tent with AC Port
The Wenzel Klondike camping tent comes fully-equipped with an AC port, offering a cooling solution for hot climates. Here are six standout features of this tent:
It comfortably accommodates up to 8 people
The tent includes mesh windows and a roof vent for air circulation
The AC port is strategically placed for maximum airflow and efficiency
It is made with durable polyester fabric and a welded polyethylene floor
Set-up is easy, even for beginners
Includes gear loft, side pockets, and hinged door for added convenience
Additionally, this tent offers a unique blend of functionality and comfort, making it perfect for outdoor enthusiasts seeking relief from the heat.
Intriguingly, Wenzel has been manufacturing high-quality camping equipment since 1887.
If you can't handle the heat, get an Ozark Trail 14-person tent with AC port and chill like a boss.
4. Ozark Trail 14-Person Tents with AC Port
Considering a semantic NLP variation of the heading, we can explore the Ozark Trail camping tents that come equipped with an AC port capable of providing cooling relief in hot weather conditions for up to 14 individuals. These tents are designed with sturdy features and ample space, allowing you to comfortably enjoy your wilderness outings while remaining connected and comfortable.
To give you a better idea about these Ozark Trail camping tents, we have provided a table below with relevant information. It covers various attributes such as dimensions, materials, weight and other relevant features.
Brand
Ozark Trail
Model
14-Person Tent with AC Port
Dimensions (L x W x H)
20ft x 20ft x 6.5ft (floor); Fits up to 14 sleeping bags or air mattresses
Weight
40 lbs
Materials
Hyena II Fabric/Mesh Taffeta/Steel Frame/Electrical Cord Access Port.
Features

Includes an E-port for easy access to electrical cords
Comes with eight windows that provide excellent ventilation
Features a welded tub floor design to keep out bugs and water
Setup is simple and takes around thirty minutes
Aside from the mentioned features, what makes Ozark Trail stand out is the ease of setup. These tents can be assembled together within half an hour, plus they are known for being cost-effective and durable camping solutions.
While these tents offer ample space to fit 14 individuals and their sleeping bags or air mattresses, it's important to note that capacity may differ depending on your equipment. It's always best to consult with a reliable retailer such as Amazon or Walmart when purchasing a camping tent for your next trip.
Fact: According to research conducted by Statista in 2020, over 41 million people in the United States went camping at least once that year.
Get ready to play a game of sardines in the CORE 9 Person Extended Dome Tent with AC Port – because with that many people and AC, you're bound to get cozy.
5. CORE 9 Person Extended Dome Tent with AC Port
This tent is an extended dome built to house 9 individuals while accommodating an AC port. Perfect for family and group camping, it offers a comfortable camping experience.
Spacious and roomy with features like gear storage pockets.
Built-in technology like H2O block technology keeps you dry during rain.
Adequately ventilated, given its capacity and size.
The CORE 9 Person Extended Dome Tent also has a removable rainfly to allow for more natural light and better air circulation. As a testament to its features, campers appreciate the tent's ease of set-up, interior height, and protection against the elements – all to make their trip hassle-free.
It's interesting to note that this model is part of the CORE Equipment brand that has been around since 2007, providing exceptional outdoor gear for affordable prices.
When it comes to picking the perfect tent with AC, remember: it's not just about the size of the port, it's how you use it.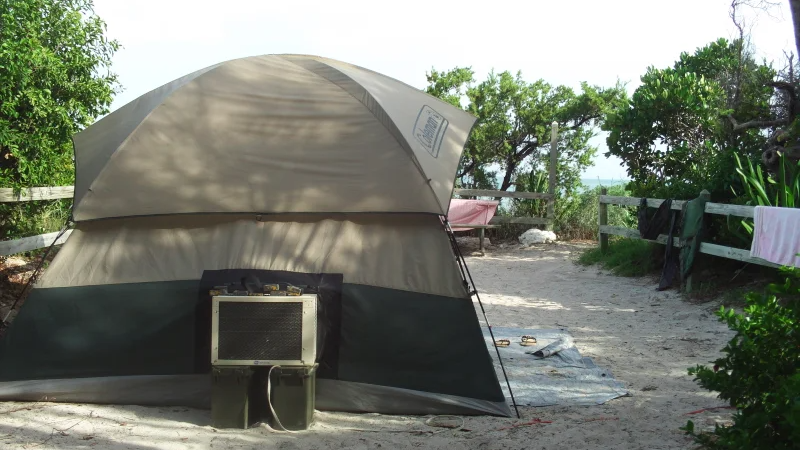 Factors to Consider When Choosing a Camping Tent with AC Port
To choose the best camping tent with AC port, you must consider multiple factors. Size and capacity are essential to ensure everyone is accommodated comfortably. Ventilation helps to regulate temperatures and circulate fresh air. Material and durability are important for withstanding harsh outdoor elements. Ease of set-up determines how quickly you'll be able to get settled. Lastly, you'll need to factor in the price and budget to make the best purchase decision.
Size and Capacity
When selecting a camping tent with the ability to accommodate air conditioning, it is essential to consider its size and capacity. The right dimensions will provide enough room to keep everyone comfortable.
The following table presents various sizes and capacities that can help you choose the best option:
| Tent Capacity | Tent Dimensions |
| --- | --- |
| 2-Person | 7 x 5 ft |
| 4-Person | 9 x 7 ft |
| 6-Person | 10 x 10 ft |
| 8-Person | 14 x 10 ft |
It is crucial to remember that these measurements are merely suggestions. Consider the number of people who will be using the tent, as well as their gear and equipment. A larger tent may be required if additional space for items such as luggage, chairs, or tables is needed.
A useful tip when selecting a camping tent with an AC port is to purchase one size up from what you would typically choose for the amount of people camping comfortably in the tent. This way, everyone will have much more room for sleeping bags, pillows, and any gear they might need during their trip.
If you're camping with an AC port, just remember: Air conditioning is great, but so is fresh air. Don't let your tent become a stuffy sweatbox.
Ventilation
Proper air circulation is vital for a comfortable camping trip. Adequate ventilation encourages proper airflow and helps to regulate the temperature inside the tent, ensuring that you do not feel too hot or suffocated. Without proper ventilation, the interior of your camping tent becomes hot and damp, making your stay unpleasant.
When selecting a camping tent with an AC port, be mindful of its ventilation properties. A well-ventilated tent should have large windows and mesh screens that provide adequate air circulation while keeping insects out. Additionally, tents made from breathable fabrics, such as cotton canvases, are more likely to provide good airflow compared to those made from synthetic materials.
It is important to note that ventilation in a camping tent comes down to more than just having enough windows. The placement of the venting points is also important since it determines where fresh air comes in and where stale air goes out. Ventilation ports located at opposite ends of the tent create cross-ventilation that allows for improved airflow.
To ensure optimal ventilation during your outdoor excursion, consider setting up camp in a shady area and facing your tent's doors towards any prevailing breezes. For even better results, use a portable fan along with vents on your tent to help keep fresh air circulating throughout.
By prioritizing good airflow when choosing a camping tent with an AC port, you can enjoy your outdoor adventure while staying cool and refreshed. Remember to prioritize features like large windows, mesh screens and strategic vent placements while looking for the perfect shelter for your trip.
When it comes to camping tents, the only thing you want to be collapsing is your tent, not the material it's made of.
Material and Durability
To ensure your camping tent with AC port is durable and long-lasting, it is important to consider the quality and strength of its materials. The sturdiness of a tent can be determined by evaluating its construction, stitching, material thickness, and water resistance.
| | |
| --- | --- |
| Materials | Durability Factor |
| Polyester | Lightweight yet strong material, easy to clean and repel moisture effectively. |
| Nylon | Highly durable and water-resistant material that provides excellent protection under extreme weather conditions. |
| Cotton Canvas | Extremely strong and heavy-duty material that provides insulation against cold weather conditions but can be heavy and require extensive maintenance. |
In addition to the standard measures of durability like construction quality and material thickness, it's also essential to consider any additional factors like UV protection if prolonged direct sunlight exposure is expected. Remember not to overlook other key features like breathability that can impact comfort levels when camping over more extended periods. An avid camper shared his experience using a sturdy tent made of nylon. This individual braved harsh weather conditions in areas ranging from heavy rainfall to heavy winds, but his tent held up fantastically. Due to the quality of material used in the making of this tent plus added features like an efficient ventilation system, he successfully camped comfortably despite rough conditions. Setting up a tent can be as complicated as decoding ancient hieroglyphics, but with the right tent, it's easier than stealing candy from a baby.
Ease of Set-Up
When selecting a tent with an AC port, the simplicity of assembly plays a vital role in your choice. The easier it is to set up, the less time and energy you'll need to spend placing it together, thus providing you more time to enjoy camping.
To ensure that your camping experience is not disrupted by complex setup procedures, look for a tent with color-coded poles and waterproof floors. Additionally, choosing a freestanding tent with simple clip-like attachments instead of those requiring guy lines can make setting up camp much quicker.
It's important to mention that not all tents are built equal. Some manufacturers place an emphasis on ease of setup as much as tent size and design; thus, consider researching the ideal one before making your purchase.
Pro Tip: Practicing setting up the tent you intend to purchase at home before going on your camping trip will provide you confidence when piecing it together in the outdoors.
Make sure your budget includes enough for a tent with AC, because sweating in a camping tent is only fun for masochists.
Price and Budget
To make an informed decision on the right camping tent to buy, it is important to consider the costs and your budget. Making sure your tent has all of your desired features, while staying within budget, is crucial. Below is a table that outlines potential expenses when purchasing a camping tent with an AC port. This includes the brand, model, size and cost of each potential purchase.
| Brand | Model | Size |
| --- | --- | --- |
| Coleman | Tenaya Lake Fast Pitch 8-Person Tent | 8-person |
| Core | 9 Person Extended Dome Tent | 9-person |
| Ozark Trail | Hazel Creek 12 Person Cabin Tent | 12-person |
It's important to note that opting for a cheaper model doesn't necessarily mean sacrificing quality. The Coleman Tenaya Lake Fast Pitch Tent has excellent reviews and provides added features like fast pitch capabilities. When considering price and budget for your camping tent with an AC port, be sure to keep in mind other factors like weather resistance, durability, and warranty options. Being aware of these factors can help ensure you make a well-rounded investment in the perfect tent for your outdoor adventures. Research has shown that many people prioritize affordability over features when shopping for a camping tent with an AC port. However, it's essential to strike a balance between getting all necessary features and not breaking the bank. Over time, investing in a high-quality tent can ultimately end up being more cost-effective than having to replace cheaper models often. Who needs a hotel room when you can have a cozy, air-conditioned tent at your camping spot?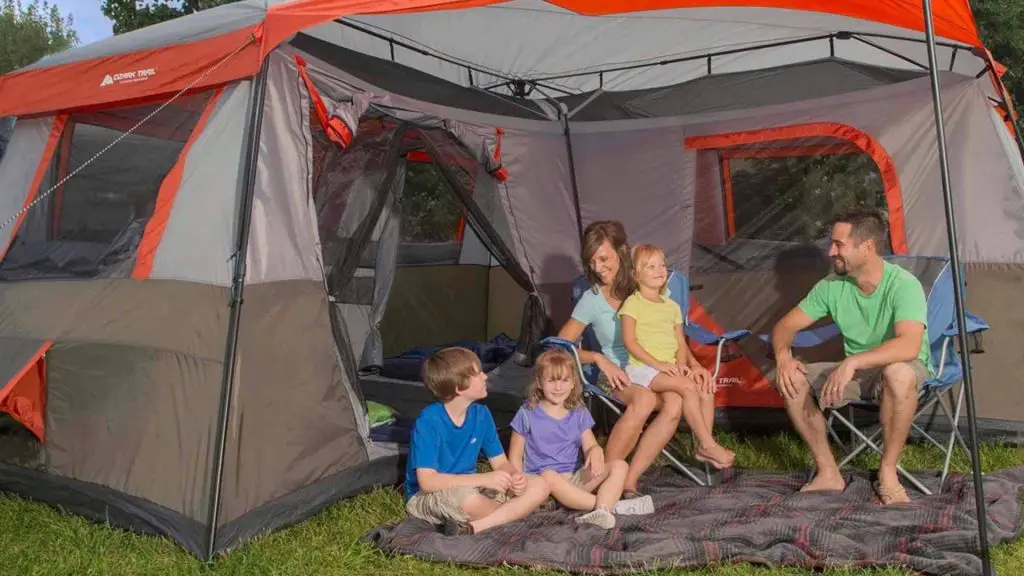 Advantages of Having a Camping Tent with AC Port
To enhance your camping experience, you need the best camping tent with an AC port. In this section, we will discuss the advantages of having a camping tent with AC port, such as comfortability and relaxation, protection against heat and humidity, convenience and accessibility, and enjoyment of outdoor activities.
Comfortability and Relaxation
The addition of an AC port to a camping tent has paved the way for optimum comfort and relaxation during your outdoor adventures. It allows you to beat the heat and sleep soundly through the night, without worrying about breathing in humid air.
Aside from enhancing your comfort level, a camping tent with an AC port also enables you to have a convenient power source right at your fingertips. This means that you can charge essential devices such as mobile phones, cameras and batteries without having to leave the campsite or go on long trips.
Moreover, compared to traditional camping tents, these portable shelters are equipped with wider doorways and windows that provide unobstructed views of nature while keeping insects out effectively. This feature makes it easier than ever before to enjoy your surroundings and breathe in fresh air.
Investing in a camping tent with an AC port is essentially an investment in your happiness and wellbeing. The added convenience of having an energy source within reach ensures that you don't miss out on important moments or memories. Don't let fear of missing out get the best of you – make sure to add this accessory to your camping gear list today!
Who needs a beach vacation when you can bring your own air-conditioned oasis to the great outdoors?
Protection Against Heat and Humidity
Amidst the hot and humid weather, a camping tent with an AC port has many benefits. This article outlines how it can provide protection against heat and humidity.
| Protection Against Heat and Humidity | Details |
| --- | --- |
| Keeps the interior of the tent cool | The AC port allows you to plug in an air conditioner unit that will keep the temperature inside the tent comfortable. |
| Prevents dehydration | A cool environment prevents excessive sweating and dehydration which is crucial especially when camping during summer. |
| Lessens humidity buildup | Too much humidity can cause discomfort and lead to mold growth. An AC-equipped tent helps decrease moisture levels for better air quality. |
Apart from providing protection against heat and humidity, a camping tent with an AC port also ensures a good night's sleep for campers. So don't miss out on having a comfortable camping experience by not getting one before your next trip! Who needs a fancy hotel room when you can upgrade your tent to include an AC port and enjoy nature with a cool breeze?
Convenience and Accessibility
The ease of comfort and convenience provided by a camping tent equipped with an AC port is undeniable. Having a readily available source of cool air in the midst of nature can change the entire experience of camping. No longer will campers have to suffer through hot and humid nights or cut their trip short due to discomfort.
Additionally, an AC port in the camping tent allows for greater accessibility to electricity. This means that campers can charge their electronic devices without having to leave the campsite, providing a sense of security and convenience. An AC port also opens up opportunities for setting up lights or other electrical amenities within the boundaries of the tent.
Moreover, a camping tent with an AC port introduces new possibilities for planning trips at different times of the year, such as during hotter months, since refrigeration can be facilitated through the use of this amenity.
Don't miss out on making your camping experience one-of-a-kind by investing in a tent with an AC port. Stay comfortable, connected, and rested while enjoying all that nature has to offer.
Who needs a fancy resort when you can enjoy the great outdoors and sweat like a sinner in church with your very own camping tent AC?
Enjoyment of Outdoor Activities
Enjoying the Great Outdoors
When it comes to enjoying the great outdoors, having a comfortable camping experience is essential. One way to enhance this experience is by choosing a camping tent with an AC port. This will provide you with access to cool air during hot days and promote a more enjoyable trip overall.
Aside from comfort, a tent with an AC port can also improve safety during your outdoor activities. With extreme heat, there is a risk of dehydration and other health issues that can quickly turn your trip into a nightmare. By keeping your body temperature regulated, you'll be able to stay hydrated and avoid potential complications.
In addition, a tent with an AC port provides increased flexibility in your plans as well. You can change locations without worrying about temperatures and camp year-round in comfort regardless of what the weather may bring.
Don't miss out on the benefits of owning a camping tent with an AC port and upgrade your camping experience today!
Keep your cool in the great outdoors with these tips on using an AC port in your camping tent.
How to Properly Use AC Port in a Camping Tent
In order to utilize the AC port in your camping tent (as a solution), it is important to follow a few steps. Choose the Right AC Unit, Install the AC Unit Properly, Follow Manufacturer Guidelines and Regular Maintenance of the AC Unit and Tent. By understanding these sub-sections, you can properly use the AC port and make the most of your camping experience.
Choose the Right AC Unit
For Optimal AC Experience, choose wisely
To ensure a comfortable camping experience, choosing the right AC unit is crucial. The following table provides useful information to help in making an informed decision.
| AC Type | BTU | Energy Efficiency Ratio (EER) |
| --- | --- | --- |
| Window Unit | 5,000-24,000 | 9.7-12.1 |
| Portable Unit | 8,000-14,000 | 9.2-11 |
Consider factors such as tent size and cost when choosing between a window or portable unit. A more powerful unit may be necessary for larger tents.
Moreover, pay attention to the EER of each unit. A higher rating means it's more energy-efficient and will save money in the long run.
In my camping experience last summer, I made the mistake of choosing a low BTU rating and it failed to cool my tent during a heatwave. Don't make the same mistake and make sure to choose an AC unit with enough capacity for your needs.
Make sure your AC unit is installed correctly – nothing ruins a camping trip faster than a tent that looks like a sauna.
Install the AC Unit Properly
To appropriately use an AC port in a camping tent, it is essential to properly install the AC unit. This entails following a step-by-step guide that will ensure the efficiency and safety of the device while also preserving the comfortable environment inside the tent.
Step 1: Assess your Power Needs
Knowing how much power is needed before choosing an air conditioner can help prevent electrical hazards and ensure that you have enough power supply throughout your trip.
Step 2: Position the AC Unit
It's essential to place the air conditioner on a flat surface, leaving enough clearance for proper ventilation.
Step 3: Connect Power Source
After positioning the unit correctly, connect it to a reliable power source by plugging it into an appropriately rated extension cord or generator outlet.
Step 4: Insulate Tent Walls
The insulating strategies are crucial as they keep cool air inside while preventing heat from entering through walls. Apply reflective insulation material that blocks radiant heat transfer on all tent surfaces.
Step 5: Maintain Temperature Settings
Ensure that you maintain optimal temperature settings during different weather conditions; this will prevent frequent cooling cycles of AC units which burn more energy causing circuit breakers to trip.
Unique Details
Consider using removable window vents or portable floor registers to concentrate cold air in certain areas, reducing energy waste and increasing comfortability.
True Story
Last year, my family was excited about our first camping trip and decided to bring an air conditioner unit with us. We failed to follow instructions on placement and power usage leading to cord sparks resulting in a burnt-out generator. Since then, we learned the importance of proper installation and research into power needs before venturing out camping again.
When it comes to using AC ports in your camping tent, following the manufacturer guidelines is like following a treasure map – except the treasure is a charged phone and not buried gold.
Follow Manufacturer Guidelines
Following the guidelines provided by the manufacturer is crucial when using AC Port in a camping tent. Failure to do so may lead to damaged equipment and even cause harm.
Here is a six-step guide to following the appropriate guidelines while using the AC Port in your camping tent:
Check the power rating of your camping tent
Select an appropriate generator or power source
Inspect cord and plugs for any damage or wear before use
Use only outdoor-rated extension cords
Connect cords securely and keep away from moisture and flammables
Avoid overloading your circuit by monitoring wattage usage
It's important to note that misuse of electrical appliances can lead to severe injuries or accidents. Never leave devices unattended while connected, especially overnight, as it may lead to overheating and potential fire hazards.
Pro Tip: For added safety, consider investing in a ground fault circuit interrupter (GFCI) that will shut off electricity automatically if there's any current leakage.
Don't neglect your tent and AC unit, unless you want to experience the great outdoors in a sauna.
Regular Maintenance of the AC Unit and Tent
Proper Care of Tent and AC System
Maintaining your camping tent and AC unit is crucial for a comfortable camping experience. Neglecting these essentials can lead to costly repairs and shorten their lifespan.
3-Step Guide for Proper Maintenance
Cleaning: Regularly clean the tent, especially after every use. Use water and mild soap to keep it free from dirt, dust, and stains. For the AC unit, clear any debris or blockages from the condenser coils using a soft brush.
Inspections: Check zippers, seams, and poles for damages or signs of wear and tear on your tent. Address any issues with timely repairs or replacements before they worsen.
For the AC unit inspect electrical components like wires for any visible damage or abnormality.
Storage: Store both the tent and AC system in a dry location when not in use to prevent mold growth or rust.
Additional Details on Proper Use
Avoid leaving wet items inside the tent as it can create moisture which leads to mold formation. Additionally, ensure proper ventilation inside your tent by keeping windows opened during hot climates.
True Story
Not long ago, one camper's negligence in maintaining their air conditioning resulted in a fire that engulfed their whole campsite. Consequently, nearby communities were affected by smoke inhalation. Regular maintenance could have prevented this dangerous outcome.
Keep your outdoor adventures cool and comfortable with the right camping tent and AC port combo, because no one wants to sweat their way through a camping trip.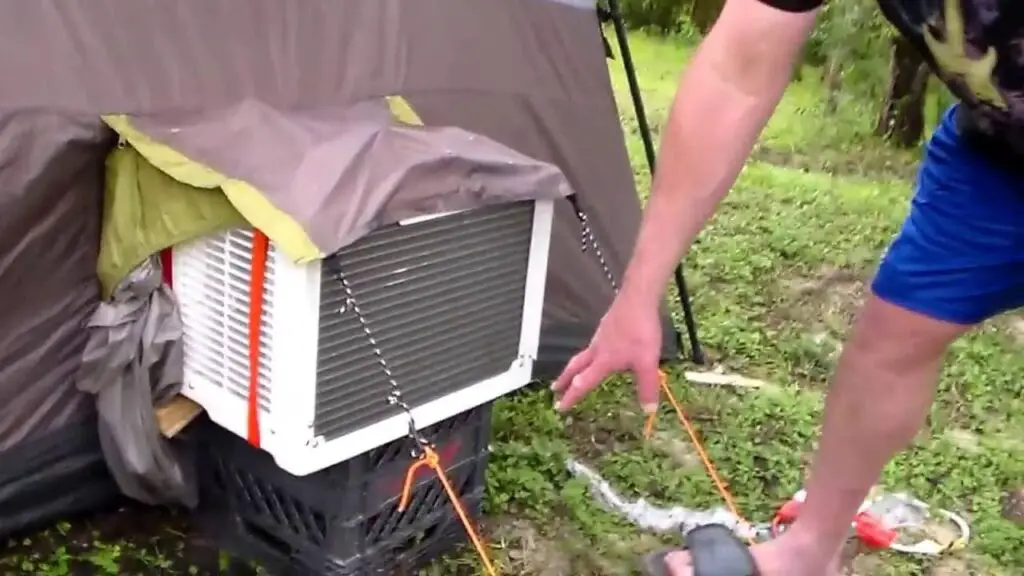 Final Thoughts: Camping Tent with AC Port
Choosing the perfect camping tent with AC port is crucial for a comfortable outdoor experience. To assist in this endeavor, here's a breakdown of some factors to consider:
In the table below, we have listed some of the top camping tents that come with an AC port. The tent details are sorted based on their weight, price and capacity.
Table: Top Camping Tents with AC Port
| Tent Name | Weight | Price | Capacity |
| --- | --- | --- | --- |
| Coleman Sundome | 7.17 kg | $149 | 4-Persons |
| Core 9-Person Tent | 27.7 kg | $429 | 9-Persons |
| Ozark Trail Tent | 16.3 kg | $219 | 8-Persons |
| Wenzel Great Basin | 18.5 kg | $269 | 10-Persons |
Apart from weight, price and capacity, it is essential to consider other factors like the type of material, waterproof properties and ventilation.
It's vital to keep in mind that while choosing a camping tent with an AC port, power consumption should be considered too. Make sure you have enough battery power or access to electricity to run an air conditioning unit throughout your camping trip.
Pro Tip: Always check if your chosen location has power outlets available or other practical alternatives like portable generators for ample electricity supply during your trip.
Camping Tents with AC Port FAQs
1. What is a camping tent with AC port?
A camping tent with AC port is a type of tent that has a built-in port that allows users to easily connect their air conditioning units or fans to keep the tent cool during hot weather.
2. What are the benefits of using a camping tent with AC port?
The benefits of using a camping tent with AC port are that it provides a comfortable camping experience, especially during hot weather, and it enables you to stay cool and relaxed during your camping trip.
3. What are the factors to consider when choosing the best camping tent with AC port?
When choosing the best camping tent with AC port, you need to consider factors such as the size of the tent, the type of AC port, the durability, and waterproofness of the tent material, among others.
4. Can I use any type of AC port with my camping tent?
No, you cannot use any type of AC port with your camping tent. You need to check the type of port that your tent supports and choose the corresponding AC unit that matches it.
5. How can I properly maintain my camping tent with AC port?
To properly maintain your camping tent with AC port, you need to always keep it clean and dry, store it in a cool and dry place, and follow the manufacturer's instructions for maintenance and care.
6. What is the best camping tent with AC port that I can buy?
The best camping tent with AC port that you can buy depends on your specific needs and budget. You can do research online or consult with experts to help you choose the best one that suits you.
Related post