If you're a camper, you know how difficult it can be to bring along all of your gear, especially if you're bringing along young children. We all know that storing all of your kitchen appliances, clothing, and athletic equipment requires a lot of room. This may prompt you to wonder which is better: a roof box or trailer?
Both of these choices have their benefits and drawbacks, just like any other product, but you should first determine your personal requirements and decide what you absolutely must have on your vacation.
While some campers take only the necessities, others want to recreate the comforts of home at the campsite. The vast majority of us fall somewhere in the middle, so we may as well educate ourselves on the benefits of  using roof box vs trailer.
1. Roof Box
Rooftop carriers are available in a wide range of sizes and shapes, and can be found in either a hard-shell case or a soft bag, typically made of polyester. Straps or the car's roof rack can be used to secure them to the roof of the car. They come in a wide variety of sizes, with some containing as little as 8 cubic feet and others as much as 30.
Choosing a roof box is convenient since it can be quickly fastened to the roof of your car without the need for any additional tools. The fact that it may be mounted on the car's roof rather than being towed behind saves valuable cargo space. This is something to think about before setting out on a camping trip or to your favorite fishing hole.
Typically, roof boxes are less difficult to manage and cheaper than other options. Roof boxes are ideal if you're just packing a few luggage. Rooftop carrier bags are ideal if you're only bringing a few pieces of luggage, as they are often designed to accommodate a variety of items.
Obviously, roof boxes have drawbacks, just like any other product. The fact that trailers exist in a variety of extremely big sizes means that they often cannot carry as much as a truck. A trailer is an excellent option if you want to bring a lot of stuff to the camping.
2. Trailer
Similarly to how roof boxes should be considered, a trailer's pros and cons should be weighed to ensure that your camping gear demands are addressed. The most obvious benefit of a trailer is its compact nature. A trailer is an easy way to transport a large quantity of luggage, camping supplies, and bicycles.
Regarding trailer capacity, you may stock it to the brim with camping stuff and leave it in your garage until you need it. In this way, your next vacation might be a completely impromptu decision. You'll have to find a space to keep the trailer, but that shouldn't be too much of a hassle for the average person. More objects can be carried in a trailer than in a rooftop carrier, and they can be protected from the elements while the trailer is not in use.
When compared to a rooftop carrier, trailers offer a higher level of safety. While some roof containers are equipped with locks and keys, some are not. When transporting expensive goods, a trailer is the safest choice because it can be locked up quickly and easily. The reality is that while neither your trailer nor your roof box is completely safe against burglary, trailers are far simpler to secure.
Roof Box or Trailer: Pros & Cons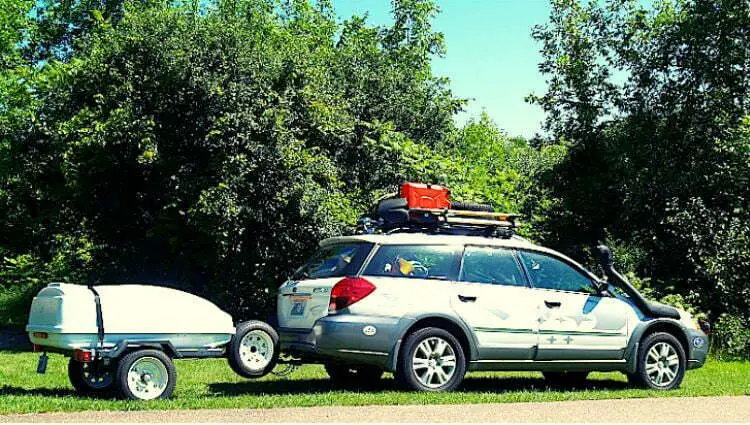 1. Roof Box
Roof boxes are cheap and make hauling luggage and stuff easier, but they have downsides. If you're only bringing bags, a roof box may be sufficient; if you're bringing a lot of stuff, a trailer may be ideal. Trailers offer both benefits and drawbacks.
2. Trailer
When compared to roof boxes, trailers occasionally require maintenance or repair. Most of the time, these fixes won't break the bank, but that isn't always the case. While it is usually more cost-effective to simply replace a damaged roof box, this is not always the case with trailers.
Roof Box Vs Trailer: Driving Comparism
Driving With Roof Box
It's far less of a hassle to drive with a roof box than it is to tow a trailer. It's not as spacious as a trailer, though, so you can't haul as much. Loading the roof box correctly is crucial, as is securing all heavier objects with straps to prevent movement. You may check your car's handbook for the maximum weight allowed on the roof. Remember to calculate the total roof load by weighing not just your bags, but also the roof bars and roof box. Your automobile will face more wind resistance, therefore you should be wary of cross winds when driving. If you regularly drive over low bridges or through narrow tunnels, you'll need to factor in the increased height of your vehicle.
Driving With a Trailer
If you've never driven with a trailer before, you could find it difficult to do so. Yes, hooking up the trailer's lights to the electrical connector and securing it to the automobile are crucial. By doing so, you may have the trailer's lights respond to your voice instructions. Use a trailer roof to ensure the safety of your load. No more than 60 miles per hour is safe when towing a trailer so that you can stop in time in the event of an emergency. The trailer's turning radius will be different from that of the tow vehicle, so you'll need to be extra cautious when parking and navigating corners. Along the journey, you'll need to stop for gasoline more frequently, so plan accordingly.
Roof Box or Trailer: Which Is Best For Camping?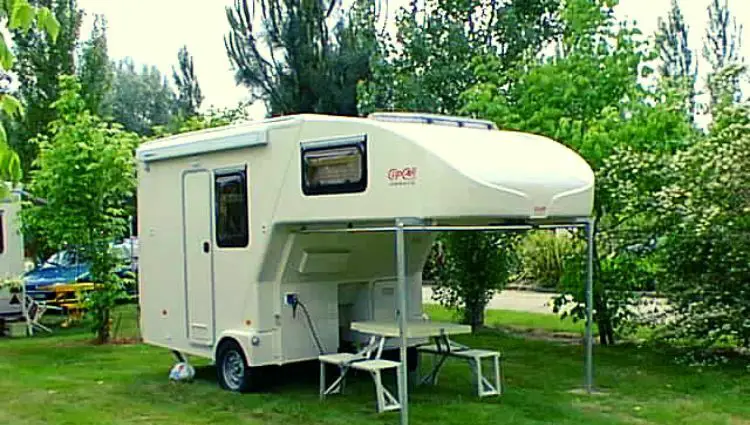 Trailer
You may ask if camping trailers are worth the extra money compared to standard tents and rooftop tents. Here are some reasons they're so popular worldwide.
The increased room is noticeable. A camping trailer lets you bring more food and water so you don't have to buy as much along the road or go deeper into isolated locations without running out. You may also carry additional gasoline, which can help you cover a distant region. Space makes family camping more comfortable. You may pack more activities to occupy the kids and allow more space for long-distance trips.
Camping trailers allow travelers to pack in advance. You can pack it long before your vacation, giving you time to recall that last thing. Friday afternoon, you can arrive home, hook up, and depart without packing and "what else is there?" You may keep your stuff in your trailer between excursions to save room in your garage and save time packing next time.
Camping beats rooftop tents. The trailer lets you set up a base camp so you don't have to pack up every time you travel somewhere (or go 4x4ing!). Rooftop tents and other accessories elevate your vehicle's center of gravity, reducing its stability at high speeds or in 4×4 circumstances. Also, driving around town with gear connected increases fuel expenses and adds time to each journey.
Camping trailers have nicer kitchens with sinks, taps, and counter space. Food preparation and dishwashing don't have to be done on a plastic table or bakkie.
The Conqueror campers have all the aforementioned benefits, guaranteeing you have a great camping experience. Our camping trailers are super-tough and handy.
Roof Boxes
Rooftop cargo carriers can alleviate overflow problems while packing for a camping vacation, cross-country travel, or relocation. Hard-shelled cargo and soft rooftop bags protect items from weather and road filth and deter thieves.
A soft rooftop freight carrier is lightweight, easy to attach, and quick to store. Most don't need racks and may be loaded on a bare roof with simple straps, hooks, and zipped pockets. Many soft cargo containers include welded or taped seams to prevent leaks.
A hard rooftop freight carrier or roof cargo box needs crossbars and a roof rack. They're more expensive and complicated to operate, but they offer additional security for high-value items like skis, snowboards, and camping or bicycling gear. Most include locking mechanisms and the robust exterior shells aren't harmed by sharp edges or strange forms.
Soft roof bags are lighter, easier to load, and require no crossbars. But they have weight limits. Many top-rated items with sturdy and waterproof material break or fall apart at the seams. Roof boxes are heavy and need more equipment, reducing vehicle speed. The hefty design of both hurts fuel economy. Roof boxes vary in aerodynamics.
When purchasing for rooftop storage, consider your vehicle's weight and fuel economy.
These are our favorite rooftop carriers, and they range from the hard to the soft. They were picked because they can be installed on most cars, SUVs, and crossovers and because of the features they offer, the amount of space they provide, the quality of their design, and their reasonable prices.
Additional Factors to Think About
Practical considerations should also be addressed when choosing between trailers and roof boxes. First, the cost. Trailers might be expensive, but roof boxes are cheaper than trailers.
If money is your sole concern, pick the trailer. Some trailers are cheaper than roof boxes. If pricing is a factor, investigate the items extensively.
Determine what you'll do with your trailer or roof box while not camping or touring. When the weather becomes chilly and you're less likely to camp or vacation, you'll need to store your roof box or trailer. Roof boxes are sometimes more difficult to store than trailers since you need a large area and occasionally unique equipment.
Bicycles must be packed in accordance to the trailer or roof box. If you have a trailer with a separate bike rack, be sure it fits and doesn't interfere. Most hitch-mounted bike racks won't interfere with a roof box.
Also, consider the impact on gas mileage. Roof boxes and trailers can generate drag and increase gas costs, although roof boxes aren't as problematic. Towing a huge trailer will be more expensive in the end, so don't neglect it.
When you park your car, you'll need additional room if you're pulling a trailer, but a rooftop carrier won't change that. If you intend to spend the night at a camping or holiday area, consider this. Before making a selection, consider how you'll use the trailer vs a roof box.
Roof boxes have almost no continuing costs. Trailers may need safety stickers or parking passes. Each location has its own trailer rules, and while it doesn't cost much to register or retain a trailer, it may if you're on a budget.
Roof Box Vs Trailer: Final Thoughts
If you're a fan of camping, you probably know that there are advantages and disadvantages to both a roof box and a trailer. The following are, in brief, the most important factors to think about while deciding between these two alternatives:
Cost of the product.
Repair and maintenance costs.
Things to think about with the parking lot.
In terms of accessible space, of course.
The impact on your fuel economy.
How it will influence your skills behind the wheel.
The convenience of loading and unloading freight.
Your car will become higher with a roof box, while a trailer would make it longer. The direction you choose to get there, as well as your gas mileage, may be affected by both of these factors. Consider the height of your roof box if you want to drive under many bridges, however the height of your trailer probably won't be an issue.
The Internet has made it more simpler than ever before to do research and gather information in order to make an informed choice. Trailers are best seen in person, although roof boxes may be acquired online and their descriptions are usually spot-on. Your research will go more smoothly if you know how to look for going in so that you can make an informed decision.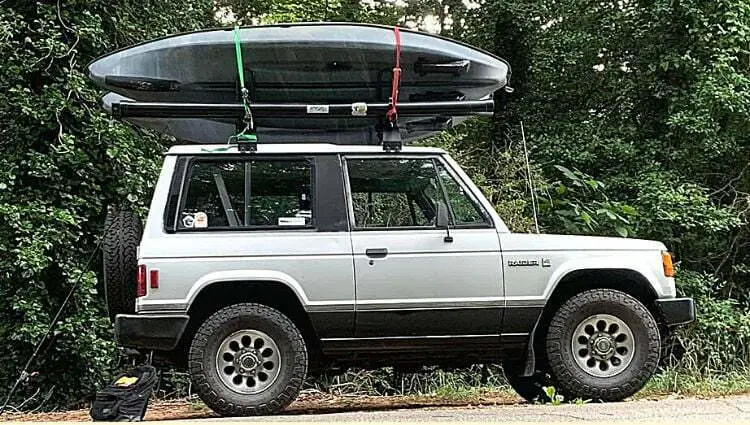 Roof Box Vs Trailer - FAQs
Q. Are rooftop cargo boxes worth it?
It is a good idea to utilize a roof top cargo box. Hard roof top cargo boxes are more expensive than rooftop cargo bags, but they are easier to install and provide more security. They can withstand the elements and are easy to operate. They make toting around more luggage much easier. As an added measure of safety, they have locking mechanisms. When compared to carrying everything in luggage, you can fit far more in a backpack.
How much does a roof cargo box affect fuel economy?
Both empty and loaded roof-mounted baggage carriers have a detrimental impact on petrol and EV economy. Why? Because of the drag its bulky structure causes on your car's roof, which in turn alters the vehicle's aerodynamics. However, no matter how well-designed a roof box is, it will always reduce your fuel economy. 


If you want to get the most out of your rooftop freight carrier, it's best to empty it whenever you're not using it. If you find yourself often making use of your roof box, you might want to look into upgrading to a larger car. Taking a carrier that can be attached to a hitch will have less of an impact on gas mileage and may be preferable for extended excursions.
Do rooftop cargo carriers include mounting hardware?
Typically, if the carrier is lockable, it will come with mounting hardware and keys. Make sure the mounting hardware is part of the rooftop freight carrier kit before you buy it.