Looking for the best for your Toyota 4Runner roof racks? Check out our top picks and find the perfect solution for your cargo needs.
My stress levels have been through the roof recently. However, my Toyota 4Runner lacks the cargo room necessary for a weekend camping trip. It's time for me to pack up my overlanding gear, take a big breath, and meditate. Relax your mind and take in some fresh air.
Those were my brother's exact remarks as I peered at him over my outdoor pulled pork sandwich. Which rack should he use? Where do you even begin looking for a roof rack for a Toyota 4Runner 5th Generation? The finest rack befits such a magnificent outfit.
So I decided to look into his issue and see if I could find a solution. And I learned that a dependable roof rack affixed to your car is necessary for mounting rooftop tents, overlanding gear and accessories, and anything else crucial for your outdoor vacation. In spite of their superficial similarity, the market was flooded with many varieties of platform racks. So I decided to evaluate each roof rack in terms of its relative merits.
Toyota 4Runner Roof Racks - Spec & Features
Toyota 4Runner Roof Racks Review
1. Front Runner 4Runner 5th Gen Roof Rack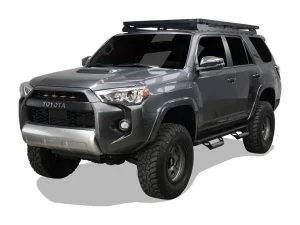 We'd like to talk about a high-quality roof rack, so let's take a look at the Front Runner 4Runner roof rack. All Toyota 4Runner vehicles from 2010 up to the present day may use this full-size Slimline II roof rack. You should know that there are both drill and no-drill installation options for this roof rack.
The rack's primary components are T6 aluminum and stainless steel, and it has a protective black epoxy powder coating to ward off rust. Another lightweight option, this roof rack weighs in at just 80 pounds but is strong enough to support kayaks, bicycles, additional cargo or gasoline, or even a roof top tent.
This roof rack has a static weight capacity of 660 lbs, which is more than enough to haul whatever you can throw at it. When mounted, there is plenty of space beneath the rack for stowing larger items like a camping table or other similar-sized items.
This 4Runner's roof rack is perfect for mounting a wind deflector, which improves the vehicle's aerodynamics and lowers noise levels, or an LED light bar, which may be used to see better at night. Installation will go smoothly if you just follow the instructions and use the hardware that came with it. an additional superb option for your 5th-generation 4Runner. Please feel free to take a look.
2. Prinsu Roof Rack 4Runner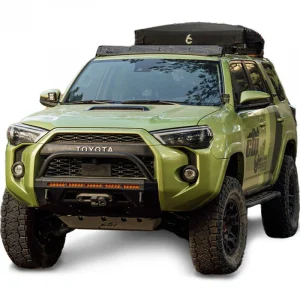 Next, we have one of the best roof rack manufacturers in the world, Prinsu. They have been making some of the best roof racks available, and the 4Runner Roof Rack is no exception. In particular, this full-length rack requires no drilling into your roof.
The roof rack is constructed with two laser-cut rails from 1/4″ 5052 aluminum plate and is then black powder coated to prevent rusting and degradation. This 4Runner Prinsu rack comes with nine crossbars; the number of crossbars you need will depend on the weight of your cargo. You may also install all nine of them in order to set up a roof tent on top of it.
The installed weight of this roof rack is only 50 pounds, yet it can support 500 pounds or more without bending or breaking. It's a pretty slim roof rack, so it won't add much more height to your car, and it won't affect your gas mileage much either.
It takes only approximately an hour to set up, as the process is straightforward and quick. This 4Runner roof rack is large enough to accommodate a 42-inch LED light bar. This rack is designed to fit all 5th generation 4Runners, beginning with the 2010 model year and continuing up to the most recent model year. This is something that you should definitely look into.
3. Gobi Roof Rack 4Runner:  Best 4Runner Roof Rack With Sunroof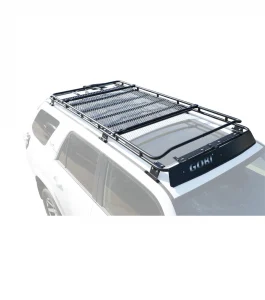 Gobi has produced a rack of exceptional quality and durability. This rack is made of stainless steel and may be ordered with a sunroof cutout if desired. The black powder coating on this 4Runner roof rack isn't just for looks; it protects the rack against deterioration in muck. This rack provides much more than that, though. What makes this one of the top 4Runner roof racks? Let's have a look at the additional characteristics it offers.
Although being made entirely of steel, this roof rack is only 70 pounds. While not quite as stealthy as the aforementioned rack, this one comes with a wind deflector to reduce wind noise when riding. What's nice is that you can store a camping table or other similar-sized items under the rack itself.
This rack is sturdy enough to use as a roof. With a static load rating of 800 pounds and a dynamic load rating of 300 pounds, it can easily transport kayaks, bicycles, supplementary fuel, additional goods, or even a roof top tent. This Gobi rack comes with a handy bolt-on rear ladder, making it much simpler to enter and exit the truck.
4. BajaRack 4Runner 4th Gen Roof Basket: Best Roof Racks For 4Runner 4th Gen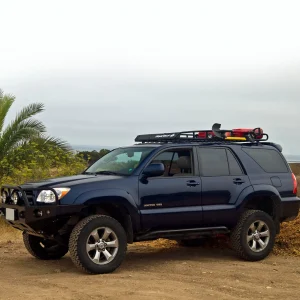 Another full-length, low-profile roof rack for the 4Runner that is rugged and durable enough for overlanding. It's versatile enough to carry a roof top tent in addition to kayaks, bicycles, skis, ladders, and timber. The rack's modern design and lack of drilling requirements make it a breeze to set up.
Steel tubing that has been black powder coated resists rusting and corrosion, even in wet conditions. The rack itself is rather sturdy. It can support up to 600 pounds when standing still and 300 pounds while moving, all while weighing only 71 pounds.
It features a large cargo area (20.93 ft2) and enough space beneath to fit a few more goods, such as a camping table or other similar-sized items. This 4Runner roof rack has an aluminum wind deflector and can be outfitted with an LED light bar for nighttime driving.
Putting this rack on your roof is a snap because it requires no drilling, as we said before. The roof rack will arrive with all the accessories and directions needed for a proper installation. We think you'll agree that this roof rack for the 4Runner is fantastic.
5. Eezi-Awn 4Runner 4th Gen Roof Rack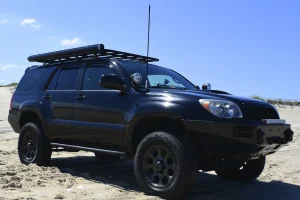 Eezi-Awn created this extremely svelte, sturdy, and aerodynamic 4Runner roof rack. It is available in a few different heights and sizes. With a 1000-pound static weight capacity and a 500-pound dynamic weight capacity, this 4Runner roof rack may be the strongest roof rack available right now. So, you can place just about anything on it, including a substantial roof-top tent.
This 4Runner roof rack is compatible with a wide range of attachments, including awnings, jerry cans, axes, shovels, the Hi-Lift, and Max Trax. It is made entirely of welded components that are anodized and powder-coated to ward off erosive wear. In order to lessen wind noise, it also incorporates semi-elliptical bottom cross bracing.
Moreover, it works with sport bar mounts from Yakima and Thule. As this rack is a no-drill roof rack, installation is simple. The roof rack will come with all the required installation hardware and instructions.
6. Sherpa Matterhorn: Best Roof Racks 4Runner 3rd Gen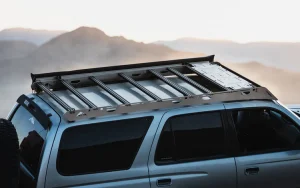 This sherpa roof rack is another sleek, aerodynamic, and long-lasting option for your 4Runner rack. As it requires no drilling into your roof, this full-size roof rack is a breeze to set up. It's strong enough to hold a roof tent and other heavy attachments. It can support 600 pounds when standing still, and 200 pounds while moving.
It weighs only 50 pounds since it is constructed out of aircraft-grade aluminum and stainless steel. It is protected against rust and corrosion in wet and muddy conditions by a powder-coated black finish. There are nine crosspieces included. You may increase the load capacity by installing more crossbars, or even all of them.
This rack is more aerodynamic and produces less road noise thanks to the included wind deflector. On the other hand, you may swap it out for an LED lightbar that will help you see better at night.
This rack's simple assembly has already been highlighted. The rack will come complete with instructions and hardware for assembly. You can't go wrong with this amazing 4Runner roof rack on your next overland journey.
7. Prinsu 3rd Gen 4Runner Roof Rack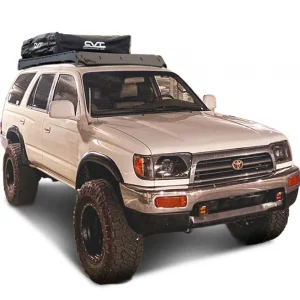 This 4Runner roof rack follows Prinsu's long tradition of producing quality products at fair prices. A limited lifetime guarantee is included with their U.S. production. This roof rack for the Toyota 4Runner is extremely lightweight but also quite durable. It can support up to 600 pounds while not in use, and 300 pounds when in use.
To protect against deterioration in sloppy conditions, they are constructed of high-quality metal and powder coated in a satin black finish. This 4Runner roof rack has 1″ x 2″ black anodized aluminum extrusions for the crossbars, each with their own drop-in point for attaching extras. The metal wind deflector included with the rack increases its efficiency in windy conditions.
It's a slim, modular rack that can be customized to suit your individual needs and interests. The fact that drilling is not required for installation is just another one of its appealing qualities. That's true, the included installation hardware and instructions make this no-drill roof rack a breeze to set up.
This is one of our favorite racks, and we highly suggest it for your next off-road or overland adventure.
8. Rhino-Rack 4Runner Cross Bars: Best Cross Bars For Toyota 4Runner
Rhino Rack cross bars are robust, dependable, and simple to use. They are incredibly aerodynamic and stylish. These cross bars for the 4Runner racks are simple to install and uninstall. They come with security gear to prevent theft and are intended to be used on roofs with rails. We'd like to point out that Rhino Rack has crossbars for all three generations.
These 50-inch-long cross bars provide ample room to haul a few items, such as kayaks, skis, additional baggage, or even a roof-top tent. They are ideal for any off-road adventure since they have been tested in the roughest situations and are made to last.
They are, as previously said, incredibly simple to install. Together with the cross bars, you will receive installation instructions as well as the essential hardware. Another item to note is that this 4Runner crossbar assembly comes with a lifetime guarantee.
9. Thule 4Runner Cross Bars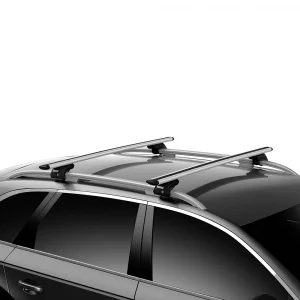 Another 4Runner crossbar kit that is cheap, sturdy, and aesthetically pleasing. Unless your 4Runner already has aftermarket roof rails installed, you won't be able to use this Thule product. These are a quieter and more aerodynamic upgrade to the original AeroBlade bars.
These rails go front to back along the apexes of a 4Runner roof without blocking the sunroof in any way. They're versatile and may be used to transport canoes, freight, bicycles, ladders, and more. Crossbars are also available for all three generations from Thule.
When the weight is spread evenly, they can support up to 220 pounds of dynamic weight. They can survive everything you throw at them since they have been tried and tested in the most extreme conditions.
You will get the crossbars with the hardware and instructions on how to put them in. They may be set up without any trouble or delay. These 4Runner cross bars are backed by a 5-year guarantee and are widely considered to be among the industry's finest cross bar sets. Feel free to have a look around!
Considerations for a Toyota 4Runner Roof Racks
When picking the best roof rack for my brother's Toyota 4Runner 5th Generation, I kept in mind the following factors. As his vehicle fell into this category, I started taking the effort to compile a list of all the features for a roof rack for Toyota 4Runner 2010 to current models.
compatibility: Of all the factors on the list, compatibility is perhaps the most important. It is a waste of money to purchase something that is unusable. There are generic roof racks, but it is much safer and less stressful to buy one that is made for a Toyota 4Runner.
Although there are some generic roof racks available, buying a rack specifically made for a Toyota 4Runner is significantly safer and less stressful.
Size: Definitely! Indeed, size does matter! Sizes and dimensions vary among various roof racks. Occasionally, these are not taken into account. A full-length roof rack and those that cover only half of your roof are extremely different from one another.
Materials: Would you choose flimsy materials for your project? In any case, you won't be happy! Its make-up, parts, and material structure should all be taken into account.
Consideration should be given to the item's composition, parts, and material structure.
Installation: Roof racks that will be permanently used require drilling during installation. People don't always do that. Install it, tighten the screws, and trust the process. Then, pray that your mount doesn't fall off!
Install it, tighten the screws, and trust the process. Then, pray that your mount doesn't fall off!
Just trust the procedure and hope your mount won't come off when you put it up and screw it in.
Extras Add-on: I feel a little bit personal about this one. It stands to reason that you won't always use your RTT. If the mounted tent isn't there, what will you do with your rack? Supposedly, can it mount a bike. What additional roof rack attachments are compatible with it? I think this is where your money will be well spent.
Price: Speaking of value, let's talk about price. Take no chances with this situation. You'll experience greater tension if you select an inexpensive roof rack.
Indeed, there are a lot more purchasing factors to take into account. colors, what's in the package, how it looks, etc. Basically, if you don't do your homework, you'll wind up purchasing a roof rack that is cheap, fragile, and dangerous. Naturally, you wouldn't want it to happen.
So, I started compiling a list of roof racks that might work with his Toyota 4Runner. My "issue" with the rack can be solved by the greatest brands, which I have discovered. Let's head over to the list and have a look.
Best Roof Rack For 4Runner FAQs
Q. How much weight can each 4Runner roof rack support?
The weight capacity varies depending on the roof rack. When purchasing roof racks, evaluate their weight capacities, both static and dynamic.
Q. How challenging or time-consuming is it to install these racks?
Installing a roof rack can typically take an hour or two. Roof racks that don't require drilling are more quickly and easily installed. It can even take you less time if you've installed roof racks before.
Q. Can I put a roof-top tent on my rack? And which 4Runner tent roof rack is the best?
Obviously, that all depends on the weight that your roof rack can support. You must be aware of both the weight of the campers who will use the RTT and the weight of the RTT itself. Once you have that figure, you need to select a roof rack that can handle at least that much weight, but more is advised. The Prinsu 4Runner roof rack and the Front Runner 4Runner roof rack are a couple of the 4Runner roof racks that we would suggest!
Q. Which 4Runner complete roof rack is the best?
The Prinsu 4Runner roof rack, in our humble view, is one of the top 4Runner roof racks. But, it all depends on your needs and hobbies. It is affordable, low profile, sturdy, dependable, and lightweight. It doesn't also require drilling!
Q. Which 4Runner kayak roof rack is the best?
We advise getting the Front Runner roof rack since it contains more accessories if you want to install a kayak on your 4Runner roof rack. It works well for attaching a kayak as well as a bike, skis, snowboards, and many other items.
4Runner Roof Racks Final Thoughts
The 4Runner roof rack is a must-have upgrade for anyone who likes to go camping or hiking. On road trips or off-road adventures, it has a lot of room for gear, equipment, and luggage.
The rack is made to stand up to bad weather and heavy loads, so it is very reliable and lasts a long time. It also comes with a lot of mounting options, so you can attach things like light bars, gas cans, and cargo carriers. The rack's smooth, low-profile design also makes the vehicle more aerodynamic and quieter.
Overall, the 4Runner roof rack is a good purchase for anyone who needs more storage space while driving or camping. It is a must-have for any 4Runner because of how well-made, flexible, and useful it is. 
Related post