There's no perfect answer to the question of whether you should rent or buy a roof box. The answer depends on many factors, including your budget, how often you plan to use the box, and where you live. Here are some things to consider when making your decision:
If you only need a roof box for occasional use, then renting may be the best option. You can find rental companies that specialize in roof boxes and will deliver the box to your door.
If you plan to use a roof box regularly, then buying one may be the best option. You will likely get more use out of a box you own, and you can also resell it when you're finished with it.
The cost of renting vs. buying also depends on where you live. In some cities, it may be cheaper to rent a roof box than to buy one. However, in other cities, buying may be the better deal.
In the end, the best way to decide whether to rent or buy a roof box is to consider all of the factors involved and make a decision that is best for your individual situation.
There are plenty of reasons why you might want to rent a roof box for your next trip. Maybe you don't own a car and will be using public transport, or maybe you only need one for a one-off journey.
Roof boxes can be expensive to buy outright, so renting could save you some money. If you are on a tight budget and have a trip planned, hiring a rooftop box rather than purchasing one may be the best option.
However, there are also some potential downsides to renting a roof box. For example, you might not be able to find the perfect size or style for your needs, and the quality might not be as good as if you'd bought one outright. There is also the risk that something could go wrong with the roof box while you're using it – if this happens, you could be liable for any damage caused.
Ultimately, whether renting or buying a roof box is the right choice for you will depend on your individual circumstances. If you only need a roof box on occasion, then renting could be a conveniently cost-effective solution. However, if you're planning on using a roof box regularly, then it might be worth investing in your own.
The Pros and Cons of Buying a Roof Box
If you're an avid skier or snowboarder, you've probably considered buying a roof box. A roof box is a large, weatherproof container that attaches to the roof of your car, giving you extra storage space for gear. But is it worth the investment? Here are the pros and cons of buying a roof box.
Pros:
More space: A roof box can increase your storage space by 50-60%, which is ideal if you often find yourself packing the car to the brim with gear.
Better gas mileage: By keeping your gear in a roof box, you'll free up space inside the car, making it more aerodynamic and improving your gas mileage.
Protected gear: Storing your gear in a roof box protects it from the elements, ensuring that it will be dry and damage-free when you arrive at your destination.
Easy to load and unload: Most roof boxes come with easier loading ramps, so you can quickly and easily load and unload your gear.
Cons:
Cost: Roof boxes can be expensive, ranging in price from $200-$700.
Difficult to install: Some roof boxes can be difficult to install, especially if you don't have experience working with rooftop carriers. It's best to have a professional install your roof box for you.
Added wind noise: A rooftop carrier will add wind noise to your ride, making it more difficult to hear the radio or carry on a conversation with passengers.
The Cost of Renting vs. Buying a Roof Box
While the initial cost of buying a roof box may be higher than renting one, in the long run, it is usually cheaper to own your own roof box. The cost of renting a roof box every time you go on a trip can quickly add up, whereas the cost of buying a roof box is a one-time expense.
In addition, when you own a roof box you can be sure that it is in good condition and that all the parts are there; when you rent a roof box, you may end up with a box that is in poor condition or is missing parts.
Which Things To Look For Before Renting Or Buying A Roof Box?
"Do you have enough capacity space?" is your first question. Hard-shell boxes are huge and heavy. Consider storing the box while not in use. Renting is best if you only need a little storage space because you can return it.
Choosing a soft cargo bag helps save room when not in use. It would also require fewer sophisticated mounting structures or roof racks.
Consider what you'll do with it while not in use. Many people remove cargo carriers when not in use since they lower gas economy and increase tank filling costs. What happens once you remove the carrier?
A polyester or plastic delicate container will likely come with a capacity sack for organization. However, hard-shell carriers require a place to hang them while not in use, making them more difficult to use.
Most users hang carriers on garage or shed walls using racks.
Leasing or buying a soft freight carrier is irrelevant. Leasing a hard-shell container avoids the hassle of locating storage.
This way, you never have to worry about properly storing your carrier, which is especially important if you have a tiny home, shed, or garage.
Number of Trips 
Your daily journey count is another factor. If you rent or buy a roof box, your amount of endeavors is most important.
If you travel often, buying a rooftop carrier may be cheaper than leasing. Rooftop carriers cost $50 to several hundred dollars, but a three-day rental for an average-sized carton carrier may cost the same, thus owning your cargo carrier may be cheaper in the long run.
If cost is your main issue, you should research leasing vs. buying your rooftop carrier. Consider the carrier's size, material, and vehicle connection method.
Renting may be best if you go once or twice a year. Getting the carrier may be better.
Carrier-Roof Box Connection
The vehicle-carrier connection is also important. Some carriers require a roof rack, while others simply tie the carrier to your car.
If the baggage carrier you love requires a permanently attached roof rack, try renting one. Thus, you may avoid unnecessary car modifications.
If you have or want to install a roof rack, you may buy or rent the carrier. Before choosing, examine other parameters.
Always check with the carrier manufacturer to determine if a roof rack is needed. Thus, there will be no surprises when you receive the carrier.
If your freight carrier doesn't need a roof rack, you can rent or buy it. If you want to hire one for your roof rack-free vehicle, this item is often rented by companies that use carriers without roof racks.
Cost
Roof box price is another consideration. Roof cargo boxes cost more to buy than to rent. Renting is the cheapest choice unless you only want the simplest gadgets.
Rooftop freight box rentals cost $100–150. This requires a week of equipment rental with mountings. It may also need a car box installation.
A high-quality roof box and installation hardware cost $500–1000+.
Quantity
Your load is another consideration. Roof boxes carry large, light items. Tents, sleeping bags, pillows, etc. are provided. Don't load heavy items upon your car's roof.
Determine if a roof box will hold your gear. Bars, racks, and boxes weigh more than a vehicle's roof storage capacity.
Leasing extra-large freight vehicles is sometimes affordable. Most delicate pack carriers carry 20 to 30 cubic feet, however hard-shell carriers may hold a parcel as well. If you want a large freight carrier but only use it sometimes, buying one may be smarter than renting one.
While leasing a large carrier costs close to $100, you may buy one for less than $100. If you need a large cargo carrier, it's usually best to buy one rather than lease one because you'll pay more for the bigger and better ones.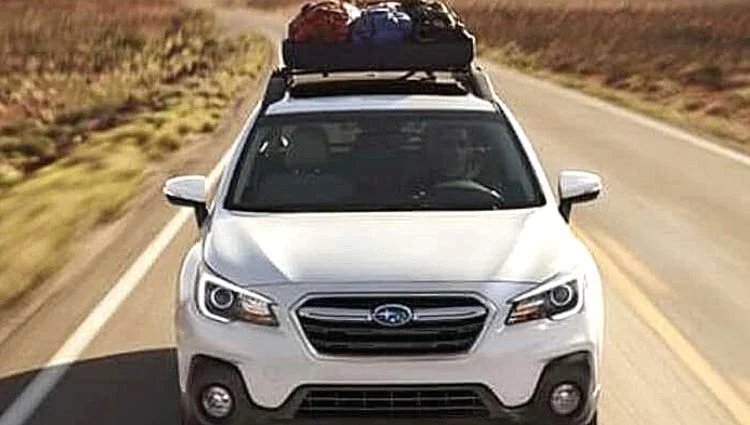 Where Can You Rent a Roof Box From?
Rooftop storage unit rental isn't dominated by any household names, which may come as a surprise to you. U-Haul and similar companies sell roof boxes and roof bags, but do not provide rentals.
Even the most well-known vehicle rental agencies typically don't provide customers with the option to hire a car with a roof rack. That means you'll have to do some digging to locate a place to rent a roof box. You should look for a local business, as this is the norm. That means you'll have to make the trip to pick up the roof box in person.
At least one provider will provide roof box rentals and transport them to you. You receive it, put it to use for a fixed period of time, and then return it by prearranged shipping.
Some of the best places to rent a roof box are:
Rent a roof box from Rentluggage.com and have it delivered to your door.
Loanables.com is like an Airbnb for practical objects, allowing users to hire out their roof boxes and other equipment.
There aren't many options for countrywide roof box rentals beyond these two firms. Even so, don't assume there isn't a local rental service within reach. You may likely discover an equipment rental service that offers roof boxes near any large city.
How Much Does it Cost to Rent a Roof Box?
If you plan on going on a road trip or taking a family vacation, you may be wondering how much it costs to rent a roof box. On average, it costs about $30-$40 per day to rent a roof box. However, the price may vary depending on the size and type of roof box that you need.
Roof boxes by well-known manufacturers, such as Thule, can be expensive because of their reputation and the demand for their products.
Here are some examples of local companies around USA.
What Size Roof Box Should You Rent?
Renting the right roof box size can be challenging. 16 cubic feet of luggage is hard to imagine. We rarely think in cubic feet. Still, knowing how much to put in the roof box is helpful.
Keep heavy stuff in the car and lighter, bulkier items in the roof box. Consider your car's size and roof rack specs. Smaller vehicles need smaller roof boxes.
However, typical roof boxes may hold a certain amount of goods. Experiences vary.
12 Cubic Feet—Enough for two people's luggage.
16 cubic feet—enough for three people's bags.
21 Cubic Feet: Holds 5 people's luggage.
Skis and snowboards require a longer box. 6-foot boxes work well.
How to Use a Roof Box
A roof box is a great way to carry extra gear on your car, especially if you're going on a long trip. But before you rent or buy one, make sure you know how to use it properly.
First, choose the right size roof box for your car. If you're not sure, ask at the rental shop or call the manufacturer. Once you have the right size, put it on your car and secure it according to the instructions.
Then, pack your gear into the roof box. Be sure to distribute the weight evenly so that the box is balanced. Close and lock the lid, and then secure the lid with the straps that came with the roof box.
Now you're ready to hit the road! Just make sure to check your roof box periodically to make sure everything is still secure.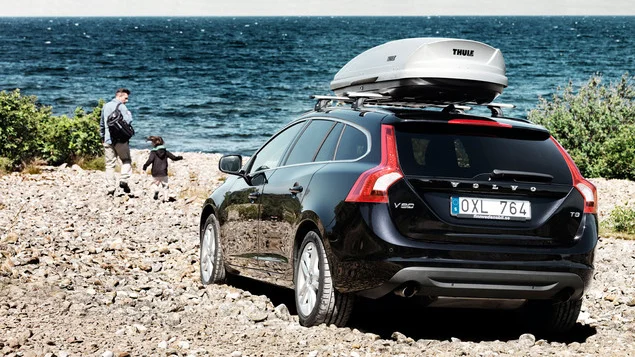 Q. What is a roof box?
A roof box is a storage box that attaches to the roof of your car. They come in different sizes and styles to suit different vehicles and needs, but they all serve the same purpose – to give you extra storage space when you need it.
Q. How do roof boxes work?
Most roof boxes are attached to your car using a specialized mounting system. This usually consists of two adjustable brackets that attach to your car's roof bars, and a central locking system that secures the box to the brackets. Some roof boxes also come with additional features such as built-in lights or a rear opening hatch.
Q. How much does a roof box cost?
Roof boxes typically cost between $100 and $500, depending on the size, style and features of the box. Cheaper models are usually made from plastic, while more expensive models may be made from aluminum or carbon fibre.
Q. How do I choose the right roof box for my car?
When choosing a vehicle's roof rack, you need to consider two things – the size of the box and the type of attachment system. The size of the box will be determined by the amount of space you need to store items, while the type of attachment system will be determined by the specific make and model of your car. Most attachment systems will work with most types of cars, but it's always best to check before you buy.
Q. Can I use a roof box on my caravan?
No, most caravan roofs are not designed to support the weight of a rooftop storage box. If you're looking for extra storage space for your caravan, you might want to consider investing in an A-frame storage bag or similar product designed specifically for caravanning.
Should You Rent or Buy a Roof Box - Final Thoughts
Roof boxes are available for rent, but you won't find them at major rental agencies like U-Haul or with most automobile rental agencies.
You should, however, be able to rent a roof box close to you for a fair fee. If not, you may always pay a little more to have one mailed to you.