There's no doubt that driving a long distance in your Subaru is an enjoyable experience. However, there is a drawback to this vehicle: it does not have extra storage room. If this is a persistent problem for your car, you may want to look into upgrading to a larger Subaru Outback Roof Box.
A quality roof cargo box for Subaru Outback may significantly improve the trip for families with children. You can relax knowing that everyone in the family will have plenty of space.
More room for your belongings is available in the Subaru Outback's roof box. Because of this, you won't have to lug along bulky equipment. This way, nobody will feel squished or awkward.
There are a number of roof cargo box options available for the Subaru Outback. Several manufacturers have succeeded in making car roof cargo boxes for your Subaru that are competitive on the market.
As a result, you'll have plenty of choices available to you in the marketplace. To that end, we set out to examine the finest Subaru luggage boxes available in 2022.
Advantages & Disadvantages of Subaru Outback Roof Box
The primary benefit of a roof box for the subaru outback is the additional room it gives for stowing large amounts of freight. In addition, there is a wide range of vehicles that may use the roof box. The materials used to construct some of them are sturdy and their setup is simple. Waterproofing is an additional function offered by certain roof boxes.
Fuel efficiency suffers, and in the case of electric vehicles, range is reduced, when a roof box is installed. Also, there isn't much headroom in them for storing taller goods. These drawbacks, however, are manageable in light of the many advantages a roof box offers.
You may want to read also our review on the best roof boxes in 2022.
Subaru Outback Roof Box - Comparion
Subaru Outback Roof Box - Review
1. Thule Motion XT Cargo Box
The sleek, wind-deflecting aerodynamic design of the Thule Motion XT roof boxes is meant to complement its streamlined operation and capacious interior. Standard, medium-sized sedans and hatchbacks may make use of the 55-pound XT roof box.
Every box in the Motion series has the option of being mounted more forward on the roof of the car, reducing the likelihood of a collision with the trunk. There are a total of six different sizes and two color options available for Motion XT roof boxes.
The Thule Motion XT is the best option if you need a heavy-duty Thule box. It has a capacity of 22 cubic feet and can carry a lot of 165 pounds of weight. Also, at 37.5 inches, its neighborly breadth is the most of any Thule box.
A 91.5-inch length and an 18-inch height characterize the Motion XT's dimensions. This box is lighter than many larger ones at just 55 pounds.
The Motion XT was designed to accommodate a wide variety of automobiles due to its large storage capacity and aerodynamic profile. Despite its little stature, this mode of transportation is distinguished by its adherents' commitment to noiseless travel.
This is an excellent alternative for the top-rated spec Subaru Outback roof box you've been searching for. If you are on a family vacation, you will need this bag.
The bag's extra length makes it suitable for snowboards and skis up to around 70 inches in length.
In addition, there are several built-in safeguards for your belongings in this bag. With these additions, you'll never have to worry about your back giving out on the road. It's a simple to use bag as well.
The Thule Force XT big bag has a lot of positive qualities, including the fact that it is simple to mount. As a result, you won't have to worry about any unnecessary delays. The things stored in the roof cargo box are also easy to access during loading and unloading.
The lid lifters you have will keep it from sagging or collapsing while you remove goods from the box. Long-distance travelers will find this box to be the most convenient way to gain access to their entire trunk.
You can easily get to your car's trunk when this box is in its forward-facing position. It never dangles below the vehicle, which is a huge safety risk, at any point.
3. JEGS 90098 Rooftop Cargo Carrier
When you have the JEGS 90098 Cargo Box, you won't have to cram as much into your car or sacrifice as much of your vacation time as you would if you were limited by the storage space in your car.
Even the most basic cargo containers should be aesthetically beautiful, aerodynamic, lightweight, user-friendly, and robust.
The JEGS rooftop cargo carrier offers these advantages and more. It's not very effective in most cases. The rooftop cargo bag from JEGS (model no. 90098) is composed of a lightweight, flexible plastic that belies the bag's size by giving the sense of fragility.
It seems efficient and strong enough, at least for a beginner, but its longevity is questionable.
Assuming you don't run into any major issues on your first few journeys, that is. The best cargo box may eventually wear out, though, if it is used often over a long period of time.
Once built, the JEGS cargo box can be mistaken for any other rooftop freight carrier. It wasn't meant to be, and isn't, the best hard-shell carrier on the market. This is a reasonable cost.
It's adequate for the average home, but if you're looking for something of a higher standard, you may want to spend a bit more.
We believe this to be the best of both words in terms of appearance and performance. Simply said, this is one of the greatest cargo basket areas for the Subaru Outback.
If you plan on taking a lengthy road trip, this is a must-buy item. This device is especially useful for camping and picnic outings with the family.
When it comes to stowing things away, the Goplus cargo box is a gentle giant. You get a lot of storage capacity, at 14 cubic feet, with this product.
Material for use with a memory mount is included in this product variant. Due to its setup, this Subaru Outback roof box is among the simplest accessories to attach to a Subaru Outback.
For those times when you have to go somewhere quickly, but you don't want to risk the security of your belongings, this option is a lifesaver. The box's contents will be safely fastened to its top. The foundation of this roof box is unlike any other.
Because of this, it is a viable alternative to heavy cardboard boxes while yet providing the same level of protection. This is why it is one of the greatest Subaru Outback bag options available today.
This is an aerodynamically streamlined item since it will be traveling through the air at high speeds. As a result, the box will be able to slice through the air with relative ease, especially while traveling at high speeds.
It has been carefully thought out to guarantee that consumers may make the most of the design and get great MPG. Plus, there's a ton of room for anything in this bag.
Thanks to its big inside, the bag may be used to tote a wide range of objects. Two surfboards, six snowboards, or eight skis may be stored with ease. This way, you can be assured that you have the perfect backpack for long journeys with the family.
In addition, this bag has a very reliable safety function. This lock mechanism has been developed to prevent theft by unwanted visitors and robbers.
Menabos boxes combine flawlessness, security, and ingenuity. Over the course of fifty years, it has developed the best roof boxes available anywhere in the world.
For the past half century, it has also closely tracked developments in security, safety, and functionality. There are seven distinct Menabo diamond cargo containers available for purchase. You can choose from a range of capacities, from 450 L up to 580 L, to best suit your needs.
On top of that, the roof box only comes in a single, standard black shade. In this article, we'll look at the MENABO Diamond 450 L variant and highlight its top qualities.
The Menabo Diamond cargo boxes are constructed from durable, long-lasting, and waterproof plastic, making them lightweight without sacrificing strength or durability. The roof box may be built without assistance, but due to its large size, you may want to enlist the help of a friend or family member for the installation procedure.
Simple to operate mounting gear means the cargo storage box is easy to install. The roof box may be opened from either side, providing convenient access for loading and unloading cargo.
7. Thule Sidekick Cargo Box
The Thule 682 Sidekick roof cargo box is an extremely portable choice for your Subaru. If you're shopping for a Subaru Outback roof box, this is your best bet.
This is quite practical if you plan on storing things in the roof box. The Thule 682 is highly recommended due to its many useful features.
This alternative is a space-saving one, with a storage capacity of just 8 cubic feet. It's no problem to load up roughly 75 pounds into this Subaru Outback roof box.
The device may assist you move a lot of gear and stuff, despite its relatively little capacity. You may secure your belongings in the loading slot on the passenger side of this roof, which also features two robust locks.
This Thule 682 Sidekick roof cargo box is so simple to set up since U-bolts are included in the package.
One possible decent option is the Yakima RocketBox Pro Rooftop Cargo Box, which can be installed quickly and simply on any vehicle.
It's the best choice for you if you want a beautiful automobile but don't want to empty your bank account on a box worthy of it. Because of its relatively common characteristics, the build was able to maximize performance by focusing on a few key details in the design. Design-wise and quality-wise, it's a top-rated hard-shell carrier.
The Rocketbox is a breeze to set up. The rooftop carrier may be easily relocated from one vehicle to another. Particularly, compact vehicles don't have to worry about it being too tiny to utilize.
The aerodynamic shape reduces the mounting tool for forward and backward movement, making it easy to operate.
Many customers are let down by its lackluster performance compared to competing systems. Aesthetically, the Rocketbox falls somewhere in the middle. The form is rather bulbous and not particularly sleek.
In comparison to other roof boxes, this one has one of the lowest price tags. What you pay for is what you get, and the lower quality construction is exactly what I would expect.
The minimal cost for the increased capacity to transport freight should be well worth the effort to keep it in good working order.
9. G3 – Absolute Roof cargo box
Because of its universal fit, this roof is not compatible with vehicles that feature a detachable roof.
However, a roof rack system is included with your G3 and is required for installation of this product.
The proper name for this add-on is "Universal Absolute Roof" cargo box. This top-tier rooftop storage container stores and transports your things affordably and stylishly. This is a fantastic item for making better use of your car's cargo area.
Having this cargo box on the roof allows you to quickly and conveniently remove a lot of clutter from the interior, making room for more travelers. And there's plenty of storage space, so you can bring along all your stuff without worrying about it getting crushed.
This cargo box has been constructed using robust materials, making it suitable for everyday usage in a wide range of climates. The G3 roof cargo box offers an improved system for transferring and stowing your belongings.
The catch with this Subaru Outback roof box is that it requires a roof rack to be securely attached to the car. The box has been constructed using a UV-resistant substance, so it will be safe from the sun's potentially damaging rays for a good length of time. Those who invest in this top cargo box for the Subaru Outback will be pleased with its exceptional lifespan and sturdiness for many years to come.
You may rest assured that your goods will be safe and secure with this solution. Its cutting-edge engineering ensures it will outperform and outlast competitors' offerings.
10. Rhino Rack – Master-Fit Black Roof cargo box
As far as Subaru Outback Roof Box buying guides go, the Rhino Rack is among the better options out there.
As a result, you'll be able to take more stuff with you on the trip. About 75 kg is the maximum load that may be safely carried by this roof box.
It can also handle roughly 25 kilograms (55 pounds) more weight than other roof box models. The unique technology included in this roof box makes installing it on your automobile a breeze.
Nothing else comes close to competing with this roof box in terms of its features. It has the appropriate properties needed to decrease wind drag thanks to its aerodynamic design and ultrasleek appearance.
You will receive a bag that has two openings on opposite sides, making it simple to load and unload from either side of your car. This roof box is big enough to hold the vast bulk of your outdoor gear.
11. Torxe – Roof cargo box
If you're looking for a quality roof cargo box for your Subaru Outback, consider the Torxe. Torxe manufactured this all-purpose rooftop storage container.
Approximately 110 pounds may be stored inside. This item's sturdy mounting brackets and aluminum cross bars complement the product's rugged ABS plastic construction.
The generous proportions of this roof box make it an excellent buy for transporting baggage, sports gear, camping supplies, and more. Keys are supplied, so you can lock up this box with ease.
The ABS material cargo box comes with aluminum cross bars and mounting brackets so it can be attached to the roof of your vehicle.
This bag's ability to carry additional items is an important feature. Consequently, there will be plenty room inside for both people and their dogs. The metal used to construct the box is both lightweight and durable. The sturdy support arms ensure that the box stays open for an extended period of time, which is especially useful during loading.
This lockable container does not require any keys to secure. The ABS plastic used to make this Subaru Outback roof box  is durable.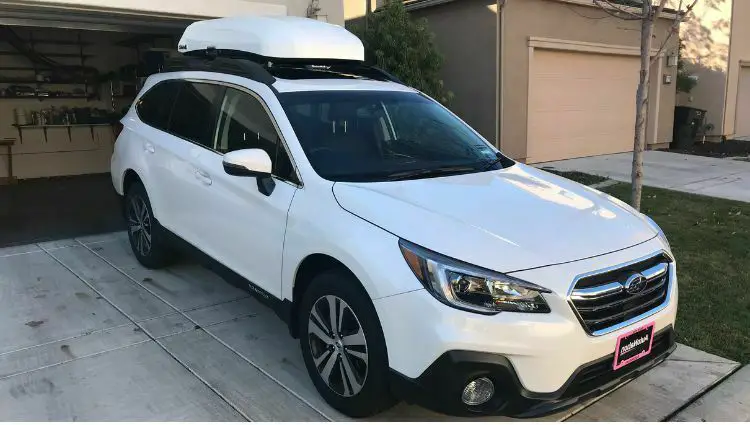 What is the best cargo box for subaru outback?
There is no definitive answer to this question as it depends on your specific needs and preferences.
However, some popular cargo boxes for the Subaru Outback include the Yakima Skybox 16, Thule Pulse M, and the Rhino-Rack Master-Fit 3. These all have different features and benefits that may appeal to you, so it is important to do your research to find the one that best suits your needs.
Subaru Outback Roof Cargo Box - Buying Guide
It's important to take into account a number of considerations before settling on a roof cargo box. Some things to bear in mind are as follows.
Dimensions
The cargo area ought to be large enough to accommodate your belongings without becoming cumbersome to transport.
Material
It's possible to get roof cargo boxes constructed of sturdy plastic, but you'll also find ones upholstered in plush fabric. Think about the best options to protect your gear.
The cost
You may get roof cargo boxes for anything between a few hundred and many thousand dollars. Pick the solution that best suits your requirements and financial situation.
Budget
You should think about how much money you have when picking out a roof cargo box. There is a wide price range for roof cargo boxes, from several hundred to several thousand dollars. Pick the alternative that best satisfies your requirements and financial constraints.
Size
The cargo space should be large enough to hold all of your equipment without becoming cumbersome to transport.
Installation
Assuming you have located the ideal roof cargo box, mounting it is as easy as following these steps: Get rid of any unsecured things from your car's roof first. Equipment such as bicycles, kayaks, and rooftop tents fall under this category. The next step is to open the storage container and position it on top of your automobile. Before sealing the lid, double check that the box is level and secure.
Your new rooftop storage unit is complete, and you are now free to travel. Have fun and be safe on your trip.
Security of the locking system
We found that all of the cargo containers we examined had secure locking mechanisms. The Yakima Skybox 16's lid clamps are secured by a single keyed lock, however the Goplus Cargo Box's clamps require two different keys. The two locks of the INNO Shadow Rooftop Cargo Box are hidden within the single locking handle. The Yakima and Thule locks are our top picks since they are harder to open and less likely to accidentally be left unlocked.
Ease of use
When testing cargo boxes, we looked for ones that could be opened from either the driver's or passenger's side.
Storage space
The INNO Shadow Rooftop Cargo Box boasts the most space of any cargo box we examined, followed closely by the Yakima Skybox 16. Even though it's the smallest option, the SportRack vista xl can still fit a few pairs of skis or a snowboard.
Subaru Outback Roof Box – FAQs
Q. Does Subaru Outback come with a roof rack?
Yes, the cargo carrier for Subaru Outback comes with a roof rack. This is a great feature for those who need to transport larger items or who simply want to have more storage space. The roof rack can be used to transport bikes, kayaks, skis, and other gear.
Q. How wide is subaru outback roof rack?
Assuming you are referring to the roof rack on the Subaru Outback, it is approximately 3 feet wide.
The Subaru Outback Roof Rack is an optional extra that can be fitted to the vehicle. It consists of a crossbar and two side rails, which are mounted on the roof. It is used to carry luggage, bicycles, skis, or other equipment on the roof of the vehicle.
Q. Are subaru roof racks universal?
There is no definitive answer to this question, as different subaru models can have different roof rack designs. However, many aftermarket companies produce universal roof racks that should fit most subaru models. So if you're looking for a roof rack for your subaru, it's probably best to check with an aftermarket company to see if they have a universal option available.
Subaru Outback Roof Box - Final Thoughts
There are literally thousands of different kinds of roof cargo boxes available. However, you need to select the best roof cargo box for your needs. You want to feel free and unrestricted whenever you travel. Moreover, as you probably well know, you'll need to make the best possible choices when selecting your roof box because space is all about choice. Also, your journey will go swimmingly if you pick the right roof cargo box.
Here is a selection of the best roof boxes for subaru outback 2022 . In the future, you won't have to stress about whether or not you'll have enough room for your belongings on a vacation with your family or friends since you'll have purchased one of these roof cargo boxes.
Each roof cargo box presented here is one of a kind thanks to its individual specifications. There's a roof box out there that's ideal for your needs. Choose the best roof cargo box for your next trip from the options provided. After you've installed your roof box and loaded it with all your necessities, you'll be able to relax and take in the scenery.
When you take into account the aforementioned factors, you'll see that deciding on the best cargo carrier for your needs is not difficult, and you won't have to worry about making the wrong choice.