If you are Audi A3 owner, as an added bonus, valuables may be hidden away safely in Audi A3 Roof Box. If your vehicle's storage space is at a premium, installing a roof box might be the simplest and most practical option. Vacations with the family or group adventures with friends often seem to involve more preparation than the automaker had anticipated. Instead of making do without essentials, you may add hundreds of liters of storage space by attaching a roof box to the Audi A3's roof rails.
It's amazing how much more storage space we can get without suffering any serious consequences. Towing a cumbersome and costly trailer is unnecessary, and neither is renting a van or SUV. Roof boxes are convenient since they can be transported with ease, take up minimal space in storage, and can be used with any car that has roof rails. What this implies is that you can buy a roof box once and use it for the rest of your life, switching it from car to car with no hassle.
You may want to read also our review on the best roof boxes in 2022.
The Best Audi A3 Roof Boxes on the Market
1. Thule Motion XT Large Roof Box 629701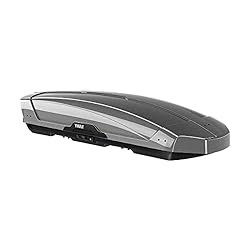 Thule, a Swedish manufacturer, has been around for a long time and has a great reputation in the outdoor and adventure industry. Everything, from ski carriers to storage bins for the roof to tents for camping, is made to a high standard by this company at a price that won't break the bank. As remarkable as Thule's product lineup is, it pales in comparison to the company's unmatched commitment to quality.
With its aerodynamic form and fast attachment mechanism, this top-tier box from Thule makes the most of the space available within. Thule claims their roof box can work with virtually any set of roof rails thanks to built-in torque displays that show whether or not the box is being installed correctly. This product is extremely secure thanks to the strong ABS materials used in its construction and the inclusion of a sliding lock system.
Having a 450-liter/75-kg capacity will make packing for a family vacation a snap, and the extra length and breadth should accommodate even the oddest of goods. With a 2-year warranty against fading from the sun, Thule ensures its customers' satisfaction.
2. Thule Ocean 80 Roof Box 688006
This line includes everything from bicycle carriers to roof-mounted storage bins to camping tents, and it's all reasonably priced. The selection and quality of products offered by Thule are truly remarkable.
In spite of its upscale appearance, this roof box is surprisingly economical because of Thule's focus on the lower price points of the market. The Ocean 80 Box is stylish on the exterior and functional to the utmost within. While tighter dimensions mean you won't be able to fit as much inside, you will be able to place more accessories, like bike carriers, along the side and on the top rails. The roof box's front hinges allow for back access, expanding the box's storage capacity and making it easier to stow goods of unusual size or form.
The roof box's sturdy construction and integrated locking system make it extremely difficult to steal anything from within. Thule provides a two-year guarantee against fade or fading on the premium black paint finish.
3. Summit Roof Box SUM-841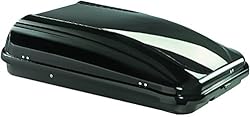 Summit may lack the name recognition of larger competitors, but the company has done well to make its products globally accessible at low rates and in a wide variety of markets. Reviews from satisfied customers show that the product is well-liked, providing the company with an edge over less expensive rivals in the auto accessories market.
This roof box has a massive 420-liter capacity thanks to its spacious proportions, and it does it without the use of fancy, pricey extras. The included U-bolts allow for speedy attachment to virtually any roof rail system, and the integrated locking mechanism, which has double locks for further security, takes care of safety in a streamlined fashion.
The metallic gray coating on the ABS plastics gives them strength while also protecting them from fading in the sun.
4. Thule 613 Pulse Cargo Box Alpine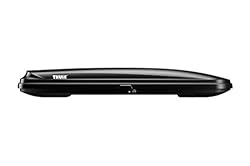 If you need a roof box but don't want to add a bulky device to the top of your car or SUV, this is an excellent, slim choice to consider.
Thule's Pulse series has three different sizes, so you can pick the one that works best with your demands and the dimensions of your car.
This variant is more closely proportioned to the Audi A3 than their previous versions. It's also an excellent pick for people who want to reduce the bulk of their roof boxes without sacrificing storage capacity.
In terms of the device itself, it is well-made and sturdy, with a textured surface and a tough exterior. Although on the smaller end of roof boxes, this one can still take a beating.
It is one of the quickest and least complicated roof boxes to load and unload. The normal installation time is between five and ten minutes, and the typical packing and unpacking durations are also rather short.
Quickly and easily put items where they need to be with the help of the fast-grip quick-mount system. The trunk lid opens on the passenger side, making it easier to load and unload cargo. It's easy to keep everything in place thanks to the central locking mechanism.
For those on a tighter budget or driving a more compact vehicle, this Audi A3 roof box is a great option.
5. INNO BRA240BK Ridge Cargo Box

This design is available in two different sizes, the smaller of which has 11 cubic meters of volume and storage space, and the bigger of which has 13 cubic meters.
Whether those extra two cubic meters make a huge difference to you depends on how often you ski, snowboard, or go camping, and how much equipment you need to bring with you.
This unit's sleek sloping form and matte finish make it extremely aerodynamic. Snap it into place, secure the locks, and know that the contents of your roof box are being safeguarded by one of the best units in its class thanks to the safety lock system.
The sophisticated "memory mount systems" built into the underside of the roof box make it simple to reattach the box to the roof of your identical Audi A3 each time you use it, further reassuring you that your belongings are safe.
6. Yakima – SkyBox (4 Sizes)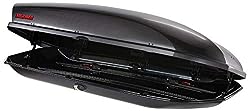 Yakima's Skybox model comes in not only the four sizes already mentioned but also a fifth "Lo" size.
You have a lot of options to work with, as the four primary sizes range from 12 cubic feet to a huge 21 cubic feet.
Want to take a short trip, but just have room for a couple of boards and skis? If you're searching for something more compact, the 12 cubic feet version may be perfect. Want to take the whole family's worth of snowboards to the slopes without worrying about space constraints? The 21-cubic-foot option will meet all of your needs.
Yakima's design not only offers a great size variety throughout its four major sizes, but also a plethora of useful features, such as quick-release mounting hardware and compatibility with virtually every Audi A3 rack on the market.
The tapering lid is well made and has a good texture; it is further reinforced with lid stiffeners on the inside. A SuperLatch locking system and SKS locks are supplied to keep the unit secure and make it simple to open and close.
Choices for an Audi A3 roof box span from those catering to those on a tighter budget to those with enough space to haul the complete family's ski equipment to the slopes.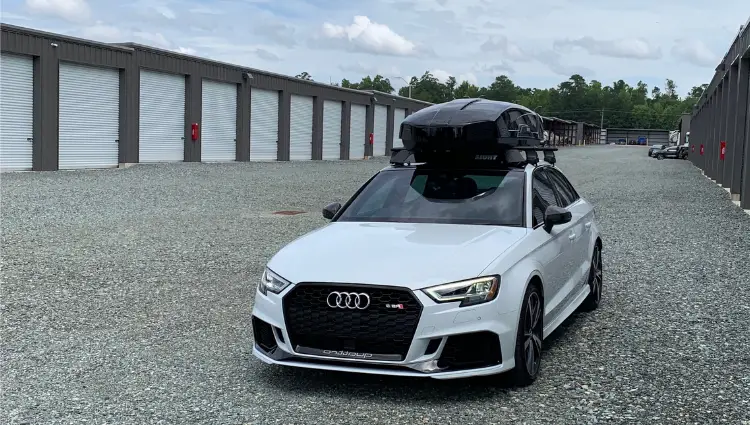 Audi A3 Roof Box - Buyer's Tips
The most important factor in any storage system is the amount of space it provides. Obviously, larger roof boxes will make it easier to move a wider variety of products, including those with unusual sizes or shapes.
Bigger isn't always better. However, broader roof boxes limit you from using the roof rails for other accessories like bike racks or recreational equipment like skis and snowboards, and the additional materials used in making them add to the cost.
Type of Mounting and Roof Rails:
For the most part, all you need are the clamps or straps provided to securely fasten the storage box to the roof rails. Additional brackets may be needed to provide a snug fit for roof boxes on vehicles with unusually shaped, broad, or thin roof rails.
Roof rails are sold by many of the same manufacturers as roof boxes, thus the two may be easily bolted together. Fortunately, roof rails are standardized in size, so there will be only minor variations from one car to the next.
Weight:
Some people might worry that the top of the car won't hold up under the weight if they frequently load it up with big items. As opposed to doing this, roof rails exert their force down the size and through the whole shell of the car due to their mounting location on the vehicle's exterior borders. The massive structural steel panels are made to absorb crash impact damage, thus a 50-100 kg roof box is not expected to create any extra stress.
However, the roof rails probably have a limit weight capacity. If your car came with roof rails or you had the dealer install them as an option, you may get replacements from them or the manufacturer. Always stay within these maximum load ratings, since exceeding them might result in damage or worse, especially in the event of an accident.
Security:
A roof box is a convenient place to stow away valuables on extended road journeys, as well as camping gear, sporting supplies, and other necessities. Because of the importance of keeping your belongings safe, many roof boxes have a locking mechanism or the option to add locks.
The strength and durability of the construction might also play a role. Thieves can easily break into a roof box made of pliable or soft materials. Therefore, if you're concerned about theft, it's best to invest in a high-quality roof box that has its own built-in security measures and, if necessary, extra padlocks.
The Audi A3 roof box is designed to resist water and keep your belongings dry. It features a waterproof seal and an integrated drainage system that allows water to drain away from your belongings. The roof box also has a reinforced structure that helps to protect your belongings from the elements.
Q. How to install audi a3 roof rack?
To install an Audi A3 roof rack, you will need to order the correct size and style of rack for your vehicle online. Most racks can be installed with basic tools, but some may require specialized tools or equipment. Once you have the correct rack, follow the instructions provided by the manufacturer to install it correctly.
Q. Does Audi a3 have a roof rack?
Yes, Audi a3 does have a roof rack. This is a very convenient feature for those who need to transport large or bulky items on top of their vehicle. It also gives the vehicle more storage space for other things.
Q. Can you put a roof box on an Audi A3?
Yes, you can put a roof box on an Audi A3. The process is fairly simple and does not require any special tools or expertise. You will need to order a roof box that is specifically designed for the Audi A3, as well as a roof rack system. Once you have these items, you can follow the instructions that come with the roof box to install it on your car.
Q. Do Thule roof boxes fit Audi roof bars?
There is no definitive answer, as it depends on the model and year of Audi roof bars. However, in general, Thule roof boxes should fit most Audi roof bars. If you are unsure, it is best to check with the manufacturer or dealer to be sure.
Audi A3 Roof Box - Final Thoughts
A roof box may be readily moved from one vehicle to another and costs next to nothing. Thanks to its enormous inside space and generous exterior proportions, towing and transporting massive loads is a breeze. The extra space created by stowing objects on the roof might be used to accommodate travelers or their pets.
Considering how much more stuff you can fit in your Audi A3 for such a tiny investment, the decision seems easy. The only thing you need is a set of roof rails and a few minutes to place them up; no further maintenance or permits are required. Roof boxes are convenient for stowing away seasonal gear and emergency supplies, but when they're not in use they can be easily removed and stowed away in the garage or another location.
Please spread the word, provide feedback, and explore our other fascinating content if you like this piece.