Looking for the best ski and snowboard racks? Check out our top picks for racks that are reliable, affordable, and easy to use.
When it comes to transporting our snowboards, we want to ensure that they are safe and secure. That's where snowboard racks come in. Snowboard racks are an essential piece of equipment for anyone who wants to hit the slopes with their snowboard in tow.
Snowboard racks come in various shapes and sizes and can be attached to the roof or the back of your vehicle. They provide a secure and convenient way to transport your snowboard, without taking up valuable space inside your car. Not only do they free up space, but they also prevent damage to your snowboard during transportation.
When choosing a snowboard rack, it's important to consider the type of vehicle you have, the number of snowboards you need to transport, and the type of snowboard you have. Some racks are specifically designed for skis and snowboards, while others are designed for just snowboards. It's also important to consider the weight capacity of the rack, as well as its durability and ease of use.
d to access your cargo roof box or skybox 2.0 Carbonite.
When it comes to transporting your snowboards, there are several types of racks available. These racks come in different shapes and sizes, and each type has its own set of advantages and disadvantages. In this section, we will discuss the two most common types of snowboard racks: roof-mounted racks and hitch-mounted racks.
Roof-Mounted Racks
Roof-mounted racks are the most popular type of snowboard racks. These racks are designed to be mounted on the roof of your vehicle, and they come in different shapes and sizes. Some of the popular roof-mounted racks include the Yakima FatCat, Thule SnowPack, Tyger, and Rhino-Rack.
One of the advantages of roof-mounted racks is that they provide ample space for your snowboards. They are also easy to install and remove, and they do not require any modifications to your vehicle. However, roof-mounted racks can be difficult to load and unload, especially if you have a tall vehicle. They can also create wind resistance, which can affect your vehicle's fuel efficiency.
Hitch-Mounted Ski Racks
Hitch-mounted racks are another popular type of snowboard racks. These racks are designed to be mounted on the hitch of your vehicle, and they come in different shapes and sizes. Some of the popular hitch-mounted racks include the Yakima Switch 6, Thule SnowPack, and Evo.
One of the advantages of hitch-mounted racks is that they are easy to load and unload. They also do not create any wind resistance, which can improve your vehicle's fuel efficiency. However, hitch-mounted racks can be expensive, and they require a hitch to be installed on your vehicle. They also limit access to the back of your vehicle, which can be inconvenient if you need to access your cargo roof box or skybox 2.0 Carbonite.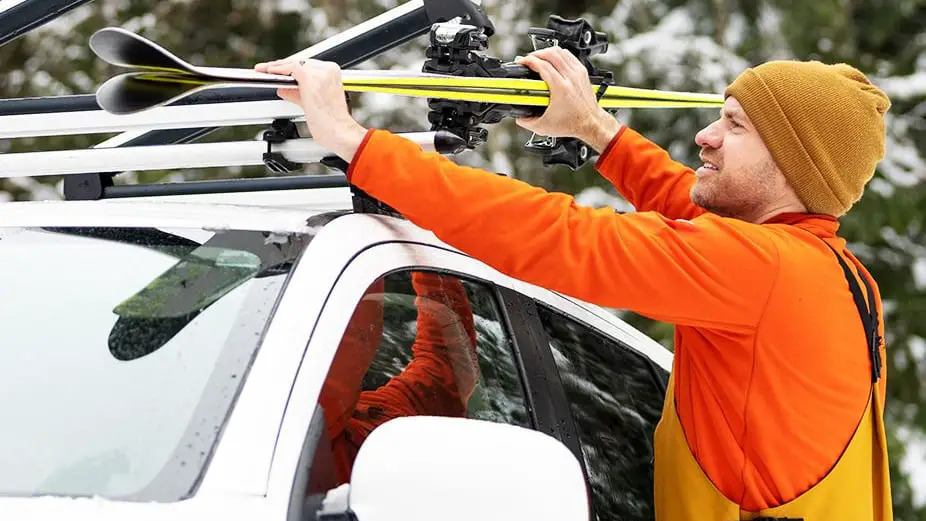 What to Consider When Choosing Snowboard Racks
Consider where you'll put the ski rack, how many skis or boards you'll transport, and other factors like appearance, aerodynamics, and pricing when choosing one.
Mounting Place
Car roof racks are most common. However, not all cars have crossbars. Roof racks look good and free up room in your car, but older people, vertically challenged people, and SUV owners may find them difficult to reach. Though easier to access, hitch-mounted options are rare and require a tow hitch. This study includes nine roof-mounted racks, representing the market.
Capacity
Small racks hold two boards and four ski sets, while large racks hold six of each. To bring many sets of skis and avoid ski-rack Tetris, we always use the larger size.
Extras
Some ski racks match your car's style, while others don't. Low racks improve aerodynamics. Others don't—they stand tall, slow you down, and make more noise than a whistle-happy referee. Only a few racks slide on the crossbars for easier access. Some ski racks require locks and keys.
We realize mountain journeys can be lengthy and exhausting, so you'll want to keep your car's interior comfortable. Use one of these ski racks to transport skis and snowboards to and from your favorite resort or backcountry trailhead for a cleaner, more comfortable ride all winter.
Rack Installation
If you have some mechanical skill, installing the majority of current ski and snowboard racks shouldn't be too difficult. Most will be delivered disassembled, necessitating assembly even before installation. Although we found Thule's wordless manual to be particularly perplexing, each manufacturer includes an assembly instruction manual with helpful photos. It can also be helpful to watch videos online. You don't typically require any tools: While Küat's racks come with a few Allen wrenches to aid in mounting, Yakima's racks offer tool-free installation.
You should think about whether you want to tilt your rack to one side during installation to make loading and unloading simpler. Some larger racks, such as the Küat Grip 6 and FatCat EVO 6, offer two distinct mounting positions to maintain their balance even when tilted to one side. When loading and unloading on the side of the road (as may be the case for many city dwellers), you'll probably want to place the open/close mechanism on the passenger side. It's also important to consider which side you want to open your rack from.
Materials and Build Quality
The majority of ski and snowboard racks incorporate a blend of durable plastic, lightweight metal, and rubber materials. Most premium designs are primarily constructed using metal for enhanced durability and a superior high-end finish. Additionally, they feature rubber strips on both sides that create a secure seal around the skis or snowboards.
Typically, racks designed for entry-level use are fabricated from durable plastic materials. This approach offers advantages in terms of reduced weight and cost, as well as providing a level of resilience. However, it is important to note that plastic racks may not be as robust as their metal counterparts when subjected to the demands of frequent transportation.
The Grip by Küat boasts premium materials, featuring sizable metal components and superior quality rubberized teeth that effectively secure gear in position.
Wind Noise and Aerodynamic Options
Irrespective of the dimensions or configuration, it is probable that your rack will produce some additional air resistance while driving, particularly when transporting skis or snowboards. Determining the precise impact of various factors, such as vehicle type, interior load, speed, and external wind conditions, on aerodynamics is a complex matter.
However, it is generally observed that increased drag tends to reduce fuel efficiency and increase wind noise. There are several methods to mitigate this whistling sound, including self-made remedies and post-purchase solutions. There are several options available to enhance the aerodynamics of your vehicle's front bar. These include wrapping the bar with a towel and securing it with duct tape or a bungee cord, replacing the bar with aerodynamic crossbars such as Yakima's JetStream, or installing a fairing such as the Thule AirScreen XT.
It is noteworthy to mention racks such as the Küat Switch, which have the ability to fold down into a more aerodynamic position when not in use. Although these solutions may not entirely eliminate wind noise and drag, they can significantly improve airflow and provide a more serene driving experience. Additionally, the fuel savings resulting from these measures may prove beneficial in the long term.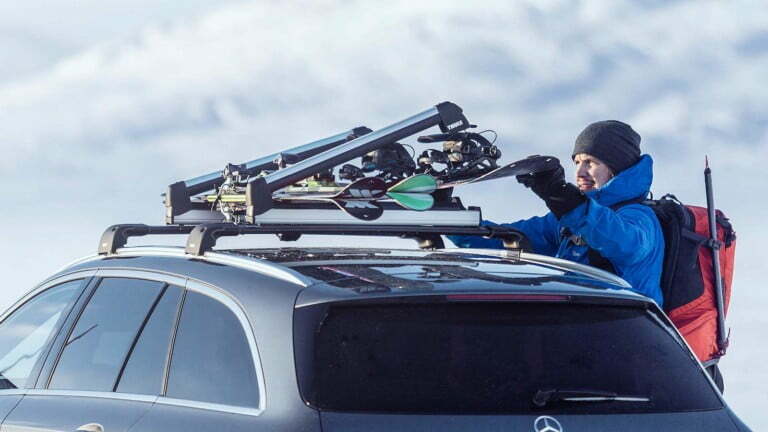 Top Snowboard Racks on The Market
1. Yakima FatCat 4 EVO Ski and Snowboard Rack
Transport your companions and equipment with ease using this roof ski rack, which can accommodate up to four pairs of powder skis or two snowboards. Drive confidently into harsh weather conditions with this reliable accessory. The DoubleJoint hinge system offered by Yakima is designed to effectively accommodate wider boards and skis that may pose a challenge for other types of racks. The package comes with a set of keys and locks to ensure the security of your additional set of skis while driving.
The Evo version has consistently been our preferred choice of rack for several years. The updated version of FatCat features a refined black design, increased capacity to accommodate wider boards and skis, and a reduced profile for enhanced aerodynamics resulting in reduced wind noise and improved fuel efficiency.
2. Kuat Switch 6 Ski Rack
Kuat offers a solution for individuals seeking to maximize their fuel efficiency. The Switch 6 is designed to rotate 90 degrees backward when not in use, reducing wind noise and improving the aerodynamics of your vehicle.
We also appreciate all other features of this ski and snowboard rack. This product boasts universal compatibility with crossbars of any shape, features a large button that can be easily released even while wearing mittens, includes a built-in locking system for added security, and has the capacity to accommodate up to six sets of powder skis or four snowboards.
Due to its competitive pricing and unique positioning-changing feature, we anticipate that the Switch 6 will gain popularity and become a common sight in garages and ski resort parking lots worldwide.
3. BougeRV Sliding Ski and Snowboard Rack 2.0
This roof rack with sliding feature is highly convenient for carrying skis and can be considered as one of the most efficient options available. This product has a capacity of accommodating four snowboards or six pairs of skis and is equipped with a lock set. However, the distinguishing feature of this rack is the supplementary sliding mechanism.
This rack is designed to facilitate loading and unloading by sliding towards the user, eliminating the need to reach across the entire roof. Once loaded, the rack can be slid back over the roof and securely locked in place.
Transporting equipment on the roof after a tiring day of skiing can be challenging. However, a solution is now available.
4. Rhino-Rack 572 Roof Mount 2-Ski Rack
If the majority of your skiing trips entail either solitary or dual companionship, this particular ski rack will suffice. This product is the most compact and uncomplicated among those evaluated, yet it boasts exceptional durability.
The Rhino-Rack is designed to accommodate two pairs of skis or two snowboards. Its latching mechanism is user-friendly and can be operated with gloves. Additionally, the product is equipped with two sets of keys for convenience.
We appreciate the space-saving design of this rack, which allows for additional roof-mounted cargo carriers to be utilized. This rack will help you save money for other essential expenses, such as ski school for your children or indulging in spiked hot chocolate, as it is a cost-effective solution.
5. RockyMounts LiftOp Smalls Ski and Snowboard Rack
We highly appreciate this ski rack manufactured by Rocky Mounts. This rounded rack is a cost-effective option that produces less noise than racks with a wall-like profile and is more affordable than highly aerodynamic alternatives. It is designed to securely and quietly transport your ski and snowboard equipment to the mountains while minimizing the impact on your gas mileage.
The LiftOp is capable of accommodating three pairs of powder skis or two snowboards with ease. It is equipped with a lock set and boasts a sleek black appearance that seamlessly complements most roof rails.
This product offers excellent value, providing a superior combination of features and build quality at an affordable price point. Considering the fact that the company originated and is currently headquartered in the foothills of the Rocky Mountains, it is reasonable to assume that they prioritize their equipment and facilitating mountain expeditions.
6. Tyger Auto Folding Hitch-Mounted Ski and Snowboard Rack
In case the height of your SUV poses difficulty in accessing it, this rack mounted on the hitch is a practical solution. The product offers sufficient storage capacity for six pairs of skis or four snowboards, making it an ideal solution for families. The equipment can be stored in close proximity, ensuring easy accessibility.
The hitch rack is designed to swing away, allowing for trunk access. However, it is worth noting that this additional step may not be preferred by some individuals, who may opt for a roof rack instead. The package includes a standard lock-and-key set, providing travelers with a sense of security. During the intervals between ski trips, you may conveniently detach the equipment and store it in your home garage.
7. HandiRack Universal Inflatable Roof Rack Bars
Are there any side rails or cross bars included? Understood. The HandiRack is a cost-effective solution for individuals who own a compact sedan or prefer not to invest a significant amount of money in a roof rack base.
The aforementioned system comprises of two inflatable crossbars that are placed on the roof of the vehicle and secured by passing a ratchet strap through the interior of the vehicle. To transport your skiing equipment, snowboards, kayaks, or any other items, securely fasten them to the cushioned crossbars using tension straps. This will allow you to travel to the mountains with ease, while also freeing up space in your vehicle. This cost-effective solution is both practical and efficient.
While it may not be the most glamorous or sustainable option for those living in mountainous regions, it is a cost-effective choice for individuals on a budget.
INNO has many types of accessories for vehicles, such as bike racks or fishing gear carriers. The Gravity is one of their products, which is a rack for skis and snowboards. It is smaller than other racks, and can only hold up to three skis or two snowboards, but it is also cheaper than other options.
This makes it a good choice for people who don't need to carry a lot of gear or have limited space on their vehicle's roof. However, it may be difficult to install and some users have had issues with the locks. If you have two snowboards, you'll need to arrange them carefully on the rack, but overall, the Gravity is a good option for people who want a functional roof rack without spending too much money.
If you prefer to buy from a well-known brand, the Thule Classic is a good option for a few dollars more than the Rhino-Rack. Although it lacks some of the extra features of other racks, it is a reliable and affordable choice that can carry skis and snowboards. However, it has a few downsides.
It is less secure than the Rhino-Rack, and some users have reported that it can only hold four skis and two snowboards, depending on their width. On the other hand, the Rhino-Rack is wider and can accommodate more gear.
Overall, both thule's racks are good options for people who want a simple and affordable option, but it's also worth checking out the Yakima PowderHound 6, which is a discontinued model that still offers some premium features and is available on Amazon.
Ski/Snowboard Rack Comparison Table
Below is the comparison of some features of a snowboard rack.
| SKI/SNOWBOARD RACK | CAPACITY | OTHER CAPACITIES | LOCKS | T-SLOT | WEIGHT |
| --- | --- | --- | --- | --- | --- |
| Küat Switch 6 | 6 skis / 4 boards | 4 | Rack | Yes | 14 lbs. |
| Küat Grip 6 | 6 skis / 4 boards | 4 | Rack and crossbars | Yes | 24 lbs. |
| Rhino-Rack Carrier 27″ | 6 skis / 4 boards | 10″, 13″, 20″ | Rack | Yes | 8 lbs. 12.8 oz. |
| Thule Classic | 6 skis / 4 boards | N/A | Rack | No | 7 lbs. |
| INNO Gravity | 3 skis / 2 boards | N/A | Rack (locks to bars) | No | 15 lbs. |
Snowboard Racks Final Thoughts
Ski and snowboard racks are essential storage solutions for winter sports enthusiasts, offering the perfect blend of convenience, ease of use, and protection for your valuable gear. We hope that our comprehensive guide has provided you with the necessary insights to make an informed decision when choosing the best rack for your needs. Remember to consider factors such as capacity, compatibility, security features, and ease of installation when making your selection. With the right ski or snowboard rack, you can truly maximize your time on the slopes, knowing that your gear is safely and securely stored away. Enjoy the season and happy shredding!