Looking for the best Subaru Outback Roof Rack to maximize storage space in your 2023?
In recent years, the Subaru Outback has risen in popularity to become one of the most sought-after overlanding cars. Much of the excitement surrounds the most recent generations, the 5th and 6th gen (the 5th gen spans the years 2015–2019 and the 6th gen, 2020–2022). Both are essentially SUVs due to their increased size over their predecessors in both the body and wheelbase departments.
Throughout time, Subaru has steadily improved the Outback such that it is now more suited to outdoor activities like overlanding and even minor off-roading. The Subaru outback Wilderness 2022 grade is the newest version of the Outback, and it comes equipped with 9.5 inches of ground clearance, 17-inch wheels, and all-terrain tires as standard equipment. This is a vehicle designed for long-distance travel through rough terrain.
But to get back on topic, we'll be reviewing roof racks for the Subaru Outback in great detail here. From platform roof racks to crossbars for your Subaru Outback, and even additional rack accessories like bike racks, roof cargo carriers, and light bars, we'll examine them all. The goal of this article is to help you decide which roof rack is ideal for your Subaru Outback.
The Subaru Outback roof rack weight limit and the maximum load Subaru advises will be discussed. So that you can make an educated decision, we'll go through some of the best brands, like Prinsu, Front Runner, and others. Last but not least, we sell roof racks for the Subaru Outback from 2009 through 2022.
Subaru Outback Roof Rack Review
What you carry and its adaptability will determine the finest Subaru Outback roof rack. . A full platform roof rack for your Outback can accommodate heavier loads, larger footprints, and rack attachments.
The best full platform roof racks for an Outback are the safest, strongest, and most adaptable. Crossbars are reviewed below.
If we review a roof rack and you own an older Outback, the same company probably manufactures one for your year or generation, so put your Outback's year and the rack brand into the search field. Scroll down to see all our Subaru Outback roof racks.
1. Front Runner Slimline II Subaru Outback Roof Rack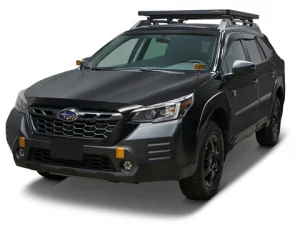 Front Runner doesn't make Slimline II roof racks for all Outbacks. They build one for 2000–2004, 2015–2019, and 2022–present Outback Wilderness. .
We will add two buttons below, one for the Subaru Outback Wilderness and one for the 2015-2019 Outback.
This platform rack's weight capacity improves by connecting to side rails. The side rails distribute the weight of roof-carried objects throughout the vehicle. The three Front Runner Slimline II models include a roof rack with a weight capacity of 660 lbs.
The roof rack grips the roof rails, making installation easy. World-class platform. It can attach roof top tents, kayaks, canoes, and hundreds of Front Runner aftermarket rack accessories. The rack has a Limited Lifetime Guarantee, ensuring its durability.
This Subaru Outback roof rack will be taller than others since it will sit over the side rails. Hence, the car rises 2.5". 
2. Prinsu Subaru Outback Roof Rack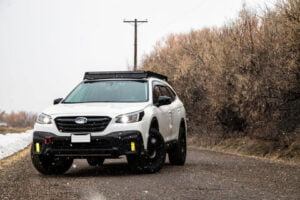 Prinsu makes all their racks in Idaho. They make a Subaru outback roof rack for the 2010–2014 4th Gen Outback, the 2015–2019 5th Gen, and the 2020–2022 6th Gen. This evaluation covers the 6th-generation Subaru Outback roof rack.
This American-made low-profile platform roof rack can hold over 500 lbs. It may be carried over roof top tents or used as a bike rack. .
The roof rack installs without drilling. It mounts to your Outback's roof sides. You can also purchase it with a regular wind deflector to minimize noise and mileage or a cutout for a 40-42-inch light bar. This overlanding roof rack is wonderful no matter what.
3. Rhino-Rack Subaru Outback Crossbars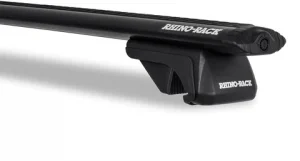 Rhino-Rack is a well-known car crossbar manufacturer. Thule and Yakima rival the Australian powerhouse in quality and reliability. Cortex crossbar systems are flexible and dependable. The 2020–2022 6th-generation Outback and Wilderness suit this Rhino-Rack Vortex Subaru Outback crossbar system with the JA9141 SKU.
Two black vortex bars fit onto the Outback's roof side rails. These may be installed in 45 minutes by yourself. While in motion, the Outback crossbars can support 150 lbs. They can handle some canoes, kayaks, surfboards, snowboards, and roof top tents.
Like we did before, we are presenting the crossbars for the 2020-2022 Outback and Wilderness, although Rhino Rack has more crossbar versions that work with prior Outback generations, up to the Legacy. ц (2015-2019).
Moreover, crossbars barely affect fuel usage, which is important given today's high gas prices. They are lightweight and have little wind resistance, so your Outback's MPG won't be reduced when you're not hauling anything over them.
4. YAKIMA - EasyTop, Instant Rack
An excellent rooftop cargo rack that provides several benefits is the YAKIMA – EasyTop, Immediate Rack. Among the many vehicles that the YAKIMA Easytop is designed to accommodate is the Subaru outback.
Installation of the YAKIMA – EasyTop, Quick cargo Rack is as simple as attaching the rack to the door frames. With its double-latch buckling mechanism, your belongings will be safely secured as you travel. These YAKIMA racks have an 80-pound capacity, meaning they can hold stuff weighing up to 80 pounds, and measure 44 by 12 by 6 inches.
These YAKIMA quick cargo carriers contain a thick padding protector that will prevent the gear from damaging your roof, and they are reasonably priced. There is also a Limited Lifetime Warranty included.
5. Thule 838 Hull-a-Port Aero Kayak Carrier
The Thule Hull-a-Port Aero Kayak Carrier is a high quality accessory for your Subaru outback that will ensure the safety of your kayak. The Thule carrier is an effective rack that can also be used as a bike rack and is very simple to set up and operate.
The cargo on the Thule Hull-a-Port Rooftop Carrier will be safe from the elements thanks to the thick pads. The Thule carrier includes sturdy straps that will hold your stuff in place for the duration of your trip.
The tool-free installation of the Thule Hull-a-Port PRO Rooftop Kayak Carrier makes life a lot simpler. The J-Profile wide-mouth design of the Thule makes loading and unloading your kayak a breeze.
6. ROLA 59504 V-Tex Rooftop Cargo Basket
For full-sized automobiles, sports cars, SUVs, and wagons like the Subaru outback, ROLA vortex cargo basket is another wonderful alternative. The luggage basket works with factory-installed roof bars.
ROLA vortex cargo baskets may secure several goods on your vehicle's roof. The cargo baskets' 130-pound weight capacity and 48-by-37.5-by-5-inch dimensions make travel and camping easy.
A sport-like structure and a rough-coat finish protect the luggage basket from severe elements. These basket carriers are clamp-on and include mounting hardware.
Subaru Outback Roof Rack Type
There are different kinds of roof racks that depend on the kind of car you have and the brand you buy. Below, we talk about the different kinds of roof racks.
1. Raised Rail
A common type of rack, the raised rails rack is used by most sports cars, SUVs, and minivans. The raised rails are stylish accessories that came with the car and were put on the roof. Also, the cave has a crossbar for connecting, and most cars can fit through it. They can also be used for many different things and carry many different things.
2. Tracks
These racks are strong, and they go from the front to the back of your car in a straight line. You can easily mount the tracks because they come with bars or a roof rack system. But some cars will already have racks on them when they leave the factory.
3. Bare Roof
A very common type of roof used today is the bare roof. Most cars with this type will have a roof that hasn't been put on yet at the factory. The racks are attached to the shape of the roof and the door frames.
4. Fixed Point
This type of fixed point is another type that comes with points already attached to the edge of the roof. These points are less obvious and can't be seen when they aren't being used. The fixed points are safe and give you a place to put different things you want to carry.
Factors to Consider Before Purchasing the Best Roof Rack for Subaru Outback
1. Material
Racks should be manufactured from durable materials like steel, which can withstand a lot of weight without becoming cumbersome. While choosing a material, keep in mind that it will be subjected to weather extremes, as well as large weights.
Steel is often utilized because it provides excellent quality while remaining relatively lightweight. Keep in mind that steel is indestructible and can support a lot of weight without damaging the car's roof. It's also preferable to select a material that won't corrode or leave stains on the goods you're hauling.
2. Roof Rack Systems
The roof rack system of the Subaru Outback is another crucial consideration if you want to get the finest possible rack for your vehicle. You should inspect the Subaru outback's roof rail for its strength before deciding on a load box. Also, it may be useful to have a base rack that can accommodate a variety of cargo basket carriers, as this will allow you to transport items of varying sizes and forms.
3. Weight
While making a purchase, you should consider the overall weight of the cargo box since it is an extra kind of care. The maximum load that may be carried by a certain vehicle's roof will be clearly displayed. Make sure the rack you buy is a great fit for your Subaru outback and can adequately distribute the weight.
The maximum combined weight for a driver and passenger in a Subaru Outback is 150 pounds. As each bar weighs 20 lb., that brings the total weight it can haul to 130 lb.
4. Installation or Mounting
The Subaru Outback has roof rails, making it easier to mount a rack, and the gap between the roof and rails can firmly hold the installation bar in all directions.
The ideal roof rack for a Subaru Outback should be straightforward to place and install. Several versions of this luggage box include a manual on how to mount the racks. You may also search for "how to install cargo crates" videos on YouTube.
5. Carrying Capacity
Make sure the rack you choose has enough space for all of the items you intend to store, carry, and relocate. As a result, you'll want to make sure the load capacity is as high as possible. What you are carrying or transporting's weight is the first thing you need to know. Second, make sure there is adequate breathing room if you plan on adding anything more later. This way, you can get an appropriate freight container.
In addition to the load's weight and dimensions, consider the cargo box's design while shopping for a carrier. In order to prevent any damage to your roof baggage from the force of the wind at high speeds, check that your cargo box can handle it.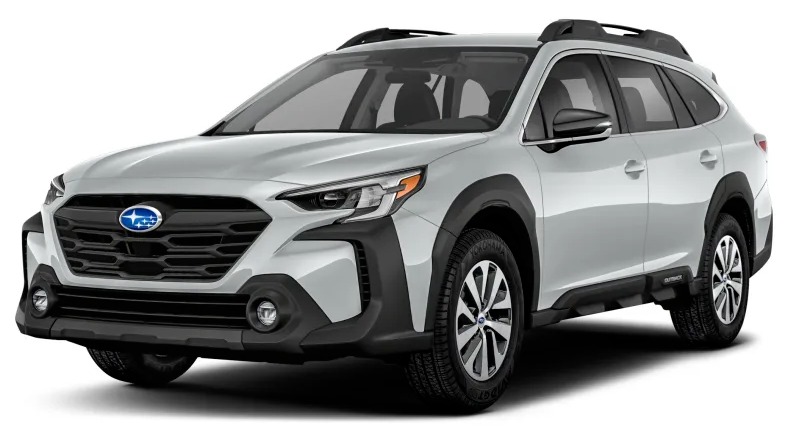 Subaru Outback Roof Rack FAQs
Q. In what range does the Subaru Outback's maximum weight rating fall?
The solution to this question may be found above. The maximum load for a roof rack on a Subaru Outback may change from brand to brand, but the vast majority of the racks we sell can support more than 600 pounds. For further information, though, see the preceding paragraph.
Q. Does anyone know how simple it is to attach a roof rack on a Subaru Outback?
Depending on the make and model of rack, it's not that complicated, although it might vary. It's not hard to install a crossbar, and some racks even clasp or hook onto the roof rails to make things even simpler. Some others do bolt up top, but that's hardly rocket science either. To find out, you'll need to consult either us or the relevant product handbook.
Q. Which is better for my Outback: crossbars or a complete roof rack?
Whole roof racks are suggested for heavy loads, such as rooftop tents or extended storage. A crossbar is useful for transporting bikes, surfboards, and other lightweight items.
Q. Would putting a roof rack on my Subaru Outback result in a lot of extra noise?
The resistance to the wind will cause a certain amount of noise. While a platform rack will create some noise, it won't be as noticeable as it would be with crossbars. In addition, most platform roof racks have an accessory available to greatly lessen the wind noise and wind resistance: a wind deflector.
Q. Are there specialized roof bars for each generation of Outbacks?
Depending on your Outback's model year, make, and year, you may need a specific roof rack. Fortunately, there are several options to pick from. We always include a date range that each rack is functional within for your convenience.
Q. Which roof rack should I buy?
Consider your vehicle's specifications, the weight you anticipate carrying, and the rack's general design to determine which option is best for you. It's crucial to take precise measurements of your car before buying a roof rack to ensure that it fits properly.
To what Thule size does the Subaru Outback correspond?
The Thule 460R Quick Podium foot pack is the most popular size for Subaru Outbacks, and it is designed to fit snugly on the car's OEM side rails.
Does the Subaru Outback have room for a bike rack?
Indeed, you can install a bike rack in a Subaru Outback. The arms of most bike racks may be adjusted to conform to the shape of your Outback, making it easy to attach the rack.
Q. Is there a way to attach an RTT to a Subaru Outback?
A Subaru Outback may have an RTT (Roof Top Tent) attached to its roof.
Subaru Outback Roof Rack: Final Thoughts
The best way to increase the Subaru Outback's storage space is with the help of a roof rack. Putting a rack on the roof of your vehicle allows you to transport more of your recreational equipment. The finest Subaru Outback roof racks are robust, constructed from weather- and UV-resistant materials, and designed to last years of usage.
Related Posts